Business phone system
Learn the Benefits of Using Google Voice for Business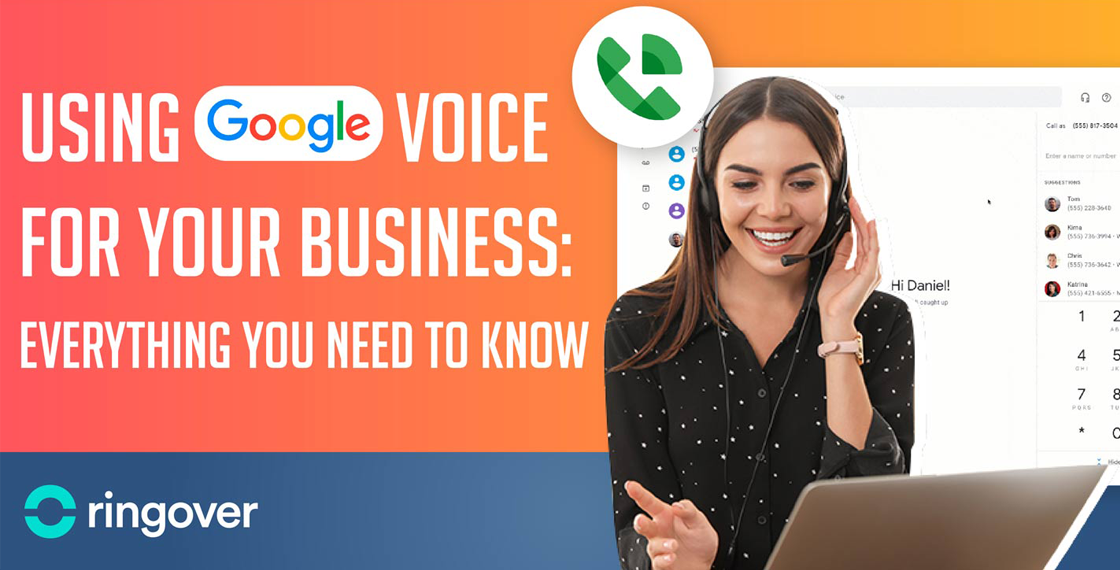 If landline phones aren't obsolete already, they're at least on the road to being phased out, especially as the working world shifts to remote work. As of 2021, only 36.7% of US households have a working landline, compared to 62.5% of households that only use mobile phones. On the business side, meanwhile, mobility and digitization are driving a large-scale migration away from plain old telephone service (POTS).

In place of traditional PBX, we now see businesses using a combination of smartphones and VoIP services, to create integrated digital phone systems. Google Voice is one such service. We'll go over what it is, how it works, and whether or not it's the right option for your business.
Free Trial: VoIP Phone
What Is Google Voice: The Basics of Google Voice
Originally released in 2009, Google Voice is a phone service that provides users with a US-based phone number that can send text messages, and receive voicemails via the Internet. It's free for personal use, allowing unlimited texts and calls to any number in Canada or the United States, and affordable international calling. It also provides call blocking, automatic routing, call forwarding, and the ability to assign unique voicemail greetings to callers and contacts.

The only caveat is that in order to qualify for a free Google Voice number, you need to already have a US-based phone number. It's also important to note that although you can receive calls from anyone for free, in order to call someone outside of Canada or the United States, you'll need to add credits to your account. The per-minute rate depends on where you're calling. Google Voice for Business is a little different from the free version. Configured via the Google Workspace Admin Console and available in one of three licensing tiers, it provides a multitude of features that the free version lacks. Google Voice for Business also integrates seamlessly with both Google Meet and Calendar.
Google Voice's Business Features
Alongside the features offered by Google Voice's free version, Google Voice for Business offers the following:
Integration with Google Calendar and Google Meet

24/7 support and a high-uptime SLA

Advanced reporting and analytics via BigQuery

eDiscovery for compliance purposes
How Much Does Google Voice Cost?
Google Voice for Business is available in one of three pricing plans.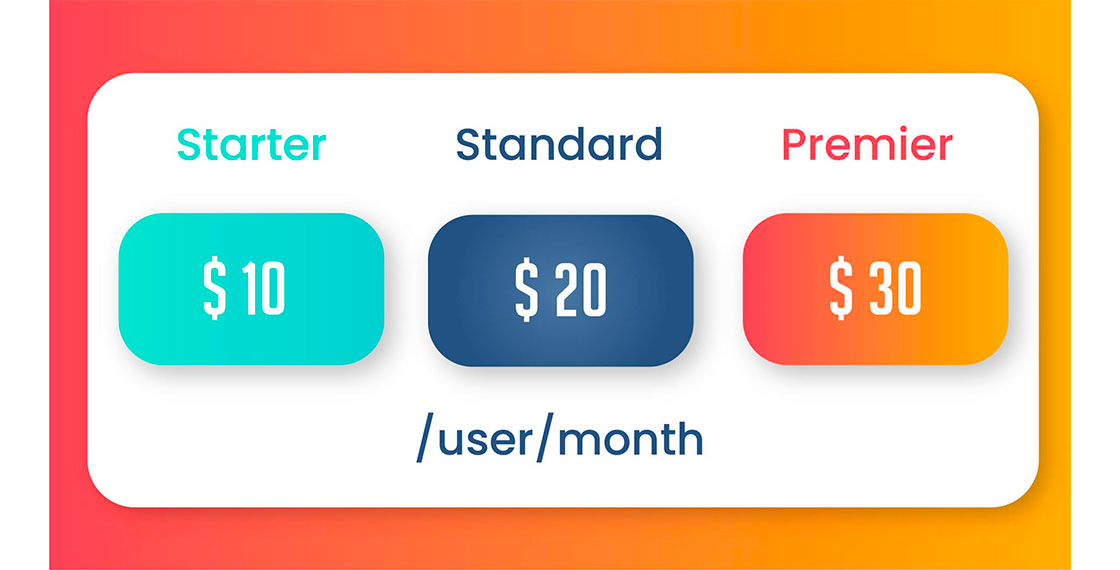 Starter ($10/user/month). Limited to 10 users and 10 domestic locations. Does not offer multi-level auto attendant, ring groups, desk phone support, eDiscovery, or advanced reporting.

Standard ($20/user/month). Unlimited users and domestic locations. Adds auto-attendant, Ring groups, desk phone support, and eDiscovery.

Premier ($30/user/month). Unlimited users, domestic locations, and international locations. Offers all features of Standard, with the addition of advanced reporting and data regions.
Why Use Google Voice For My Business?
There are several reasons your business might want to use Google Voice, especially if you already have a Google Workspace implementation in place.
Flexibility. With Google Voice, you're not tied to your desk — or even to your smartphone. Google Voice can be used as a web application and also offers apps for both Android and iOS, meaning it's usable on any device with an Internet connection.

No contracts. One of the worst things about traditional PBC is the number of service providers who attempt to lock clients into vendor contracts. With Google Voice, you can cancel at any time.

Workspace integration. As mentioned, Google Voice integrates seamlessly with both Google Meet and Google Calendar, allowing for easier management of schedules and meetings.

Simple deployment and management. Google Voice can be deployed without any specialized hardware, and the centralized Google Workspace Admin Portal makes management easier in several ways.

User-friendliness. For end users, using Google Voice is both familiar and intuitive, especially if they're already familiar with Hangouts (soon to be rebranded as Google Chat) or Google's general portfolio. For a small fee, Google Voice also allows users to easily port their number to the platform.

Designed to scale. Provided you didn't sign up for a personal Google Voice number, Google Voice scales effortlessly as your business grows. Adding new users and numbers is easy and headache-free.
What are the Drawbacks of Google Voice in a Business Context?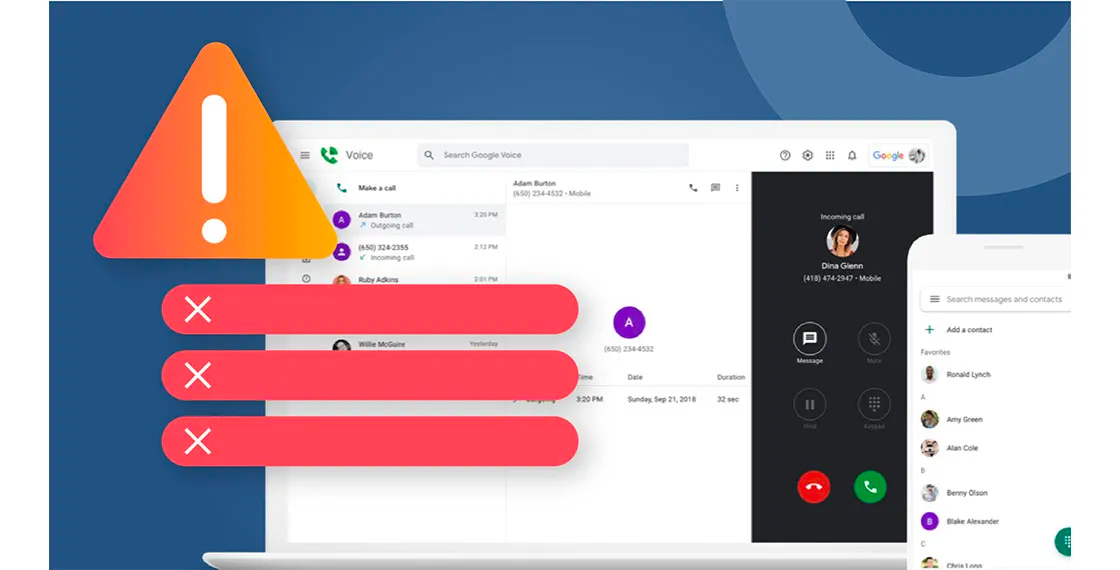 Even the best service isn't without its flaws, and Google Voice has plenty to speak of. The simple fact is that although it's made great strides in recent years, it ultimately got its start as a consumer phone system. There are, as a result, multiple shortcomings in the solution.


Availability. Perhaps the greatest drawback of Google Voice is that it's not available everywhere. This is a big difference from VoIP phones, which provide service via any Internet-connected device thanks to desktop and mobile apps.

Cumbersome call forwarding. Although Google Voice is easy to use for the most part, its call forwarding functionality can be confusing and obtuse for some users. Contact management also needs work.

No support for shared lines. Do you have multiple team members who need to use the same phone line? Unfortunately, that's not something you can do with Google Voice. Not without a separate phone system — which rather defeats the purpose of ditching PBX in the first place.

Widespread integration. If you're not using Google Workspace or Polycom devices, you aren't going to be able to use Google Voice to its maximum potential. Some services also still have trouble recognizing Google Voice numbers as legitimate.

Privacy concerns. Your data is stored on Google's servers in its entirety. While Google does go to great lengths to protect this information, the fact remains that you do not have complete ownership of your audit logs, which can be problematic in certain industries.

Lack of advanced functionality

. As far as advanced features go, Google Voice is also something of a mixed bag. It does not, for instance, support

toll free numbers

, business caller IDs, or vanity numbers.

Tech support problems. Although Google does offer 24/7 support for Google Voice Business customers, for the most part, its users rely primarily upon the Google Community Forums. Google's knowledge base is also somewhat confusing to navigate, and the company offers nothing in the way of help with implementation.
How to Set Up Google Voice for Business
If You're Using a Personal Google Voice Number
Navigate to voice.google.com


Click on "For personal use."

Select your platform — Android, iOS, or web.

If relevant, install the Google Voice app on your phone, then open it.

Enter an area code to see a list of available Google Voice numbers.

Once you've chosen a number, enter your existing phone number and click "Verify." This is the number that your Google Voice will forward incoming calls to.

Google will send you a phone code as a text message. Once you've received it, enter it when prompted.

Follow the on-screen prompts to finalize your Google Voice number.
If You're Purchasing a Google Voice Business License
Open your Google Workspace Admin Console.


Select add or upgrade a subscription.

Select Google Voice on the sidebar.

Choose your licensing plan.

Follow the on-screen prompts to set up and finalize your business's subscription.
What Can My Business Use Google Voice For?
Although Google Voice for Business is a decent VoIP solution, it's not quite as robust as other business phone systems. It lacks certain features that are, for the most part, standard in the VoIP space. This means that the use cases for Google Voice are also somewhat limited.

So what exactly can your business do with Google Voice—and more importantly, should you use it?

If you're a small to mid-sized business, Google Voice can be a decent way to handle high call volumes or set up a separate business phone line. Not only does this allow solopreneurs to maintain their privacy, it has the added bonus of not requiring any new carrier plans or hardware. Just sign up, choose your number, and you're done.

Google Voice is also a decent platform for customer relationship management, and can integrate with CRM platforms to take care of things like SMS confirmation messages. Finally, the solution's multi-level auto attendant functionality means it works well as an answering service.

For larger organizations or businesses with more complex VoIP use cases, Google Voice doesn't really hold up. Although Google is updating the service to add new features (such as data regions), these updates tend to be somewhat infrequent. Most baffling is the fact that Google Voice currently does not support Rich Communication Service (RCS), a next-gen text message alternative that Google rolled out to all Android devices in 2019.

Much has already been written about the shortcomings of SMS. It's both archaic and highly insecure, and security specialists have demonstrated on multiple occasions how easy it is to hijack SMS messages. What this means for you is that if security is a core driver for your business, Google Voice falls short.

Speaking of security, the issue of data ownership further means Google Voice is ill-suited to use in highly-regulated climates. Finally, because of its limited availability, Google Voice really only works for businesses in North America, the UK, and select parts of Europe. If your business is headquartered anywhere else, you'll need to seek out an alternative solution.


Why Ringover Is a Better Business Alternative to Google Voice
If your goal is to move away from PBX to a more modern, digital business phone system, Google Voice is far from your only option. And it likely isn't your best option, either. Designed to support remote work, call centers, and small businesses alike, Ringover outpaces Google voice on multiple counts.


Simpler setup. With Ringover, you can deploy a complete, fully-functional business phone system in minutes. The platform requires no technical knowledge to manage or use, and can be accessed on any Internet-enabled device.

Better integrations

. Ringover

integrates

seamlessly with multiple CRM solutions, allowing you to easily log call data and attach it to contact records. You're not locked to a single software platform.

International support. Enjoy unlimited calling to 110 destinations worldwide, including Asia, Europe, and the United States. Wherever your business is situated, Ringover can support you; we support landline and mobile numbers in up to 65 countries.

Unmatched quality. No more spotty audio or dropped calls. Ringover offers an unbeatable level of quality, enabling crystal-clear calls no matter who you're talking to.

Single-click call transfers

. Transferring and forwarding calls is a breeze with Ringover. One click, and you're done. Better yet, through Ringover, you've got

instant number activation

, meaning it's easier than ever to add new lines.

Support you can count on. We provide our clients with a comprehensive knowledge base consisting of multiple intuitive, step-by-step tutorials. Better yet, our team of customer success managers are just as devoted to your success as you are.
Google Voice Might Not Be Right For You, But VoIP Definitely Is
Landlines are a dying breed. Realistically, it's impressive that they've limped along for more than a century with so little change. Ultimately, it's likely that the coronavirus pandemic was the final death knell for POTS — as businesses sought a means of adapting to a distributed workforce, they quickly realized that traditional phone systems simply weren't up to the task.

Just as distributed work is the future, so too are VoIP phone systems. Not only do they offer better connectivity, reliability, and flexibility than old-school PBX, they also greatly streamline communication through integration with other business software.

What's more, savvy businesses can unlock a whole new world of insights through analytics, identifying product bottlenecks, improving customer service, and identifying new opportunities. So if you are ready to bring your business telephony to the modern age, start your free trial with Ringover today!