Business phone system
Top 10 Trends That Will Dominate the Telecom Industry in 2023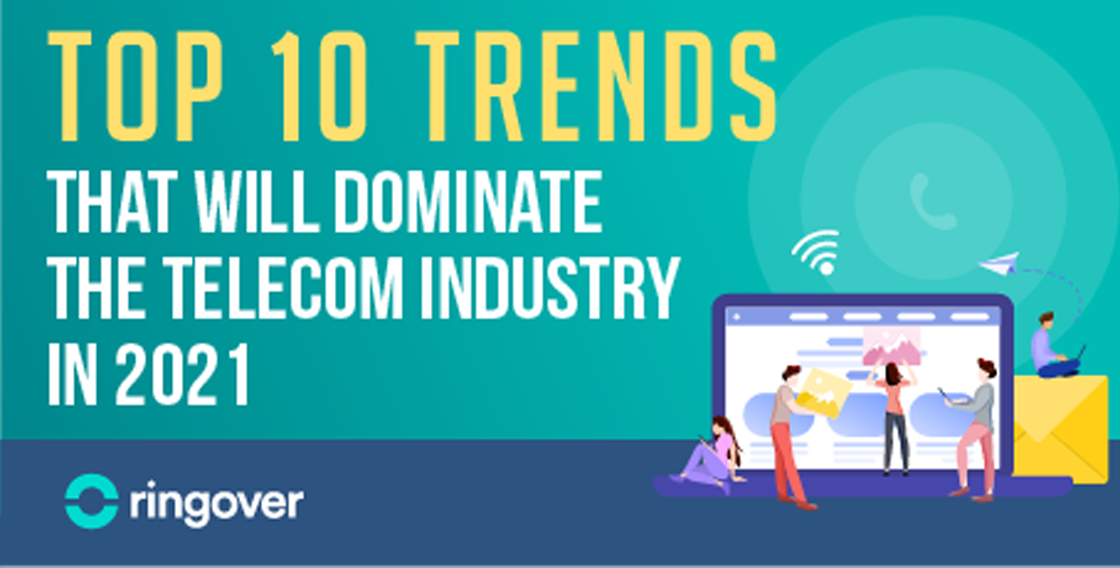 Summary
1. Features that ensure remote workflow and collaboration
2. 5G to go mainstream
3. Business lines on cell phones
4. AI-backed conversational platforms for enhanced customer experience
5. Call deflection to offer easy transition between phones and digital channels
6. Unified business and marketing tools for seamless data sharing
7. Cloud-based phone systems to enter the education industry
8. From legacy technologies to cloud-based and open technologies
9. Added emphasis on digital security
10. Big data to go big
2023 awaits advancements in Telecom to enhance the customer experience
The advent of COVID-19 has changed a lot of things, from the way organizations work and the channels through which they communicate to the solutions they expect from service providers. As the pandemic is expected to continue into 2023, players in the service industry are coming up with new offerings and innovative solutions that make business operations smoother during these challenging times. The same is the case with the telecom and communication industry, which is the lifeline of businesses of all types. One can safely assume that most of the telecom trends in 2023 will be guided by the challenges and demands created by the ongoing pandemic. Business telephony will be innovating features that support remote working, remote learning, and remote collaboration as these three have now become essential rather than a mere convenience. So, what does business telephony have in store for companies that are trying to adapt to the new normal? Here are 10 trends that will dominate the telecommunications industry in 2023:
1. Features that ensure remote workflow and collaboration
In the wake of the COVID-19 pandemic, organizations and industries across the globe were forced to reimagine work and ensure business continuity by embracing the remote work model. As we all know by now, the success of remote working depends on two factors – effective communication and collaboration.With more and more companies opting for remote work, cloud-based telecom providers are stepping up their game by introducing smart features that will enhance internal collaboration among teams. Shared call logs, call comments, tags, etc., are some such features for ensuring smooth and friction-free collaboration between team members and establishing a clear workflow. Likewise, business telephony has also started offering solutions to support remote work supervision and activity tracking. Call monitoring solutions with features such as real-time dashboards, discreet listening, and performance analysis will give cloud-based phone systems an added advantage in 2023.
2. 5G to go mainstream
One of the most talked-about VoIP market trends of 2023 is the widespread adoption of 5G or the 5th generation technology. Though 5G has been a hot topic in the telecommunication industry for quite some time, the need for reliable connectivity and better bandwidth has become more pronounced in the wake of the pandemic. In the current business landscape of remote working and digital collaborations, 5G deployment is vital, to say the least. Many global telecom giants, including AT&T, T-Mobile, and Verizon, are getting ready to offer their customers the benefits of 5G. According to reports, 5G frequency auctions were completed in France just a couple of months ago, with local providers including Bouygues Telecom, Orange Free, and SFR committing to a total of 2.8 billion euros. In addition to enabling faster communications, the 5th-generation wide-area wireless networks are also known for high browsing speed, better mobile broadband connection, and increased network capabilities. All these will enable corporate telephony to serve their customers better and keep us with the fast-paced business landscape. As a natural corollary, production and sales of 5G-enabled communication devices are also expected to grow.
3. Business lines on cell phones
The pandemic and remote working have made organizations, both small and big, rethink the purpose and uses of smartphones. Rather than using desk phones or separate cell phones for office work, professionals and entrepreneurs want their personal phones to double as work phones. In response to this requirement, business lines for cell phones will be a hot offering of cloud-based communication providers. Many market-leading players, including Ringover, have already come up with business phone lines designed like an app. In addition to enabling businesses to communicate on the go or from virtual offices, it will bolster the seamless transition between all kinds of devices.
4. AI-backed conversational platforms for enhanced customer experience
Artificial Intelligence (AI) is everywhere, and in 2023, it will create a stronger presence in VoIP and cloud-based telephony as well. Automated customer service is an area where AI companies are heavily investing in these days. In addition to customer interactions, the coming year will also see the widespread use of AI in other focal areas such as network optimization, predictive maintenance, and more.Virtual assistants, chatbots, and conversational AI platforms will help business telephony tremendously in reinventing customer relationships. As Gartner has already predicted, more than 85% of customer interactions will be handled and powered without any human interactions, by the start of 2023. That said, businesses will also find ways to draw a balance and productive collaborations between humans and AI to enhance the customer experience. Identifying the right areas for AI implementation will help companies to free up time and focus on their core operations.
5. Call deflection to offer easy transition between phones and digital channels
Digitals channels seem to be a favorite with businesses as well as individuals due to obvious reasons. However, it doesn't mean that phones have had their day. One of the major challenges of telecom service providers has been to find ways to merge the digital experience with the phone experience. The coming year will see telecom companies addressing this challenge by offering features such as call deflection. Call deflection– that is, the option to redirect calls to digital channels whenever necessary – will reduce waiting time as well as call volumes to a considerable extent. This will enhance the phone experience for customers while making the transition between telephonic transactions and digital channels faster and smoother.
6. Unified business and marketing tools for seamless data sharing
For the last few years, businesses have been opting for solutions that enable them to have all information in one place. This trend will continue through 2023 with cloud-based solutions offering easy and seamless integration between business/communication tools and business phone systems. These include tools like CRM, helpdesk, ERP, other business management software for planning and tracking the customer lifecycles and project lifecycles. The multi-functionality of business phone systems and the Internet of Things (IoT) will continue to be a major focus area in 2023 as it has been in this year. Fueled by the remote working model, service providers will also be enhancing unified communication solutions that can be used on connected devices for calls, videoconferences, chats, and more.
7. Cloud-based phone systems to enter the education industry
Cloud-based phone systems have been a preferred choice for several industries including healthcare, hospitality, eCommerce, and professional services. An exception to this has been the education industry where, despite eLearning platforms, traditional communication tools enjoyed the upper hand. As the pandemic has transformed existing patterns of instruction, the education VoIP market is expected to see exponential growth. Remote learning, which is expected to become the new normal in the coming years, will also provide telecom service providers with opportunities to help educators reach students that have less access to wifi. Needless to say, bridging this gap will serve as a catalyst for innovations and inventions for telecom industry leaders in the coming year and beyond.
8. From legacy technologies to cloud-based and open technologies
One of the main business lessons 2020 taught us is that companies should have the agility to make themselves available to their customers. The ability to respond quickly to challenging situations, on the other hand, will highly depend on the digital maturity of organizations. However, flexibility and agility are hard to come by when companies continue to use legacy technologies.And that's precisely why the coming year will see more and more companies embracing open source and cloud-based technologies to boost agility. With less dependence on on-site physical hardware, companies will continue to shift to cloud communication technologies throughout 2023 to ensure the continuity of business operations at all times.
9. Added emphasis on digital security
As more and more telecom solution providers are switching to open and cloud technologies, continued focus will be placed on data integrity and cybersecurity. During the pandemic, Zoom became an example of what not to follow, as hackers got a hold of 500,000 passwords. As a result of cases like this, telecom companies are investing heavily in cybersecurity measures, which will continue to take center stage in 2023.
10. Big data to go big
Big data is the new mantra for industries looking for growth and expansion, and the telecom industry is no exception to this. As telecommunication service providers switch to the cloud and facilitate seamless communications through connected devices, there will be a marked increase in the amount of data they create and collect to offer more value to their customers.In 2023, big data analytics will continue to transform the telecom industry. Finding solutions and technologies that will support their networks in carrying huge amounts of data will be the major focus of all industry-leading companies. At the same time, they will be leveraging data to optimize networks, improve customer services, and above all, build new strategies.
2023 awaits advancements in Telecom to enhance the customer experience
Propelled by the disruptions created by the pandemic as well as disruptive digital technologies, the telecom industry is all geared up for innovations and experiments in the year 2023. From Artificial Intelligence and Machine Learning to 5G, cloud computing, and IoT, corporate telephony will be adopting cutting-edge solutions to improve operations as well as enhance the customer experience. In a nutshell, the coming year will see the emergence of several new trends while bidding bye to many old ones. The coming year indicates new challenges, but also paves the way for new solutions.