Business phone system
WebRTC: What is it and how does it work?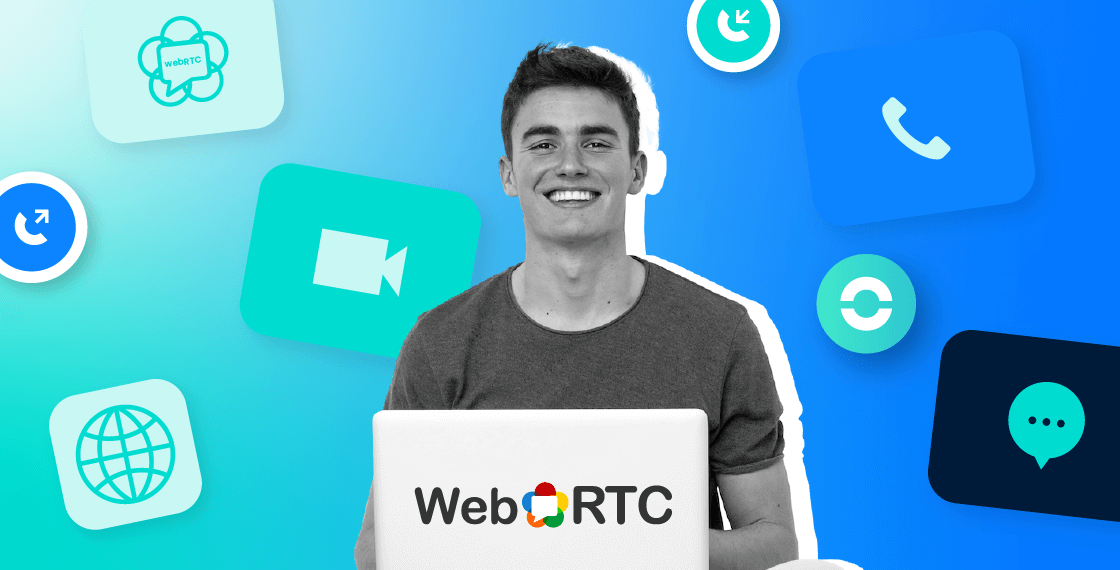 Summary
WebRTC or Web Real-Time Communication is a technology present in web browsers. It offers many possibilities for VoIP communication.

In this article, we will explain what WebRTC is and how to exploit its full potential in your business.
What is WebRTC?
Let's start with a little history lesson. WebRTC is relatively new. It really started to be talked about in May 2010, when Google announced the acquisition of the company GIPS (Global IP Solutions). Google's objective? To found the WebRTC project.

The WebRTC project became what it is today after GIPS technologies were published as open source.

However, Rome was not built in a day. In 2011, Google made the decision to partner with the world leaders in web browsing at the time Mozilla and Opera. But that's not all! The technology giant also joined forces with the W3C and IETF standardization bodies to develop this technology that quickly became a must-have. Since then, WebRTC has become a communication standard.
What is WebRTC used for?
WebRTC allows you to make calls or video conferences within your browser through a compatible web application. Before the advent of WebRTC, it was necessary to use extensions to send/receive audio/video calls directly in the browser.

Now, this technology is available natively in the vast majority of browsers on the market such as Google Chrome, Mozilla Firefox, Opera, or Microsoft Edge Chromium version). It is used in all applications requiring real-time communication (instant messaging, video conferencing, video games, streaming, etc.).
Who uses WebRTC?
The technology is currently supported by Safari, Chrome, Firefox, Opera and all other Chromium-based web browsers on mobile and desktop. In other words, pretty much everyone uses WebRTC in their daily or professional life.

In the field of health for example, WebRTC is very useful for remote consultations. In security, the technology establishes the connection between browsers and surveillance cameras. As you can see, WebRTC is certainly one of the greatest innovations of the last few decades.
WebRTC video
WebRTC: How does it work?
WebRTC is a technology that works in Peer-To-Peer (P2P). It allows communication between two devices via an application and a web browser in a decentralized way.

In other words, media streams from the machines are transmitted directly from browser to browser without passing through a centralized server. There is still a centralized server, but its role is simply to manage the signaling and the connection of the users. Let's talk a little more "technical" to better understand how WebRTC works.

With WebRTC, the media flow and the signaling are managed in two different ways. The media (voice/video) flows through a media channel using the SRTP protocol, while the data flows through the data channel using the SCTP protocol.

As far as signaling is concerned, it is done through a WebSocket, but the signaling protocol is not dictated by WebRTC. This means that it is up to the developer to choose the most appropriate signaling protocol depending on the media they wish to transmit. In the field of cloud telephony, SIP protocol is generally used.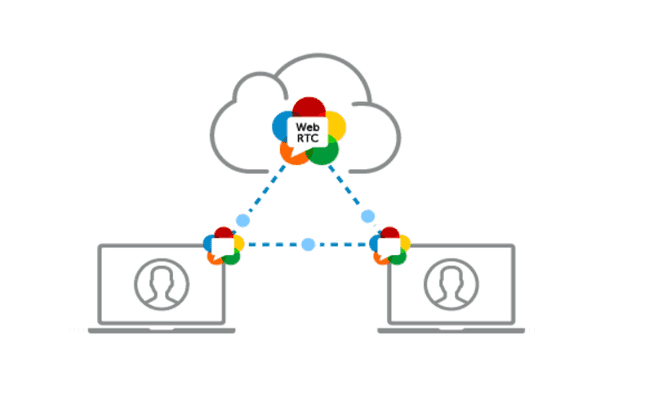 Why WebRTC?
As we have seen before, WebRTC allows calls to be made directly in a web browser. But how does this contribute to the operations of a contact center, for example? This is what we will see in the next few paragraphs.
What are the advantages of WebRTC?
Here are the different advantages of WebRTC for companies:
No prior installation is required
When you use a telephony solution like Ringover, no installation is required. Just launch your browser, log in to your Ringover account, and you're ready to go.
More flexibility
WebRTC offers a certain flexibility. In fact, it doesn't require a physical installation on site, browser extension, or third party application. If your business relies on telephony, or any other form of dematerialized communication, your employees can work from anywhere. It thus enables telecommuting and facilitates the management of companies located across multiple sites.
Less expenses
Hosted directly on the web and 100% native in your browser, WebRTC reduces all costs related to the installation and maintenance of a telephone infrastructure.

Plus, the use of WebRTC has no extra cost. All you need is an internet connection and a web application for your business communications.

That's right! If you want to get rid of your traditional IP phones you can do so by switching your phone system to the cloud. You will therefore only have to consider the subscription to this cloud telephony solution.

And those subscriptions are much less expensive than traditional telephony offers presented to professionals because there are no maintenance and installation costs.

The other advantage is that you benefit from clear pricing and you know exactly how much you are paying for your business telephony.
Simplify call management
In addition to the benefits mentioned above, WebRTC makes call management and administration of dedicated platforms much easier. Companies gain autonomy since they no longer have to contact an operator or an integrator, even if it is only to assign an extension number to a new employee.


How do I enable WebRTC?
If you have inadvertently disabled WebRTC in your browser, it is likely to cause disruptions to your web communication tools. Here are the steps to follow to reactivate it:
Re-enable WebRTC in chromium-based browsers
If you're comfortable with technical processes, you can activate WebRTC manually. Go to the experimental options of the browser and type the following query in your address bar "about:flags". Then press "Reset all" to reset the settings.

If you're not into technicalities, you can simply download a browser extension such as WebRTC Control. Once you've added the extension to your module bar, all you have to do is click on its icon to turn WebRTC on or off.
Re-enable WebRTC in Firefox
To manually enable WebRTC in Mozilla Firefox, you need to enter the query "about:config" in the address bar. Then type or copy and paste "media.peerconnection.enabled" in the search field of the advanced settings. All you have to do is click on the "reverse" icon to switch to the "true" setting and reactivate WebRTC.

You can also add an extension from the Mozilla add-ons catalog to easily reactivate WebRTC.
Re-enable WebRTC in Safari
Finally, if you are on MacOS and you use Safari, here are the steps to follow to re-enable WebRTC:
Go to Safari preferences.

Go to the advanced settings and activate the option "Show the development menu in the menu bar".

Go to the development menu which is now displayed in the bar.

Go to "Experimental features".

Check the WebRTC options.
Exploit the full potential of WebRTC
You probably already use WebRTC in your daily life, but are you exploiting its full potential? To learn more about WebRTC and its impact on your business telephony, feel free to contact our experts or sign up for a free trial of Ringover.