Business phone system
10 things to consider when choosing a CCaaS solution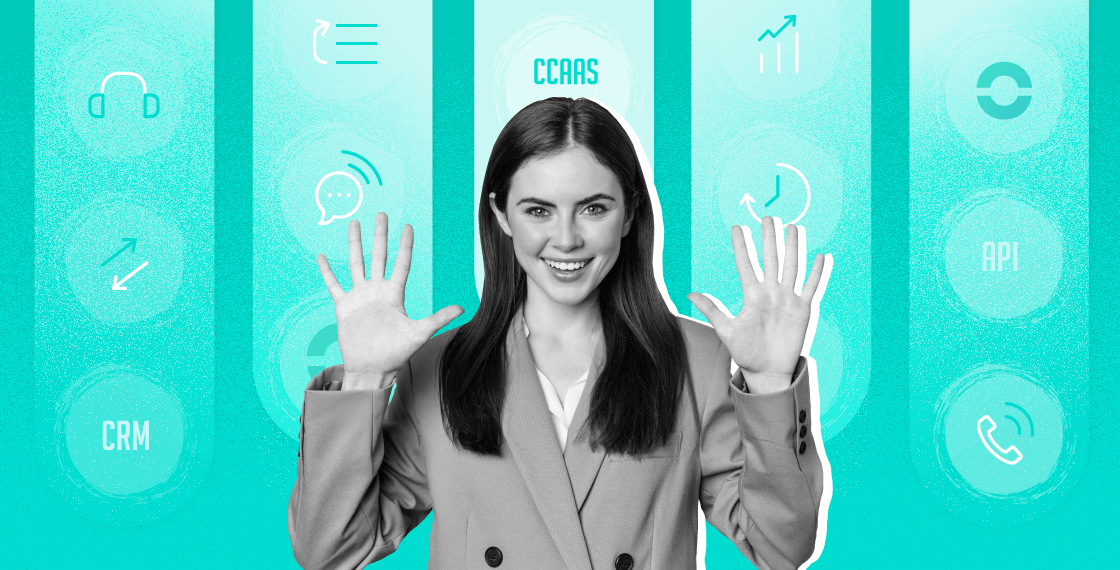 10 things to consider when choosing a CCaaS solution
You might already know what a contact center solution is and why it is important to have one. But now, you must choose the right one for your needs and those of your clients.We'll share with you the 10 key points to take into account when choosing your CCaaS solution. Before we start, a little refresher
What is CCaaS?
"CCaaS" stands for "Contact Center as a Service". In other words, CCaaS technology offers call and contact centers a cloud solution to centralize and manage all their communication channels with customers.For more information on CCaaS: What is a contact center and how can it help your business?What should you consider when choosing a CCaaS solution?IT managers are often faced with the difficult task of finding a CCaaS solution to synchronize the business aspects with technical functionality, while also considering the budget. Here are some things to keep in mind when making this decision:
1. Easy to install and to use
One of the great advantages of a cloud solution is that the software can be accessed from a browser or mobile application, without the need for a complex installation. However, some cloud programs are not always easy to use. An easy to use interface will make your team want to use the software.When you choose your CCaaS solution, make sure it's clear, intuitive, and simple for you and your contact center agents to learn. A CCaaS solution should also offer your staff better organization and speed in managing call flows. If you can, try one or more solutions for a few weeks to make sure it's right for you.
2. Teamwork and productivity features
Before choosing your CCaaS platform, it's useful to check the features offered in the subscription. Each provider offers different packages. The following list corresponds to the minimum requirements that the platform must cover:Interactive voiceAutomatic call distributionPriority callsCall automation Integration with the CRM softwareReal time tracking of your employees productivity
3. Coaching and training tools
Some CCaaS solutions offer coaching and training tools making all the difference in getting new team members up to speed and maintaining ongoing training for your call center agents. Functions such as double listening or the whisper feature and call recording are essential to offer a great experience to your clients.
4. A database and KPI info at your fingertips
If you're looking for improvement year over year, data analysis is essential for a call center. A CCaaS software should be able to provide statistics and key indicators in real time so you can monitor the activity of your team and adapt to the situation at any time. This data is a crucial part of the success of a call center. Your CCaaS back-office must go further and provide advanced monitoring indicators and reports to analyze the activity of your call center, anticipate peaks in demand and predict the individual performance of your team. The accuracy of the statistics is crucial for the success of the organization.Image stats
5. Native integration and API
The ideal CCaaS solution should be easy to integrate with your work tools (CRM, customer service software, ...) through native integrations and/or an easy-to-use and well-structured API. These integrations will make it easier for your agents to use the software and allow you to automatically record key information to satisfy customers, such as calls or contacts made. It can be a real time saver for your team on a day-to-day basis.
6. Adapt to the flow of calls
Smart queues and IVR route calls have improved the customer experience. By customizing inbound call flows with an effective CCaaS solution you direct your customers to the right person: the last person they interacted with, the technical expert on the problem they encountered, the bilingual agent in their native language. , etc. All this obviously improves the experience for your customers.
7. Flexibility and adaptability to respond to call volumes
Call center activity can vary depending on the time of day and day of the week, or even the season (Christmas, Black Friday, sales, etc.). Good CCaaS software should allow you to easily accommodate occasional call spikes by adding lines or changing opening hours, for example. It must also support the growth of your company: increase the number of call center agents, open up to new international markets, etc.
8. A tool to provide the level of the quality for your company
Your call center is the point of contact with your customers. You can't afford to choose CCaaS software that doesn't deliver on call quality, service and uptime. These commitments must be in writing and guaranteed in a contract.
9. Assistance and follow-up
No matter how intuitive your CCaaS platform is, you may still have specific questions or requests. Check with your provider to see what level of support they offer. Ideally, they can offer dedicated support, with a single person responsible for your account, who knows your offer and your needs, in order to respond to your requests in the most efficient way possible.
10. Data protection
Since the adoption of the RGPD and the more exhaustive control of the CNIL, the confidentiality of data has (rightly) become a particularly important point of attention for call centers. Call centers handle sensitive data, and the slightest breach in the security of this data can destroy the trust of customers and ruin the reputation of the company. Therefore, the CCaaS solution you adopt must offer guarantees regarding data security.Why choose Ringover?Ringover's CCaaS solution is easy to implement and integrates with your business software (CRM, helpdesk, ...) thanks to native integrations and an intuitive API. Our functionalities cover all the needs of a contact center to improve the day-to-day life of your agents and the experience of your customers. For more information, contact our experts for step-by-step guidance on 01 84 800 800 or start your free trial today.