Sales prospecting
How inbound marketing is revolutionizing sales calls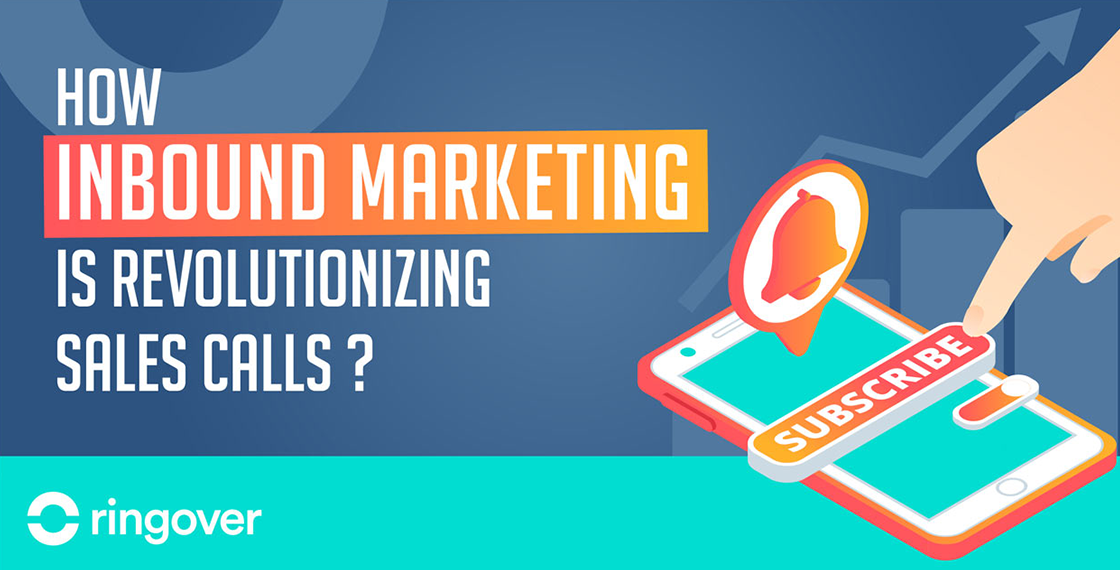 While companies still use cold calling and cold emailing, it's becoming more and more of a challenge to make oneself stand out amid today's plethora of information, messaging and promotional material of every kind.Contacting leads is nonetheless more productive when they're not "cold," but have already been in contact with you in one way or another. This is the goal of inbound marketing: with pertinent content, sales will be simpler, and your salespeople will be assured of a better conversion rate. In this article, we'll be sharing our tips for creating an effective inbound marketing strategy and integrating it with your sales call efforts.
What is Inbound Marketing?
Inbound marketing is a strategy that involves attracting customers by creating useful content. It requires understanding your customers' needs and providing information, articles, and other materials that are relevant to them in order to catch their attention and initiate or maintain a relationship of trust with them.An inbound marketing strategy consists of three stages:
1. Attraction
You need to capture your target clients' attention with relevant content that allows you to establish yourself as a trusted figure. Your leads will therefore be more inclined to interact with you and ask you about your areas of expertise. Inbound marketing can therefore be an integral part of your regular and/or paid SEO strategy.
2. Interaction
Once you have your leads' attention, you'll need to provide them with the information and solutions they're looking for to solve their problems and achieve their goals. The more relevant you are, the more likely your leads will be to purchase your products or services. This phase is particularly important to supporting your sales team's efforts.
3. Maintaining loyalty
It's not all about converting leads into customers - you still need to keep them. By providing them with the help and support they need to get the most out of their purchase and responding to issues as they arise, you'll assert your position as a trusted partner and strengthen the bond with your clientele. This phase occurs at the crux of customer support and customer success activities.To be effective, an inbound marketing strategy must be a generous one. You have to keep in mind one simple idea: your clients' success will lead to your own. And by helping your clients, there's a much higher chance that they'll want to recommend your product or service to their contacts. A successful inbound marketing strategy is therefore a tremendous lever for growing your business - not to mention the fact that new contacts will yield qualified and relevant leads.
How does inbound marketing change lead generation?
According to a study by the Marketing Leadership Council in partnership with Google, entitled "The Digital Evolution in B2B Marketing," B2B customers complete more than 60% of their purchasing journey independently. It's therefore essential to be well-positioned on search engines with qualitative content that meets the needs of your potential clients. A well-executed inbound marketing campaign will arouse the interest of your target audience and generate qualified leads which you can take advantage of.An inbound marketing strategy aligns the goals of the marketing and sales teams and allows them to work hand in hand. A marketing team's mission is to build a qualified audience and retrieve their contact information, which will then be passed on to sales personnel. In return, sales personnel provide the marketing team with the subjects, issues and client questions that emerge from their phone discussions or email exchanges with leads.Qualified leads can be generated in different ways: through blog content that a lead regularly consults (which may encourage them to subscribe to a newsletter), through social media, or different materials downloaded from your website. Your goal should be to optimize your content to hook leads with real conversion potential and gather their contact information (email, phone). It will then be up to the sales team to activate these contacts with an effective conversion strategy (meaning an "inbound sales" strategy).
5 tips for a winning inbound strategy/span>
Use premium content to generate qualified leads
For your inbound marketing strategy to be effective and provide you with qualified leads, you need to produce high-value content that doesn't exist anywhere else and that perfectly meets the needs of your target group. The time and effort needed to sign up for or download your content may put visitors off if they're uncertain of finding the answer to their question. It's essential to provide open access to a certain amount of content to create the first bonds of trust with your visitors.
Contact interested leads as quickly as possible
It's important to identify your most interested leads and reach out before they turn to the competition. A simple subscription to your newsletter isn't enough to consider a lead as good as sold - you must nurture this type of lead with increasingly targeted content submissions. On the other hand, a contact who has visited your site multiple times and downloaded your latest brochure is probably ready to receive a call from one of your sales reps.
Add important information to your CRM
To provide your salespeople with qualified leads, you need to compile all important information on your visitors in a file for warm and cold leads. Visitors who know you and have shown an interest in your business will be much more receptive to calls from your salespeople as well as their pitch. The more information is automatically integrated in your CRM, the richer and more useful your contact file will be to your sales reps.
Prepare each call in advance
By integrating Inbound Marketing with your sales call strategy and using a CRM, you'll have key information needed to pitch your product or service. Before calling a lead, however, be sure to go through their contact history and analyze their actions on your site and social media networks. How many blog posts have they read? Did they download your last brochure? Do they share your articles on social media? Which topics seem to interest them the most? Use the information in your CRM to contextualize your call and identify your contact's motivations: company turnover, activity sector, problems encountered, etc. All this data will help you to customize your approach and more easily achieve your conversion goal.
Qualify leads between calls
The final goal of lead generation is to get an appointment and sign on a new client. But it can take several weeks or even months for this to happen. This is the whole point of lead nurturing: by regularly sending emails according to a pre-established scenario linked to a lead's action (download, signup, registration, etc.), you'll keep yourself on their radar until they're ready to become a client. Throughout this process, you can track email open rates and clicks made to identify the most engaged leads. Your sales reps will then be able to contact them at the most convenient time to initiate a sales discussion.
Ringover & HubSpot: the tools you need to optimize your inbound marketing strategy
To best capitalize on your inbound marketing strategy and effectively integrate it to your sales call campaigns, there's nothing better than linking your communication platform to your marketing software.HubSpot is a web marketing reference tool for professionals that want the best there is when it comes to supporting inbound marketing strategies.The Ringover x Hubspot integration links your tools to give you access to all key information about your leads in one place:
general information: company, sector, contact information, etc.

their behavior on your site, pages they visited, materials downloaded, etc.

phone information: calls made, text messages sent, voicemails, recorded conversations, etc.
You can easily track all your phone activity, contact by contact, in your CRM. Each incoming, outgoing or missed call is automatically added to the corresponding contact file - no need to waste time manually logging calls.
Ringover can also be integrated with other business tools - find out more here.
Don't hesitate to contact our team to help you set up an effective sales campaign at 01 84 800 800 or send an e-mail to commercial@ringover.com. Start your free trial today!