Once upon a time in business, you had your computer and you had your phone, side by side on your desk. Even if they shared an internet connection (or even longer ago, took turns to use it) they did not connect to nor communicate with one another. If you needed to dial a number from th e screen of your computer, you tapped it carefully into your handset.
With the arrival of VoIP (Voice over IP) calling for the masses courtesy of Skype in 2003,
computer telephony integration (CTI)
was born, and you could use your internet connection to route your call. At last, you could click on a number on your screen and trigger a call to that number directly, without involving either your landline or your mobile phone.
This was just the start of a whole new world of ways that making calls could be augmented and enhanced with the power of computing technology and the global data network, and today business cloud phone systems are the enterprise standard of communication worldwide.
While CTI-driven softphones are far more versatile and powerful than that box with the buttons and handset we used before, there are new things to be learned along the way, to help every user get the most of CTI and understand how it can enhance their business' productivity and effectiveness. For customer service managers in particular the potential is great — but there are terms you will need to add to your business lexicon along the way.
Here's an exploration of some key terms to help you get started, and help you explore the power of a cloud-base business phone system for your organisation:
1. Automated customer authentication
2. Automated Dialling
3. Call Supervision
4. Intelligent call routing
5. Interactive Voice Response (IVR)
6. Softphone
1. Automated customer authentication
We have all had caller recognition on our landlines and mobiles for some time now, but with CTI you can go much further. When someone contacts your business, assuming they've been in touch from the same number as before, that number can be
automatically matched up within your Helpdesk
system.

That means that even before the call is connected the agents can see everything already known about this caller — their order history, ticket status, previous call logs and who they spoke to, and so on. If everything is set up correctly on the backend Helpdesk, they can even see emails, text messages, staff notes, ratings, public social media postings made about the brand by that customer, and any other relevant contextual information.
CTI gives your customer service agent real superpowers, to answer that caller like a long-lost friend — or at least like an expert in their needs and solutions. The combination of voice and data enables everyone from a sole trader to a vast enterprise to respond to callers as the unique individuals they are.
2. Automated Dialling
How about outbound calling? Every customer service professional knows that time is money, and all those minutes and seconds spent dialling numbers and listening to them ring out at the other end is time they're not using to strengthen customer relationships and address incoming queries.
When it is time for your reps to contact your customers perhaps for gathering feedback about their experience with your service, automated dialling with
RingOver's power dialler
will do the heavy lifting in the background, loading and dialling from your lists — minimising downtime between calls, and keeping your top outbund agents doing what they do best. It will even provide them with the same context and historical data from the CRM that the inbound callers get (see above), to maximise the impact of each call.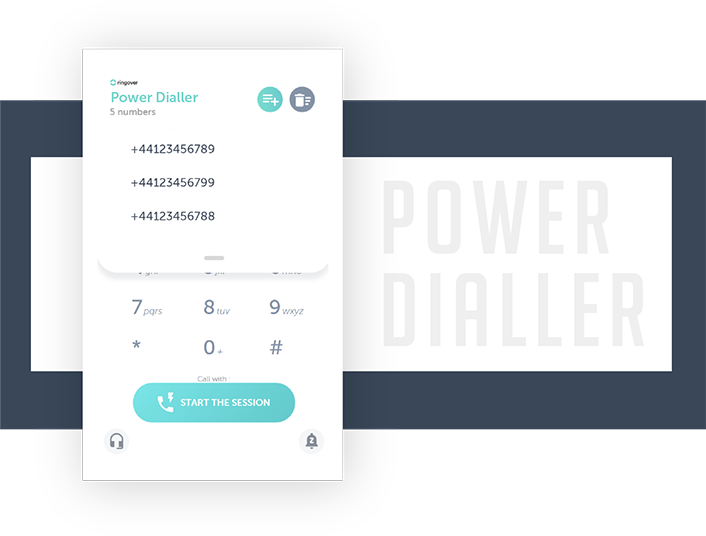 You can build in an after-call buffer zone, to allow agents to update their records and notes before getting connected promptly to the next conversation — because like all of RingOver's features, the power is in the customisation and getting it working the way you work best.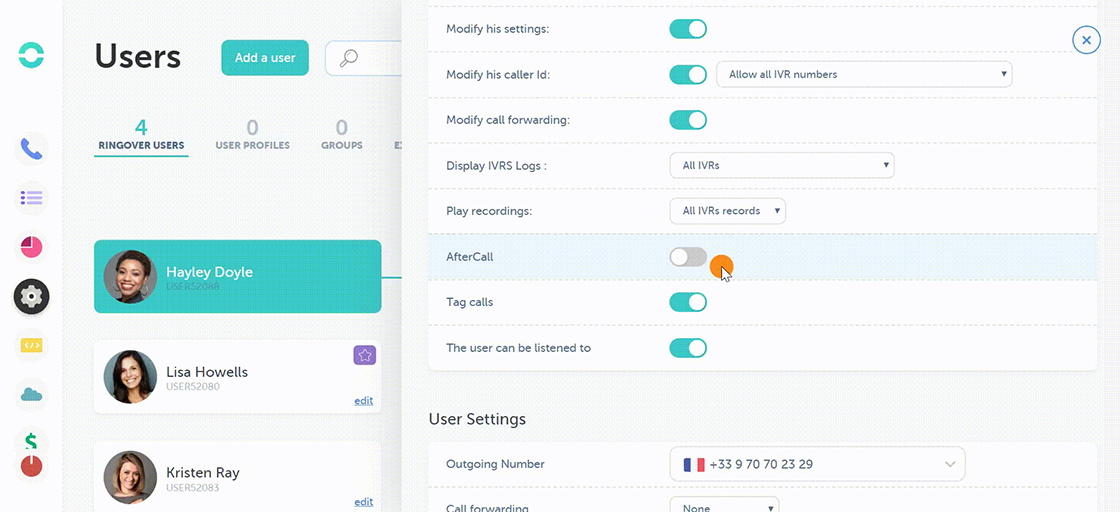 3. Call Supervision
Supervision is an important part of every manager's role, but when you're dealing with teams making phone calls there are specific challenges. Whether you're training or onboarding a new team member, or operating to a quality standard ensuring that a minimum number of calls are listened to and checked, call supervision is a powerful feature which gives managers direct insight into what's going on during a call, and helps answer the questions you need to resolve:


Why is that particular customer service agent receiving feedback rating averages which are out of sync with the rest of the team?


Why is that support agent failing to take as many calls as the rest of the team?


Has the new hire really learned how to deal with this particular kind of customer query..?

It's easy to configure call recording for any user, right in the admin dashboard, and then to listen back at leisure to analyse what is going on. At the same time you can remain legally compliant, by ensuring an automated alert to warn customers that their call may be recorded for training and supervision purposes.





You can also supervise live, listening to a conversation in real-time, if you're concerned about what's happening — with the option to listen in the background, join in the conversation with all parties, or to whisper discreetly in the agent's ear with in-the-moment feedback if things are getting off track. It doesn't matter whether your team of agents are sat in a big call centre with you, they're working in a remote facility, or even sat at home. You can be right there at their shoulder, providing guidance, support, and emergency intervention.





And RingOver's call supervision features lets you store and archive calls too, so that they can be retrieved at any time, in the event of a dispute or audit or simply for internal review — protecting you, your agent, and your caller.

Discover the 5 top tools for supervising your customer service calls



4. Intelligent call routing


Remember when we used to have human receptionists taking calls and asking who you wanted to speak to, before manually punching the call through to the right person? Those people were intelligent but not telepathic, and being put through to a voicemail or a line left to ring out was a great frustration.

Nowadays callers have higher expectations of reaching the right person fast, but that right person might also be a category of persons, such as customer service agents or technical support. Rather than publish a directory of individuals to try in turn, you can configure your RingOver business phone system to route calls smartly as you prefer — for example, alerting all the available reservation agents simultaneously, or the one who last took a call, as soon as the customer selects that option.

This helps to minimise the time from call to connection for your inbound caller, and makes best use of your support colleagues' time, to receive the most appropriate calls for them fast. No one gets overloaded, frustrated, cut off or diverted — they just get what they called for. You can design your call routing dynamically in the dashboard, and it's easy to update on the fly — if new business enquiries are overloaded in a spike so some of your CSA team need to step in and be routed those calls.



5. Interactive Voice Response (IVR)


An Interactive Voice Response (IVR) system is a user-configurable telephone menu that enables identification, segmentation and routing of callers to the most appropriate resource or extension within your team, driven by what the inbound caller selects or says. It's like that old-school receptionist again, but imagine she can handle multiple calls simultaneously, knows what every agent is doing right now, can speak any language you like, and never takes a lunch break. She also has a powerful database of additional resources in her head.

IVR brings versatile enhancements to your CTI and enables you to configure personalised responses and instructions for your callers, which gets them to the response they need fast. Using voice recognition or simple dial pad instructions, your caller can navigate to the right queue without delay, and hear human voice guidance and reassurance at all times. This boosts first call resolution and NPS scores, and reflects your organisation's customer service values across the entire interaction.

Perhaps they don't need to talk to a human agent at all — a large proportion of customer service calls are very routine, and enquirers just need access to the right information quickly. An IVR enables them to get to that data directly, particularly at times of high demand, and is infinitely scalable. IVRs can collect data in a systematic way, for example to file an insurance claim, it can walk callers through a form to complete it on their behalf, and also collect essential data to facilitate the contextual information the human agent will need — such as if a customer says they have called before but there's no automatic match in the CRM, it could prompt them to enter a ticket or case reference number if known. This ensures your skilled human agents' time and attention are reserved for callers with complex needs or queries, and they can take the time needed to respond effectively, confident that routine informational responses are handled automatically.

If you're a small business or even a sole trader, an IVR can help project the presence of a larger organisation, while simultaneously making the best use of your own time in deciding which calls to attend to in the moment. Let callers leave a message for accounts or marketing, while you instantly intercept that new business enquiry before they hang up. You'll create a professional impression for every caller, even if you are the accounts department as well as the CEO and head of logistics.

And whether you're large or small, no business can take every call from every customer every time. A 'friendly' IVR can help make sure callers are informed and entertained during any necessary delay, get routed to other sources of information if appropriate, and receive a meaningful and informative response if no agent can respond (for example, they're calling outside your business hours). So 100% of your calls get managed, one way or another, and nobody is left hanging.

Learn how to set up an customer service IVR in simple steps



6. Softphone





Remember that plastic box which took up a third of your desk at one time, with the keypad and receiver? That was a hardware-based phone, or hard phone.

Today's computer-integrated VoIP phones are pure software. The only desk space it occupies is on your computer or mobile device, and you don't even have to dust it. For the majority of users, a separate piece of hardware just for talking on is simply no longer necessary.

Punching above its weight in every sense, the only soft thing about a softphone is that it's pure software — in fact it's software-as-a-service (SaaS), so it's easy for the business to scale and provision for every user, who then needs to do nothing to keep it up-to-date and integrated with the business' CRM and data analytics — that all just happens in the background, with the latest data pushed directly into their application automatically

Instead of a handset to wedge under your ear, you can use headphones or mic of choice, and choose the peripherals which best suit the way you live and work — for example, a customer service agent dealing with a high volume of calls can maintain mobility and comfort with a Bluetooth headset with integrated mic, so they're free to stretch their legs as well as using both hands to type call notes.

And because RingOver's business phone system comes as a mobile app as well, you can install it on your favourite device — as an application which is completely separate to your mobile phone number and data plan. The app, available for all top platforms, provides full connectivity to your business phone system (such as the address book and Helpdesk) through your own handset. The flexibility is yours — if you need to step away from your desk, seamlessly transfer the call to your mobile app without the other party hearing a single beep, or just as smoothly you can hand the call over to a colleague in another room… or another continent.



Digging deeper and learning more


Understanding some of these introductory terms is important for choosing and setting up the right business phone system, and also for developing your CTI Vocabulary.

This list is far from exhaustive, however, because your business phone system is as customisable and unique as your business. By choosing a provider like RingOver with an extensive and growing list of features and integrations, you'll be able to extend the power of your telephone system as your business grows, and responds to changing needs of the technological environment and your customer's expectations.

You can discover a load of new jargon, alongside deeper functionality and powerful tools, at the RingOver product page.



Want to learn more about using CTI in your customer service?


Contact our experts to help guide you step-by-step at +44 20 7509 6665 or send an email to sales@ringover.com. Start your free trial today.