Remote work and VoIP
Best 14 Online Collaboration Tools for Remote Teamwork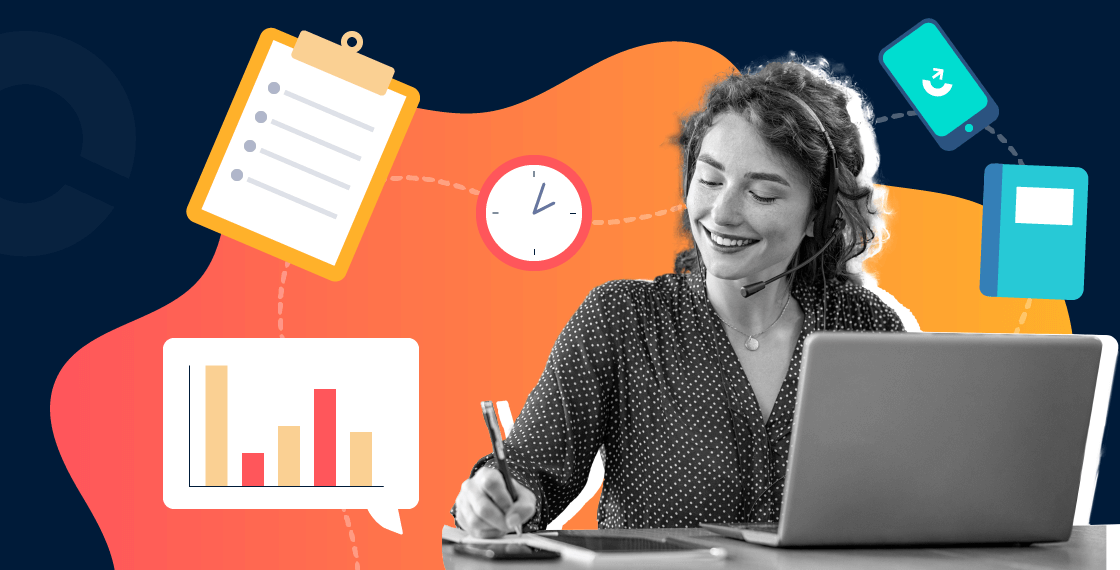 Remote working, mobility, nomadism, freelancing…the labor world keeps evolving. In the United States, 38% of employees say they are able to work from home at least one day a week. In the United Kingdom, the number of people working from home rose from 800,000 to more than 4 million, and it's estimated that another 1.8 million would do so if allowed. This evolution of work patterns necessitates an adaptation not only of practices and processes, but online collaboration tools as well!

Free Trial: Online Collaboration Tool


Luckily there are collaboration tools that facilitate remote teamwork, whether it be occasionally, a few days, a week, or full time. Here is our selection of must-have collaboration tools every remote worker should be using right now.

Best online collaboration tools 2024
1. Ringover: manage calls from anywhere
With Ringover's desktop and , your business phone follows you wherever you're working: at the office, at home, in a coworking space, on the road or overseas…Ringover also facilitates thanks to its collaborative features: , , shared contacts, internal messaging, to name a few. Plus, Ringover has over 50 with other business software. With available too, it will be a cinch to add it to your selection of business software.
2. Azendoo: project management and collaboration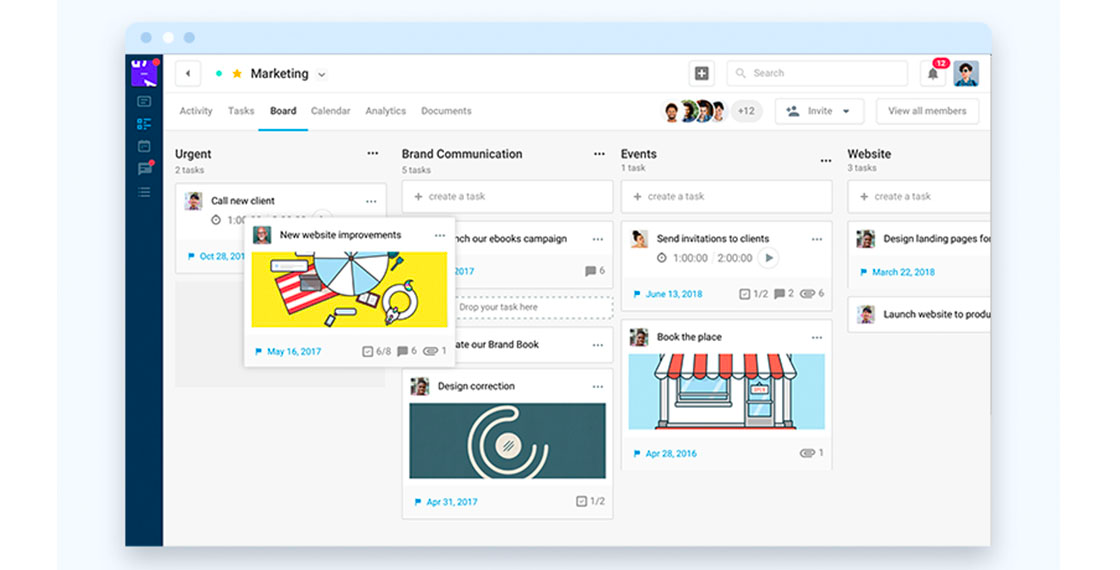 Azendoo is a collaboration and productivity tool for multi-location teams. Thanks to a unique collaborative workspace, teams can communicate and access the same information no matter where they are. Document management is easily facilitated via numerous integrations within the tool: Evernote, Google Drive, Slack, Box, etc. Azendoo therefore reduces the number of emails sent and improves teamwork.
3. Proofhub: planning, collaboration and project organization
Proofhub is an "all-in-one" program for collaboration, organization, and planning that allows teams to work in total transparency from anywhere. Numerous features allow collaborators to work more quickly and efficiently: online chat access, task distribution, deadline setting (Gantt project), document sharing, note-taking, opening of tickets on request, activity logs, etc.
4. Quip: shared and collaborative documents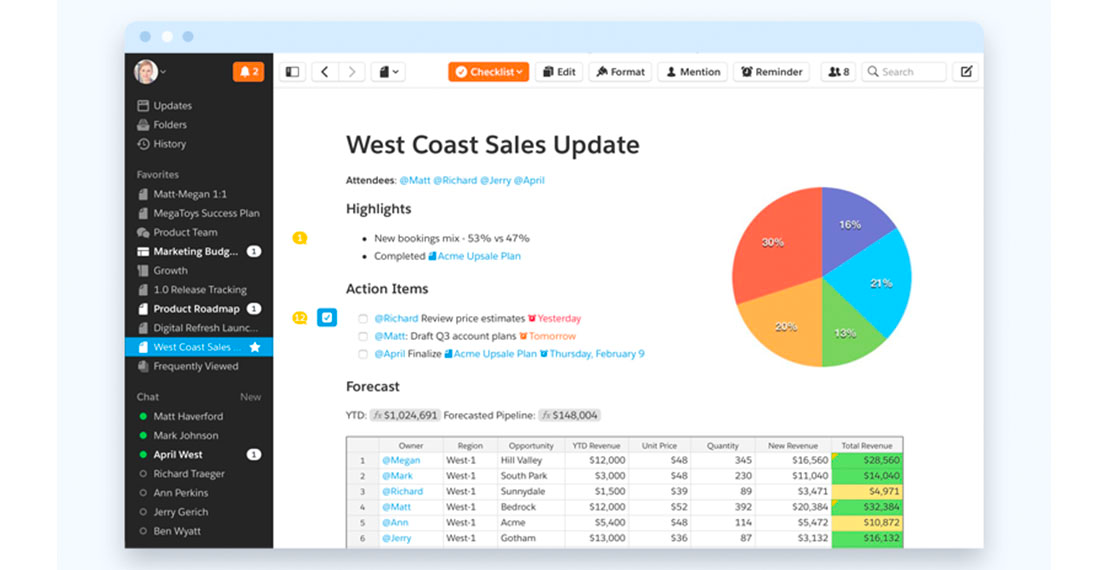 Quip is the perfect tool for working as a multi-location team! It includes a web and mobile app that facilitates shared work and collaboration. Each person on the team has access to the same online document, can view recent changes, and discuss with colleagues thanks to internal chat within the document. Quip also makes it possible to integrate polls, edit images, or track project progress with an integrated calendar.
5. Miro: online collaborative whiteboard
Miro is an online whiteboard allowing remote teams to write, draw, and modify or add content in real time. Available for computers, tablets and smartphones, Miro eases visual communication and collaboration between team members.
6. Scrumie: team collaboration and work overview
Scrumie is a team overview tool that helps you keep your team in sync no matter where your teammates are working.It provides you with a transparent overview of the work done in your team based on virtual stand-ups, which the team members fill out daily. Thanks to the availability and time zone features, employees can see when their colleagues are working via a status or their working hours.
7. Xtensio: creation and sharing of professional documents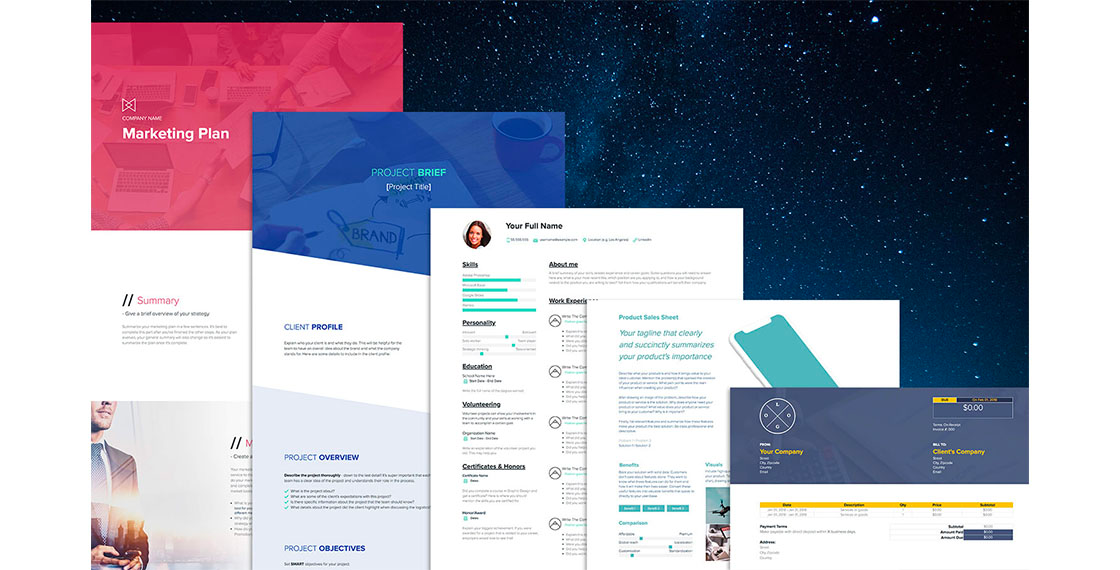 Xtensio is a tool that helps in enhancing presentations and products with ease. It can make your documents look engaging, professional, and simple. It's also easy to use, filled with lots of features and offers complete value for money. Using it, you can share, present, and manage the business and their needs.
8. Teamwork: project management platform
Teamwork is a feature rich project management platform which allows remote workers to work and communicate seamlessly with each other regardless of location.
9. My Meeting Time: time zone converter to find best meeting times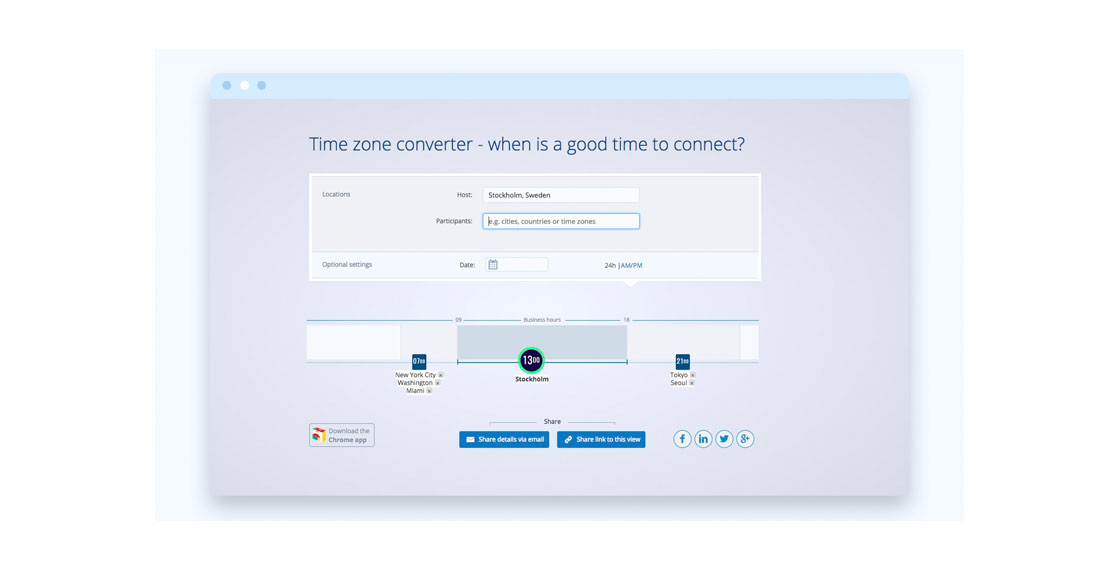 My Meeting Time is a simple website with a Chrome extension to help you easily organize your international meetings.Provide your city as well as those of the different meeting participants, and My Meeting Time will automatically find possible times within habitual business hours. It's as easy as that!
10. Slack: team communication workspace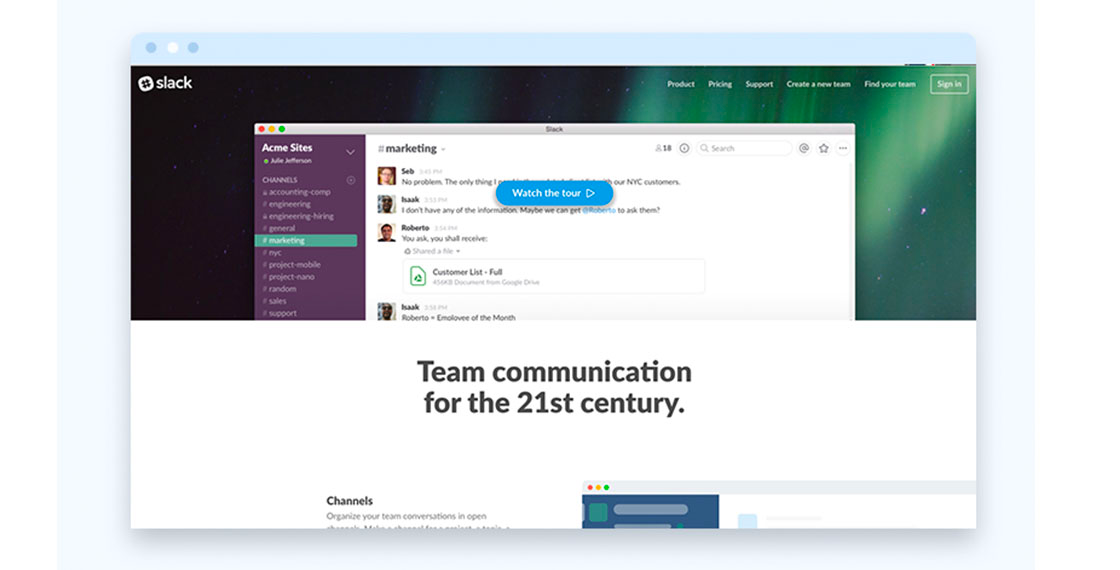 Slack is an internal chat platform that brings together all of your communication flows, providing each person with a shared workspace where conversations are organized and accessible. It allows exchanges between teams as well as document sharing.
11. Namely: human resource management platform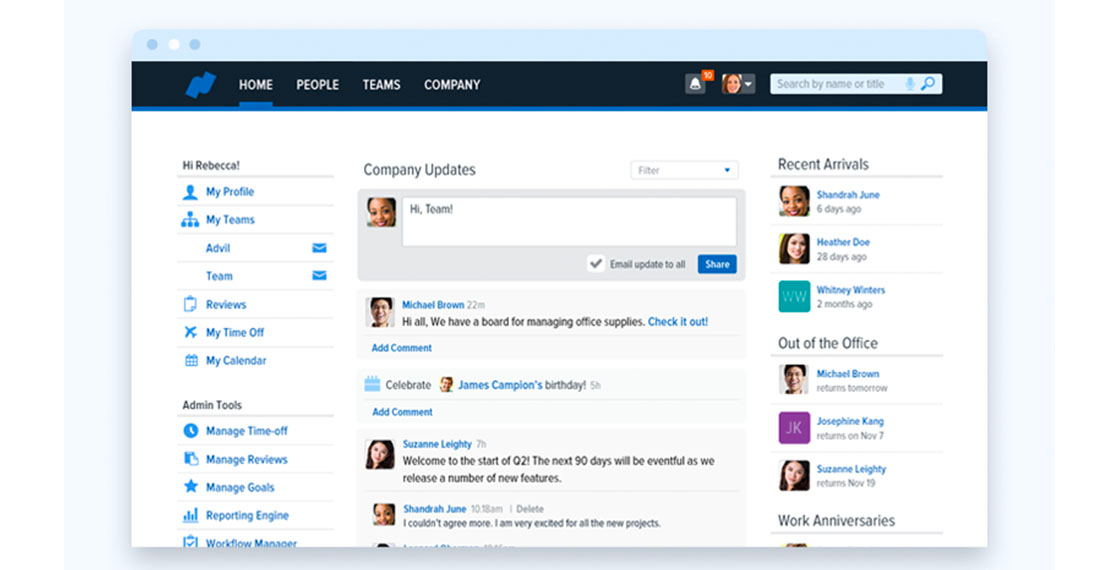 Namely is an all-in-one HR platform that combines HR, payroll, benefits, time management and more. Namely offers a company social feed, employees can stay in the loop with business updates from leadership, celebrate birthdays, and give positive feedback to colleagues. When employees aren't on location, it's especially critical to track their time worked in order to stay compliant. With Namely, hours worked are clocked digitally and easily tracked by HR.
12. Time Doctor: a smart employee time tracking software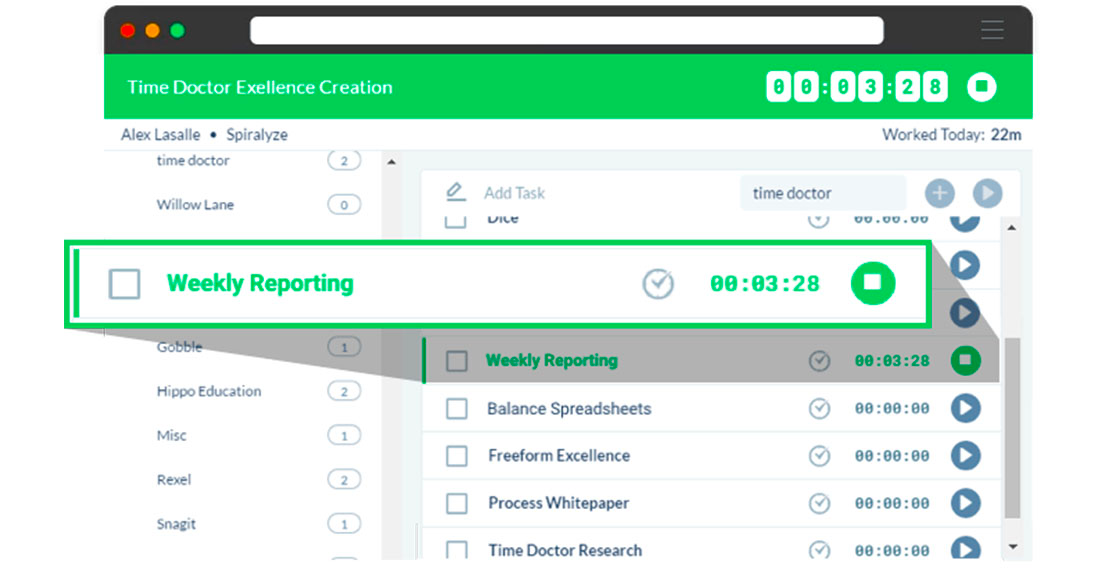 Time Doctor is a feature-rich time tracking app used by a wide variety of companies of different sizes. Time Doctor automatically creates several types of reports such as Timesheets, Time Spent on Project/ Task and several others. These reports can be customized for different parameters–for a particular employee, a group of employees, a particular project, date ranges, etc. The tool is useful for companies running remote teams, digital agencies, software teams, companies with remote support agents and more.
13. Take a Break, Please - compulsory work break scheduler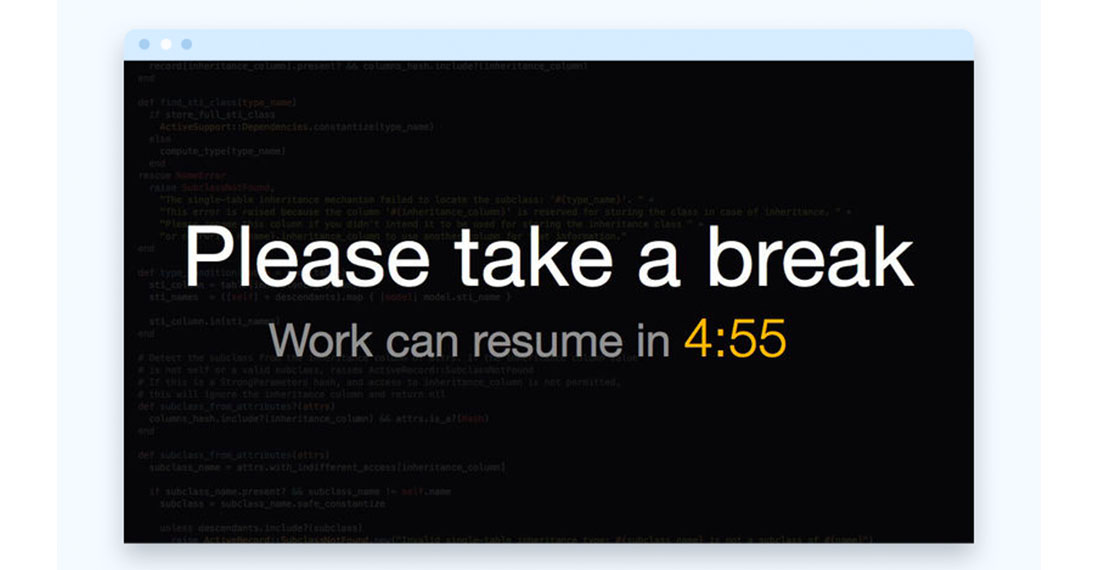 Take a Break, Please is a web app for Mac, which obligates users to take regular breaks and take their eyes off the computer. One of the traps of working remotely is to spend hours on end in front of the computer. This tool helps to regulate the amount of work time between each break as well as the duration of breaks.
14. Freshdesk: for customer support teams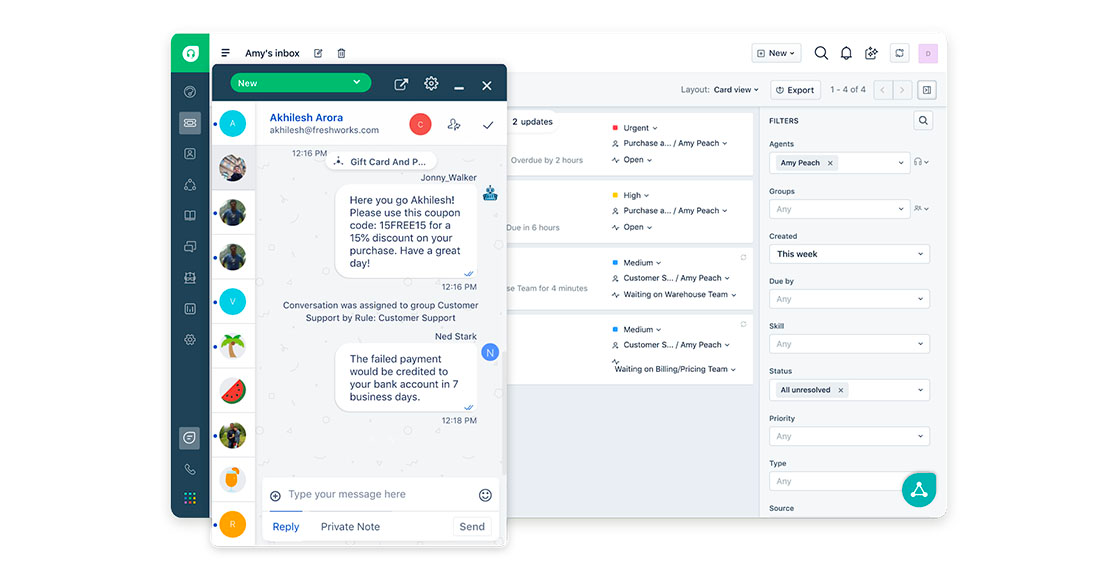 is an online customer engagement solution from Freshworks. Freshdesk is a plug and play solution which ensures easy implementation and access from anywhere. Freshdesk enables you to streamline your company's customer support using the customer service software and helps you efficiently manage customers as you scale.
What are collaboration tools?
Collaboration tools help teams and groups work together toward a common goal. This is a general definition because online collaboration tools have many different functionalities. They can help with project management, provide secure communication channels, or offer an interactive, digital whiteboard. Usually, collaboration tools encourage or enable interactions between people or simplify task tracking.
How to choose the best online collaboration tools for my business?
Given how common remote working is now, we're now spoiled for choice when it comes to online collaboration tools. The wide selection of collaboration tools means that everyone can find the right option for their needs, but choosing a collaboration tool can be more difficult. To help you avoid confusion or getting overwhelmed, we've identified the key considerations when choosing the best online collaboration tool for your needs.
User interface and ease of use
An online collaboration tool can be a great asset to your team, but only if the team actually uses it. One of the biggest blockers for people onboarding to a collaboration tool is the ease of use. If the user experience is poor, if the needed features are difficult to access, confusing to use, or even just slow to load, this discourages the team from accepting the tool and incorporating it into their daily workflow. In the end, you won't get the full worth out of the tool because your team isn't maximizing its full potential.

Before committing to an online collaboration tool, watching a demo or even taking advantage of a will allow you to confirm whether the collaboration tool has a good user experience. Having an intuitive interface creates a fluid user experience, so users of a collaboration tool actually want to use the tool as much as possible.
Integrations
What integrations are available is one of the most important considerations when choosing an online collaboration tool. If your team is already using business software, you risk them wasting time if the software is not integrated. They may have to enter the same data twice, or struggle with confusion if information isn't consistent across the different software. So before you buy an online collaboration tool, double check their integration library to see if your current business software is on the list–or at the very least, that they have APIs available.
Price
This is an obvious consideration, but it's one that can make or break the deal. Luckily, many online collaboration tools offer multiple plans that are specifically tailored to the needs and price ranges of businesses of different sizes. For example, Ringover has , so you can choose the ideal plan for your business's current scale.
Features
vary tremendously between online collaboration tools. That's in large part due to the fact that collaboration tools can have wildly different purposes. For instance, Ringover is an , while Asana is a project management tool. So before you start shopping for an online collaboration tool, make a list of the challenges you and your team are facing. Once you have defined the problems, it will be easy to identify what type of collaboration tool and more specifically what features would provide the solutions you need.
Remote teamwork: How to collaborate successfully
These days, full-time in-office work is no longer seen as mandatory for many positions. That's because remote working is seen as a perk by many employees–and it carries perks for employers too. In fact, research has shown productivity can increase as much as 13% among employees working from home. But to maximize the benefits remote working can bring, you'll need to address the common challenges it brings. If you're looking for ways to improve the remote working environment at your workplace, take a look at the following list.
Focus on great communication
Whether you are working remotely or face-to-face, communication is key to ensuring everyone shares the same vision and goals. In lieu of meeting in person, companies with remote working situations often opt for video calls to create a closer connection between employees. If you are missing the casual "water cooler" chats, make sure team members have the internal chat tools so they can have discussion groups or exchange on-the-fly messages.
Provide offline tools
Employing a remote worker does not mean abandoning them to just any work environment– quite the opposite. It is important to provide them with a workspace and tools equivalent to those found in the home office. Think about buying a computer, a screen, or even sharing the cost of home office furniture like a desk or chair.
Keep your regular office hours
…as much as possible, that is! One of the biggest obstacles to this is, of course, the presence of children in the home. If you're able to establish a regular routine during business hours, it can help you maintain consistent productivity. Plus, if you keep regular hours, your co-workers can rest assured you'll be available when they need you.
Set boundaries between work and home
If you can, create a dedicated home office that's conducive to focusing–even if that just means picking up your workspace before you start your day. If you have a computer that is strictly for work, use it only for work and keep personal activities for your personal computer. If you don't take professional calls on your mobile phone, then keep it off or on silent mode–and in another room, preferably–so you won't be tempted to check it during the day. And if you have a typical after-work ritual to unwind, like making yourself a cup of tea or spending time with family members, make sure to maintain those routines!
Have a separate business phone number
A dedicated to work calls will help you avoid taking personal calls or having to call clients or partners from your personal number. Ringover's app allows you to have multiple and mobile lines with customized on your personal smartphone, which translates to significant savings for your company–no expensive data plans or devices necessary! You also have the option to choose which number to display when you make calls, according to a given correspondent's location. Finally, you can set business hours on your Ringover line so you don't have calls or messages coming in outside of business hours.
Take non-negotiable short breaks
Don't negotiate breaks! Frequent short breaks throughout the day are one of the best ways to take care of your mental and physical health, at home or in the office. They'll help you maintain your focus and have a better mental outlook.
Choose the right tools
Chat and video conferencing tools have made it easier than ever to remain in constant contact with your colleagues from a distance. Aside from improving morale and keeping team members from feeling that they are working in a void, these tools keep everyone updated on key developments with the company. Other important equipment that can help make your work from home experience a more comfortable one include:
An ergonomic keyboard and mouse for better hand positioning and comfort

A second monitor for better visual capacity and to boost efficiency

A desk lamp for better visibility and to reduce eye-strain from staring at your computer screen

A Wi-Fi signal booster for the fastest and most reliable WiFi signal at your workstation

An ergonomic chair to support your body posture while sitting for long periods of time

An alarm clock to keep your schedule on track
Whether your company is just planning to adopt telecommuting, or has already put this in place, Ringover can help you set up a cloud phone system so your employees can work like they never left the office! To see a demo of Ringover's intuitive VoIP service, with a member of our sales team.
Online Collaboration Tools FAQ
What is online collaboration tools?
An online collaboration tool is software that facilitates people working together remotely thanks to the Internet. Some online collaboration tools try to serve many different purposes, but the most efficient and popular ones focus on doing one thing well. For example, Ringover is a which focuses on supporting and calling. Ringover features are aligned with making that service comprehensive and of a higher quality.
What tools promote online collaboration?
Here are a few tools which promote online collaboration:
Ringover

Monday.com

Miro

Asana

Teamwork
Which digital tool is most commonly used for collaboration?
Slack is a digital collaboration tool that is very commonly used. That's because Slack allows team members to communicate one-to-one and between groups. Plus, Slack has integrations with other business software and a search function for conversations.
What are examples of collaborative tools?
Here is a list of commonly used collaboration tools.
Ringover

Azendoo

Proofhub

Quip

Miro

Scrumie

Teamwork

Xtensio

My Meeting Time

Slack

Namely

Time Doctor

Take a Break, Please

Freshdesk
What are work collaboration tools?
Collaboration tools help teams work together more efficiently than they would without. To help employees improve performance, work collaboration tools will usually provide help with communication, task tracking and project management, and generally increase productivity. At times, a work collaboration tool will also streamline workflows and encourage innovation among employees.
What is a project collaboration tool?
Project management collaboration tools are software which help managers and teams to track tasks, deadlines, milestones, and progress over a project. Collaboration tools for project management allow teams to simplify their daily life and improve performance. Oftentimes, project collaboration tools will offer features like instant messaging, video conferencing, or task tracking.
What is remote teamwork?
Remote teamwork is when a group works together synchronously and asynchronously toward a common goal. The group will work from various places, which can include stationary, mobile, or remote work environments. Remote teamwork is relatively easy thanks to the Internet and online collaboration tools.
How can you develop good teamwork when working remotely?
Organize a virtual watercooler chat so teammates can

Here are a few activities and strategies to ensure your team collaborates well.

Choose videoconferences whenever possible for face-to-face interaction

Create events or get-togethers so people can meet in real life.

Comp travel and hotel costs so employees can visit the office or attend company events on a regular basis
What is the importance of remote teamwork?
Remote teamwork is important because it is seen as a positive perk by many employees, to the point that they will even accept a pay cut. Plus, employees often see an increase in their performance when working at home. They will be able to get in the zone more easily and manage distractions around them because they will have more control over their work environment. Plus, they will have greater control over their schedule so they can maximize productive moments and take the breaks necessary.