Sales prospecting
Sales prospecting: how to succeed at cold calling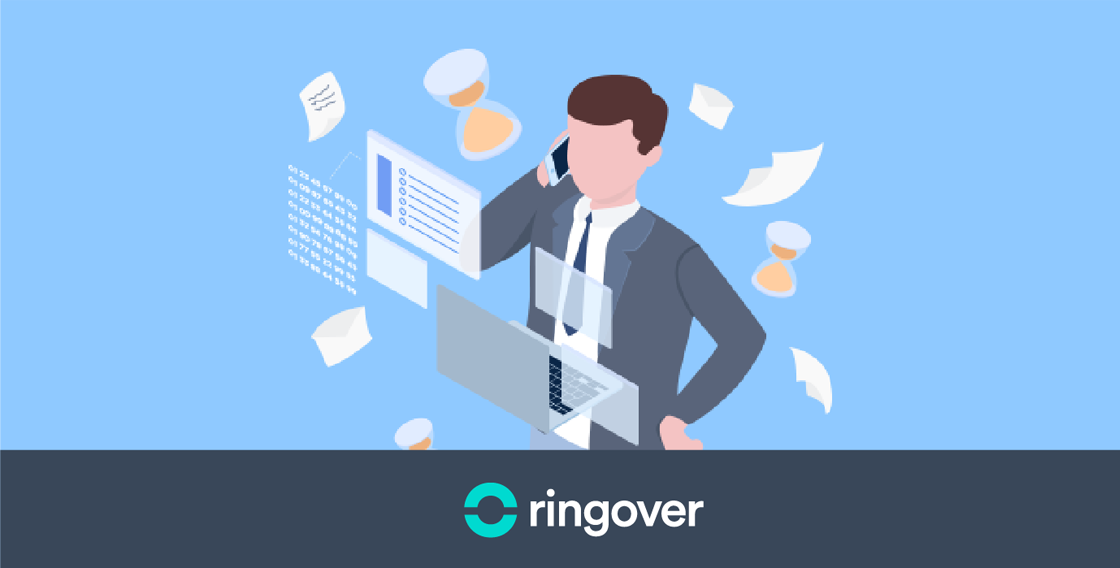 Summary
1. LOSING TOO MUCH TIME ON THE PHONE
2. POOR QUALIFICATION OF LEADS
3. INEFFECTIVELY USING THE PHONE
4. NOT SYNCHRONISING YOUR PHONE SYSTEM WITH YOUR CRM
It's not unusual to see commercial enterprises losing steam after several active months - especially in the relatively competitive domain of "cold calling." However, it's all a question of method, and a lot of time could be saved by having good habits. So here's an overview of the 4 most common errors - and how to avoid them!#coldcalling: 4 common mistakes (and how to avoid them)
1. LOSING TOO MUCH TIME ON THE PHONE
It's the dream of every salesperson to be able to make calls one after another without ever having to listen to any hold music. There's nothing more frustrating than winning over the receptionist, only to be stopped dead in one's tracks. The salesperson starts a day of cold calls with determination, only to find his or herself stonewalled by unanswered calls and endless hold times. To limit time spent waiting, hang up at the 5th ring. The probability that the person will answer after this point is drastically reduced, and there's nothing gained by waiting any longer. Another technique is to verify your correspondent's availability via LinkedIn. Make contact with the person beforehand and you'll be able to see if their status is visible (by the green dot), if they are at their desk and available. For cold calls, this is a very important advantage.
2. POOR QUALIFICATION OF LEADS
In the world of cold calling, there are few things worse than ending up with a list of wrong numbers. This requires more time spent searching for correct information online, which undermines performance. What's more, if you have to provide a switchboard with an extension number (a more widespread practice) and are cold selected, your call may run short. This is why it's best to always have your LinkedIn page handy for finding a useful contact at the heart of the company of interest. Even if this person isn't your principal target, there's a good chance you'll get back on track thanks to the additional information they'll provide you with.
3. INEFFECTIVELY USING THE PHONE
In spite of the development of "click-to-call" systems, many still have to manually dial their correspondents' phone numbers. What a waste of time, not to mention a big cause of mistakes, mostly only because of misreading. But with the RingOver system, you'll gain both time and efficiency. Once you've found your target's number through search engines or their web site, all you need to do is click on it to make the call. At the end of the day, that adds up to a lot of saved minutes and hours, which you can put toward filling out your CRM with all the information that will be necessary for your coming efforts.
4. NOT SYNCHRONISING YOUR PHONE SYSTEM WITH YOUR CRM
Yes, you read that correctly. The vast majority of companies still don't have an interfacing tool for their phone and their CRM. The direct consequence: overcalling situations, where the cold caller is unaware that they have tried to contact the same target several times already in the past few weeks. This sheds a negative light on your company (bad business practices and/or harassment by a pushy telemarketer) and impedes your efficiency, leaving potential clients saying "I told you to stop calling me! If I don't pick up the phone, it means I'm busy!"To avoid this issue, the only option is to manually enter the information for each lead in your CRM, which again means more lost time.But RingOver has an answer. Integrations allow you to sync your phone to your CRM automatically and benefit from true, reliable statistics. Call your prospects with your CRM program, make note of the call and complete the form directly without leaving the interface. RingOver progressively integrates the widest possible field of CRM interfaces (ask support to add yours, or simply go to Zoho or Pipedrive to discover the most agile on the market).To find out more, contact us !