Remote work and VoIP
How to Manage Your Sales Team From a Distance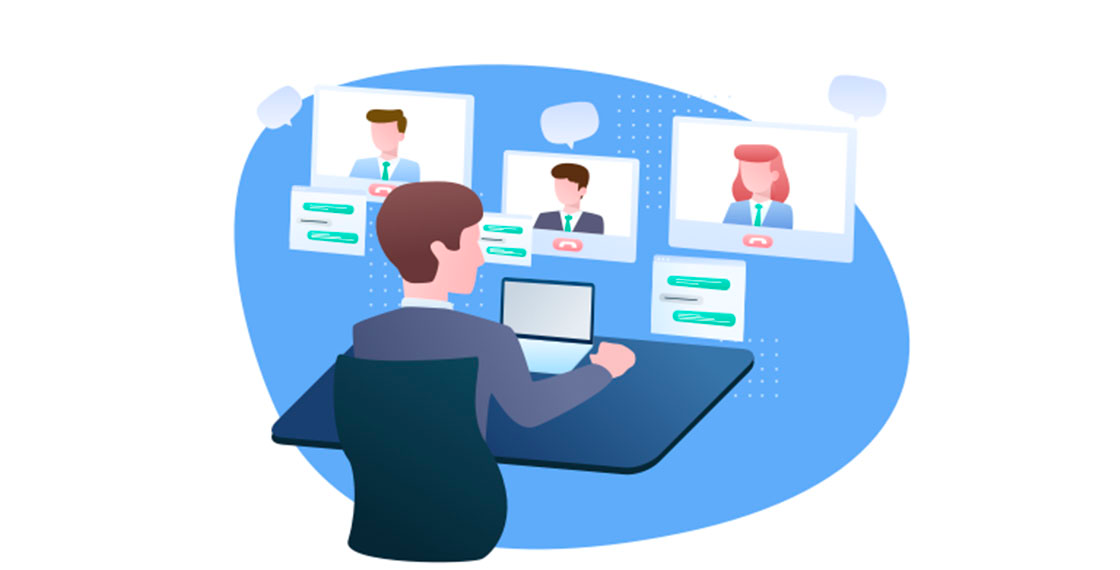 With more and more companies and employees opting to work remotely, the relationship between managers and their teams has transformed in depth to adapt to distance. This situation is even more common in the context of sales teams, which are often spread over a territory according to prospecting areas.
WHY CHOOSE LONG DISTANCE FOR YOUR SALES TEAM?
FOR COST REDUCTION
Whether it be your developers, your marketing team or your salespeople, it's certain that opting to work remotely allows cut costs in terms of real estate. When you know that the average price per square metre of a rented office can go up to 500 GBP each year, the calculation is simple! And even if you decide to keep a fixed office space, allowing your employees to alternate working from home can already regain you 20% of the surface area for you to use as you wish: saving on bills, augmenting your reception areas, or opening up for new activities.
TO ACCESS A VARIETY OF TALENT WITHOUT GEOGRAPHIC BARRIERS
When building your team from a distance, you have the opportunity to hire the best talent anywhere in the world. Not everyone can (or wants) to live in the exact place where you've set up your company. Bringing down geographic barriers offers endless recruitment opportunities for building the best possible sales team.
TO AVOID INCONVENIENCE
It might seem obvious, but a good part of your salespeople's work likely happens over the phone. So unless you invest in soundproof individual boxes or state-of-the-art telephone equipment, your sales reps risk bothering one another by placing calls from the same room.
TO GET THE BEST OUT OF YOUR TEAM
While certain managers remain cautious, working remotely gets very strong support from employees who are offered the opportunity. In fact, working remotely means comfort and flexibility for employees. No more need for public transport or lunchroom breaks during set hours. According to a study released by TinyPulse, remote workers are happier, more involved and more productive than their in-office colleagues. Your distant sales team, if well managed, can thus surpass the performance of their colleagues at the office. Nonetheless, managing a sales team from afar is not without its challenges. Communication, trust, and collaboration can be more difficult to establish without being face to face on a daily basis. Whether it be for practical reasons or personal ones, or even in the interests of a better local presence, managing a sales team well requires some adjustments on the part of the manager.
5 GOLDEN RULES FOR MANAGING YOUR SALES TEAM FROM A DISTANCE
1. HIRE THE RIGHT PEOPLE
To be effective in spite of geographic distance, a good salesperson must be autonomous and know how to take charge. They must know how to focus on objectives and have by principle the motivation to meet them. A good salesperson must be one of action, a "doer."No matter where they are, a good salesperson knows how to move things along and get results without needing a manager to oversee their work.
2. DEFINE EXPECTATIONS
At the office, working remotely or from the other side of the planet, your salespeople need clear objectives and expectations from their manager. While coffee time discussions may fill part of this role in the office, you must be even more rigorous with long-distance collaborators. Using tools such as opportunity mapping or a leads tunnel can aid shared progress and the setting of concrete goals on a regular basis. Providing feedback as quickly as possible - positive or negative - will allow this progress to continue.
3. BUILD A RELATIONSHIP OF TRUST
Trust is key to success. If you want to build a sales team from a distance, you must absolutely hire collaborators who inspire your trust. If you spend your time wondering what they're doing behind your back, you risk instilling a counterproductive climate of distrust for the entire team. Don't waste time micromanaging your collaborators. If you've chosen the right people, they'll know how to take the initiative to attain fixed goals. According to a study published in the Journal of Management Information Systems, teams with trust focus more on the value that they can bring to one another as well as to the company, taking on their tasks with more enthusiasm. Because of separation, building a relationship of trust is more difficult at a distance, but must not be neglected.
4. ENCOURAGE SOCIAL INTERACTIONS AND COMMUNICATION
It can be more difficult to maintain open communication with employees who are outside your locale. This is why it is just as important to make extra efforts, for your salespeople and your company. Plan specific time in advance for team and direct communication with each one of your collaborators. Be sure as well to be available outside of these predefined times in case of questions or difficulty. Finally, allow for informal exchanges and plan moments of relaxation where all can meet together (after work meetups, group or company workshops, for example).
5. INVEST IN THE RIGHT TOOLS
" Good tools make good workers. "
Don't forget to well equip your remote workers! Computer, screen, phone, software... The digital tools for remote workers are developing constantly, overcoming physical barriers and reinforcing collaboration. Tools for project management like Azendoo, for communication like RingOver, for chat like Slack or even for measuring wellbeing at work like TeamMood are key to the good functioning of your team.