Business phone system
Ringover Continues to Gain Ground in Flexible Calling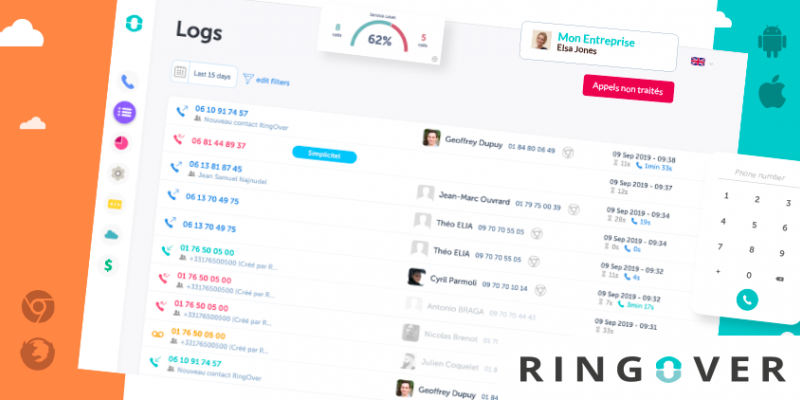 Smaller, more agile companies seem to be the order of the day in the Unified Communications and Collaboration environment. As the marketplace continues to shift and evolve, the businesses that can take advantage of things like cloud technology and as-a-service solutions are the ones that stay ahead of the curve. Ringover is just one of the cloud-based business phone system solutions that serve the innovators of tomorrow.Designed as a flexible business phone system that helps flexible, growing, and pioneering teams to simplify their call handling needs, Ringover offers the option to obtain virtual numbers for brands in more than 60 countries. There's also access to benefits like free unlimited calling, integrations with leading CRM and Helpdesk tools, and even automatic call activity and voicemail logging.I caught up with Ringover's CEO, Renaud Charvet, to learn a little more about what the company is doing to drive growth in the current marketplace.
European Growth
Ringover has been making excellent progress in the cloud communications market lately, particularly across Europe and the UK, where it's appealing to agile and dynamic brands. According to Renaud, his partner and he met in business school and decided to create a telecoms company based on their knowledge of the industry, and their interest in the growing technology."In the beginning, we started off building a solution that was intended to support remote teams. Our focus on things like WebRTC technology meant that we could create a platform that allowed people to log in and access their phone management tools from anywhere, without having to invest in any excess hardware. This was great for the flexible worker."However, in the years past, Ringover has started to see value in offering more functionality than just call management on the go. The company has also seen the value in the rise of Helpdesk and CRM tools that allow companies to achieve better productivity and performance.
" We want people to see their telecoms solution as more than just a necessity. These tools can be incredibly valuable and great time-savers when they're used correctly "
The Phone System for Startups
For the most part, Ringover seems to focus its attention on startup companies and smaller brands. I was interested in finding out why this seemed to be the chosen route for the business. Renaud Charvet told me that the choice was based on the flexibility and agility of smaller businesses and startups."We started with startups because they're more open to changing innovations and technologies. There are still a lot of larger legacy companies out there that stick with hardware and desk phones, because that's what they've had for years, and they're not comfortable with change.""Smaller companies and startups know that they need software, data, and new solutions to evolve. These are the brands that don't want to invest too much in hardware, which makes Ringover an excellent solution for them."Charvet also noted, however, that Ringover is beginning to target slightly larger companies. The business is now getting requests from companies with sales teams that want to make outbound calls, and they're working on developing solutions for these brands too.
What's Next for Ringover?
Going forward, Ringover is planning on expanding its reach to go beyond startups and smaller companies. Currently, they're creating a dialler system that helps smaller companies to make more calls then their agents would generally be able to handle on their own. The system also comes with things like the option to detect when an outbound call goes through to a voicemail system instead of a human being, reducing the risk of wasted calls.One of the biggest growth points for Ringover in the past few years has been the company's ability to integrate with third-party tools like helpdesk solutions and CRMs. In the months and years to come, Renaud told me that the business wants to continue strengthening these relationships and building new ones. "We want to be integrated with more tools that help companies to become more productive. We want to get involved with teams software and things like Microsoft 365 and Google".The other thing that Ringover wants to do is start developing more tools for call centre companies, sales teams, and support solutions. This means building on new things like the predictive dialler and looking at bringing more people into the business. The platform at Ringover is constantly evolving, with new features and functionality to take productivity to the next level.According to Renaud, the ambition for Ringover right now is to become a leader for companies in need of cloud-based solutions for call management in Europe. The brand is building a valuable presence in the UK, Spain, and other regions progressively, and it plans on continuing to develop, improving the dashboard for its users and delivering more calls and insights for its customers too.