Sales prospecting
9 good reasons to dematerialise your sales team's telecom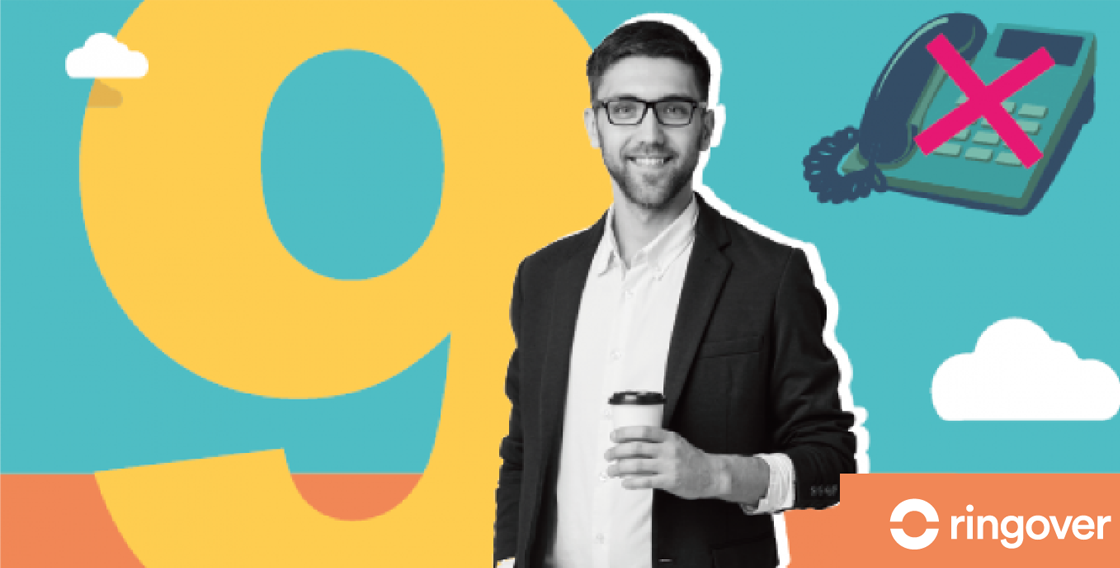 With the development of 3 then 4G networks easing sales team's workloads, the landline remains on the sidelines. It requires them to stay at their desk to take calls or hear messages and is not adapted to current work modes. Still hesitant to dematerialise your sales team's phone system? Here are 9 good reasons to change your mind.
1. FOLLOWS YOUR SALESPEOPLE ON THE ROAD
Whether it represents 10, 25 or 80% of their time, salespeople cannot avoid traveling to see prospects or clients. In effect, according to the size or scale of the contract, a physical presence is necessary to understand their needs, negotiate or reassure the client. With a dematerialised phone line, your salespeople can receive all their landline calls right to their computer or mobile phone, no matter where they are. On the road, with a client or even abroad, all it takes is an Internet connection!
2. FACILITATES REMOTE WORK
With more and more employees working at a distance, offering your salespeople the chance to work from home or a co-working space in order to limit travel is a great advantage. What's more, cloud telephony allows them to save their call history, hear voicemails and follow all activities, no matter where they're working from.
3. SYNCHRONISES DATA BETWEEN THE PHONE AND COMPUTER
A dematerialised phone line allows your salespeople to access all information by computer, no matter the device used for calls. They can thus retrieve a record of phone exchanges, messages and missed calls. A contact created on the computer is immediately synchronised on the mobile phone, and vice-versa. The same goes for voicemails and call preferences.
4. CONNECTS YOUR PHONE TO YOUR CRM
Cloud telephony tools also allow you to synchronise with your CRM. Without even opening your phone app, retrieve call histories in each client file and ensure better follow-up for your activities. You can also make and receive calls right from a client file, keeping your eyes on all important information without exiting your CRM.
5. ENABLES YOU TO HAVE A PROFESSIONAL MOBILE NUMBER ON A PERSONAL PHONE
Save on calls with dematerialised telecom! Certain cloud phone services (including RingOver) offer the possibility of choosing a virtual mobile phone number. All calls to this number will arrive through the web or smartphone app, allowing the use of a single device for all calls - personal or professional - and saving money on professional mobiles.
6. PROVIDES A LOCAL OR INTERNATIONAL NUMBERS ACCORDING TO PROSPECTION ZONE
Cloud-based phone apps also offer you more flexibility as far as choice of numbers. You can select regional or international numbers and assign them to your sales team according to their prospection zone: Paris, London, Italy, United Kingdom, etc. Simply select the region or country you need, no matter the location from which you make or receive calls.
7. FACILITATES TEAMWORK
Depending on the way in which you organise your sales team, many people at a time might be working with the same client file. A good practice involves separating work by "Sales Development Representatives" (lead seekers) who build the pipeline and qualify leads, and "Account Managers" who close deals. Using cloud telecom permits better tracking of client files by the different salespeople (not to mention customer service reps) they pass between. Salespeople can verify different calls made, consult associated notes and listen to recorded conversations for more details.
8. RESPECTS THE PRIVATE LIVES OF SALESPEOPLE
Did you know that 89% of professionals check their work email several times a day while off the clock? Cloud telecom allows you to observe your salespeople's right to disconnect. By setting working hours for their phone, they ensure that all incoming calls outside these hours are automatically sent to voicemail. Your salespeople can thus take a real break evenings and weekends and return to work fresh and rested.
9. MONITOR YOUR TEAM'S PERFORMANCE
The days of long and fastidious reports are over! One of the principle advantages of a web and mobile phone app is the possibility of accessing information for monitoring your service's performance. You can thus survey attained goals in terms of the number of calls made, time spent on the phone by each representative, or the number of missed calls.*****To find out how a cloud telephony solution like RingOver could boost your customer service performance, contact us at 01 84 800 800 or click here: RingOver