Customer service and VoIP
How to recruit the best talent for your customer service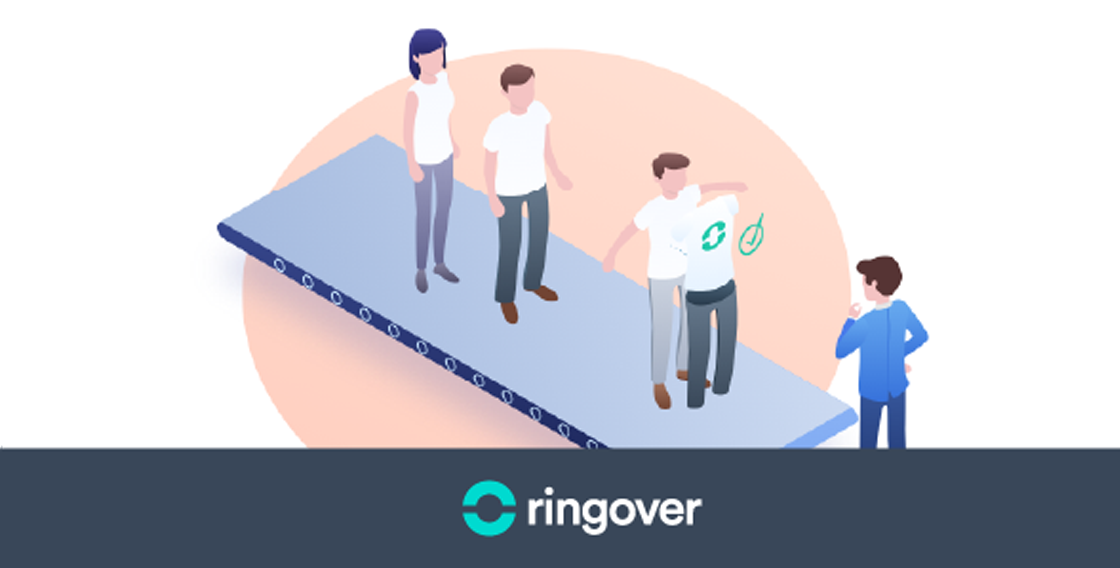 Whether you be a startup, an SME or a large group, recruiting good resources is indispensable for meeting your objectives. And this must happen in every department: IT, sales, marketing...as well as customer service!
YOUR CUSTOMER SERVICE IS YOUR BEST ALLY: DON'T NEGLECT IT
Your customer service represents your company and serves as a direct interface with your clients. Your customer service employees, therefore, have a strategic role in your company's growth. If you only lose dissatisfied clients, your salespeople's job will then only be to compensate for these departures. All of your efforts will be in vain as long as you can't manage to satisfy your clients and bring them all of the value that they expect. "Salespeople are only there to sign clients," you say? Wrong! Acquiring a new user costs nearly 5 times more than retaining an existing one. If you're convinced, all there's left to do now is recruit the best candidates for building winning customer service.
WHAT QUALITIES TO SHOULD YOU SEEK OUT FOR YOUR CUSTOMER SERVICE?
To be sure to pick the best candidates for boosting your company, it is indispensable to know what competencies and know-how you should look for during the recruitment process. Exude confidence to inspire trust and credibilityEnsure that your customer service members give off an air of tranquility and reassurance, whatever their words and actions may be. This will show your clients that they know what they're doing and give them the feeling of being "in good hands." An agent's calm will be particularly important when trying to soothe an angry client.Take care as well not to lean too far toward the opposite extreme: arrogance may offend your clients and cause them to run in the other direction. Listen and show empathyIf an employee is unable to listen to their interlocutors' problems, they will be unable to solve them. One of the most important qualities that you must look for in your future employees is a skill for listening, so that they'll understand the client's needs and respond appropriately. There are too many who listen just enough to formulate a response but fail to take the time to truly dig deeper into the problem. They answer quickly without putting themselves in the client's place, only wanting to "make the problem go away." Manage time and priorities The responsibilities of an agent in your customer service are not limited to calls. A supplementary action is often necessary: reporting a bug to the IT department, unblocking a payment, sending a confirmation email to the client, etc. Your customer service employees must treat each demand within a reasonable timeframe and arbitrate between their different tasks. Know how to sell and negotiateEach interaction with a client or prospect requires certain qualities of a seller, for easing doubts, convincing, selling a product or an upgrade, or simply calming an unhappy client. Your employee must know how to be patient, resolve conflicts, and understand unspoken needs. And, without confusing their position with that of a salesperson, knowing how to negotiate and convince will give an edge to your customer service, hence your organisation.Be honestIf your employee is trying to sell more at any cost without taking into account your clients' real needs, your company's image will likely take a hit. Your employee must demonstrate integrity and not try to sell a client more than they need, responding to inquiries in good faith. If a feature desired by a prospect has not yet been developed, isn't it better to be upfront with this fact rather than disappointing them later? Seek to learnIt doesn't matter if your employee is a new hire or a feature has just been deployed: when your clients call you, they're looking for an answer to their question. A good customer service employee must be proactive and seek to continually learn in order to deliver a better quality of service. Be willing to go out of one's way to satisfy the clientYour clients can sense if the person they're speaking to is sincerely trying to help them. Your customer service is, therefore, a place for building a relationship of trust and loyalty between your client and your company. A simple way to do this is to ask the question "what else can I do for you?" instead of hurrying to hang up and take the next call. *****What other qualities are you looking for in your customer service?