Customer service and VoIP
8 good reasons to dematerialise your customer service phone system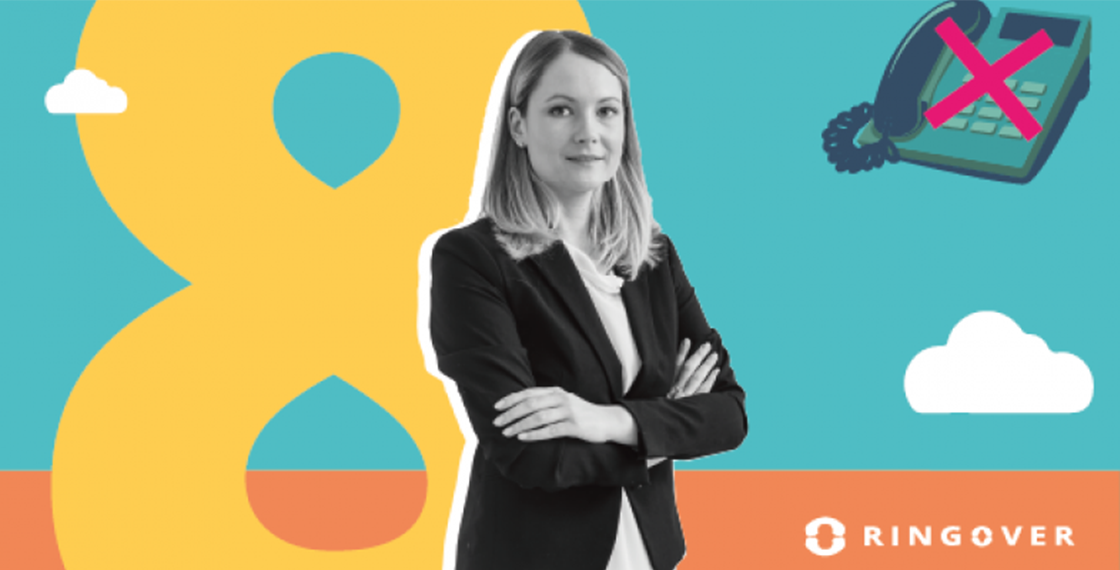 Summary
1. AN EASILY DEPLOYED PHONE SYSTEM
2. YOUR ENTIRE CUSTOMER SERVICE PHONE SYSTEM AT A REDUCED COST
3. YOUR PHONE SYSTEM GROWS WITH YOUR CUSTOMER SERVICE
4. CUSTOMER SERVICE FEATURES TO BETTER MANAGE INCOMING CALLS
5. VIRTUAL CUSTOMER SERVICE IN EVERY COUNTRY
6. SET HOURS OF OPERATION FOR YOUR CUSTOMER SERVICE
7. INTEGRATE YOUR PHONE DATA WITH YOUR CRM SOFTWARE
8. FOLLOW YOUR CUSTOMER SERVICE PERFORMANCE
Even if more and more customer services are using chat or email to respond to client requests, the phone is still most widely used by B2B and B2C companies. The voice is the key element in client relations. It is indispensable for building trust reassuring potential buyers, detecting sales opportunities, and even gathering suggestions on product improvement.But even with the doubtless indispensability of the voice, it still must be implemented. Classic solutions are long and costly to put in place. For twenty years, VoIP (Voice over IP, or Internet telephony) has been in development for the purpose of offering flexible, less costly solutions.So, what would be the advantages of a dematerialised phone system for your customer service?
1. AN EASILY DEPLOYED PHONE SYSTEM
No need to install cumbersome phone servers or cables in every direction to equip multiple phone posts. Cloud telecom setup is instantaneous, requiring only a computer with a wifi connection.If you still wish to have a physical phone, you may use one compatible with VoIP (also called a SIP phone). Your employees may then connect with their usual login information to make and receive calls from wherever they are.
2. YOUR ENTIRE CUSTOMER SERVICE PHONE SYSTEM AT A REDUCED COST
Dematerialising your customer service phone system means eliminating the constraints of equipment. Your employees can connect directly with their computers to make and receive calls. What's more, cloud telecom allows free calls via internet, through a dedicated program or SIP phone. Bills for all other calls are reduced.
3. YOUR PHONE SYSTEM GROWS WITH YOUR CUSTOMER SERVICE
Cloud telecom allows you to easily add or subtract 1, 10, or 50 numbers or users. Everything is accessible online. Add international and local numbers and attribute them to your colleagues and manage access through a simple web app. Need to double your workforce? Simply invite new employees and their phone lines will be automatically operational. No more rigid 2-year contracts. Your phone system adapts to your customer service, not the other way around.
4. CUSTOMER SERVICE FEATURES TO BETTER MANAGE INCOMING CALLS
Cloud telecom offers all the essential features for managing incoming calls. For routing calls to the right department or person, choose the Interactive Voice Server (IVS), which allows selection by pressing 1, 2, etc. And for managing the flow of incoming calls, you may put in place a queueing system and customise a greeting for your waiting callers.
5. VIRTUAL CUSTOMER SERVICE IN EVERY COUNTRY
One of the greatest advantages of the dematerialised phone system is that a phone number is no longer tied to a single physical location. Now you can choose local and international numbers, no matter the location of your office. Does your company mainly sell its products in Europe? Maintain a feeling of proximity for your customers with a customer service number for each country, all while routing calls to a single location.
6. SET HOURS OF OPERATION FOR YOUR CUSTOMER SERVICE
Your cloud-based phone system allows you to determine specific hours for each number, according to your needs. For example, you may decide for one number to be open from 8:00am – 8:00pm, 6 days per week for regular clients, and another to be open 24h/7d for premium clients.Don't let any calls go unanswered at night or on weekends either. Record a greeting to play outside of operating hours and guarantee your professional image at all times.
7. INTEGRATE YOUR PHONE DATA WITH YOUR CRM SOFTWARE
Tools built into cloud telecom allow your employees to access all information contained in your Customer Relationship Management (CRM) program. This permits you to directly complete client files with new information you have gathered.Indeed, your information is invaluable. Thanks to specific integrations or the use of an API (Application Programming Interface), the whole of your interactions with your clients remains protected: call history, recent orders, customer satisfaction surveys, etc.
8. FOLLOW YOUR CUSTOMER SERVICE PERFORMANCE
Client satisfaction is a key indicator of customer service performance. With your phones dematerialised, you can follow the activity of your call center and employees: number of calls, length of each call, peak hours, call origin, etc. Directly monitor the indicators that allow you to measure the performance of your call centre and the efficiency of your customer service representatives in addressing your clients' needs.To find out more about how a cloud-based phone solution like RingOver could greatly improve your customer service, contact us at +44 20 3808 5555 or email us at support@ringover.com.