VoIP
VoIP Software: The Eight Best VoIP Software Solutions for Businesses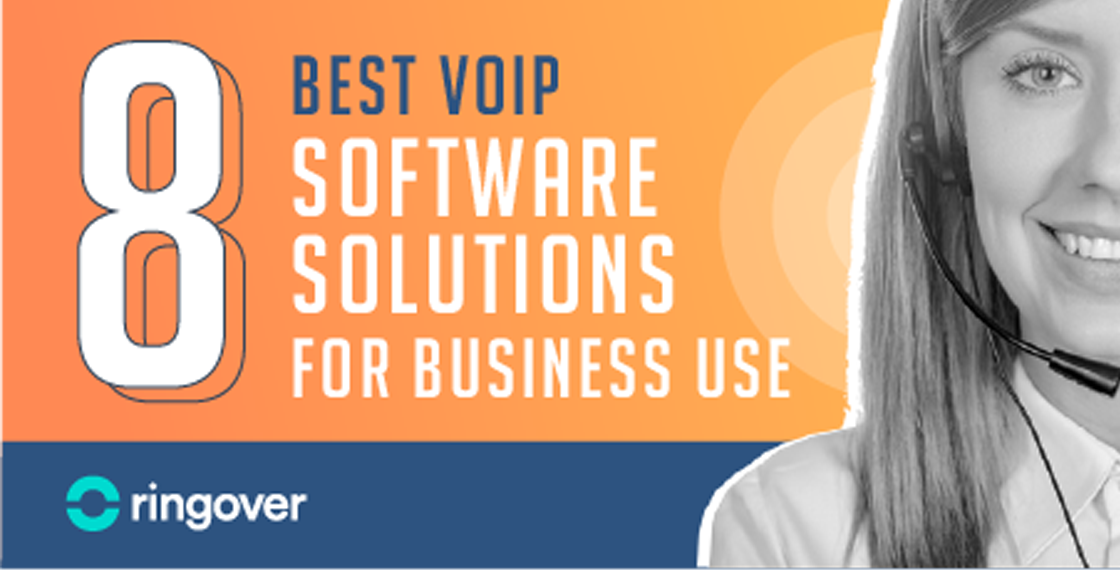 Summary
What Is VoIP?
The Importance of VoIP Today
The Advantages of Implementing VoIP in Your Workplace
How Do VoIP Solutions Work?
Common VoIP Features You Can Expect From any Provider
The Eight Best VoIP Software Solutions for Business Use
Ringover: A Seamless VoIP Solution You Can Count On
VoIP software is everywhere. Searching for a VoIP provider online will provide you with countless providers, offering numerous more software packages for your business. VoIP has changed the way businesses and employees communicate, freeing up access to global markets for small businesses, and allowing employees to become more mobile.
What Is VoIP?
VoIP (Voice over Internet Protocol) is a technology that allows you to make voice calls through the Internet rather than over a traditional phone line. It is a technology that converts your voice into digital signals that can make calling via a broadband internet connection possible through any VoIP phone or data-driven device.VoIP utilizes the packet-switched protocol that puts voice into packets making it easier to transmit over any VoIP device. Unlike the traditional telephone services, more information can be carried over the network through the packets. In addition to voice services, VoIP also supports other applications that help employees be more productive and agile. VoIP subscriptions tripled between 2008 and 2017 in America. The technology is widespread and provides many savings and increases productivity for businesses. This article will explore:
the importance of VoIP,
the advantages of implementing VoIP in your workplace,
how VoIP works,
common VoIP features you can expect from any provider, and
the eight best VoIP software solutions for business use.
Software-based solutions are becoming more common and more advantageous for businesses. Software could be the solution you need to edge out the competition. VoIP is no exception.
The Importance of VoIP Today
For many businesses still using landlines, VoIP represents the future of telecommunications for them. With both software and hardware solutions available to companies of any size, VoIP outcompetes traditional phone systems in price, ease of use, and available features.Today, a large number of businesses including call centers, telemarketing companies, and software development solutions utilize VoIP solutions to improve organizational productivity. With the increasing popularity of VoIP, businesses are trying to compare their options and understand the importance of shifting to this system. It is an established fact so far in this article that VoIP calling has major advantages over the traditional telephone system. Let's understand why this could be an important change for your business.
Adaptability
VoIP systems come with many enhanced features that provide more flexibility and agility than analogue systems. The automated voice systems integrations help businesses stay connected with customers at any given time. It is easily adaptable by businesses of any size. The more employees a business has, the more sense it makes to use VoIP phones to boost efficiency in everyday communications, particularly for businesses that require making a lot of long-distance calls.
Security
VoIP systems are more secure than traditional telephone lines. Even after two decades of penetration testing, they are still popular and being adopted by businesses. Businesses have to inquire and understand the accreditations of the VoIP providers they choose.
Cost-effectiveness
VoIP systems are way more affordable and easy to maintain than traditional telephone systems. VoIP allows businesses to make long-distance calls within the same network as the user without incurring any long distance costs.All you need is a data connection to the Internet. VoIP software is becoming more common every day as entrepreneurs and businesses realize the advantages of switching over.
The Advantages of Implementing VoIP in Your Workplace
Businesses are becoming more modular, more mobile, and more global. Employers and employees need to travel, communicate with clients, and compete with rival companies halfway across the world. Local telecommunications systems can no longer fulfill companies' needs to thrive in an ever-expanding marketplace.The ability to use an Internet connection to replace landlines and other telephony hardware is immensely beneficial to any company. Faxing and sending documents, receiving documents, placing international calls, and more, can all be done from one device. Phone numbers are not even tied to specific devices anymore. Employees can use the same number on a laptop, desktop, smartphone, or tablet. The ability to immediately communicate with suppliers, clients, customers, and coworkers from anywhere in the world increases productivity and reduces workplace stress. All you need to do is switch to VoIP in the workplace.
How Do VoIP Solutions Work?
When you make a call with VoIP, the VoIP software converts your phone call into digital signals. These signals are then transmitted over your data connection, traveling from network to network using TCP/IP. Once these signals reach your recipient's network, you can have a chat with them. In practice, it is no different than sending someone an email. With both software and hardware versions of VoIP that you can purchase and install, you can shop around for the best VoIP packages at the best rates. There is a VoIP solution for businesses of every budget. If you like the traditional telephony set up in your office, you can even purchase VoIP office phones!Now that you know how VoIP works, you should learn about common VoIP features, one of the primary reasons people switch from traditional landlines.
Common VoIP Features You Can Expect From any Provider
There are countless VoIP features that a provider can offer your business, too many to list in just one article. However, below are some of the most common features that you will see offered.
Unified Communications
Unified communications allow you to consolidate all of your communications needs into one platform. Many social media websites provide unified communications, as their users can instant message, send and receive documents, call, or video conference with other users, all without switching applications. VoIP is no different.
Third-Party Integration
VoIP is not an island, with no technological influence on other technologies. You can easily integrate VoIP software with other services and platforms. For example, if your VoIP provided did not include a scheduling or calendar app, you could integrate VoIP with one. Third-party integration specifics will depend on your VoIP provider, but assume that your VoIP provider will include all the essential applications and services typical to VoIP.
Automated Attendant Services
Automated attendant services are standard with VoIP software. These services allow your receptionist to perform other work, rather than picking up the phone every time someone calls your workplace and manually redirecting the caller to their intended receiving department or employee.
Caller ID
It is always important to know who you are calling and who is calling you. While spoofing and vishing (VoIP-phishing) are significant threats to a company, caller ID even helps in harmless scenarios like confirming your contact's name or location. There are various caller ID customization levels that you can access, based on your VoIP provider's service offerings.
Call Blocking
Sometimes, you need to block a caller. VoIP provides this feature for you to completely manage who gets to call you and who does not. This feature is also useful to block callers whose caller shows up as "private" or "unknown," which is excellent protection against robocalling and spam.
Conference Calling
Offices are busy places, and many times, you will want to converse with many people at once, especially when everyone is working from home now. Conference calling allows you to do that. With VoIP, location is irrelevant. Your coworkers can be on the road, in the office, or working from home.
Smartphone Integration
By downloading an application from your VoIP provider, you can turn your personal smartphone into an office phone. Your VoIP service is extended from your office to your phone, allowing you to make business calls globally. While you should try and have a different device for your personal life and professional life, smartphone integration is an excellent choice for office road warriors on their way to meet clients and suppliers far from the office.
Enhanced 911 (E911)
E911 services are a necessity for anyone traveling and using VoIP. E911 services allow emergency dispatchers to receive your location and caller ID as soon as they receive the call. Emergency services can get to you quicker and have a more effective response. Although you probably will not use E911 during your normal business operations, it is an excellent feature to have in case you need it.
Voicemail Transcription
Voicemail transcription is a service that transcribes your voicemails to text, so you do not have to listen to them. Transcription is a great feature to have if you are rushed for time and cannot listen to your voicemails at the moment, or if you are in a loud location like a transit system or an open office.
Do Not Disturb
While VoIP helps you conduct business, you do not have the entire workday to listen to and make calls. Sometimes, you need to do other work. "Do Not Disturb" services allow you to focus on your work. VoIP will silently ring, and then send your incoming calls to voicemail. If you have a big deadline coming up and cannot check your phone often, this is a great feature.Now that you know some of the most common VoIP features you can expect with your VoIP software service, you should learn about the eight best VoIP software solutions for business use.
The Eight Best VoIP Software Solutions for Business Use
There are thousands of VoIP options available on the market, especially software options. However, not every VoIP option can provide you with the service you need. The following are eight of the most popular choices. Popular options are suitable for several reasons. First, popular VoIP services have more users, which is an indication of VoIP quality. Second, popular VoIP services are more likely to cover your business cases. Third, popular VoIP services are likely to have better network coverage, which could be the difference between being able to call a client from a remote location or not.
Viber: Mobile Users
Sometimes, you will need to be out of the office for work purposes. However, you cannot just leave the office without a way to call or receive calls from clients. Viber, an instant messaging cross-platform mobile application, allows you to send messages, images, videos, and make phone calls, all from your smartphone.Recently, Viber has been adding group chat and messaging functionality, which is a massive benefit for businesses everywhere. Even if you are out of the office, and the rest of your coworkers are not, you can still hold and attend meetings without delay.
Twilio: Developer/API Focus
If your business's employees need to develop telecommunications applications or need access to a telecommunications API, Twilio is a great resource. Twilio allows developers to create applications with telecommunications capabilities from calling, texting, conference calling, speech recognition, and more. Adding Twilio to your development stack can immensely help your company, whether you want to create your own telecommunications platform or add VoIP features to your business processes.
Microsoft (MS) Teams: Educators/Academia
If you run an education business or cater to academia, you should consider using Teams. Teams allow you to video conference with thousands of people, chat and send messages to contacts, call internal and external contacts with various methods, and collaborate on projects using Microsoft Office. Teams could be the primary application, if not the only one, you could use in your office. Teams can do everything a typical business needs. In addition, being a part of the Microsoft brand, one of the world's biggest software companies globally, is an added benefit.
Vonage: Large Enterprises
Vonage is very popular among large enterprises, especially those that let employees work remotely. Offering services such as communications APIs, unified communications, contact centers, and more, Vonage immensely helps decentralized businesses operate more efficiently.Unified communications is an essential feature for big and small companies, and Vonage is a great option, especially for large enterprises that operate in several regions or companies.
Ringover: Plug-and-Play
Ringover offers "plug-and-play" VoIP services, designed for maximum customization for all your VoIP needs. With services like interactive voice response, call recording, and conference calling, you can quickly fulfill your business needs. Plug-and-play is simple to moderate and use. VoIP features fit together for your organization, like creating a jigsaw puzzle.If plug-and-play services are your style, you cannot go wrong with Ringover.
WhatsApp: Social Chats
If social messaging is more your game, WhatsApp is a great VoIP resource to use professionally and personally. WhatsApp even has a "free to download" application, WhatsApp Business, built specifically for small businesses. You can publish products and services and automate messages to customers and clients as well. WhatsApp and WhatsApp Business are great choices if you need a lean and mean business application without some of the major players' frills.
Asterix: Free/Open Source
If your business's security and budget are influential to your decision, you may like open-source VoIP solutions. Open-source software is very beneficial because it is more secure, as anyone can look at and request amendments to the code. Security is a top priority for every company and industry, even if your own business's security budget is small. Asterix provides you with the ability to run open communications for your business, regardless of its size or industry focus.
Skype: Reliable Classic
Small businesses have been using Skype for a very long time, and for a good reason. Skype's features now include live subtitles, call recording, a "local" Skype number for a foreign region, and video conferencing with up to 50 people at a time. With affordable calling rates, Skype can even double as your business's phone plan.
Ringover: A Seamless VoIP Solution You Can Count On
By now, you have a good understanding of the VoIP software solutions in the marketplace and which one will be the best fit for your company. You also know some of the standard features VoIP software providers offer their customers.If there is a feature you want that is not listed, understand that this is a shortlist of essential features and software solutions. Ask your provider for the specific features you need for your business, and they will provide them.If you want to gain a deeper understanding of how VoIP could impact your business, contact Ringover at (+1 844 411 1221) and sales@ringover.comRingover is a VoIP provider that can fulfill all of your business needs. Whether you need unlimited calling, international coverage, interactive voice response, or secure video conferencing, we can help. Contact us today to start your free trial.