Streamline Inbound Call Performance with an ACD Distributor System
Ringover's ACD Distributor System masters the art of effectively routing inbound calls to available agents, providing businesses with the ability to manage inbound calls and reduce potential hold time, increasing overall customer satisfaction levels.
Try it for free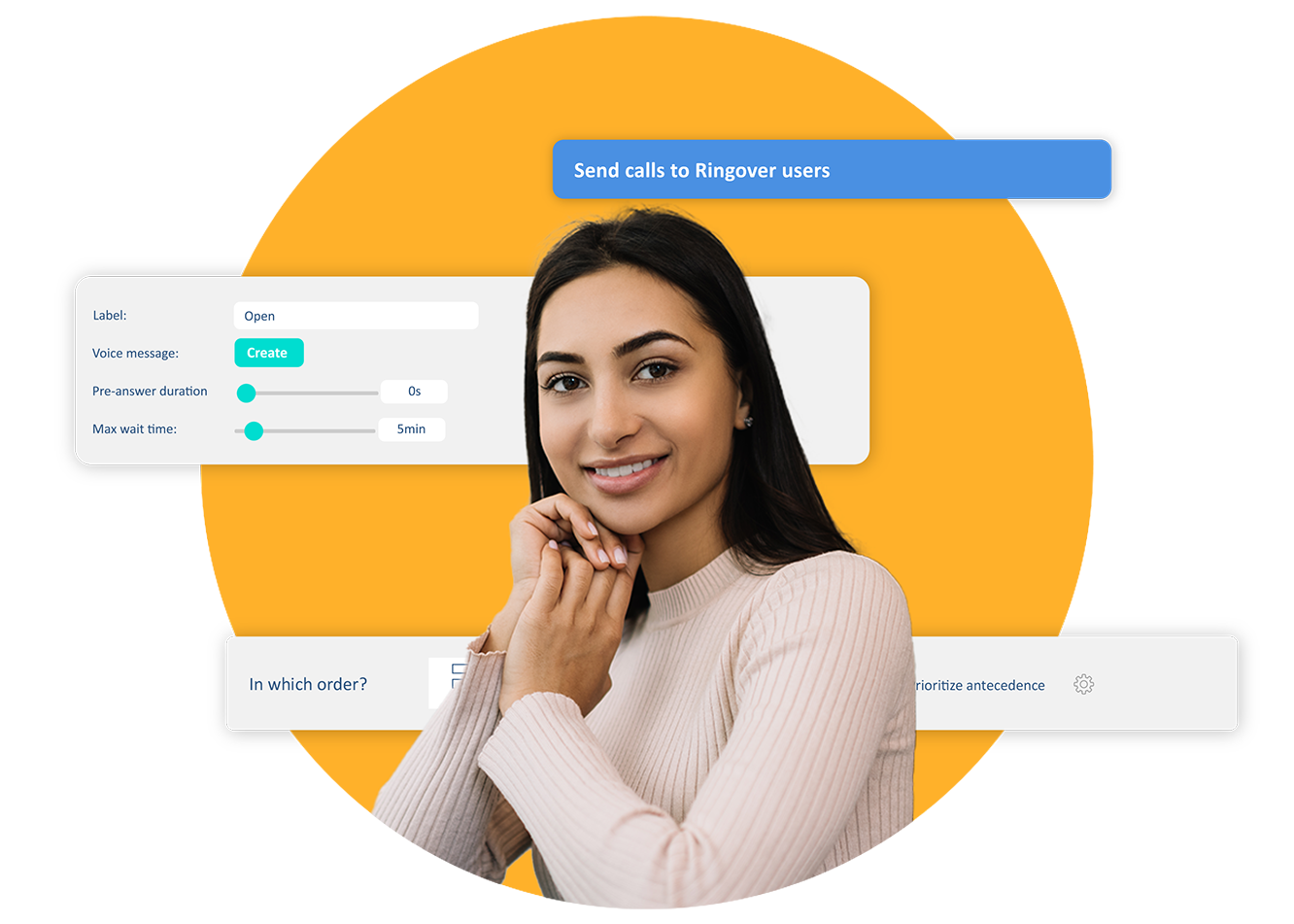 //= WEBCDN ?>//= $t['block']['h1img'] ?> //= WEBCDN ?>//= $t['block']['h1img'] ?> //= WEBCDN ?>//= $t['block']['h1img'] ?> //= WEBCDN ?>//= $t['block']['h1img'] ?> //= WEBCDN ?>//= $t['block']['h1img'] ?> //= WEBCDN ?>//= $t['block']['h1img'] ?> //= strip_tags($t['headofpage']['h1imgalt']) ?>
Seamlessly Handle Inbound Calls with an ACD Distributor System
Prepare your call center to successfully handle varying levels of inbound calls, with Ringover's ACD Distributor System. To better understand ACD technology, think of automatic call distribution (ACD) essentially as a system that is able to monitor levels of incoming calls to your call center, and then route those calls to the appropriate available departments or agents, per your instructions.
A well-designed ACD distributor system can help your business provide a seamless customer experience, boosting customer satisfaction levels and also ensuring your call center agents are able to effectively attend to each incoming call.
ACD Distributor System Pricing
Ensure Customer Satisfaction with Ringover's ACD Solution
Discover the multitude of functionalities that are provided by Ringover's ACD distributor system. Automatic call distribution enables effective call routing based on your specific parameters, but it also offers multiple other benefits for both your customers and your business:
Call routing — based on time zone, language, average wait time and type of request
Customized recordings — for hold time
Containment with an IVR — for certain requests, such as PIN resets or paying bills
Call flow monitoring and management — easy access via a dashboard
Pair Ringover's ACD Distributor System with IVR Capabilities
Move away from the traditional IVR (Interactive Voice Response) system with Ringover's ACD solution. Combine the capabilities of both telephonic systems and equip your call center to handle all types of customer inquiries.
You can customize call routing to contain customer requests such as PIN resets, bill payment, and cardholder information updates within the IVR system, allowing customers to fully handle their needs without speaking to an agent. Other inquiry types that should be handled by speaking to a live agent will be appropriately routed to a representative who can assist them in a timely manner.
Effectively Balance Inbound and Outbound Calls
Whilst receiving and successfully handling inbound customer calls, your full-service call center may also need to maintain a healthy level of outbound calls, depending on your business model. Ringover's call management software gives you the ability to manage both outbound and inbound call flows all from an easy-to-access dashboard.
Set up and manage your auto dialer levels, and balance call levels being placed out to potential and existing customers, with those inbound calls that need to be routed to available agents. It's possible to strike a successful balance between your predictive dialer performance and your inbound call levels with Ringover's cloud contact center solution.
Attain Key Performance Metrics with an ACD Distributor System
Take your business performance to new levels, all with the robust capabilities of Ringover's ACD Distributor System as part of your cloud call center. The capabilities brought by an automatic call distributor go far beyond simply routing calls to agents. Thanks to the abilities of an automatic call distribution system, inbound call volume can be managed and routed in a way that maximises overall inbound call performance.
From your dashboard, actively monitor incoming call levels, the number of agents available to take calls, average wait time, calls in queue, and much more. Instant access to this essential data allows you to meet key performance metrics by granting you the ability to adjust call flows as needed.
Tailor Call Handling to Your Business Needs
Ringover's ACD call center software provides you with the ability to tailor how incoming calls are presented to your available agents. Select call queueing and presentation in a way that works best for your agents, your customer service indicators, and call volume. Choose from Round Robin, Fixed, Value-Based, and Time-Based call routing, among others.
This flexibility allows you to send certain calls to agents who have specific skillsets, for example, or to send calls in priority to those agents who have been idle the longest. There is a myriad of call distribution options, providing you the ability to establish your automatic call distribution patterns exactly to your liking.
ACD Distributor System FAQ
What is an automatic call distributor?
An automatic call distributor (ACD) is a technology developed for telecommunications, that monitors current call levels for agents within an inbound call center, and routes them accordingly to available teams or agents. The ACD technology ensures maintenance of a streamlined inbound call flow for call centers managing multiple inbound calls at once. The automatic call distributor prevents an overflow of inbound calls, or keeping customers on hold for too long. The ACD can balance the number of calls answered to the number of available agents and ensure customers make contact with agents in a timely manner.
What are the advantages of using ACD?
There are multiple advantages of using automatic call distribution for your business, in addition to streamlined call flow and improved customer satisfaction levels. Whilst routing calls appropriately, automatic call distribution seamlessly manages calls, delivering them to remote agents depending on the settings you have selected. The ACD system can be fully integrated with your current CRM, blending the successful routing and management of inbound calls with access to the tools and information your agents depend on, to effectively assist your customers.
Can you work remotely with ACD?
An ACD also allows you to fully mange your call management software from a remote location, and your agents also have the ability to work from a remote location. All they need is a Wi-Fi connection and a smartphone, tablet or laptop.
Do many companies use the ACD technology?
Yes. In fact, today's fully-functioning call center most likely would not exist without the help of automatic call distribution. ACD technology is what enables companies to successfully handle inbound call levels and allow customers to reach agents in order to get their questions answered. An ACD system not only monitors incoming call levels and routes them accordingly to available departments or agents, it also provides the ability to make changes to how and when calls are answered. Select call routing preference based on language, time zone, average call waiting time, and more.
Does ACD impact customers negatively?
ACD technology is the hidden backbone behind a successfully run call center. If customers don't experience issues such as being routed multiple times, being placed on hold endlessly, or reaching the wrong agent, that is an indication that the automatic call distributor is working seamlessly behind the scenes and performing as it was intended, improving the overall customer experience.