Automatic Call Distribution System: Streamline Inbound Call Performance
Ringover's ACD Distributor System (Automatic Call Distribution) masters the art of effectively routing inbound calls to available agents, providing businesses with the ability to manage inbound calls and reduce potential hold time, increasing overall customer satisfaction levels.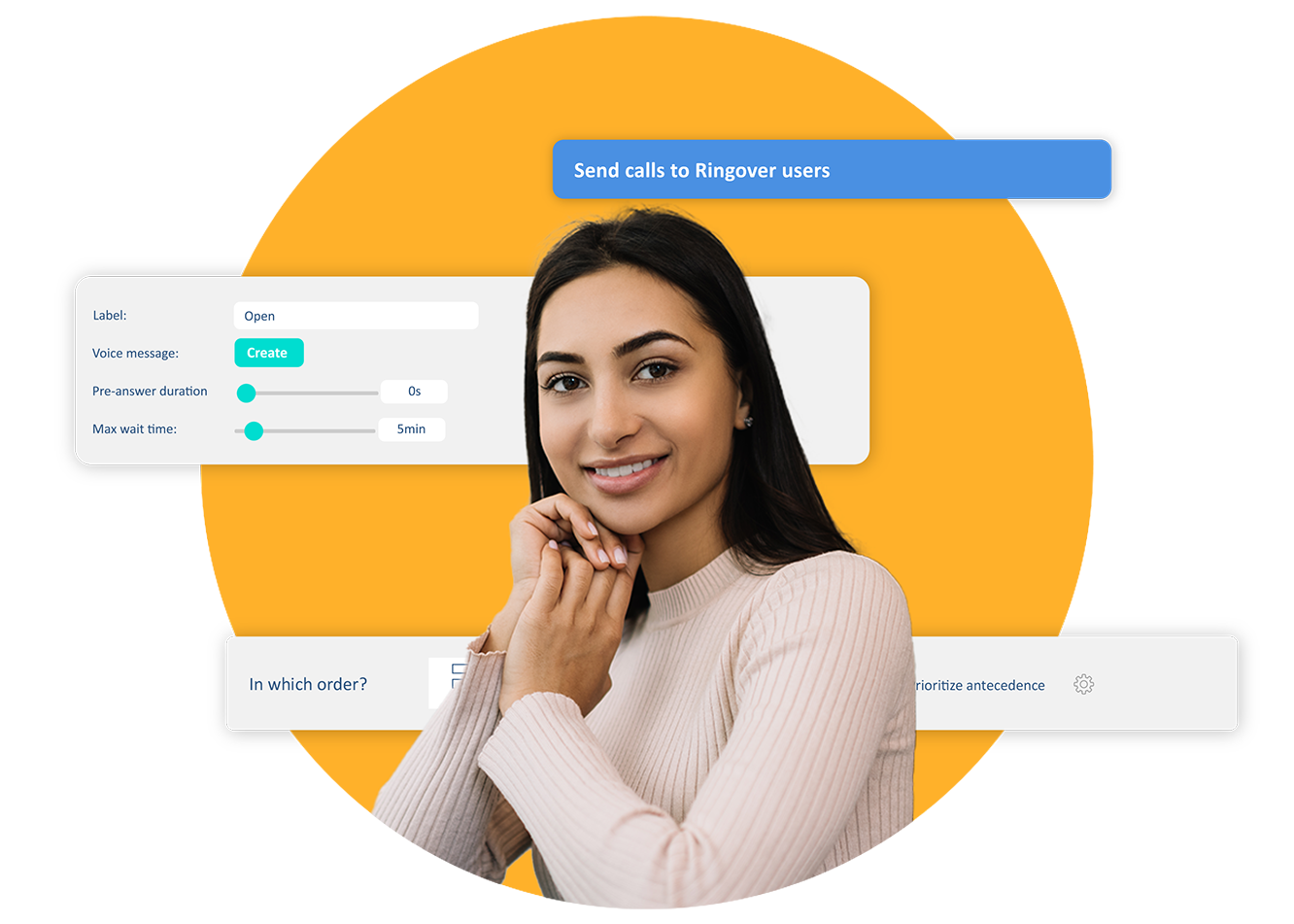 Seamlessly Handle Inbound Calls with an ACD Distributor System
Prepare your call center to successfully handle varying levels of inbound calls, with Ringover's ACD Distributor System. To better understand ACD technology, think of automatic call distribution (ACD) essentially as a system that is able to monitor levels of incoming calls to your call center, and then route those calls to the appropriate available departments or agents, per your instructions.
A well-designed ACD distributor system can help your business provide a seamless customer experience, boosting customer satisfaction levels and also ensuring your call center agents are able to effectively attend to each incoming call.
ACD Distributor System Pricing
A friendly and flexible cloud phone system for your company's everyday needs
/ User / month 

excl. taxes
Try it for free
Unlimited calls to 110 destinations
Local number from 43 countries
Mobile, web, and desktop applications
IVR and call forwarding
Call logs and recordings
Click-to-call
Video conference, instant messaging
Access to our API
A 100% integrated cloud solution that empowers team management and support
/ User / month 

excl. taxes
Try it for free
All SMART features, plus:
Local number from 65 countries
Advanced IVR (smart routing, call groups, call queues…)
2 integrations
Advanced statistics
Coaching (double listening, whispering…)
Access to our webhooks
Advanced communication and productivity features to boost your business
/ User / month 

excl. taxes
Try it for free
All BUSINESS features, plus:
Call campaigns
Power Dialer
Voicemail drop
Nearest numbers
Smart IVR (vocal recognition)
3 integrations
Single Sign-On
Ensure Customer Satisfaction with Ringover's ACD Solution
Discover the multitude of functionalities that are provided by Ringover's ACD distributor system. Automatic call distribution enables effective call routing based on your specific parameters, but it also offers multiple other benefits for both your customers and your business:
Call routing — based on time zone, language, average wait time and type of request
Customized recordings — for hold time
Containment with an IVR — for certain requests, such as PIN resets or paying bills
Call flow monitoring and management — easy access via a dashboard
Pair Ringover's ACD Distributor System with IVR Capabilities
Move away from the traditional IVR (Interactive Voice Response) system with Ringover's ACD solution. Combine the capabilities of both telephonic systems and equip your call center to handle all types of customer inquiries.
You can customize call routing to contain customer requests such as PIN resets, bill payment, and cardholder information updates within the IVR system, allowing customers to fully handle their needs without speaking to an agent. Other inquiry types that should be handled by speaking to a live agent will be appropriately routed to a representative who can assist them in a timely manner.
Effectively Balance Inbound and Outbound Calls
Whilst receiving and successfully handling inbound customer calls, your full-service call center may also need to maintain a healthy level of outbound calls, depending on your business model. Ringover's call management software gives you the ability to manage both outbound and inbound call flows all from an easy-to-access dashboard.
Set up and manage your auto dialer levels, and balance call levels being placed out to potential and existing customers, with those inbound calls that need to be routed to available agents. It's possible to strike a successful balance between your predictive dialer performance and your inbound call levels with Ringover's cloud contact center solution.
Attain Key Performance Metrics with an ACD Distributor System
Take your business performance to new levels, all with the robust capabilities of Ringover's ACD Distributor System as part of your cloud call center. The capabilities brought by an automatic call distributor go far beyond simply routing calls to agents. Thanks to the abilities of an automatic call distribution system, inbound call volume can be managed and routed in a way that maximises overall inbound call performance.
From your dashboard, actively monitor incoming call levels, the number of agents available to take calls, average wait time, calls in queue, and much more. Instant access to this essential data allows you to meet key performance metrics by granting you the ability to adjust call flows as needed.
Tailor Call Handling to Your Business Needs
Ringover's ACD call center software provides you with the ability to tailor how incoming calls are presented to your available agents. Select call queueing and presentation in a way that works best for your agents, your customer service indicators, and call volume. Choose from Round Robin, Fixed, Value-Based, and Time-Based call routing, among others.
This flexibility allows you to send certain calls to agents who have specific skillsets, for example, or to send calls in priority to those agents who have been idle the longest. There is a myriad of call distribution options, providing you the ability to establish your automatic call distribution patterns exactly to your liking.
ACD Distributor System FAQ
What is automatic call distribution?
How does an ACD system work?
How can ACD be even more useful?
Which are the most common types of incoming call distribution?
What are the advantages of using ACD?
Can you work remotely with ACD?
Do many companies use the ACD technology?
Does ACD impact customers negatively?
What is the difference between IVR and ACD?
What can the Ringover ACD do for you?
What is ACD routing?
What is the full form of ACD?
What is ACD in PBX?
What is automatic call distribution?
Automatic Call Distribution (ACD) is a call-routing system that comes as part of business phones and contact/call center software solutions. It answers incoming calls and queues and routes them to the best available agents or departments based on the instructions and call distribution criteria you establish.
An ACD distributor system works alongside other call management tools like Interactive Voice Response (IVR) to distribute calls using customer inputs. You can distribute calls based on time of day, language, agent availability, agent skills, agent idle time, and other criteria and IVR selections.
For instance, an ACD system allows you to route calls from Spanish customers to Spanish-speaking agents. You can also direct calls to departments requested by the customers or to agents who have received the fewest calls. The system further helps you identify VIP callers and attend to them without much hold time.
How does an ACD system work?
An automatic call distribution system routes inbound calls to appropriate agents/departments using the inputs customers provide through your IVR. It typically works the following way:
Customers call your business phone line.
Your IVR system answers calls and presents callers with an automated voice menu.
Callers interact with the menu and give inputs regarding the purpose of their call.
Your ACD distributor system uses these inputs to place calls in queues based on waiting time, call history, and other factors. It can also identify VIP callers and prioritize their calls in queues.
It directs queued calls to appropriate agents/departments based on some pre-established rules, such as

Any available agent
Agents who have been idle the longest
Agents with the required skills
Agents/teams in a different time zone/location
Departments requested by the caller
Agents who speak the language preference of the customer
How can ACD be even more useful?
If you have high-priority clients calling during high call times, Automated Number Indication (ANI) allows you to identify these calls and send them to their account manager's direct line without further delay, or open the client's file right on the computer screen of the agent taking the call.
Which are the most common types of incoming call distribution?
1. Fixed
Calls are routed directly to a specific group of agents, (aka "hunt groups") having a particular skillset (language, technical expertise, etc.) in the same order every time. Incoming calls will ring each time to the first person in the group, and if their line is busy, to the next, and so on.
2. Round-robin
With Round-robin call distribution, calls are routed in a loop for more even distribution; in other words, only once the last agent has taken a call will the next incoming call go to the first agent on the list, restarting the cycle.
3. Least active
Calls ring each time to the agent who has been idle the longest, so that no single agent receives more or fewer than his or her fair share of calls.
4. Time-based
Incoming calls ring in pre-set order to a group of agents having marked themselves as available for a given time period. For example, on Tuesday morning callers may be routed to Tom, Jenny, and Marcela in that order, while afternoon callers will be routed to Tom, Marcela and George, since Jenny will be busy running a training seminar, and George will not arrive until after lunch. There are a lot of time-based routings.
5. Simultaneous
Calls ring to all available agents at once, so the one who handles the call is simply the first to pick up each time.
6. Weighted
Calls are routed to agents according to a certain call volume percentage pre-assigned to each. For example, Sally, who is the most experienced in her group, will receive 60% of incoming calls, Bob will receive 30%, and Emma, who just started last week and is still learning, will handle 10%.
7. Value-based
Also known as "smart routing", this type of routing operates on a higher level of complexity and uses much more detailed information than the others. More geared toward profit generation than time-saving, it involves assessing callers based on such factors as demographics or past history with the company to determine if the caller might be a good candidate for an upgrade or more open to purchase additional products or services.
8. Data-based
Similar to value-based routing, this routing uses data on a caller's current status. For example, even though a caller may have called the tech support number, the system may flag their overdue invoice or soon-to-expire membership and route them first to the department for payment processing or subscription renewals.
Keep in mind that the above call distribution methods described are just a few examples of the many that exist today. As technology gets smarter and faster and the needs and wants of companies and consumers evolve, some of these will adapt and become even more important, while others may be obsolete within a few years.
What are the advantages of using ACD?
There are multiple advantages of using automatic call distribution for your business, in addition to streamlined call flow and improved customer satisfaction levels. Whilst routing calls appropriately, automatic call distribution seamlessly manages calls, delivering them to remote agents depending on the settings you have selected. The ACD system can be fully integrated with your current CRM, blending the successful routing and management of inbound calls with access to the tools and information your agents depend on, to effectively assist your customers.
Can you work remotely with ACD?
An ACD also allows you to fully mange your call management software from a remote location, and your agents also have the ability to work from a remote location. All they need is a Wi-Fi connection and a smartphone, tablet or laptop.
Do many companies use the ACD technology?
Yes. In fact, today's fully-functioning call center most likely would not exist without the help of automatic call distribution. ACD technology is what enables companies to successfully handle inbound call levels and allow customers to reach agents in order to get their questions answered. An ACD system not only monitors incoming call levels and routes them accordingly to available departments or agents, it also provides the ability to make changes to how and when calls are answered. Select call routing preference based on language, time zone, average call waiting time, and more.
Does ACD impact customers negatively?
ACD technology is the hidden backbone behind a successfully run call center. If customers don't experience issues such as being routed multiple times, being placed on hold endlessly, or reaching the wrong agent, that is an indication that the automatic call distributor is working seamlessly behind the scenes and performing as it was intended, improving the overall customer experience.
What is the difference between IVR and ACD?
Automatic Call Distributors (ACD) and Interactive Voice Response (IVR) are tools for managing incoming calls. They often work hand in hand to answer calls and distribute them to agents/departments.
An IVR collects customer data and understands more about the query using automated menus – press 1 for sales support, press 2 to speak to an executive, etc. Customers can interact with this IVR menu and give their input through keys or speech responses. If the customer query is simple and does not require an agent, it lets them find answers on their own through self-servicing.
An ACD distributor system uses these inputs and responses from IVR to sort calls and direct them to appropriate agents or departments based on pre-established call distribution criteria. For instance, if a customer has requested for the sales department on the IVR menu, your ACD will direct the call to agents from that department.
What can the Ringover ACD do for you?
Aside from allowing shorter queue times and more direct channels of communication between your clients and the exact person they need to speak with to obtain the solution they're looking for, there are further advantages of implementing Automatic Call Distribution through our solution. Even if you're a start-up with only a few employees, you too can boost performance across all levels with the following features:
Mobility/flexibility: The world is moving at a faster pace than ever, and it's not stopping anytime soon. Your clients are increasingly on the move, so why shouldn't you and your team be? Ringover puts all the features of a state-of-the-art corporate phone system at your fingertips whether you're travelling overseas, at home or in the office. Manage your team and connect with collaborators - no matter where you are, and no matter where they are - just as you would in the boardroom and ensure each client call is treated with the prompt attention it deserves.
Training/coaching: Whispering and call intervention allow supervisors to listen in directly on calls, feeding vital tips and information to struggling agents without the caller being any wiser, or even taking over the call if necessary. Call recording allows newer recruits to listen to their own calls again to identify areas needing improvement or hear veterans handling tough situations.
Advanced statistics/monitoring: Always know in a glance who's on the line, who's taking a break, and who's available, thanks to our convenient and user-friendly interface. Use such parameters as Average Talk Time (ATT), Average Handle Time (AHT), Average Speed of Answer (ASA) to gain a clear image of exactly where your phone support stands at any given moment. Use this information to identify strong and weak points in your customer service provision, adjust staffing during low and peak call times or hire people as necessary, provide better training to new team members and veterans alike - and ultimately save valuable time and resources.
CRM Integration: Whether you're using Salesforce or software designed in-house to manage client files, Ringover can link it to your phone activity. You'll then be able to take advantage of such features as automatic file retrieval, so that any agent picking up a call will have instant access to all available information on the caller. Have all call activity automatically sync with your system information - no further need to manually enter the dates and times of conversations, or send clients bouncing around your phone system until they get lucky enough to reach someone able to help them.
Personalised greetings/music on hold: Establish your company's image instantly for first-time callers and maintain it in the eyes of your most loyal clients with our 100% customisable greetings and music on hold. Select music from our collection or upload it yourself to ensure that it speaks to your brand, adding timely messages and news as desired - all from our user-friendly online studio.
What is ACD routing?
ACD routing is the process in which your Automatic Call Distribution (ACD) system routes inbound calls to the appropriate agents/departments based on IVR inputs and the criteria and rules you establish beforehand.
An ACD distributor system can route calls using the following techniques:
Round robin – routes calls to agents equally in a circular manner.
Skill-based routing – routes incoming calls to agents with the skills required to address the query.
Talk time – routes calls to agents based on who has been idle the longest and has the least talk time.
Time-based – assigns calls to agents within specified business hours of a day.
Simultaneous – routes incoming calls to all available agents simultaneously, and the first agent who picks the call handles the customer.
Weighted – routes a certain percentage of calls to specific teams – 20% to Team A, 40% to Team B, 40% to Team C, etc.- adding up to 100%.
What is the full form of ACD?
The acronym ACD stands for Automatic Call Distribution. As the name suggests, it is an advanced call management feature in the call center/business phone system that allows you to automatically distribute inbound customer calls to the agents/departments most suited to handle the query.
What is ACD in PBX?
A Private Branch Exchange or PBX is a private network that handles internal and external calls of an organization. It comprises several components and functionalities and manages and routes both inbound and outbound calls.
An automatic call distribution system or ACD system is a telephony tool that receives and distributes incoming calls to agents/teams based on the criteria you have already established. Many PBX systems include ACD functionalities to connect outside callers with company agents.
Modern PBX systems, such as cloud-hosted PBX, offer call distribution as part of their offering. Typically, it works hand in hand with other cloud PBX features like Interactive Voice Response (IVR) and Caller ID screening to answer calls and direct them to agents or departments best suited to handle the concern.
Handle inbound calls effectively with an Automatic Call Distribution system. It intelligently routes calls to the best-suited agents or departments, thus reducing hold time, increasing first-contact resolution rates, enhancing productivity, and improving customer satisfaction. A must-have tool for inbound call centers and businesses with high-volume calls, it works with other features in your business phone systems to optimize efficiency.