Call center
How to Use Simultaneous Ring to Forward Calls to More Than One Phone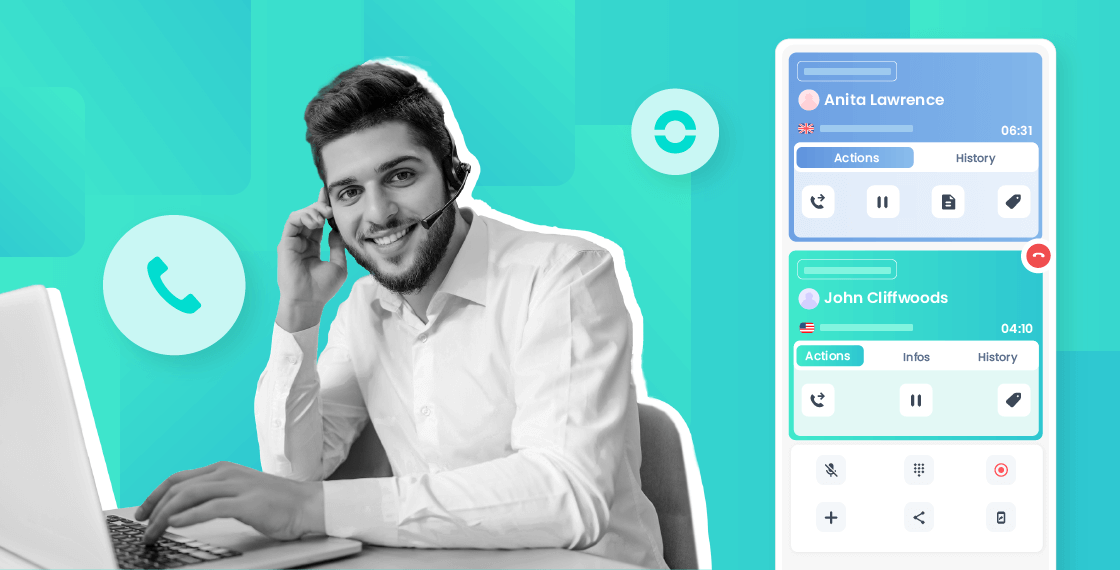 When customers want information on a product they're interested in buying, they often prefer to speak to a live agent than converse with a chatbot or send an email. It's all about getting an instant solution.

So, if you miss a call or let it go to voicemail, the customer is likely to call a competitor. Very few people will try calling for a second time. Using a contact center solution with a simultaneous ringing facility is an easy solution to minimize the risk of missing important calls.


Try simultaneous ringing feature for free
What is Simultaneous Ring?
As the name suggests, simultaneous ringing refers to having an incoming call ring on multiple devices simultaneously. You can answer the call on a landline phone, a mobile or even a computer with a VoIP connection.

Alerts to incoming calls are sent out simultaneously to a group of agents. Any available agent can pick up the call and be connected to the caller. As soon as the call is accepted, it stops ringing for other agents.

Simultaneous ringing helps call center agents attend more calls and boosts productivity while ensuring the callers get a quick resolution to their questions. It also gives you the flexibility of staying connected across devices.
What's the difference between simultaneous ring and call forwarding?
The basic aim behind call forwarding and simultaneous ringing is the same – to minimize unanswered calls. Simultaneous ringing means that alerts for incoming calls are sounded on multiple devices and the call can be connected to any one of them.

However, in the case of a , calls made to numbers that are busy or offline can be forwarded to a single alternative number. Calls may also be forwarded if they are unanswered at the original number.
What is the difference between a simultaneous ring and a sequential ring?
Simultaneous ringing and sequential ringing help lower response time to customer calls and improve the overall customer experience.

In the case of simultaneous ringing, several phones will be alerted simultaneously to any incoming call. The call can be connected to any of these devices and as soon as a connection is established, the other devices will stop ringing. This ensures that unanswered calls are minimized.

Sequential ringing is a form of call forwarding where incoming calls are forwarded to a set of numbers in a preset order. If the call is not answered by the first number within a certain time frame, it will be forwarded to the next number on the list and so on. If the call is not answered by any of the numbers on the list, it can be sent to voicemail.

Sequential ringing is helpful when you have a preferred agent/s to take the calls.
How does simultaneous ring work?
Simultaneous ringing can be set up on telephone networks as well as .
Simultaneous ring as a phone system feature
Conventional phone systems as well as cloud-based phone systems support simultaneous ringing. What matters is to ensure that the devices are all connected to the same system. Cloud-based phone systems like Ringover support simultaneous ringing on Android, iOS, PC and Mac devices.

Once you have chosen a package that offers this feature, you can choose the numbers/ devices that should be alerted when a call comes in. It's that simple!
Simultaneous Ring as a Telephone Network
Simultaneous ringing on a telephone network can span landline numbers over a wide area or mobile numbers. The number of phone numbers to be alerted to an incoming call can be specified by the user depending on the limit set by the service provider.
What are the benefits of simultaneous ring?
Simultaneous ringing is especially beneficial for small companies with remote teams. Some of the top advantages of simultaneous ringing are:
Freedom to answer calls from anywhere
Using a phone system with features like simultaneous ringing unchains your agents from their desks. Now, even if they have stepped away, they can answer calls on their mobile phone. This ensures your customers get seamless service at all times.
Fewer unanswered customer calls
Call centers across industries want to minimize the number of calls that get left unanswered. Every call that goes unanswered could be an opportunity to convince a lead to make a purchase or a chance to appease a disgruntled customer.

With simultaneous ringing, incoming calls can be answered by any agent and hence, the chance of a call going unanswered or being forwarded to voicemail reduces.
Quicker responses
Unlike sequential calling where calls are made available to agents in a sequence, simultaneous ringing makes calls available to all agents equally. Callers do not have to wait for calls to get routed from one agent to another. Hold time is reduced considerably and they can get their questions resolved quicker.
How do I set up simultaneous ringing?
When you take up a VoIP contact center package like the Business plan offered by Ringover, simultaneous ringing is one of the popular inbuilt features.

You should not need to apply separately for this service. All you need to do is create a group of user numbers that can get simultaneous alerts for incoming calls.

Here's a quick guide to getting started.
Pick and assign numbers to each user

Create ring groups. For example, travel agencies may create separate groups for calls regarding ticket bookings for flights, trains and buses. You can also group agents by language, technical skill set, etc.
Now when a customer calls, he/she can select the appropriate IVR response and the call will be directed to a group of agents rather than a single agent.
Upgrading your service with simultaneous ringing
A VoIP call center solution like Ringover with inbuilt simultaneous ringing features like 'in-call device switching' is ideal for businesses of all sizes. Ringover also offers many other productivity-boosting features like random and pre-set call cascades and history-based call routing. Now, your customers can reach you easily and get the help they require faster.

Learn how can make a difference to your business.