VoIP
How to Keep Your Phone Bills Under Control While You're Away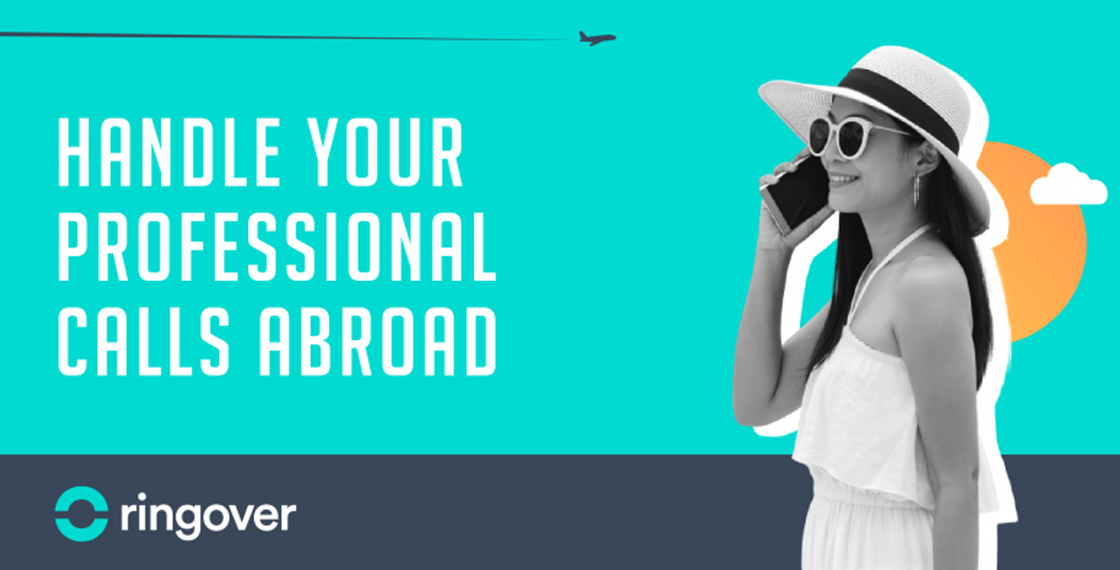 Holidays often mean we're confronted with several complications with our telecoms. Even if you go on holiday abroad, you probably don't want to be totally disconnected from work or contacts. You also want to be constantly in touch without constraints, and without it costing you an arm and a leg. Good news: Ringover has the solution!What is roaming and what is it for? How can you make and receive calls without incurring additional costs? What are some ways to control your mobile data usage abroad and reduce roaming costs?In this article, we'll answer all your questions about roaming and managing your business calls abroad. Now you can make and receive international calls without having any unpleasant surprises on your phone bill!
What is roaming and what is it for?
When we cross a national border, our phone automatically connects to our phone operator's partner network. In other words, changing countries means that we're "roaming." Roaming is the term for using a mobile plan abroad via the network of another operator. It allows you to make calls, send text messages and connect to the internet on the network of a foreign operator with which your mobile operator has an agreement.
Make and receive calls at no extra cost
You're traveling in the EU or EEE
In 2017, the European Union introduced a plan to eliminate roaming charges. Roaming services such as calls made and received in any country of the EEA (27 EU Member States, Liechtenstein, Norway, and Iceland), texts sent to any EEA country and mobile internet connexion are now included in plans and no longer subject to additional charges.This means that you'll no longer need to constantly check your mobile data usage while away and therefore no longer have to worry about your employees' mobile bills when they travel for work.
You're traveling outside the EU or EEE
However, if you go on holiday outside the European zone, you'll need to adjust a few settings to avoid any surprises on your phone bill when you return. Before leaving for a foreign country, turn off data roaming as well as data reception abroad and make sure to use secure Wi-Fi networks to access the internet.More and more operators today are offering mobile plans for traveling abroad without breaking the bank. Opting for a "Europe" or "World" plan makes it possible to receive and make calls from abroad and/or benefit from an internet connexion with a time or data limit. You'll then have the advantage of better control of your usage and a plan adapted to your needs when you're on the road.
6 tips for reducing your data consumption and avoiding roaming charges
1 - Keep track of your mobile data usage
These days, most smartphones send you a warning once you reach a pre-set limit for mobile data usage. This lets you know that you're about to hit your data usage cap and need to be careful.To find out your mobile data usage, simply go to your smartphone's settings (iPhone or Android), then to the section for mobile data. Usually, you can even see the total amount of data that you've consumed along with details on the apps that consume that mobile data.
2 - Define a limit for data usage
Setting a limit on your mobile data usage will prevent any data transfer once you've reached the maximum threshold. You can of course modify this limit.Once you reach this threshold, you will receive an alert reminding you that you do not have many GB left. For example, if your plan allows you 20 GB of data per month, it's helpful to schedule an alert when you reach 18 GB.
3 - Limit use of your phone
This is to limit the use of applications that consume a lot of data. Avoid downloading images or large files using mobile data. If possible, use a Wi-Fi connection or download your documents before your departure.Likewise, limit the use of apps that require a mobile data connexion, such as Google Maps, which allows you to download a map of a specific area so that you can view it offline later.
4 - Deactivate automatic app updates
Some apps are updated automatically in the background, which can use your mobile data without you being aware.In order to deactivate this feature, go to your smartphone settings and deactivate automatic app updates. This way, updates to your apps will only happen when you're connected to Wi-Fi.
5 - Connect to a Wi-Fi network
You can easily take advantage of a Wi-Fi connexion in hotels or other public places, which will allow you to access the internet at no additional cost.Most smartphones give you the option of activating an automatic search for Wi-Fi networks. As soon as you're near a network, your phone will automatically connect to it. However, you'll need a password if the network is secure.
6 - Make overseas calls easily with Ringover
With Ringover, you no longer have to worry about your mobile data usage - international communication has never been easier! Make and receive unlimited calls to over 80 destinations around the world - all you need is a device (smartphone or computer) connected to the internet.Thanks to its direct interconnections with the main global operators (Colt, Verizon, Bics, Orange, etc.), Ringover allows you to make unlimited calls to more than 80 destinations around the world, providing you with transparent rates for all other destinations. Just connect your device to Wi-Fi and start making and receiving calls easily from your Ringover app.With Ringover, managing your calls is just as simple during your holidays abroad! Take advantage of all of Ringover's features and manage your business activity from anywhere. Update your Interactive Voice Response server, record greetings and set up call routing in order to maintain your activity even while on holiday.