Remote work and VoIP
9 Tools Every Remote Worker Needs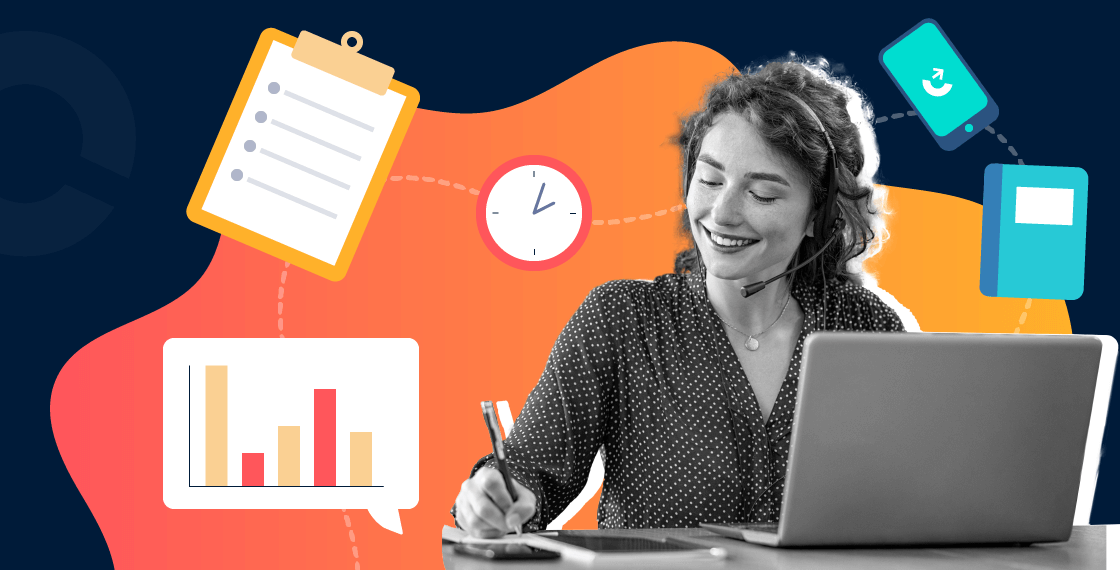 Summary
FOR DAILY COLLABORATION
TO BETTER COMMUNICATE FROM A DISTANCE
TO MANAGE YOUR TEAMS, EVEN FROM AFAR
Want to add some more remote working tools to this list?
Remote working, mobility, nomadism, freelancing… the labor world keeps evolving. In the United States, 38% of employees say they are able to work from home at least one day a week. In the United Kingdom, the number of people working from home rose from 800,000 to more than 4 million, and it's estimated that another 1.8 million would do so if allowed. This evolution of work patterns necessitates an adaptation not only of practices and processes, but tools as well! Thus, when one of our customer service agents decided to follow their spouse to Nancy, we had to recreate a work space (phone line, internet connection, IT materials) and revisit our method of working together. Luckily there are more and more collaborative programs that allow remote working in the best conditions, whether it be occasionally, a few days a week or full time. Here is our selection of must-have tools every remote worker should be using right now. Since first-publishing our 9 hand-picked tools, we have had other great recommendations being added to the list giving you much more options to be a productive remote worker!Let's go!
FOR DAILY COLLABORATION
Azendoo - for project management and collaboration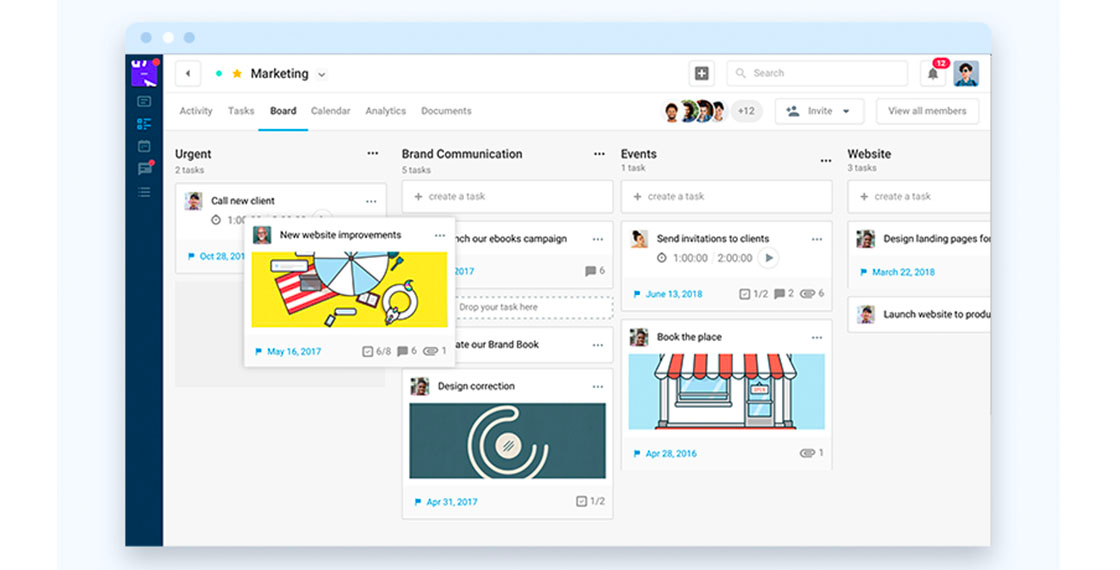 Azendoo is a collaboration and productivity tool for multi-location teams. Thanks to a unique collaborative workspace, teams can communicate and have access to the same information no matter where they are. Document management is easily facilitated via numerous integrations within the tool: Evernote, Google Drive, Slack, Box, etc. Azendoo therefore reduces the number of emails sent and improves teamwork. .@azendoo is a project management and collaboration tool for multi-location teams #remote #tools
Proofhub - planning, collaboration and project organisation
Proofhub is an "all-in-one" program for collaboration, organisation and planning that allows teams to work in total transparency from anywhere. Numerous features allow collaborators to work more quickly and efficiently: online chat access, task distribution, deadline setting (Gantt project), document sharing, note-taking, opening of tickets on request, activity logs, etc. Proofhub integrates with the most popular tools such as FreshBooks, Google Calendar, iCal, Box, Dropbox, Google Drive, OneDrive and Outlook to facilitate team collaboration. Collaborate, organize and plan your projects with @proofhub #remoteworking
Quip - shared and collaborative documents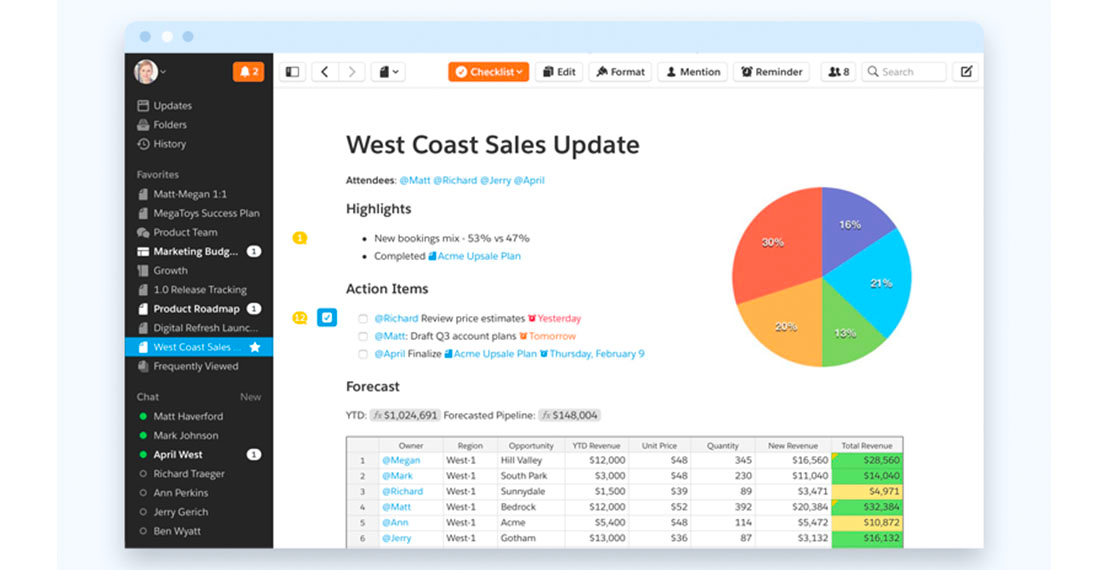 Quip is the perfect tool for working as a multi-location team! It includes a web and mobile app that facilitates shared work and collaboration. Each person on the team has access to the same online document, can view the most recent changes and exchange with colleagues thanks to internal chat within the document.Quip also makes it possible to integrate polls, edit images or track project progress through an integrated calendar and dynamic tracking indicators.Share and collaborate on your documents with @quip #remote #tool
Miro - online collaborative whiteboard
Miro is an online whiteboard allowing remote teams to write, draw, and modify or add content in real time. Available for computers, tablets and smartphones, Miro eases visual communication and collaboration between team members. From brainstorming to design to taking notes in meetings, Miro is there for you daily. Share your ideas, designs, and brainstorming sessions with the online whiteboard @MiroHQ #remote #tool
Scrumie - team collaboration and work overview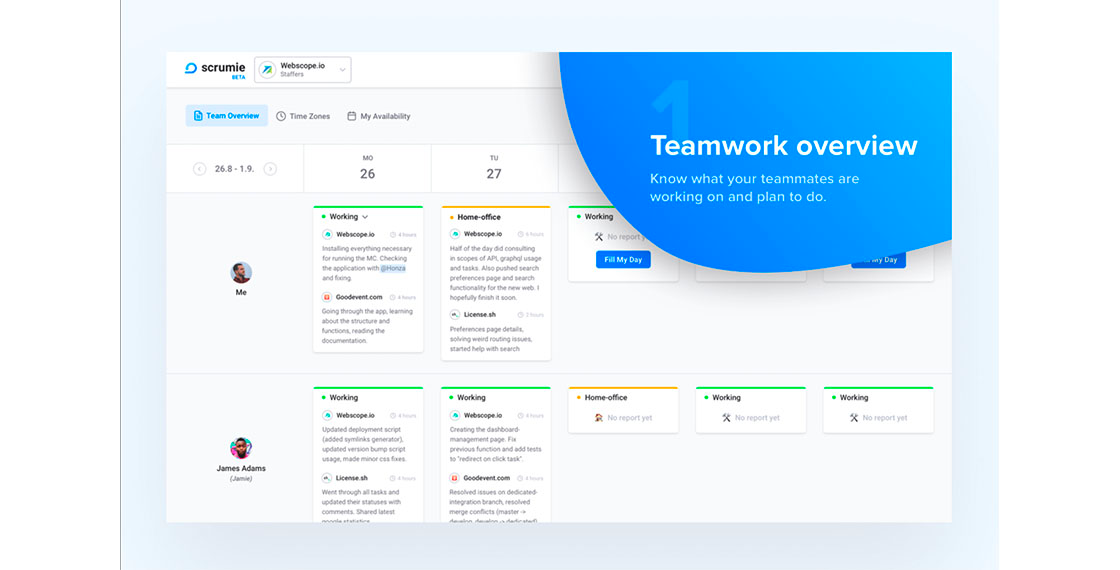 Scrumie is a team overview tool that helps you keep your team in sync no matter where your teammates are working.It provides you with a transparent overview of the work done in your team based on virtual stand-ups, which the team members fill out daily. Thanks to the availability and time zone features, employees can see when their colleagues are working— via their status availability (vacation, home office...), as well as their working hours.This team overview tool also integrates with Slack together with custom apps (reporting and accounting) to further enhance Scrumie's team functionalities. More integrations coming soon!Know what's happening in your team with @scrumiecom #remote #tool
Xtensio - creation and sharing of professional documents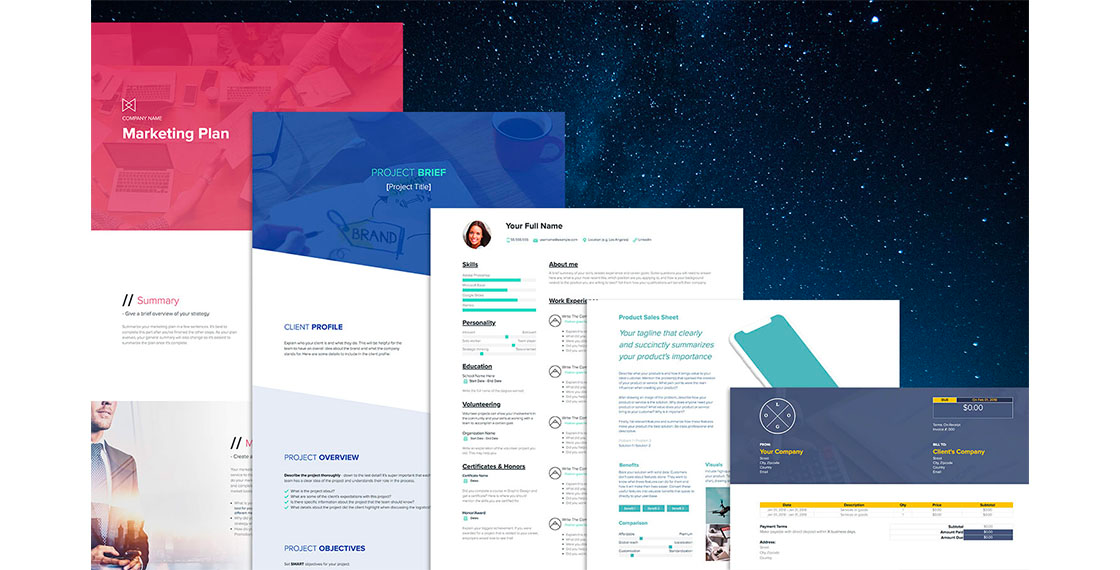 Xtensio is a tool that help in enhancing presentations and products with ease. It can make your documents look engaging, professional, and simple. It's also easy to use, filled with lots of features and offers complete value for money. Using it, you can share, present, and manage the business and their needs. Trusted by thousands of consultants, agencies, and entrepreneurs, Xtensio streamlines your workflow. You can choose from 100 of various templates; you can change your color schemes and images and easily fill your changes. From marketing teams promoting their brand to the entrepreneurs launching their own companies, Xtensio is for creating beautiful web pages and presentations.Create and share professionnal and engaging documents with @xtensio #creation #tool
Teamwork - project management platform
Teamwork is a feature rich project management platform which allows remote workers to work and communicate seamlessly with each other regardless of location. Despite its many powerful features it boasts an intuitive user interface and is trusted by over 20,000 companies worldwide.Some of its key features are:Teamwork Chat: Teamwork not only has its own chat feature but team members can also communicate with each other via context on tasks, projects and files.Board View: Centralize your projects to one convenient location for all team members to see and track in real time.Workload Management: Manage employees and team members workloads from anywhere to ensure effective task management and workload distribution.Time Tracking: Effectively track time spent by each team member on specific tasks."
TO BETTER COMMUNICATE FROM A DISTANCE
My Meeting Time - time zone converter to find best meeting times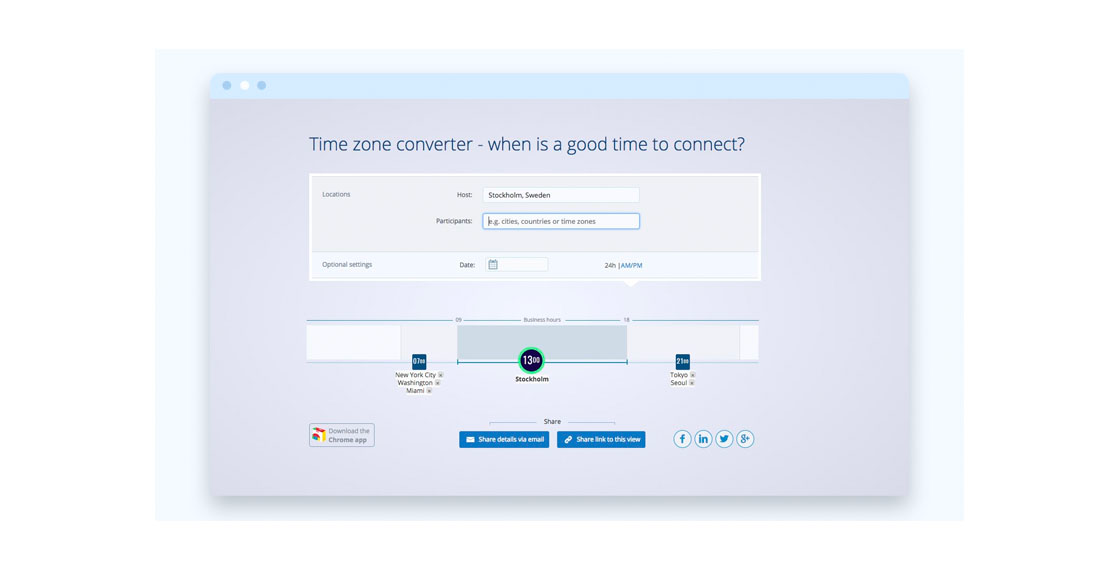 My Meeting Time is a simple website with a Chrome extension to help you easily organise your international meetings.Provide your city as well as those of the different meeting participants, and My Meeting Time will automatically find possible times within habitual business hours. It's as easy as that! Easily plan your meetings all over the world with @mymeetingtime #remote #tools
Ringover - managing calls from anywhere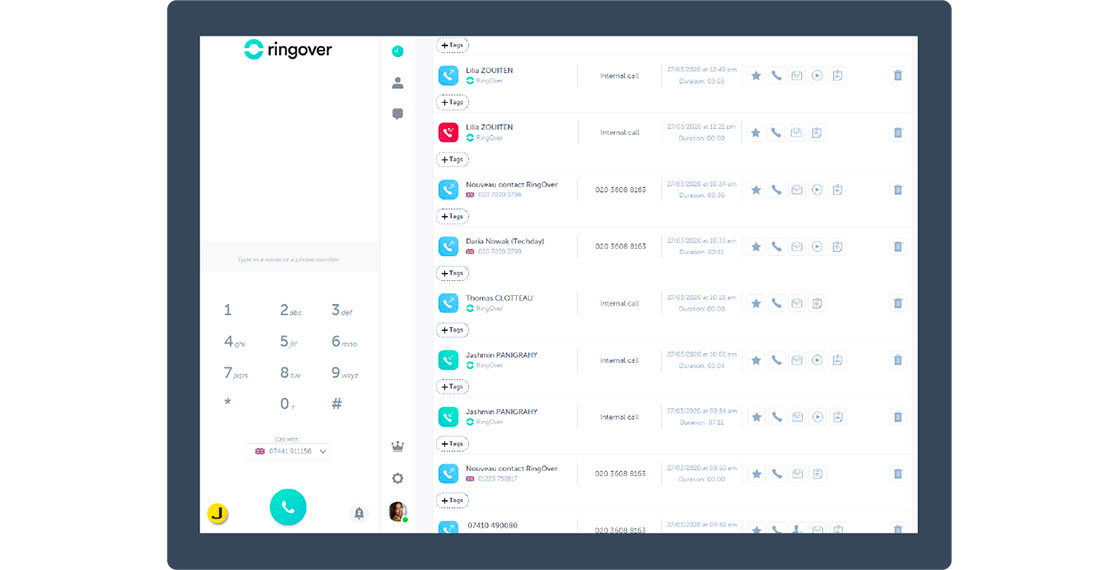 With Ringover's web and mobile apps, your business phone follows you wherever you're working: at the office, at home, in a coworking space, on the road or overseas…Ringover also facilitates working remotely thanks to its collaborative features: conference calls, invitations to join a call, shared contacts, internal messaging...any many more!With @ringoverapp your business phones follows you wherever you're working #remote #tool
Slack - team communication workspace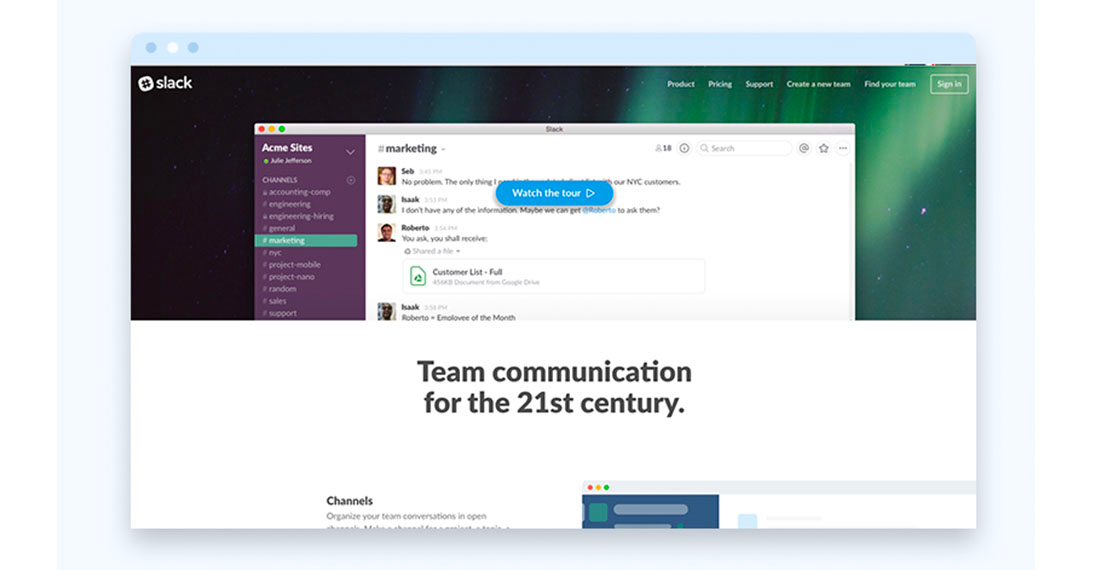 Slack is an internal chat platform that brings together all of your communication flows, providing each person with a shared workspace where conversations are organised and accessible. It allows exchanges between teams as well as document sharing and collaboration from anywhere. Slack is particularly useful for teams working remotely: its messaging facilitates interaction and allows the organisation of discussions by team or project, with the shared screen feature making multi-site collaboration even easier! As testifies one of their customers, Zapier, the interactive screen sharing, which allows Slack call participants to click, scroll, tap and even edit what is shared on the presentation screen, is a true anchor for their operations.Better communicate with your remote teammates with @slackHQ #remote #tools
TO MANAGE YOUR TEAMS, EVEN FROM AFAR
Namely - human resource management platform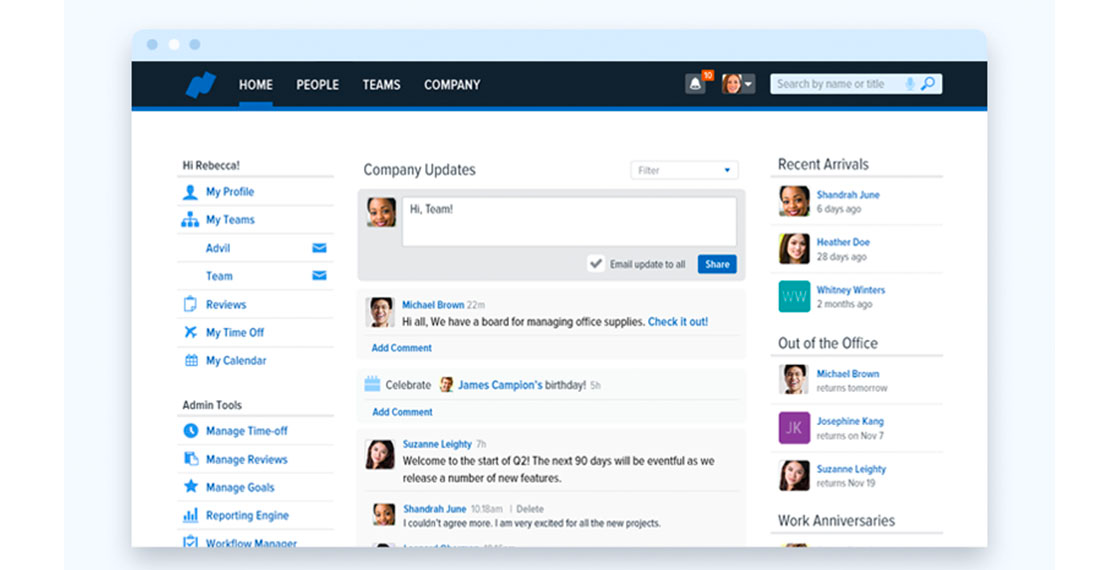 Namely is an all-in-one HR platform that combines HR, payroll, benefits, time management and more.Namely creates a unique experience for remote employees:> It helps employees stay connected. When employees work remotely, it can be challenging for them to stay connected and feel like a part of the culture. With Namely's company social feed, employees can stay in the loop with business updates from leadership, celebrate peers' birthdays, and appreciate colleagues who have done a great job.> It effectively tracks hours. When employees aren't on location, it's especially critical to track their time worked in order to stay compliant. With Namely, hours worked are clocked digitally and easily tracked by HR.> It shares regular performance feedback. "Out of sight, out of mind," may ring true for too many remote workers. Using a system to share regular performance feedback will help remote employees understand their progress, goals, and areas of improvement.> It puts faces to names. Namely includes employee profiles, which everyone is able to customise. Even if everyone is not in the same office, they'll be able to put a face to the name and have a clear understanding of the company org chart. Handle your HR with @NamelyHR and connect with team members from a distance #remote #tool
Time Doctor, a smart employee time tracking software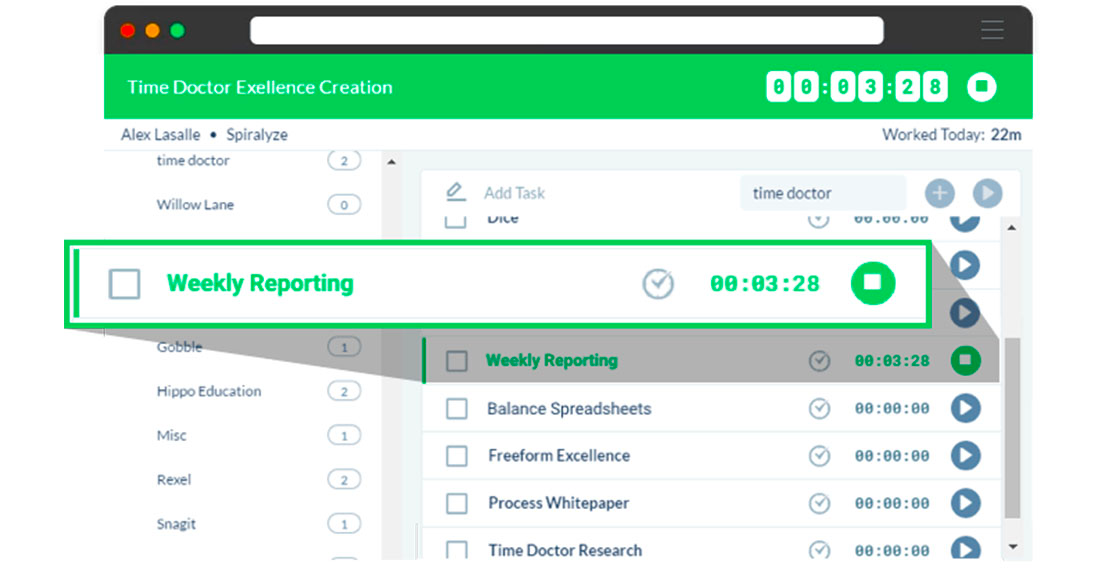 Time Doctor is a feature-rich time tracking app used by a wide variety of companies of different sizes. Customers include large corporations such as Apple, Home Depot, Verizon, PwC as well as SMBs like Surveymonkey and Firehouse subs.Time Doctor automatically creates several types of reports such as Timesheets, Time Spent on Each Project/ Task and several others. These reports can be customized for different parameters – for a particular employee, a group of employees, a particular project, date ranges, etc. The tool is useful for companies running remote teams, digital agencies, software teams, companies with remote support agents and more.Time Doctor integrates with other remote work tools such as Asana, ToDoist, Jira, Zendesk, Freshdesk, Slack, Google Apps and numerous other apps.Some of its other key features are:Time Tracking: You can track time spent by each employee on specific tasks and projects.Website and application monitoring: Keeps track of what applications and websites employees are using during work hours.Privacy Controls: The tool can take screenshots of employees' screens but only if you choose to enable this feature and with employees' consent. Employees can also delete screenshots at their discretion, if they were accidentally running Time Doctor during their personal time.Billing: Time Doctor allows companies to make payments to employees and freelancers using PayPal, Payoneer, TransferWise and several other methods in all currencies. Payments can be made based on hours worked.Managing distractions: If you open a social media or any entertainment site while working on a task, Time Doctor will generate a pop-up to ask you if you are still on that task. It's a great way to avoid getting distracted. The tool also sends a weekly poor time use report to team managers with a list of distracting websites and applications viewed and the duration they were used, during work hours.
TeamMood - daily team mood & morale tracker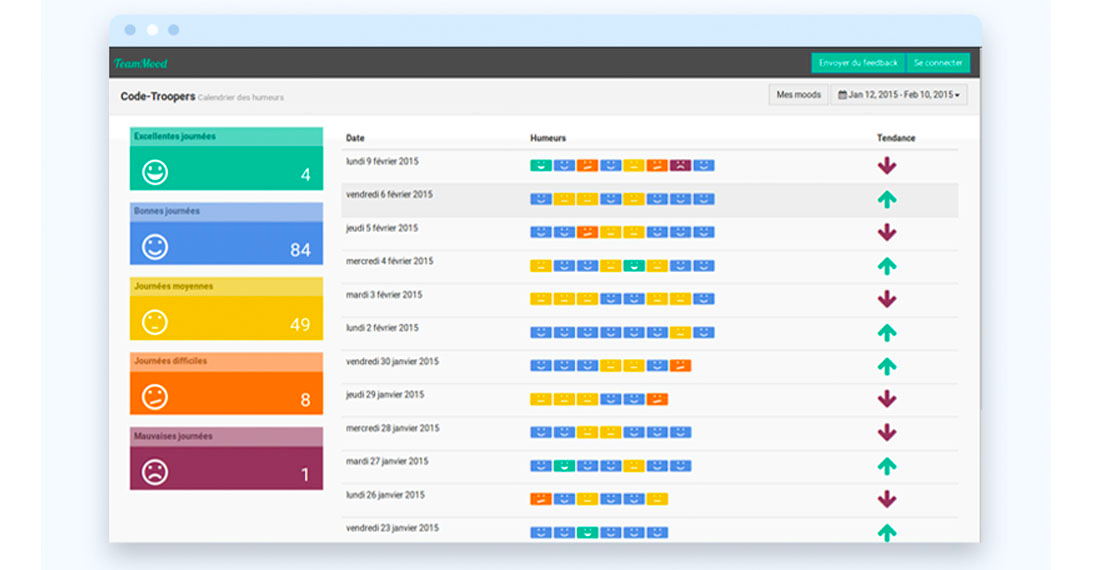 TeamMood is an extremely simple to use tool that allows the measurement of morale at work. With the help of a simple daily survey sent by email or Slack, each member of your team can anonymously indicate their mood and share comments. TeamMood is particularly useful for measuring the well-being of remote salaried workers. How can you know if everything is going well without seeing for yourself or chatting over coffee? TeamMood provides a free space for self expression in total confidentiality, ensuring that the whole team can rest at ease.Track your team's well-being with @teammood #remote #tool
Take a break, please - compulsory work break scheduler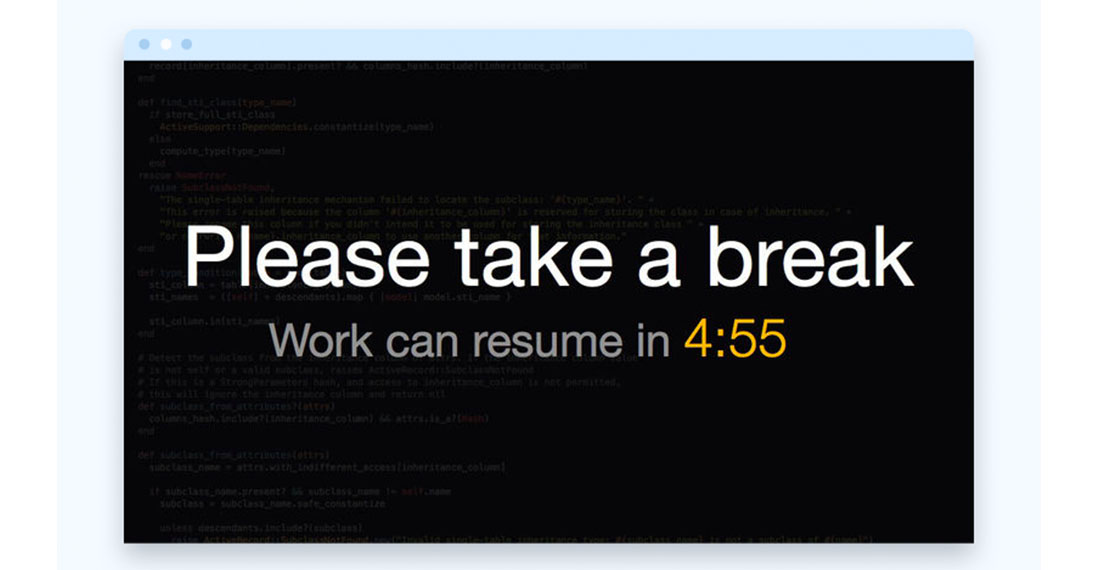 Take a break, please is a web app for Mac, which obligates users to take regular breaks and take their eyes off the computer. One of the traps of working remotely is to pass hours on end in front of the computer: no colleagues to interact with and no coffee breaks. With "Take a break, please," you can regulate the amount of work time between each break as well as the duration of breaks. At the preset time, your computer screen is blocked, requiring you to take your break.Hong Wee Teo started developing digital products a few years ago just for fun - and for a hobby, the result is impressive: http://supporturl.tumblr.com/. According to its creator, Take a break, please is very useful because staring at one's computer screen for lengthy hours is an unhealthy practice.Take a break, please, the genius app by @littlekuda #remote #tool
Freshdesk for Support teams to resolve customer issues faster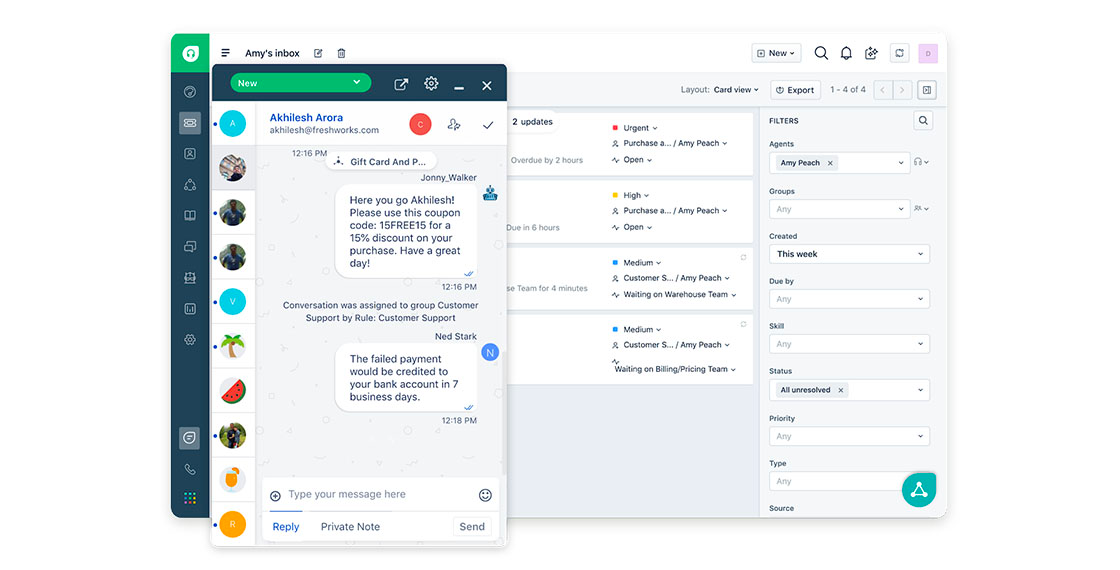 Freshdesk is an online customer engagement solution from Freshworks. Freshdesk is a plug and play solution which ensures easy implementation and access from anywhere. Freshdesk enables you to streamline your company's customer support using the customer service software and helps you to efficiently manage your customers as you scale. Here's what you can do with Freshdesk:
Track and manage incoming tickets from multiple channels into one single view

Support customers across various platforms like email, phone, call, chat, social media, and other messaging apps

Collaborate with multiple teams within your company to split, assign and resolve queries faster as a team

Automate redundant tasks like agent assignment based on the skill, workload, and availability

Empower customers with a comprehensive knowledge base and self-service portal

Analyze and gather critical insights on agent performances and customer experience with advanced analytics

Customize Freshdesk completely to suit your business requirements

Leverage AI and ML capabilities of Freddy, to take some work off your agents and provide faster resolutions to customers, without compromising on the quality
Want to add some more remote working tools to this list?
Contact us at ginelle.bell@ringover.com and we will be more than happy to include your recommendations in this article.