Sales prospecting
LinkedIn prospecting 2023: the definite Guide, Tools and Techniques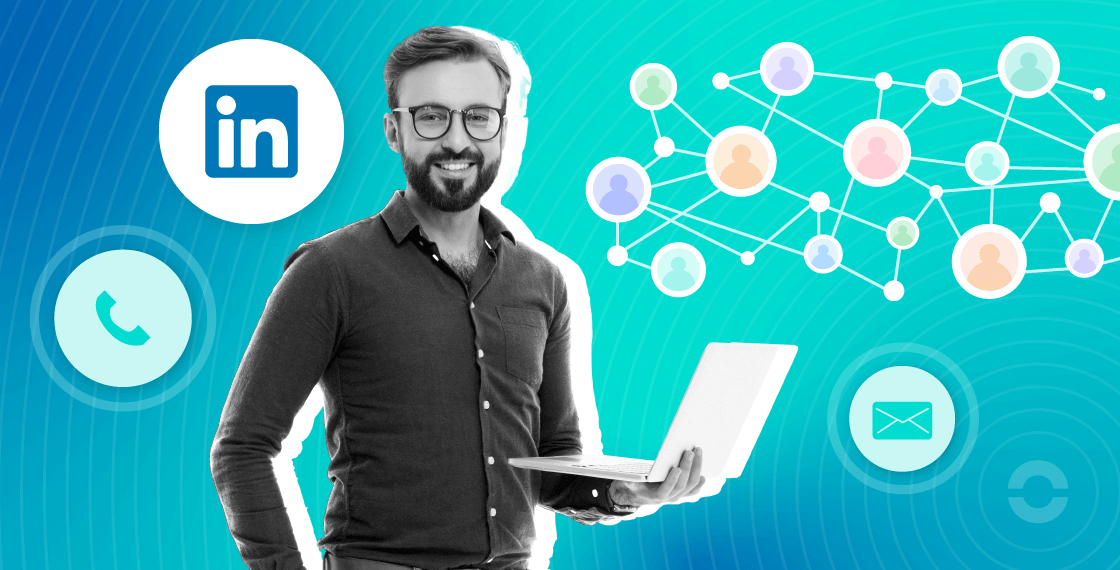 Over the last decade, LinkedIn has become the go-to professional platform for individuals and businesses. With over and over 58 million listed companies, the platform is ideal for finding potential customers. No wonder, LinkedIn prospecting is a top priority for many companies.

LinkedIn prospecting refers to the process by which you identify potential customers on the platform and build authentic relationships with them. It involves using several techniques, sales skills, and tools to find and connect with clients that fit your ideal customer profile.

In this post, let us look at the trending LinkedIn prospecting tools and techniques you can use in 2023 to generate sales leads.
Try now the best LinkedIn prospecting tool
Is prospecting on LinkedIn worth it?
LinkedIn prospecting is one of the best ways to generate quality leads. It is worth the time and effort as long as:
Your ideal customers are using the platform

You are doing it the right way using the right tools and techniques
Here are a few ways LinkedIn prospecting helps your business:
Get higher reply rates
show that LinkedIn prospecting helps you get higher response rates from prospects – the LinkedIn InMail response rate is three times higher than cold emails/calls.
Obtain information
LinkedIn is a goldmine where you can find contact details of your prospects and gain insights into their business requirements, all of which help you build a relevant outreach strategy.
Personalize your outreach
It allows you to personalize your cold outreach strategies. The insights and data points obtained from LinkedIn help connect with prospects and offer relevant services/products that meet their needs.
Reach out to decision-makers
Unlike many other sales outreach methods, LinkedIn prospecting allows you to connect with the decision-makers of an organization, thus making B2B marketing easier.
Engage with a large pool of customers
As mentioned earlier, LinkedIn has millions of companies and individuals listed on the platform. You can engage with a larger audience by prospecting on the platform, which opens up numerous sales opportunities.
Furthermore, LinkedIn prospecting enables you to understand the customer base of your competitors and analyze their prospecting strategies. It also helps you keep abreast of the latest trends in your industry and design outreach methods that best resonate with them.
How do I use LinkedIn for prospecting?
Any business organization planning to use LinkedIn for sales prospecting must have a carefully designed plan to find and connect with potential customers. Though there is no hard and fast rule for LinkedIn prospecting, the process typically involves the following steps:
Step 1: Make your brand/business credible
The first thing a customer sees on LinkedIn is your profile, so creating a profile that speaks to your prospects is a good starting point. Here are a few ways you can optimize your LinkedIn profile:
Custom-designed photos and banners
Instead of using stock images, design a custom profile picture and banner for your business account using online tools like and .
Simple yet catchy headlines
Remember, you get only 220 characters to describe your brand/business, so keep your headline simple and catchy - tell your prospects what your business is and why they should connect with you.
A memorable About Us section
The About Us section is where you can give more details about yourself and your business. Make sure to include a value proposition and an appealing call to action.
Media to attract prospects
Upload relevant and informative media on your profile – blog posts, videos, presentations, etc. – to attract the attention of prospects. It will serve as testimonials that speak about your business and expertise.
Good and credible recommendations
Prospects would want to know how they would benefit by connecting with you or purchasing your products/services. What better way to convince them than by adding strong testimonials from your existing customers?
Step 2: Make your brand visible
The next step in LinkedIn prospecting is to make your brand visible. You can achieve this by:
Joining a few relevant and industry-specific groups

Sharing content, such as articles and blog posts, regularly

Posting videos

Engaging with other LinkedIn posts through comments

Using popular and relevant LinkedIn hashtags

Sharing content related to your industry
All these activities make you appear more on the feed of your prospects and stay top of mind with them. It will also help you establish your brand, increase the organic reach of your LinkedIn page, and enhance your networking marketing endeavors.
Step 3: Identify your prospects using LinkedIn prospecting tools
Once you have built credibility and visibility for your brand, it is time to find prospects and generate B2B leads. Thankfully, there are several LinkedIn prospecting tools you can use to find prospects:
LinkedIn Boolean Search
LinkedIn Boolean Search is a database search capability that helps you improve your prospecting efforts. It allows you to use search operators and modifiers to combine keywords and phrases, thus enabling you to find profiles that match your search criteria.
AND searches – To find profiles that include several terms. (Marketing AND director)

OR searches – To find profiles that contain at least one of the terms you enter. (Marketing OR sales operations)

NOT searches– To exclude profiles that contain one or more of the terms you enter. (VPs NOT managers.)

Quote searches – To find profiles that match an exact term or phrase. ("Sales Manager")

Parenthetical searches – To do a complex with two or more modifiers. (Sales Managers NOT (VP OR Marketing Executives)
LinkedIn Sales Navigator
Of the many paid tools LinkedIn provides for lead generation, LinkedIn Sales Navigator is the most crucial one. Created specifically for B2B sales and marketing purposes, it helps you get the most out of the LinkedIn database and find your target audience.
The tool has a whole set of features to help you prospect on LinkedIn, including:
Unlimited profile searches

Advanced filtering options

Saved searches

Lead and account recommendations

Easy integration with sales tools

Alerts on saved leads and accounts

Prospect tracking

Custom list creation
LinkedIn Sales Navigator is available in three plans – Core, Advanced, and Advanced Plus. You can purchase annual or monthly packages based on your requirements and budget.
Ringover Sales Cadence Tool
Investing in a sales prospecting tool that allows your sales executives to automate lead generation and qualification tasks is a good idea. is such a tool - it serves as a sales engagement platform that enables you to automate, organize, and harmonize your prospecting efforts on LinkedIn.
In addition to LinkedIn messages, you can use the tool to streamline prospecting processes across sales channels, including calls, emails, SMS, and others.
Other third-party tools
Additionally, you could invest in third-party tools to enhance LinkedIn prospecting. Such tools help you automate several processes, from scrapping (extracting and cleaning data) and sending cold emails to content sharing to finding phone numbers.
Here are some of the popular LinkedIn prospecting tools offered by third parties:
Taplio

Lemlist

Waalaxy

Lusha

Skrapp

LeadFuze

Linkedin Helper

Crystal

Datanyze

Zopto
Step 4: Connect with prospects
Now that you have identified your prospects and extracted their contact details using tools, it is time to connect with them and generate leads. Here are some of the crucial steps:
Step 1: Create a LinkedIn outreach strategy - choosing your target group, identifying their preferred means of communication, creating the script of your message, deciding on the frequency of messages, etc. Investing in a sales cadence tool is a good idea as it helps schedule the whole process.

Step 2: Send personalized messages to your prospects. Your introductory message should mention why you are reaching out and how your solution will ease their pain point.

Step 3: When following, do not repeat the contents of your previous messages. Instead, send follow-up messages that add value.

Step 4: Make the most of InMails. You can only send a limited number of InMails per month, so try and identify open profiles since InMails to open profiles are free.

Step 5: Combine LinkedIn prospecting with other outreach methods, such as cold emails, phone calls, etc.
How to do prospecting on LinkedIn in network marketing?
As a platform designed for professional networking, LinkedIn offers plenty of opportunities for network marketing. You can connect with other businesses and people, build networks, and use these connections to sell your services/products.
Here are a few things to remember when prospecting on LinkedIn for network marketing.
Create a stand-out LinkedIn profile
Make sure to create a credible and stand-out profile – use a professional headshot, write your full and real name, write an engaging headline and clear summary of your business, and give details of your company and work history. The profile should instill trust in your prospective customers.
Identify your target market
Find out who your target customer is – create an ideal customer persona. It will help you connect with the right people and channel your networking efforts in the right direction.
Add connections to widen your network
To appear established, you must have at least 500 connections. However, don't add people just for the sake of it – choose the ones that add value to your businesses.
Join LinkedIn groups
LinkedIn allows you to find niche, industry-specific, and home business groups in your area. Make sure you join relevant and active groups where regular conversations happen.
Focus on quality content
You could start by answering questions in the groups. Publishing well-researched articles related to your industry will also establish you as an expert. Likewise, you could post status updates regularly, comment on the posts of others, share posts on the groups, share articles, etc.
Start active prospecting
Once you establish yourself and engage with your connections, you will start getting opportunities for active prospecting. Grab such opportunities to introduce your product/service and make a sales pitch.
What are the four prospecting methods?
Businesses, big or small, can use several prospecting methods to find qualified leads and generate more sales. Given below are the four most effective prospecting methods:
Referrals
Genuine recommendations from people you already know – existing clients, vendors, strategic partners, and business acquaintances – are a great way to generate new leads. The best part of this prospecting method is that it lets you increase your sales and revenue without hefty investments. You can create a list of your existing contacts and request them for referrals.
Email and telephone marketing
Telephones and emails remain the most preferred communication channels for B2B communication. You can leverage these channels to connect with prospects and make a sales pitch through warm/cold emails and phone calls.
Businesses that prospect through emails and telephone marketing need the right tools to automate different steps in the process. like Ringover offer all the features you need to connect with prospects, such as unlimited international and local calls, emails, , , and others.
Networking
Though it takes time to establish your brand and create a vast network, it allows you to build lasting and meaningful business relationships.
You can do in-person networking by attending conferences, promotional events, meetups, and networking galas where you can find people interested in your product/service. Combining it with online networking will further enhance your efforts.
Content marketing
Content-based prospecting is an indirect yet effective way to generate leads. Here, you don't sell your products or make a direct sales pitch – instead, you create and deliver information that your prospect might find useful through blogs, articles, videos, and other forms of content.
It helps establish the credibility of your business, create interest in your prospects, earn their trust, and stay top of mind with them.
Automate the process and measure your progress
Whether you are doing LinkedIn prospecting or combining it with other outreach methods, it is crucial to automate the process. In addition to reducing manual labor and eliminating manual errors, sales prospecting tools also enable you to simplify, streamline, and organize the whole process.
If you are looking for a sales prospecting tool to generate leads through LinkedIn and other communication channels, Cadence by Ringover is a good choice. The platform also helps you measure the effectiveness of your prospecting efforts and sync the information with your CRM and other sales tools.
So, why wait? Start prospecting on LinkedIn today!