Mitel Alternatives 2023
Need a VoIP phone solution that's better than Mitel? Discover the top 5 Mitel alternatives and competitors with features that can improve your business communication.
Why move away from Mitel?
You need an intuitive, all-inclusive solution fast
One major drawback of Mitel is that it only offers unified communications (UC), not UCaaS or CCaaS. This means Mitel customers can only purchase VoIP without the added conveniences that come along with using a cloud-based telephony service. As a consequence, customers must invest more time and money to get service up and running with Mitel. In fact, many online reviews mention a long and complicated onboarding.
If you need to get your business phone system online now, turn to Ringover. Convenience and ease-of-use are fundamental to our service, which can be set up independently in a matter of minutes. Plus, you'll immediately gain access to our large selection of features, which include key productive tools like a power dialer, call recording, and interactive voice response (IVR) menus.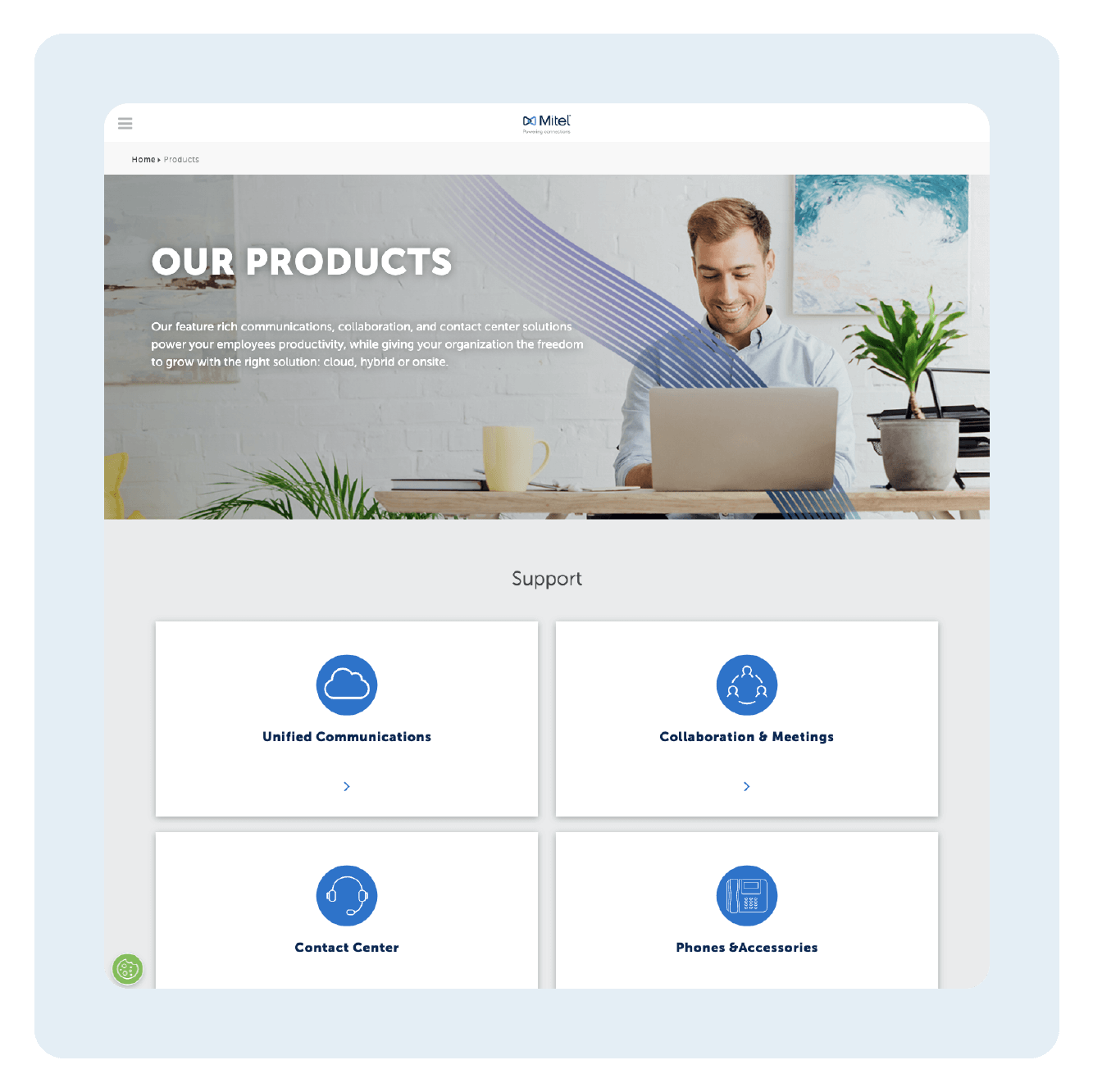 Image source : www.mitel.com on the 2023/02/04
You need great quality for a great price
Because Mitel operates on a price on request basis, understanding the value of their price-quality ratio before entering the sales process is difficult. This is a marked difference from Ringover–we've made our pricing plans easy-to-understand and available online. But reliable sources such as Forbes state that Mitel's most affordable plan begins at $25.49 per month per user. That subscription allows users to hold audio conferences with up to eight callers, with the option to use a web dialer, and limited integrations.
While Mitel has a decent offering, Ringover starts at $21 per month, and has a more robust selection of features available, including analytics that can help find opportunities for growth.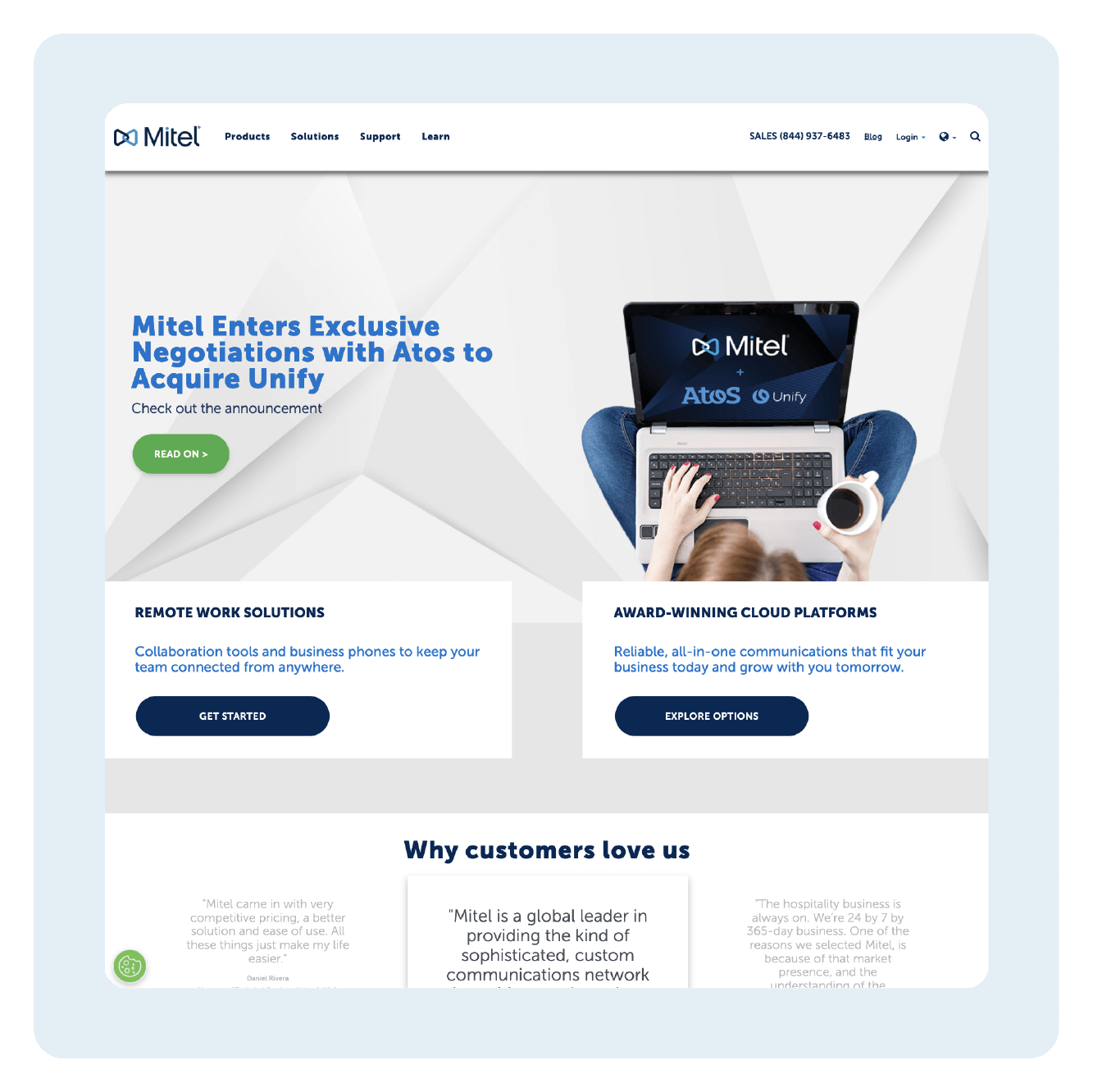 Image source : www.mitel.com on the 2023/02/04
You have a wide international customer base
If you're targeting international growth for your business, being accessible to your customers is of utmost importance. Also important? Being able to communicate with your international customers without breaking the bank.
When it comes to international charges, Mitel can't guarantee rates on calls, leaving you vulnerable to large charges. In addition to this financial drawback, Mitel's default settings deny every user, regardless of their status, the ability to make international calls.
To conduct business without borders, keep your life simple by subscribing to Ringover. Your billing process will be simple and straightforward because we offer unlimited calling to 110 destinations.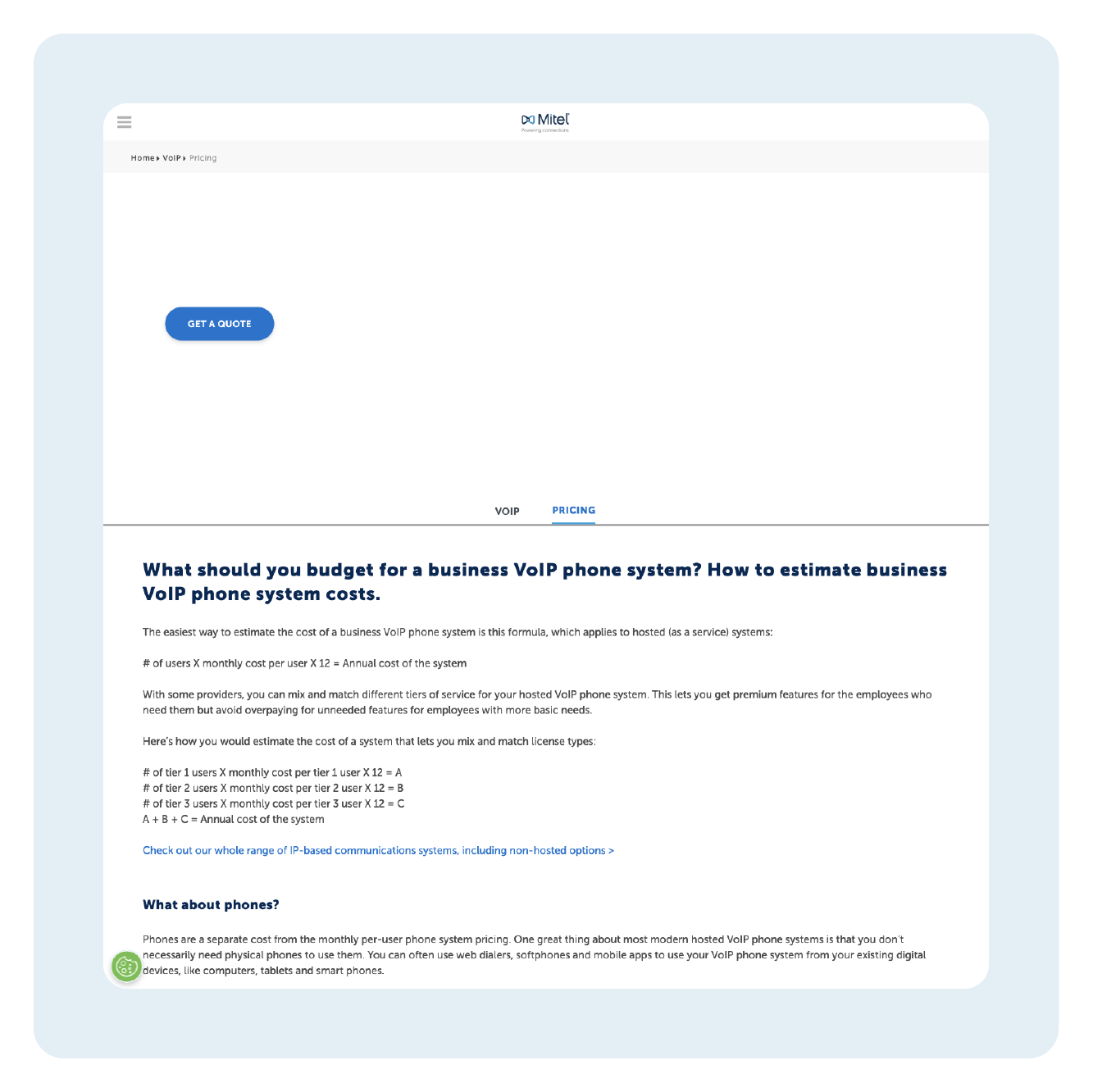 Image source : www.mitel.com on the 2023/02/04
Alternative #1: Ringover
Ringover is one of the best VoIP solution providers for small and growing businesses thanks to its transparent pricing and robust offering. Plus, it offers businesses plenty of flexibility in its choice of plans thanks to two all-inclusive plans or a custom option. The business phone system is easy to set up and can be scaled up as your company grows. Monthly user license fees start from $21.
Regardless of the plan chosen, businesses using the Ringover phone system can make and receive unlimited calls from 90 destinations, switch devices between calls, benefit from call analytics, and more. You could choose to upgrade to the Business or Advanced plan depending on your needs.

Top advantages over Mitel
All-inclusive plans.
Unlimited inbound and outbound calls to an international base.
Ability to create custom plans.
Watch the video explanation
Alternative #2: Cisco
Cisco has a large offering within its speciality of networking, and in the supply of business telephony service and equipment. Their cloud solution called Webex is a CCaaS product which allows for VOIP calling, messaging, videoconferencing, and more. Webex has a freemium model for its meeting functionalities, but their contact center products are price on request only.
Pros
Budget-friendly plan for businesses in need of VOIP services.
Easy-to-use interface with option to quickly upgrade as business grows.
Cons
Need separate plans for contact center services and meeting software.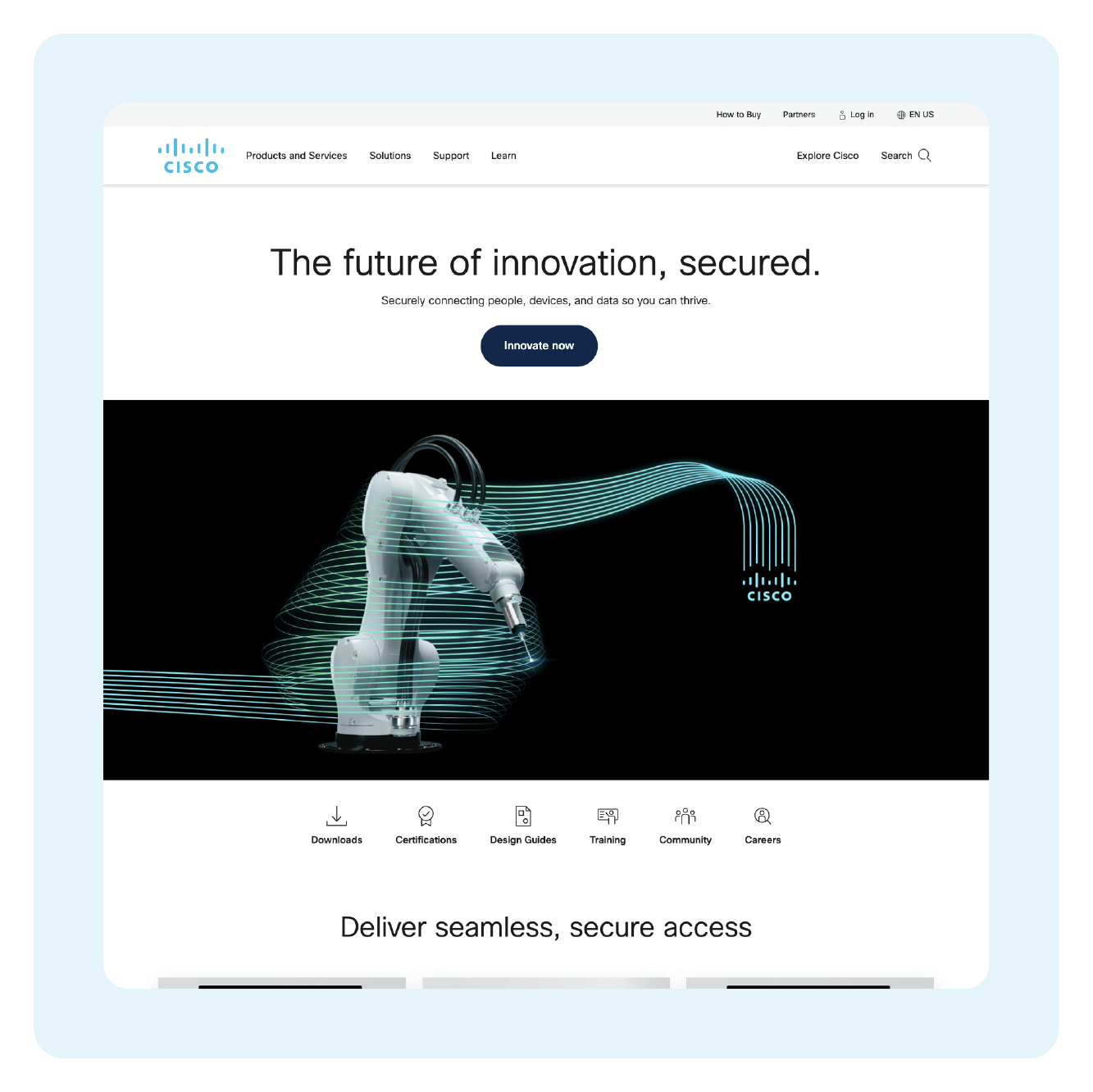 Image source : www.cisco.com on the 2023/02/04
Alternative #3: Avaya
Avaya provides cloud-based communications and other workflow technologies. Their Cloud Office product is a CCaaS with a four-tier pricing model.
The first tier, at $22.99 monthly, offers unlimited calls within the US, internal chat, and 24/7 support, but doesn't includeIVR. That's a feature offered in the upper tiers of their service, the base price of which goes up to $33.99 per user per month.
Because Avaya has many features classified as add-ons, be careful to check how much those features would add to your final bill.
Pros
Easy setup.
24/7 phone support for all plans.
Cons
Features like call whisper and real-time analytics are only available from the third tier.
Cap of 20 users on the least expensive plan.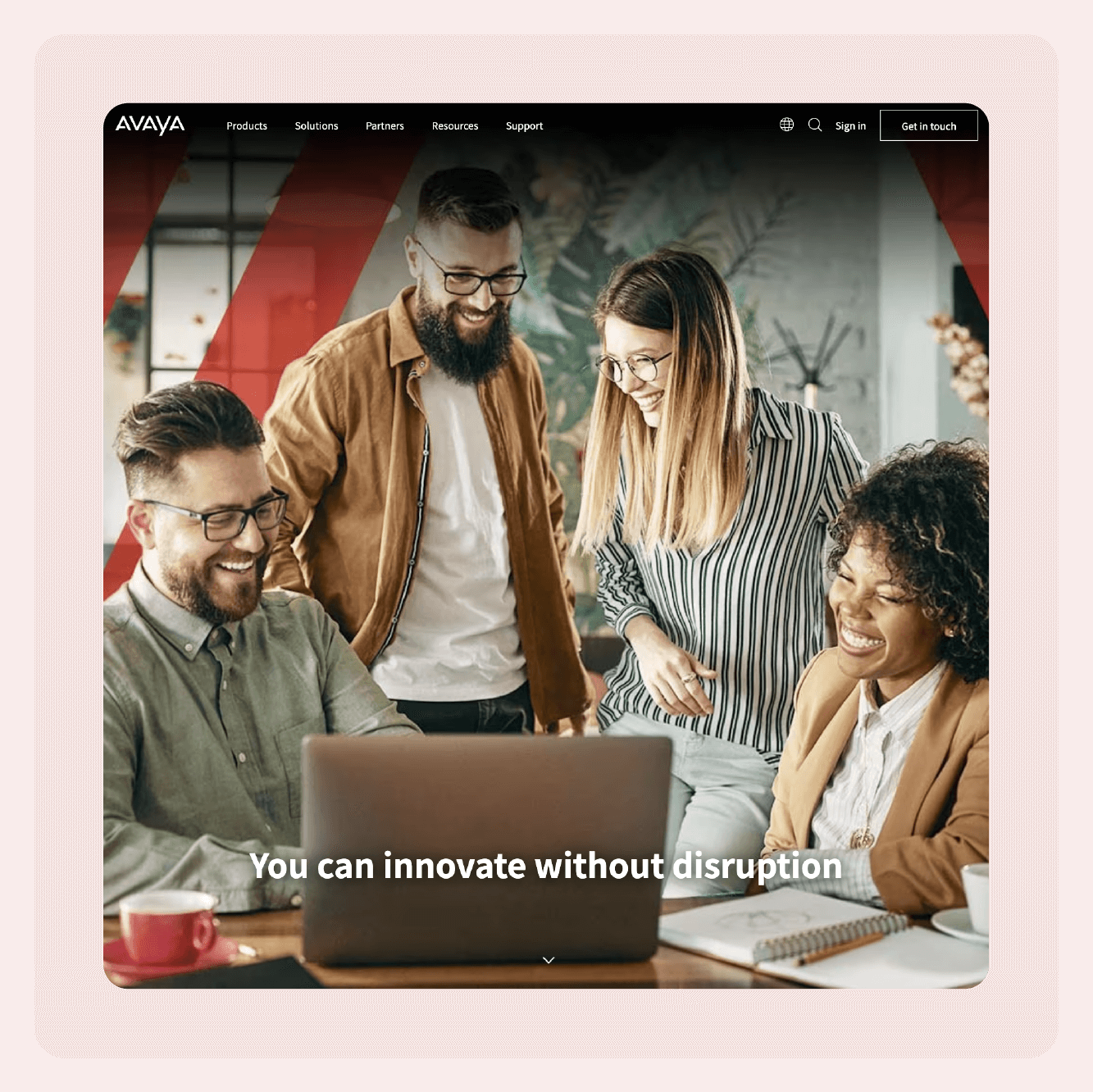 Image source : www.avaya.com on the 2023/02/04
Alternative #4: 8x8
8x8 offers one platform that includes business phone, video, chat, and contact center capabilities. In addition to voice and video calling and text messaging service, this American VoIP service provider has call analytics and API solutions. There are three monthly plans to choose from, with prices ranging from $15 to $44. 8x8 also offers contact center plans for large businesses. These enterprise options begin at $85 per user per month.
Pros
Microsoft Teams certification.
99.999% uptime guarantee.
Cons
The basic package limits the number of users.
Unlimited inbound/outbound calling is not available to all locations.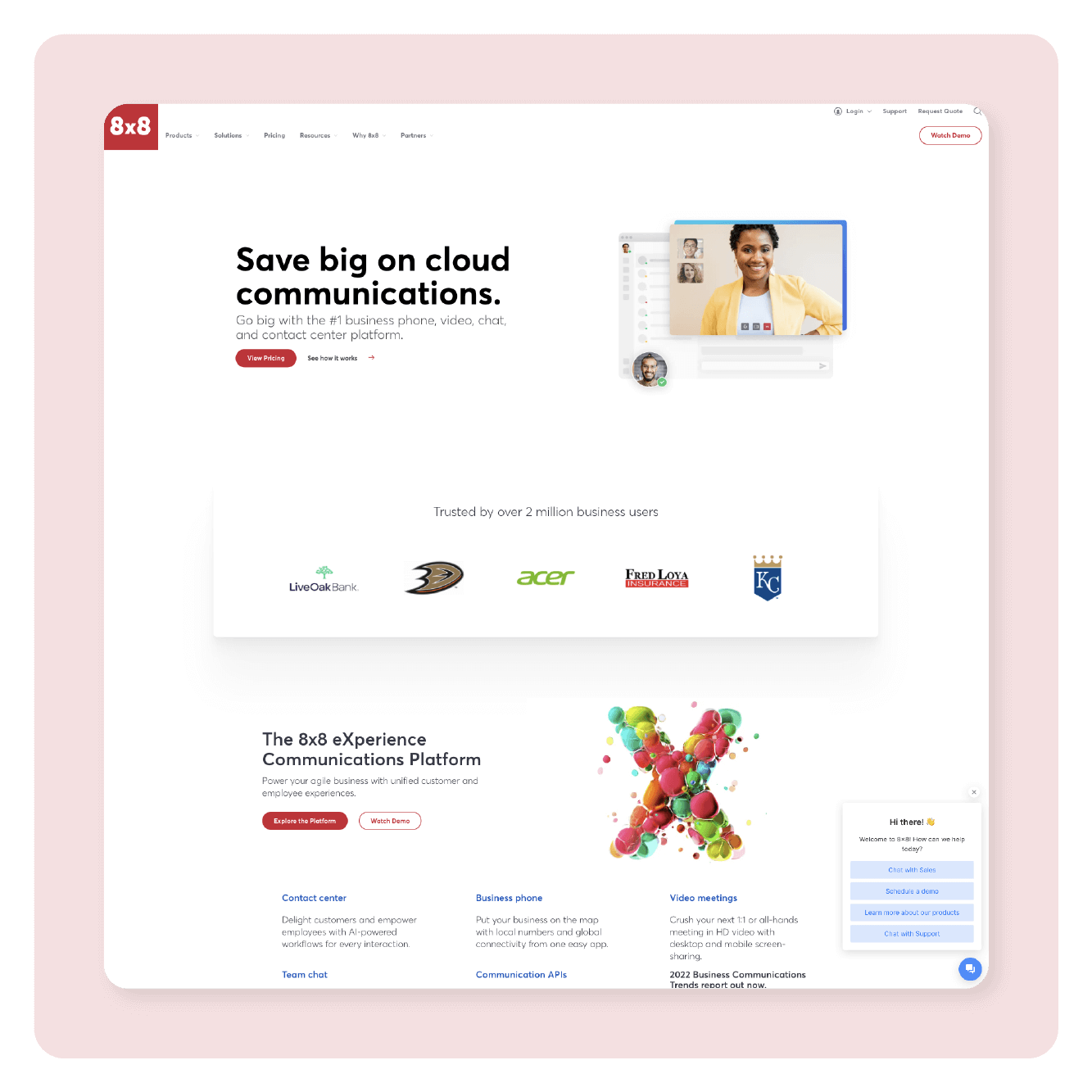 Image source : www.8x8.com on the 2023/02/04
Alternative #5: Vonage
The American cloud communications services provider Vonage has B2B communication services like APIs and unified communications and contact center technology. Due to Vonage's pricing, their offers are better suited to medium and large businesses. At Vonage, the fewer users on your plan, the higher the price.
For example, if you'll have fewer than five users, the plans begin at $19.99 per month. But if you'll have 20 users or more, the plans offer the same features but begin at $14.99 per month.
Pros
Ideal for growing businesses looking for economies of scale.
Offers include 20+ third-party integrations.
Cons
Add-ons can bring extra costs to a monthly plan.
Not ideal for small businesses or businesses who aren't planning to scale.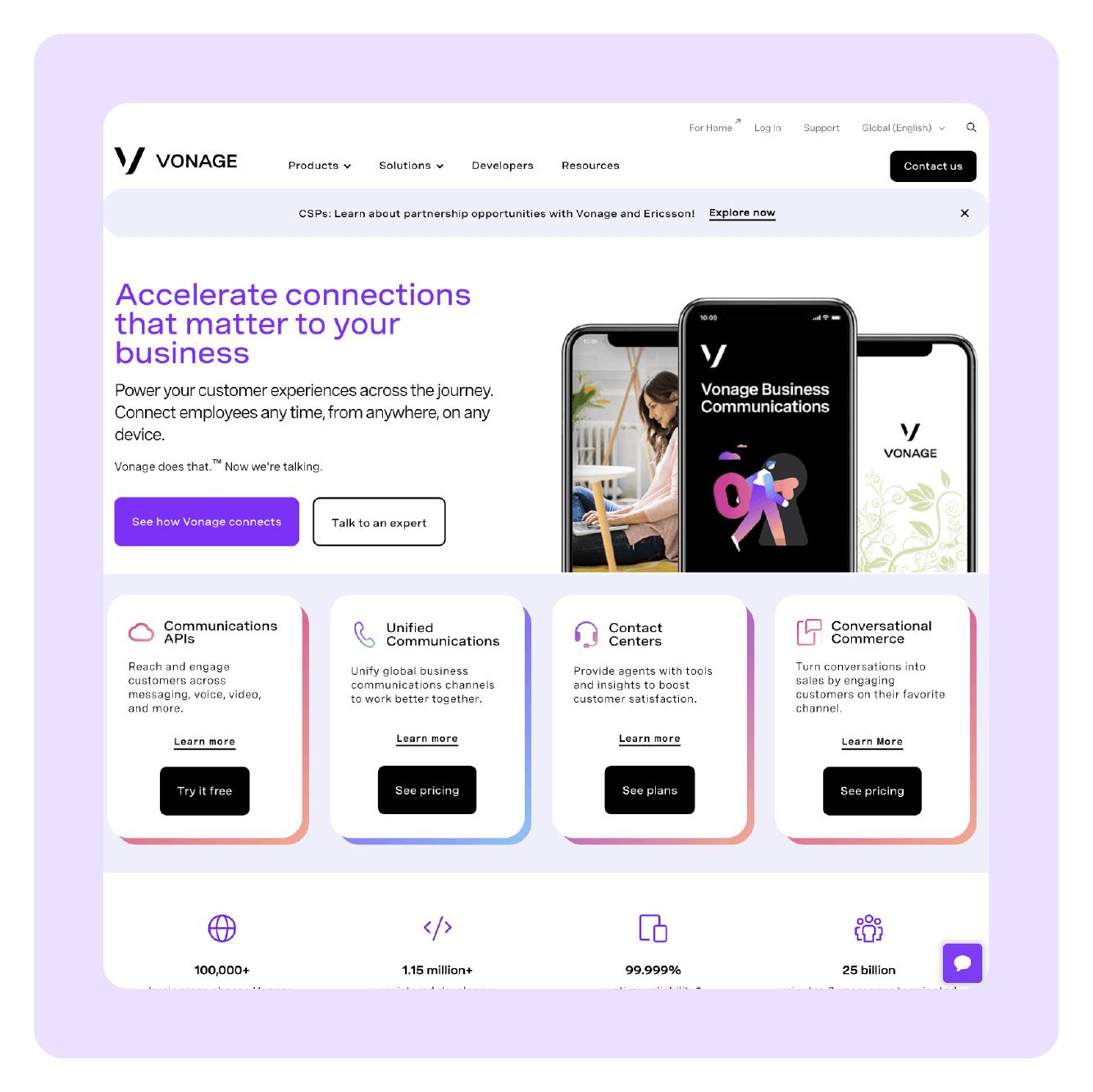 Image source : www.vonage.com on the 2023/02/04
What is Mitel?
Mitel is a B2B telecommunications company that specializes in UC. Founded in 1973, Mitel provides businesses with on-site VOIP, with the option to deploy in the public or private cloud.
Mitel's product line mainly focuses on telephony, including VOIP and SIP, with dedicated products for businesses of various sizes. In addition to their VOIP and SIP products, Mitel also supports multi-channel communications and call centers.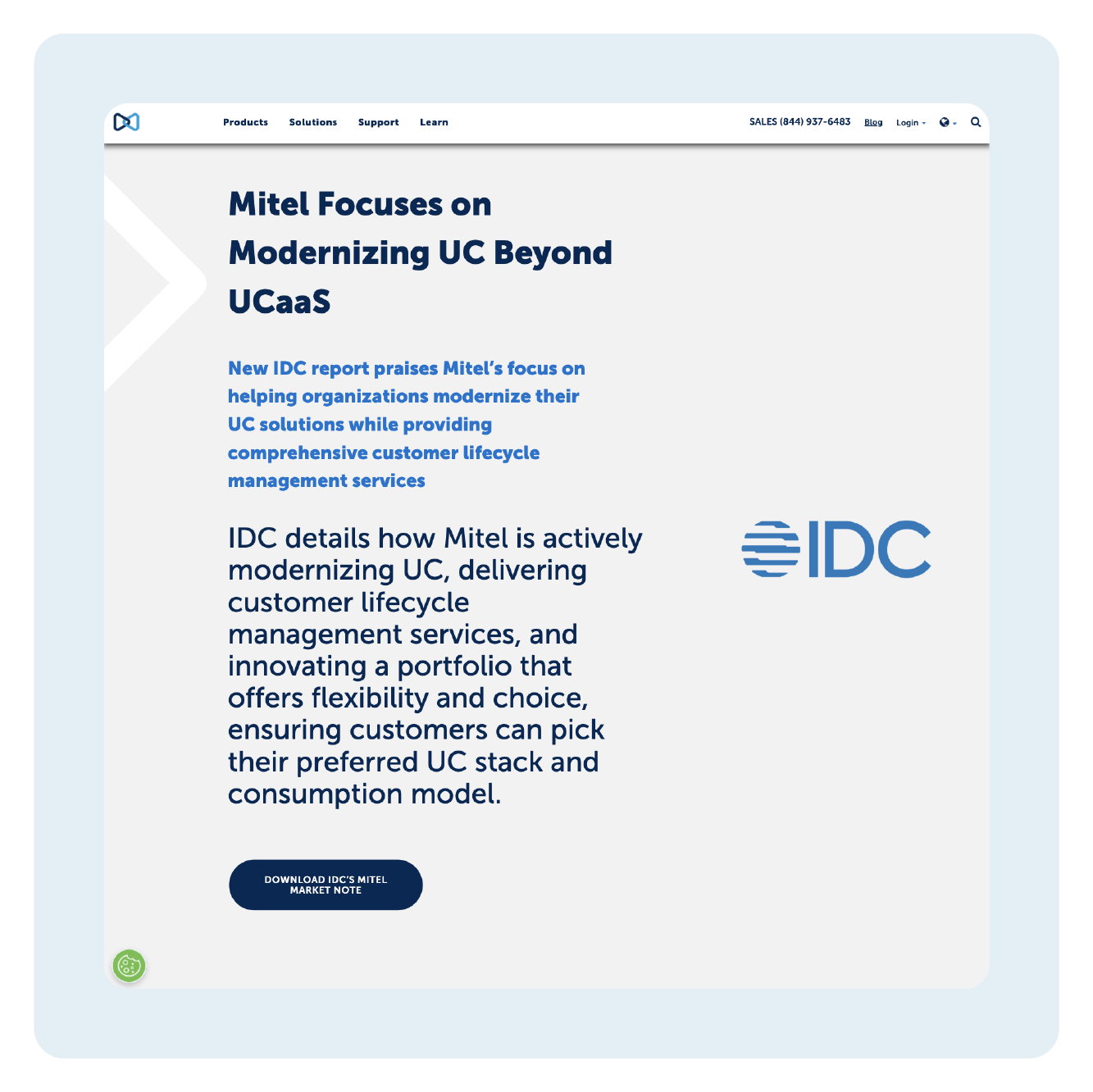 Image source : www.mitel.com on the 2023/02/04
Mitel Pricing
Mitel is an exception within the UC and UCaaS sector in that it does not offer a trial, or list pricing options on its own website. Though prices are by request only, Mitel offers demos to help potential customers understand their offers and pricing. Plus, they have a 90-day satisfaction guarantee policy, so if the service is disappointing, you should be able to cancel without penalties.
Online research indicates Mitel's pricing for a basic service like audio conferences with limited participants starts at $25.49 per month, while a more complex plan that includes transcription services and audio and video call recording begins at $46.74 per month.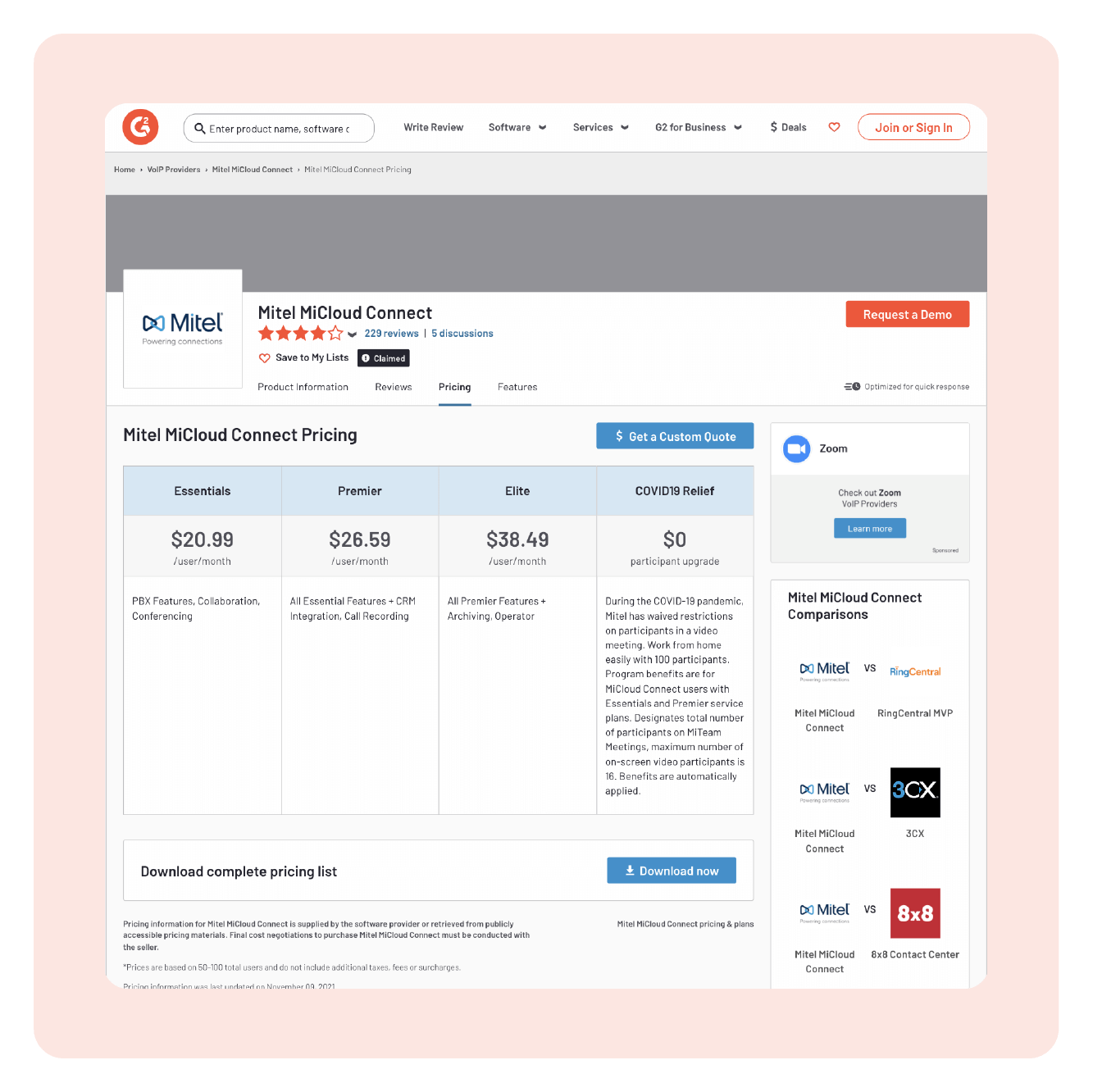 Image source : www.mitel.com on the 2023/02/04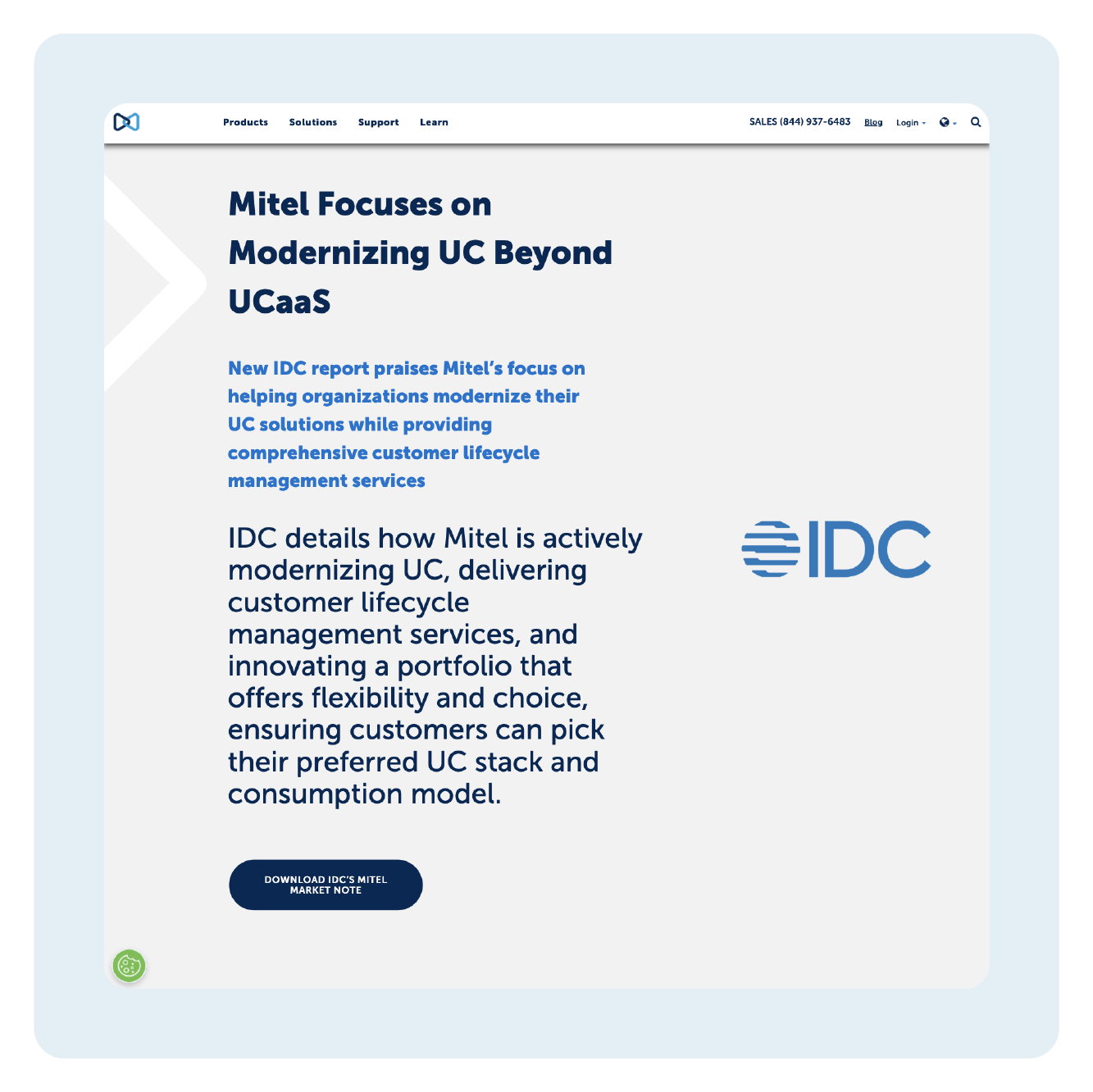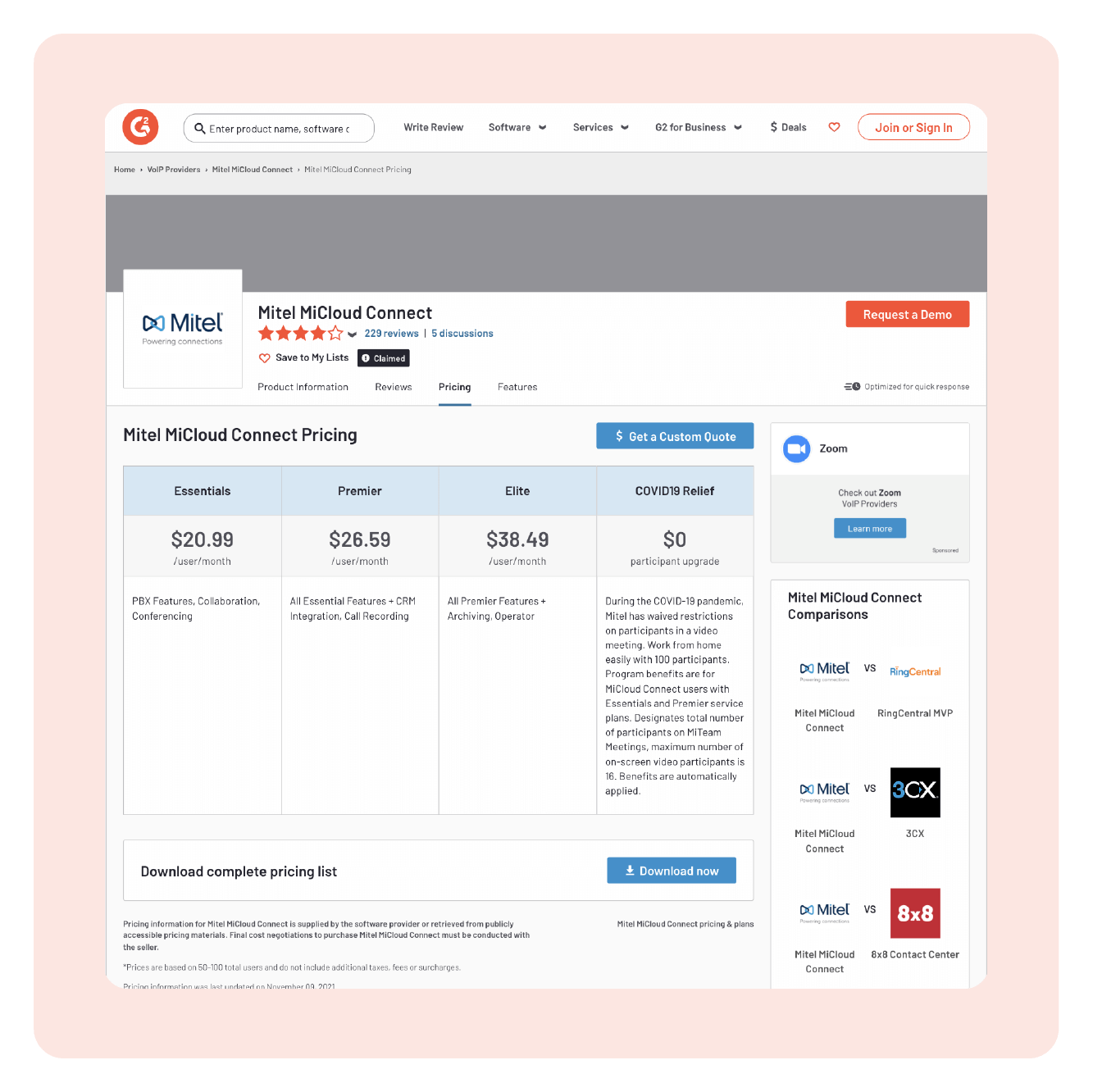 Image source : www.mitel.com on the 2023/02/04
Mitel Alternatives FAQs
How much does Mitel cost?
Who are the top Mitel competitors?
What is the best alternative to Mitel?
How much does Mitel cost?
Mitel's prices are on request only, but they do offer tiered plans for businesses of different sizes and a 90-day satisfaction guarantee.
Who are the top Mitel competitors?
Mitel has numerous competitors within its sector of UC. The other VoIP service providers popular with small, growing and large enterprises are preferred for their transparency, support and ease of installation. The top competitors are:
Ringover
Cisco
Avaya
8x8
Vonage
What is the best alternative to Mitel?
Though Mitel has a reputation as a longstanding UC provider, its offering is limited and setup complicated in comparison to robust UCaaS systems like Ringover. With an easy setup, all-inclusive plans and unlimited calling to 100+ destinations, the phone system provided by Ringover is the best alternative for growing businesses.