Business phone system
Integrating your telephone into salesforce, what are the advantages?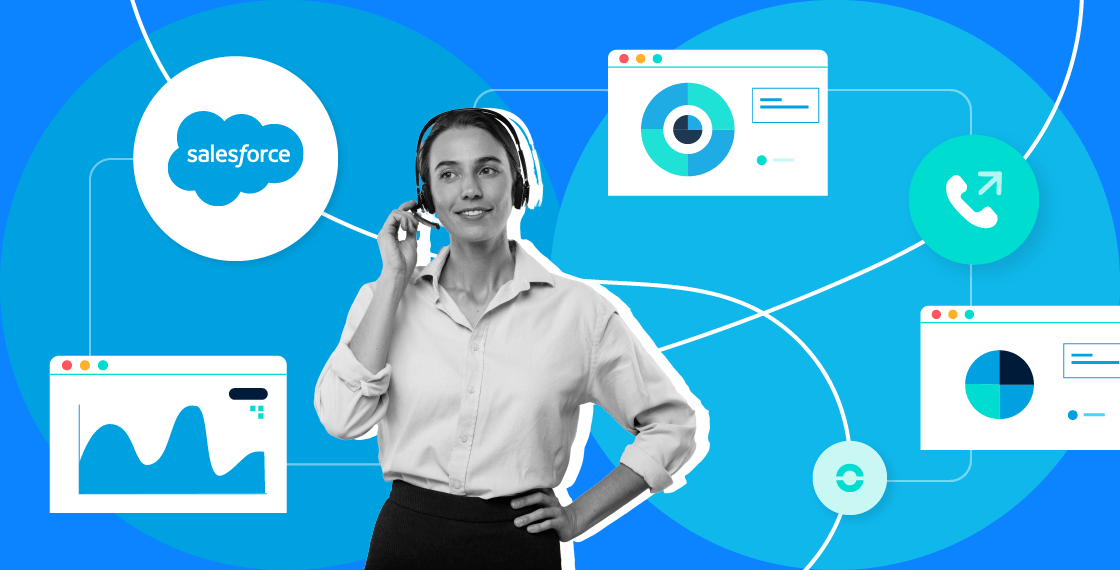 Integrating your telephone system into salesforce, what's the advantage?
Salesforce is a CRM solution, a world leader in CRM platforms, it offers a complete suite of software to manage their customer relationship amongst many other features, Salesforce integrates with other business tools. These include apps for sales reps, customer service, marketing professionals and more. All this seamlessly integrats into the software. Your business phone system can integrate with Salesforce so your sales reps or customer service agents automatically access the following data: call logs, notes or even customer files making their lives a lot easier.Integration allows you to unify your tools and centralize your information. Your employees no longer have to switch from one application to another in search of information. It's a simple way to improve efficiency. In the following article, we'll talk in more detail about all the advantages of integrating your telephone system with a CRM like Salesforce. We'll also explain how to do this integration to optimize your processes.
What's integration?
Let's start by defining what integration is. This term simply refers to the fact of connecting data, applications, or devices within the same information. In a business setting, integration is often correlated with efficiency, productivity, and agility goals because it streamlines processes by allowing different elements of an IT environment to work together.With Salesforce the integration will consist of merging data through the software interface with other applications in order to centralize everything in one place, reducing or even eliminating the need to leave the platform to obtain information or simply to progress in one's daily tasks can improve performance.
How would integrating salesforce into your CRM work?
Let's say a new customer contacts your sales team. By integrating your telephone system with your CRM, each member of the team has the possibility of consulting the call logs or the history of interactions between the customer and the company. Accessing all the details concerning the prospect. The salesperson can then create a new entry in Salesforce to qualify the call and possibly complete the sale with the information that's already been filled in. Taking notes during the conversation is done. Ultimately, the integration of the telephone system automates a large part of the identification and qualification process reducing manual tasks for your employees.To add a telephone option to Salesforce, you have several options. You can use "Sales Dialer" or "Dialer for Essentials" (the native solutions of Salesforce) or integrate a third-party telephone system like Ringover. Note that the Salesforce platform allows you to connect your telephone system to different information systems you might already be using.
When you integrate your phone system everyone wins
Integrating your telephone system with Salesforce allows you to automate a large number of tasks, including data collection and creating reports. It is a way to optimize the way to reach and convert prospects. Integrations also play a crucial role in collaboration as they simplify workflows and business processes.The other benefit of the integration is it offers better data collection and management, making it much easier for you when action needs to be taken. Let's see all this in more detail:
A detailed call history
By integrating your telephone system with Salesforce, all your calls will be automatically logged in a call log. This means you won't have to manually enter call information into Salesforce.Ringover goes a step further by allowing you to use a tagging system to categorize calls into the system.This phone software will automatically record conversations and store them in a secure environment as required by law for some professions.These audio recordings can also be used for training purposes or as support.
A simplified KPI
This is another strong point of integration. In addition to the history, you can obtain additional information to monitor the performance of your team and manage your business.You'll thus have access to key metrics and indicators like the number of calls, the average communication time or the average waiting time. Ringover gives you even more details in these statistics by giving you the data on each collaborator in a few seconds.This data, which appears instantly on the application's dashboard, can also be exported with a simple right-click to enhance your reports.
Click to call
One-click calling or click-to-call is a rather intuitive feature simplifying the action of making calls from your computer. Integrating your telephone system into Salesforce will transform all telephone numbers in the CRM into clickable links. This feature saves valuable time on every call during the day.
Automatic Dialing
This is a time-saving system. It's based on a list of numbers to develop yourself. This list will be automatically processed by the system which is responsible for dialing each number. If the correspondent answers, the call can start. Otherwise, the next number on the list will be called. The automatic dialing system is supported by Ringover's Power Dialer. This feature helps salespeople as they make calls throughout the day.
Call routing in Salesforce
Whether you use native Salesforce telephone system or a third-party tool, you can easily configure call routing through your voice server. This function allows you to redirect calls to specific employees.
Get the CRM info when you need it
The integration of the telephone system in Salesforce makes it possible to automatically send caller information. This card will appear in the form of a pop-up with the history of interactions when you talk to a client.
A real impact on your business
The integration of your telephone with Salesforce is beneficial to your organization more so if the telephone is your main point of contact. In addition to automating workflows, it saves time and…. money, but how?
Less Maintenance, less expenses
Not so long ago, investing in a telephone solution represented a huge cost. In addition to installation costs, there were maintenance costs and space to physically store the servers behind the voice switchboards. That's all gone now. All this infrastructure is digital. Hosted in the cloud, all you need is a computer connected to the internet, launch the telephone solution and you're done.
More sales opportunities
For a sales team, the automation and the simplification of processes made possible by the integration of your telephone system into its CRM is helpful. In the pursuit of increasing sales, all these improvements put together free up time to optimize the prospecting strategy and allows you to contact more prospects.
A better client experience
Let's imagine another situation. You're rolling out a new feature to your customers and it doesn't go as planned. You're overwhelmed with calls and you have trouble visualizing the situation.By linking your telephone solution to your CRM, you solve part of a problem. Indeed, the integration makes it possible to follow in real time the calls received, to allocate resources where necessary and even to give priority of certain calls.With Ringover you even have the possibility of creating a queuing system for your VIP customers so they'll wait less. You can quickly create a temporary announcement for your callers which will explain to them, for example, that measures have already been taken and that the return to normal will be coming soon.
So how to you integrate Ringover into Salesforce ?
As we have seen, Ringover is a business telephone solution that ticks all the boxes. Regularly updated and easy to learn, its integration into Salesforce is done in a few clicks as you can see on this video.You can try Ringover for free now. If you are looking for more specific information on integrating telephone services into Salesforce, you can also reach our experts on +33 1 84 800 800.