Make Information Actionable with Ringover Enterprise Communication Systems
Ringover can help smooth out the most common and costly call center enterprise issues by providing a centralized communications platform. As a call management software, Ringover brings together a host of communication features on one easy-to-setup, simple user interface.
Try it for free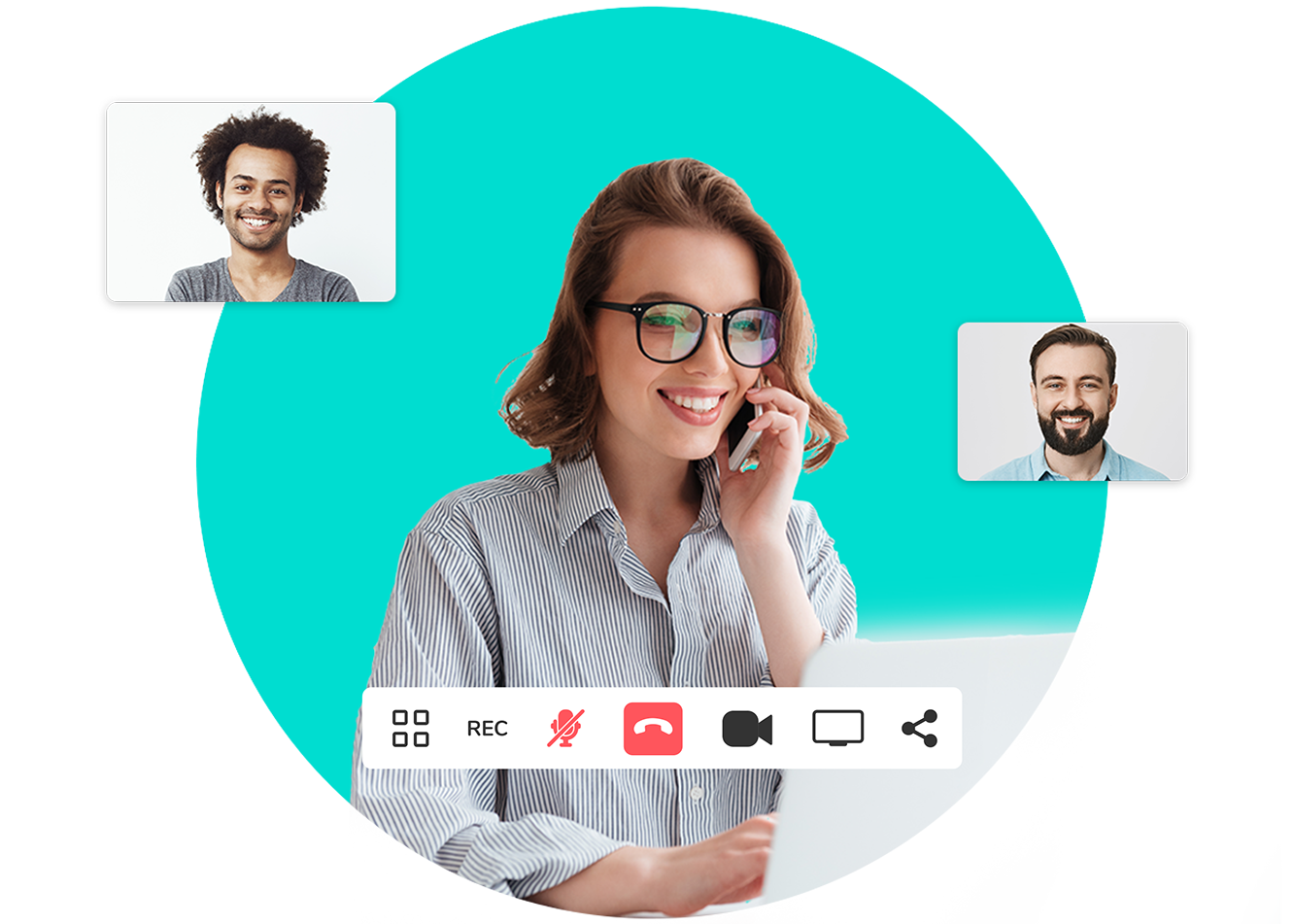 Rely On a Smooth Internal and External Experience Using Enterprise Communication Systems
Enterprises have unique needs. Large-scale operations have the budget to implement complex enterprise communication systems but that's where the issues start.
Instead of complexity, enterprises need simplicity. Their size also poses significant operational issues because a lot can be happening at the same time, and it's hard to coordinate internal teams. Finally, enterprises also need to significantly shave down on wasted time and manage a diverse number of individuals as part of cross-functional teams.
Ringover can help smooth out these issues by providing a centralized communications platform. As a call management software, Ringover brings together a host of communication features on one easy-to-setup, simple user interface.
Unify Communication and Collaboration
Enterprises thrive when they move as one solid unit and information is transparent and easily accessible by all those in relevant roles.
Ringover's unique call center software helps enterprises across a multitude of industries streamline and unify their external communications and internal collaboration standards. This affects so much more than your customer satisfaction and experience ratings — unified enterprise communication systems can transform the way your workplace culture stays engaged with each other and in-the know about projects.
With a variety of business telephone systems, for example, Ringover can power up cloud contact centers through multiple modes of dialing and call routing for better customer service. They can also promote better internal team communications with video conferencing or choose to establish a local presence with unlimited local calling in over 65 countries.
What more can Ringover do for your enterprise's unified communications? Start your free trial today and find out.
Develop a Cohesive Customer Experience with Enterprise Communication Systems
When you use Ringover's simple but powerful enterprise communication systems, you're arming your organization with end-to-end coverage.
Our call management software can handle every aspect of lead generation, customer relationship management, record-keeping, sales agent coaching, and customer service communications.
Ringover has thought of everything so that you don't have to. Explore our simple, easy-to-use interface for yourself with a free trial now.
Enterprise level business phone systems
Take advantage of dedicated services such as:
Simplified call transfer
Statistics and call logs that track every customer interaction
Interactive voice response (IVR)
Click-to-connect calls from computers and mobile devices
Unparalleled VoIP sound quality
Landline and mobile numbers in 65 countries
Remote team connectivity
Bring your internal team communications in the digital age with:
Technology that allows home-based teams to make and receive calls at home
Automatic transfer between remote workers and local workers in order to ensure seamless customer experience across time zones
Screen-sharing and on-call monitoring for instant support agent coaching
Meet by Ringover, which offers video conferencing and exchanges between colleagues and clients in real time, across devices
These are the systems your competitors already have in place — except that the features are split across a variety of software programs. Make the delivery of impeccable customer service and customer satisfaction a hallmark of your business with Ringover's all-in-one call management software solution.
Secure Customer and Business Data
One of the most significant concerns for enterprise customers is maintaining the security and privacy of their own data, as well as that of their clients' information. This issue gets worse when different pieces of information are sitting in different apps and pieces of software. It simply amplifies the business's points of vulnerability.
With Ringover on your side, you can make sure all your customer and company data stays in one place. Secure your most important assets: your clients' trust with Ringover's all-in-one cloud contact center solution.
Maximize Connectivity with Enterprise Communication Systems In the Cloud
Enterprises that rely on cloud communications and connectivity simplify the way both internal team members and external customers are able to reach out and communicate.
Ringover's powerful software goes way beyond providing an intuitive experience for call center agents through an auto dialer or a predictive dialer.
Our flexible and adaptable features are just as capable of facilitating peer-to-peer connection in seamless, HD quality. Make your projects run like clockwork and keep your team in the loop with features designed to remote workers to be productive while remaining location independent.
Imagine how you could amplify your enterprise's brand and reach by setting up remote, local workers as representatives for your overseas customers, while still keeping connected to these remote team members.
It's a whole new way to do business — and Ringover is leading the revolution.
Personalize and Contextualize Communications to Maintain Your Competitive Advantage
The fact is that clients and customers don't care how the system works — they just want to make sure it's consistent and seamless every time.
With Ringover, you can delight your clients every time they connect with you and build a relationship over time. Our powerful and simple third-party integrations give you the chance to connect information and customer data from CRM software like HubSpot or Salesforce and seamlessly connect it with what an agent needs to respond to a client in a personalized way.
Retain more customers, reward their loyalty, and ensure they return for a while to come with Ringover's call management software.
Enterprise Communication FAQ
What are Enterprise Communication Systems?
Enterprise communication systems include hardware, software, and strategies designed to improve internal communication and external connections with customers. There are quite a few solutions to choose from and these include phone, email, video conferencing, web chat, and text messaging.
These systems should usually connect with each other and remain reliable across functions. This is known as unified communications. For example, when teams need to communicate with each other about a project, and then update clients about the status, they need to be able to rely on the same communication platform to facilitate these communications.
Why Do I Need an Enterprise Communication System?
Large-scale operations and enterprises often have many pain points that center around size. To understand why you may need enterprise communication systems, you should know what poor communication costs businesses: namely, delayed projects, missed performance goals, extended wait times for customers, low morale, and lost sales.
With a dynamic call management software for enterprises, however, organizations can make critical business decisions with speed and efficiency.
How Can a Dedicated Business Phone System Help Enterprises?
Phone business systems go beyond simple communication with inbound and outbound sales or customer support. A dedicated enterprise communication system can help large-scale organizations maintain their security and their clients' privacy even when using third-party solutions. These solutions are usually tailored and configured to adapt to an enterprise's needs.
What is Cloud Communication?
Cloud communications include internet-based voice and data transfer over 4G and 5G networks. These communications are usually hosted by a third party facility outside of the organization. Enterprises can access these services and data through the public internet.