Customer service and VoIP
VoIP & Customer Service: 7 Essential Features to Boost Customer Satisfaction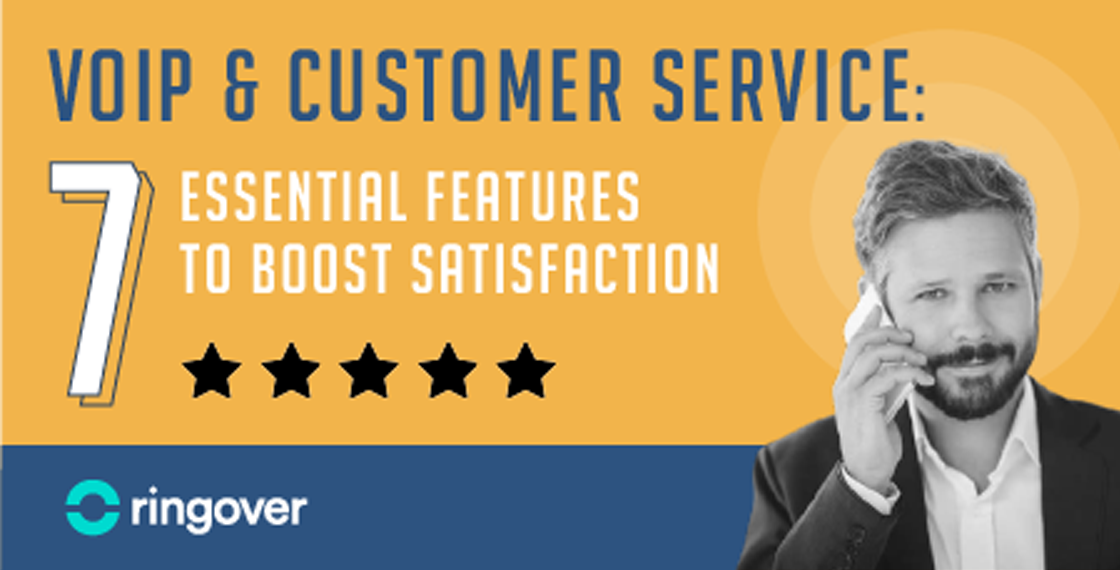 Summary
1 - Automatic call distribution
2 - IVR
3 - Call recording
4 - One-click call transfers
5 - CRM integrations
6 - Priority call queues
7 - Advanced call statistics
See what Ringover can do for you!
When it comes to your clientele's satisfaction with the level of service you're delivering over the phone, there's little to no room to neglect even the smallest detail. Whether they find themselves waiting too long on hold, transferred to the wrong department, or greeted as Mrs. Peterson when their name is Mr. Brown, customers can be short on patience as well as forgiveness - which means they'll take their business elsewhere!This is why it's so crucial for companies to adopt systems that minimise mistakes, inconvenience, and frustration and maximise time-saving, productivity, and customer satisfaction. The following article will explain how the right VoIP phone system can provide your company with features that will help it both operate at its best and ensure that clients are as content as possible.
1 - Automatic call distribution
Automatic call distribution (ACD) is a method of ensuring that calls get to the right agent or department as quickly as possible. It can work in tandem with system data, caller IVR selection, pre-set routing rules, or many other possible criteria. You can set up automatic call distribution so that callers from certain regions, for instance, can receive automatic assistance in their native language, or be put in touch directly with someone familiar with the particulars of their specific market. You can also route clients who last called about technical issues to the person with whom they most recently spoke, send calls from VIPs right to the company president's direct line, and even ensure that incoming calls are equally distributed among your agents so that some don't remain idle while others tend to pick up the majority of calls. Your clients will feel more valued by your company as a result, which will lead to long-term loyalty and better sales figures.
2 - IVR
An Interactive Voice Response (IVR) server allows your callers to make selections based on what kind of assistance they're looking for. It saves companies from having to hire a receptionist or set of agents to answer and manually transfer each call to the company.
Aside from the time and cost-saving advantages of allowing clients and leads to navigate your system and decide what department or agent is best equipped to answer their question or resolve their issue, IVRs can eliminate the need for certain types of callers to interact with live agents at all. Callers who simply want to know what your opening hours or mailing address are can hear this information through your recorded greeting or be directed to your website or social media accounts. You can also allow clients to perform certain tasks on their own, such as paying outstanding invoices, retrieving passwords, or altering personal information.
3 - Call recording
Recording your company calls is an invaluable way to train new employees, tailor standard responses, and gauge your clientele's general satisfaction levels. It's imperative for supervisors to know exactly who's sticking to the script, keeping their cool with confrontational callers, and maintaining the image that the company wants to project (as well as who isn't). This in turn allows them to determine strong points in phone support or make needed staffing or policy changes.
Knowing exactly what was said on both sides of a conversation can both lead to quicker dispute resolution and prevent certain types of disputes or misunderstandings from happening in the future. Once again, you'll save time and effort for both your employees and clients and ensure higher satisfaction all around.
4 - One-click call transfers
The ability to transfer calls in just a click is another feature that will save time for your agents as well as your clients. Even when callers are able to follow your IVR options to a given agent or service, they may need to be transferred elsewhere for follow-up assistance. Phone system solutions like Ringover's offer warm transfer (which lets you confirm if your colleague can take the call first), cold/direct transfer, or straight to voicemail.
5 - CRM integrations
As mentioned in the section above on automatic call distribution, client data contained in your system can be used to route calls. Ringover's solution can integrate with your internal customer support software to facilitate call routing, putting callers directly in touch with the agent they last spoke with, the agent with whom they've spoken the most, or the agent most qualified to handle their open ticket (sending qualified leads right to sales, for example). CRM integrations also make it possible for client files to open automatically for any agent taking a call from the associated number. Being able to view all current client information enables agents to provide an enhanced quality of service, eliminating any confusion about who the caller is and what they're calling about.
6 - Priority call queues
When important leads and VIP clients call your company, there's no doubt you'll want to make it as easy as possible for them to reach exactly who they're looking for with minimal delay. This is where priority call queues come in. Ringover lets you set priority levels for client calls so that none of those precious calls wind up bouncing around the system or queuing longer than they should…let alone going to voicemail!
7 - Advanced call statistics
Even after putting the above features in place, they won't mean much at the end of the day if you can't use them extract precise numbers that will let you evaluate your performance. Ringover provides you with access to such data as which agents take the most and least calls, where calls may be getting gridlocked in your IVR, and how long the average call lasts.These KPIs (key performance indicators) are invaluable for assessing the level of customer service your company is providing, whether your clients are satisfied overall, and deciding what organisational changes need to be made to improve.
See what Ringover can do for you!
If your current phone system is lacking any of the above features, Ringover is here for you! Don't wait to make your phone support the best it can be - request a demo from a sales rep or try our solution for free for 7 days.