VoIP
7 Ringover Alternatives 2023: How Do They Compare?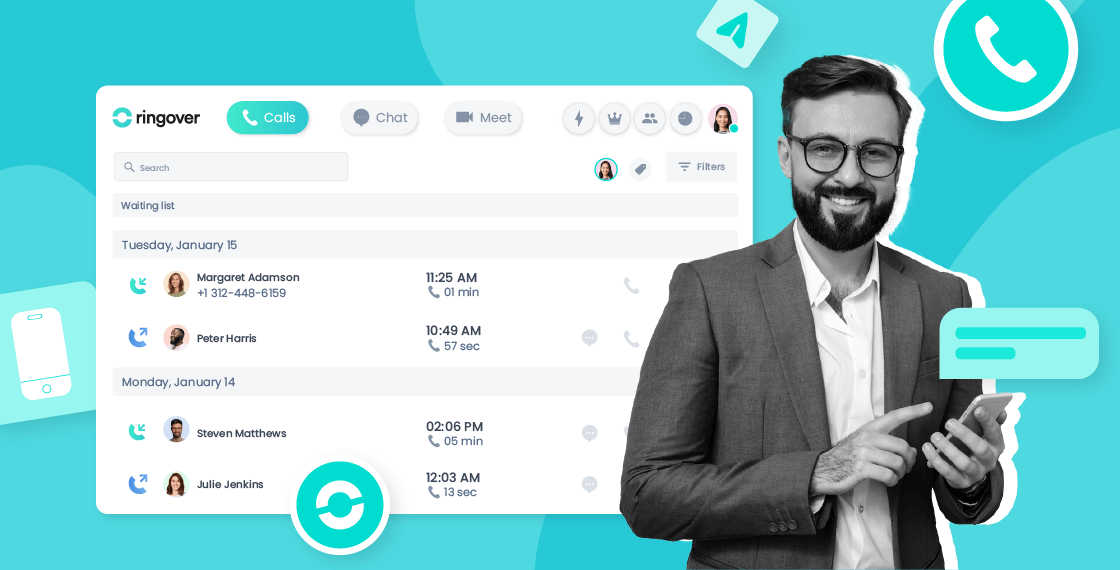 Summary
What is Ringover?
Ringover Pricing
What makes Ringover the best VoIP service provider?
Ringover Alternatives
Getting Started with Ringover
Cloud-based VoIP (Voice over Internet Protocol) solutions provide a simple way to help you stay connected to your team, customers, vendors and more no matter where in the world they may be.
are ideal for companies of all sizes and help boost productivity while controlling expenses. They use a broadband internet connection for voice and video communication.
When it comes to VoIP service providers, Ringover is the name to reckon with. The Ringover business phone system can be set up in minutes and connects you to landline and mobile numbers in 65 countries.
Plans start at as low as $19 per user per month inclusive of free unlimited incoming calls and free outgoing calls to select destinations. Let's look into what makes the platform ideal for growing businesses and a few Ringover alternatives you can compare it to as well.
What is Ringover?
Ringover is an easy-to-use, cloud-based VoIP system. Along with standard phone features to make and receive voice and video calls, voicemail and conference calling, Ringover offers a number of add-on features that boost productivity and build a customer-centric brand image. The most popular features include:
Customized caller greetings
CRM integration and CRM file pop-up
Advanced call analytics
Two-way listening
These features help you present a professional image to all callers and give you valuable insight into the team's activities in real-time. When speaking to a customer, your team can see all the required information on their dashboard and hence solve queries faster. Team managers can listen in and provide inputs if required. It's a morale booster for the company and a positive experience for the customer.
Ringover Pricing
Ringover offers 2 structured monthly plans and the option to customize a plan for large teams. The Smart package is priced at $19 per user per month and the Power package is priced at $39 per user per month. This is inclusive of unlimited incoming calls and unlimited outgoing calls to landline and mobile numbers in 75+ destinations such as the USA, Italy, Canada, France, India, Mexico and Malaysia.
Here's a quick breakdown of both plans.
Ringover Smart
This gives you 1 landline number per user and 1 company number in 14 countries. The key features available include:
IVR
Call hold with customized music/hold message & call transfer
In-call device switching
Shared contacts
Screen sharing
Internal group messaging
API integration
Ringover Power
The Power package is designed for companies that seek features over and above those available in the Smart package. It is ideal for high-performance call centers. Where the Smart package gives you numbers in 14 countries, the Power package offers numbers in 65 countries. It includes all the features listed above as well as:
Priority call queues
History-based call routing
Surveys
Native integrations
Shared contacts
Real-time dashboard
Ringover Enterprise
For large companies, Ringover offers an Enterprise package that can be customized to the company's requirements. This package offers all the features included in the power package along with 60+ software integrations.
What makes Ringover the best VoIP service provider?
Ringover is only one of the many VoIP service providers in the market. There are many other options available but Ringover remains the most preferred VoIP service provider for many companies. Here are some of the features that make Ringover stand out.
Simple set up
The Ringover set-up process is designed to be simple enough to be completed by anyone. It's a quick process that typically takes no longer than 15 minutes. The technical expertise and user training required is minimal. Anyone on your team can set it up.
User-friendly interface
The simple, intuitive interface is one of the biggest attractions of Ringover. Onboarding new team members and teaching them how to use the interface is easy. Hence, you don't have to worry about your team's level of technical expertise – anyone can make and receive a call with Ringover.
Scalability
Ringover does not have a limit on the number of users permitted in either package. Hence, you don't need to worry about changing plans as your team grows. Both plans offer 1 landline number per user. The only reason to switch plans is if you feel the need for advanced features.
Productivity enhancer
Along with connecting you to your customers, Ringover also helps your team achieve more. It offers a number of productivity tools like the ability to set up ring groups, random or pre-set call cascades, call routing, call and SMS campaigns. All packages give you the ability to switch devices during a call so that you can seamlessly transfer conversations from a mobile phone to a computer and vice versa.
Collaborative tools
Ringover also gives your team a range of tools to foster collaboration. Your team can share contacts as well as call logs. They can make video calls and share screens for training. Teams can have conference calls or exchange messages on the internal group messaging platform. These features ensure that everyone is on the same page and work flows seamlessly.
Easy integrations
Ringover is easy to integrate with a host of native CRM and helpdesk applications. It can also interact with professional tools. A click-to-call feature enables direct calling from the CRM database while the shared contacts feature makes it easy for everyone to work together.
Actionable call analytics
Both the Smart and Power packages give access to statistics and allow you to record calls for training and compliance purposes. You can also get access to advanced statistics with a real-time dashboard. Managers can also listen in to calls and coach callers or convert calls into conference calls.
Reliable customer support
International numbers can be easily ported to Ringover. Once onboard, you can get phone and email support whenever required.
Watch the video
Ringover Alternatives
Ringover VoIP services were designed with the needs of growing businesses in mind and suit companies in all industries. But, don't just take our word for it, take a look at the other options in the market and compare features. Some of the Ringover alternatives are:
8x8
8x8 is a business communication service provider that consolidates text messaging and voice and video calling on a single platform.
RingCentral
RingCentral gives businesses the option of a local number in 105+ countries for voice and video calling, conferencing and team messaging.
Nextiva
Nextiva addresses your internal and external communication needs with a single dashboard that combines inbound and outbound communication.
Mitel
Mitel offers an all-in-one cloud communication solution for businesses to make and receive calls as well as a set of productivity tools.
Vonage
Vonage is a business communication platform for businesses to connect and communicate with customers through voice and video calls and text messaging.
Talkdesk
Talkdesk is a cloud-based communication solution aimed at reducing customer support costs while improving customer satisfaction rates.
Dialpad
Dialpad offers standard voice and video calling features as well as a set of advanced features to help teams work more efficiently.
Getting Started with Ringover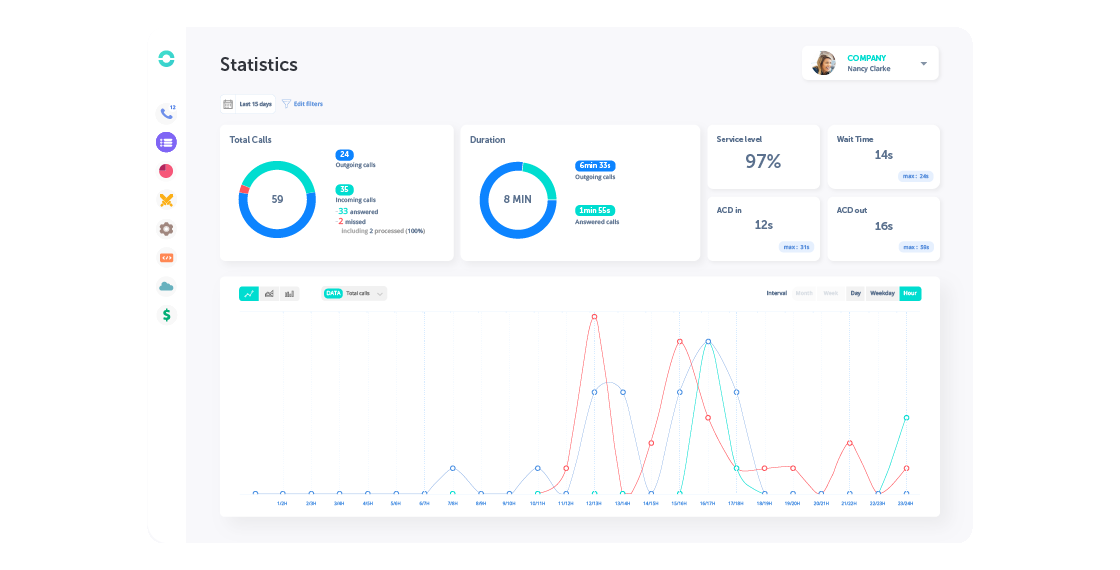 Comparing features offered by other VoIP service providers will quickly make it clear that Ringover is your best choice. Getting started with is quick and easy.
You can port your existing number to the Ringover network or get a new one in the country of your choice. This one-click process helps you build a local presence even though you may be far away. You can also configure greetings and voice messages.
There's no need to wait for IT support, you can install the app on your mobile device or computer. And, within minutes you can start reaching out to customers from your Ringover account.
Ringover offers a and for their Smart package. This allows up to 3 users to make outbound calls for up to 120 minutes. Try it today and experience how Ringover brings you closer to your business goals.