Business phone system
TOIP: Definition and Advantages - Differences vs VoIP
TOIP stands for Telephony over Internet Protocol, a technology that enables voice communication and telephone services to be transmitted over the internet instead of traditional phone lines, offering cost-effective and versatile means of telecommunication for businesses and individuals.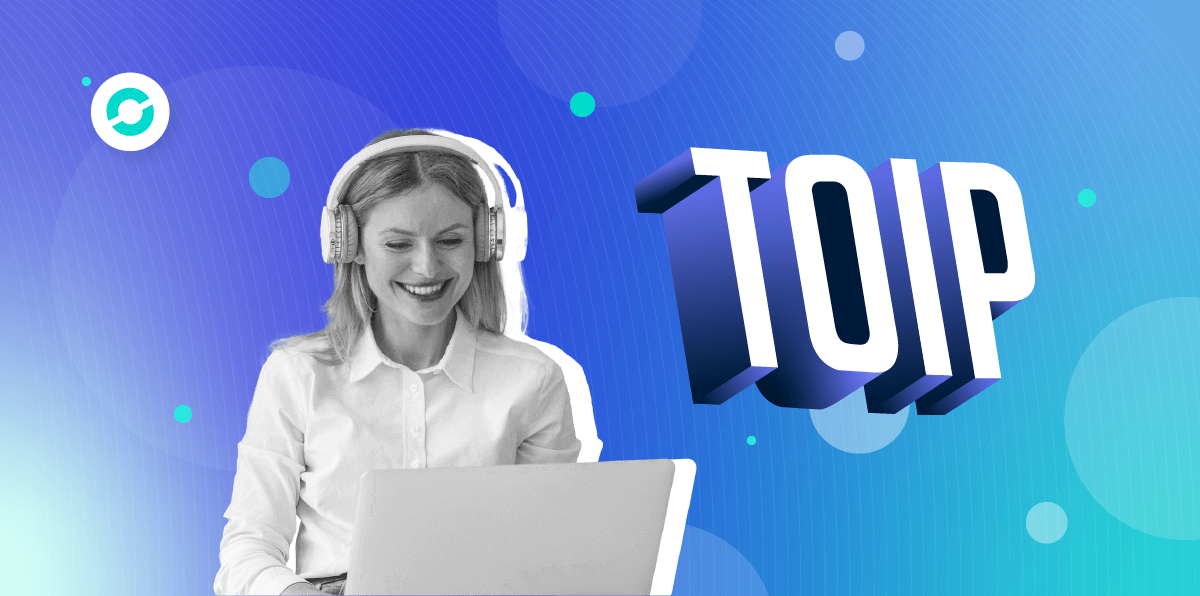 It converts analog voice signals into digital data packets for transmission over IP networks, facilitating voice calls, video calls, and other communication services.


Try TOIP for free


The TCP/IP protocol (Transmission Control Protocol/Internet Protocol) forms the basis of today's internet architecture. It defines the rules enabling computers to communicate with one another.

With the announcement of the discontinuation of the copper-line network, a rapidly growing number of businesses are opting for IP solutions for their telephony, which work over the internet. We'll explain it all in this article:
What is ToIP?

What equipment do you need to use ToIP?

The differences between ToIP and VoIP

The advantages of a ToIP solution

The limits of ToIP

When to choose a VoIP or ToIP solution
What is ToIP?
ToIP (Telephony over Internet Protocol) is a communications service — public or private — using the internet protocol (IP). ToIP technology transforms the voice into data via an IP protocol.

This data then travels through the local network and is retranslated into voice for the person you're speaking to. ToIP technology allows you to use an existing IP network structure to connect terminals, IP-Phone or software solutions (such as Skype).

From a conceptual aspect, transporting real-time voice flows over a packet exchange network may seem to be a delicate operation. However, thanks to the high speed connection offered by local area networks (LAN) and wide area networks (WAN and internet) this challenge is simply overcome and the voice can be transmitted with a high level of quality. Telephony over IP can be:
Added onto an existing traditional telephone network

Used in full-IP mode for a new infrastructure

Used in multiple full-IP sites with an appropriate operator and centralized servers

Used on a computer connected to the internet to make calls to another computer also using the internet, both using the same software (PC-to-PC communications will therefore be free).
What equipment do you need to use ToIP?
In order to work, a ToIP network needs:
An IPBX which is scaled according to the quantity of terminals and phone lines to be managed, on-site or digitally (cloud-hosted virtual solution);

IP phone terminals (IP-Phones), softphones (software providing phone functions), or IP adapters for analog terminals;

Network equipment: Switches managing the POE (Power over Ethernet) or VLAN (Virtual Local Area Network);

An IP gateway to an access interface for the ISDN (Integrated Services Digital Network) which will serve as the liaison for the landline telephony network of a traditional operator.

What's the difference between ToIP and VoIP?
ToIP and VoIP are two similar yet distinct technologies. While they both use the internet protocol (IP), they work differently. VoIP transforms the voice into digital files, which are the sent in the form of packages via a data network (i.e., the internet) through IP lines. It groups all of the techniques enabling this transit together: From an IP telephone to a PC or a "normal phone, or from one computer to another via a business' internal or external networks.

As for ToIP, it is a telephony system limited to the local IP network. It uses a simple router creating the connection between the LAN network (business) and the WAN network (operator): The IPBX.

ToIP groups together communications between IP telephones, or between computers, when they're using the same communication software.

While ToIP is based on VoIP, VoIP offers a much broader range of applications and features: Video-calling over IP, harmonized voicemails, etc. This technology enables voice, video and data to be brought together.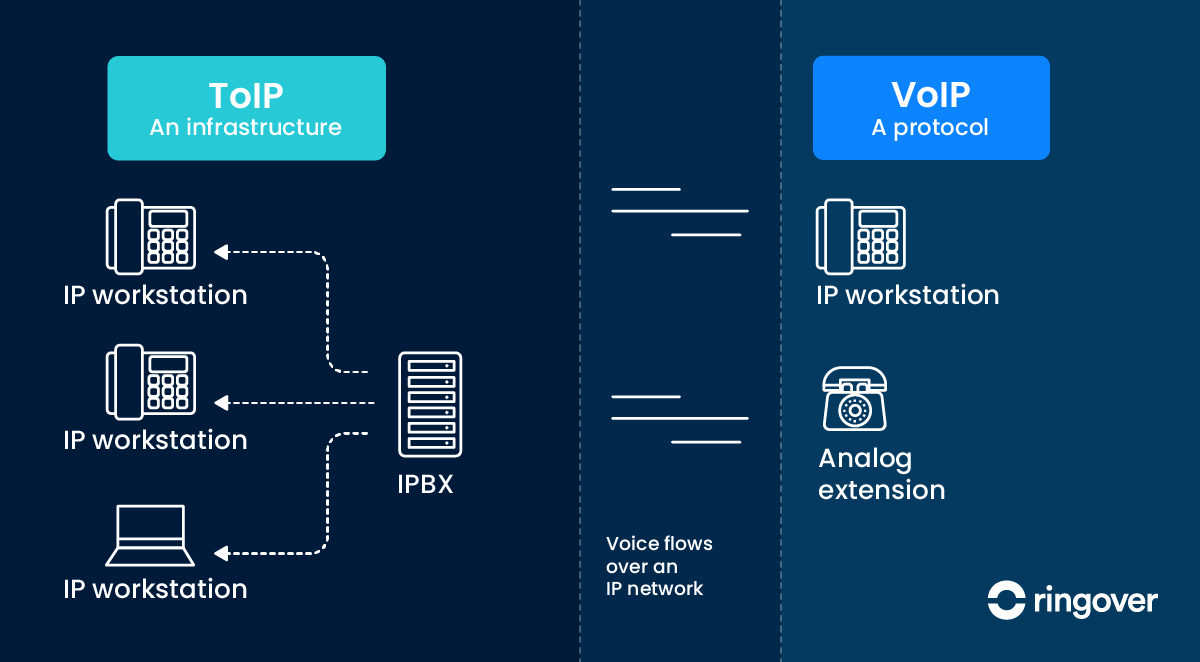 The advantages of ToIP
1. Simplified network architecture and maintenance
ToIP allows businesses to manage their telephony like a network. The network architecture is simplified thanks to the unification of data and voice circuits. With ToIP, multi-site business' telephone services are standardized, and the maintenance for the telephone lines is simplified for the technical teams.
2. Advanced telephony features
A ToIP call center fulfills all of the functions of a telephone switchboard, and more. Effectively, ToIP allows professionals to access features previously reserved for large corporations, such as Interactive Voice Response (IVR) for greeting callers and distributing incoming calls, all at a lower cost. IP telephony also allows for unified messaging systems to be used (voicemail messages received in email inbox).
3. Relative flexibility
IP telephony offers a certain level of flexibility and availability which is particularly appreciated by businesses, particularly by companies which employee staff who work remotely, who travel for work, or who work across multiple sites. In the same sense, as the terminals are no longer physically connected to the phone lines, telephony over IP allows users to keep the same number, even when they're on the go.
4. Boosted productivity for teams
Thanks to ToIP technology, users can create different voicemail inboxes according o the day and the month, or they can even set up a "click-to-call" function. IP telephony therefore allows for considerable time-saving and a big boost for productivity for employees who spend a large portion of their day on the phone.
5. Reduced inter-company telecommunication costs
Call rates allow for telecommunication costs to be reduced by up to 75%. That said, the switch to ToIP does require an initial investment and a deployment period, although these are both limited. Support procedures are relatively simple thanks to a single IT network pooling Voice and Data flows. Plus, with an IPBX solution, intra-company calls are free, including for calls between employees based in different offices.
The limits of ToIP
1. Equipment costs
Even these costs are relatively low, ToIP does require an initial investment and some on-site equipment which is necessary for its operation: An IPBX branch exchange, networks and IP telephones.
2. Externalized maintenance
In general, ToIP solutions require businesses to take out a maintenance contract, which can entail high costs. Each modification requires the intervention of a technician, which can put the brakes on internal developments.
3. Audio quality which depends on the network quality
Two of the issues that may be encountered by businesses when using Telephony over IP are the voice retransmission quality and latency or lag times. Plus, some parts of the conversation may be cut off (data packets lost in transit).
4. Limited mobility
With ToIP, communications are made from IP-Phone to IP-Phone or from PC to PC, which can make it difficult for employees on the go (traveling for business meetings, working remotely, etc.) to stay in touch.
5. Potential security issues
Security is the main Achilles' heel of Telephony over IP. Telephony IP works through the internet network, and it thus inherits all of the latter's security risks. Businesses using ToIP technology may face risks of:
Service outage (network saturation following an external attack)

Spyware (tapping, data theft, etc.)

Fraud (fraudulent external use of the lines)
When to choose a ToIP solution
ToIP offers multiple advantages to businesses, in terms of budgets, functionality, and organization alike. It's particularly recommended for businesses carrying out their essential communications internally.

By using the company's internet network, employees have unlimited and free access to communicating with one another. An entirely VoIP approach is still recommended in order to grant access to all of the advantages of the IP in full. The only limits that may restrict you to sticking with a ToIP solution are:
If your internal network does not have RJ45 cabling;

If you have made big investments in non-IP phones recently;

If your have poor internet coverage.

This latter point is becoming less common as high-speed internal internet connections are being improved.
When to choose a VoIP solution
More comprehensive than ToIP, VoIP offers a multitude of features and countless advantages to businesses. Its operational management is simple, VoIP solutions can be deployed via the Cloud and managed either internally or by a third party. In addition, a VoIP solution allows businesses to skip physical equipment — there's no need for an exchange branch (if opting for a Centrex solution) and phone (by using a softphone on a computer, tablet or smartphone).

VoIP therefore allows for better employee mobility, and facilitates the adoption of new use cases, such as remote working and collaborative tools. Collaboration is facilitated by the simplicity of the unified communication tools, which can be accessed in just a single click, bringing together instant messaging, emails, video calls, telephony, contacts, etc.

This way, its integration into business' information systems significantly helps to boost employee productivity. Lastly, the prices are generally cheaper than those for ToIP: The price of calls to mobiles and international numbers is lower (or even completed included in packages), and national calls are generally billed on a fixed-rate basis.
Hesitating between ToIP and VoIP? Ringover can help
Choosing a ToIP or VoIP solution can unlock immeasurable advantages for your telecommunication system, both in the office and on the go. Want to weigh up the opportunity to switch to an IP solution for your business telephony? today.