Landline Phone Services for Business Systems

Landline Business Phone Systems

There's no need to ditch your landline phone services when you switch to a VoIP telephony service for your business. Keep your office phones and easily add VoIP capability to your current system, and begin enjoying the benefits of VoIP calling over traditional phone lines.

Try it for free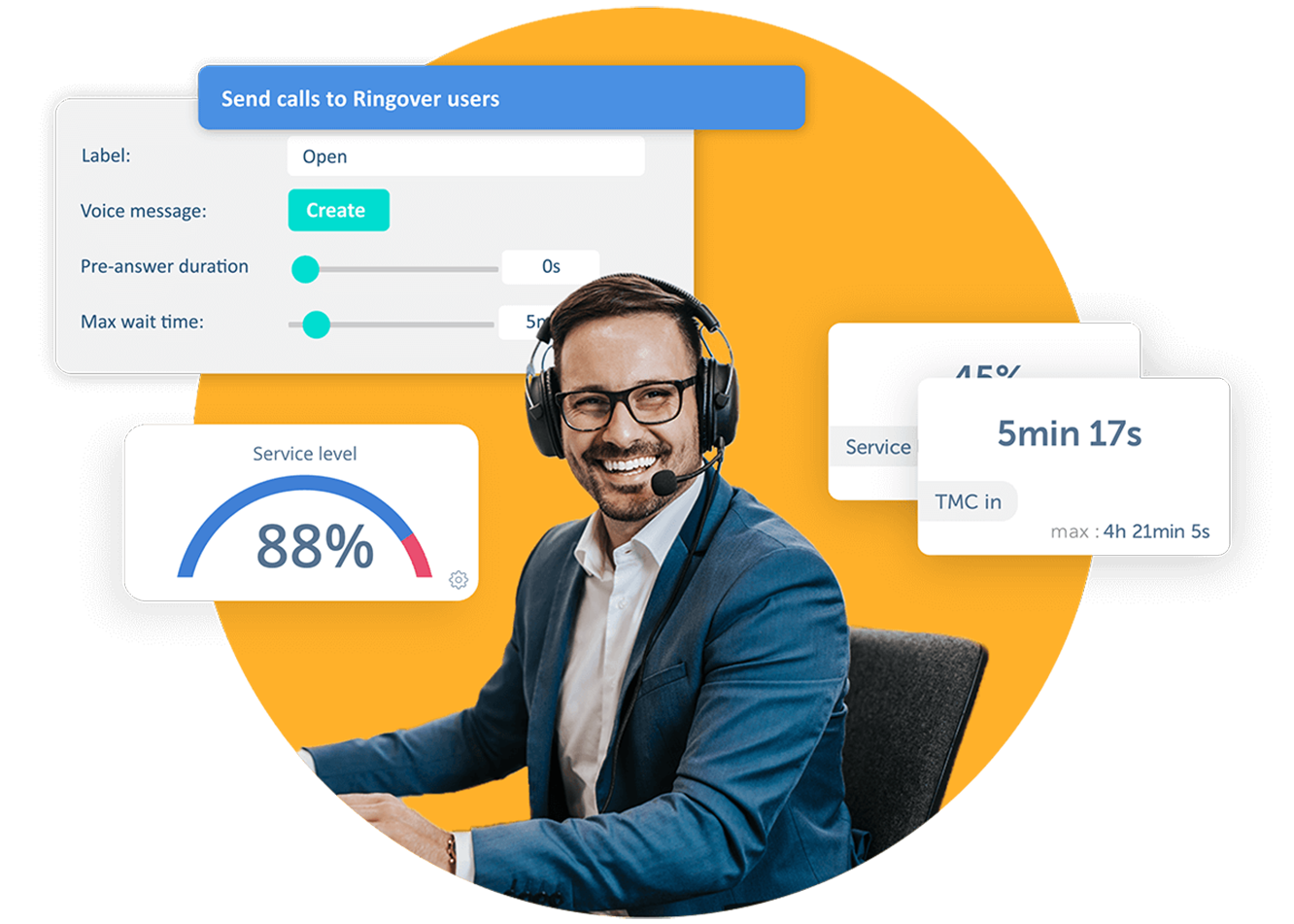 Update your Landline Business Phone Systems with VoIP
Now that you are ready to make the move from traditional landlines to VoIP for your call center, it's time to decide if you want to keep your current phones or switch to using softphones in order to support VoIP calling. Keeping your current phones is an option that can easily be facilitated as part of your adoption of Ringover's VoIP call center software. By using the correct hardware, your traditional phone can be converted into a VoIP phone in just a few simple steps. You'll be able to begin taking advantage of Ringover's cloud service right away, whilst using the phones you and your team are accustomed to.
Perfectly Pair Your VoIP Phone with Ringover's Advanced Features
Convert your landline business phone system to VoIP phone capabilities, and begin to also discover numerous benefits of using Ringover's cloud contact center software to effectively run your customer service center. Your agents will be able to use their current business phones whilst benefitting from Ringover's robust cloud telephony software. Empower your business to improve overall contact center performance, thanks to the efficiency, flexibility, and scalability brought to you by Ringover. You and your agents will enjoy the simplicity of Ringover's call center software solution, beginning with an easy installation and configuration. Instantly activate new lines for your business, to pair with your VoIP phones, and your customer service agents will be ready to perform at their best, even from remote locations.
Keep Your Landline Business Phone System and Take Your Call Center to New Heights
Ringover enables you to convert your landline business phone system to a VoIP phone system in just a few simple steps, and take your call center's performance to new heights. You will be able to successfully manage and monitor your cloud contact center via a customisable dashboard, and benefit from features such as:
Integration of your current CRM software for your customer support agents
Instant activation and deletion of lines
Advanced capabilities for auto dialer and predictive dialer systems
Unlimited VoIP calls to up to 80 destinations
Whisper technology and high-quality video conferencing
Run your business' full service call center effectively with these numerous features and more, all included in Ringover's cloud contact center application.
Empower Your Agents to Perform Better
Advanced Software Brings Advantages
Switching to Ringover's cloud contact center solution enables your agents to perform at their very best, which in turn improves your business performance overall. Your agents will be able to continue to use the current landline business phone system as VoIP phones, and also take advantage of an advanced software interface.
Keep Your Preferred CRM Tools
Full CRM integration into the Ringover platform allows agents to readily access essential support tools in order to complete actions quickly, all from one application. Efficient call handling reduces call wait and handling times, resulting in improved customer satisfaction and customer service levels.
Training Support for Your Agents
Provide helpful assistance and coaching to your agents thanks to call whisper capability, and call monitoring and recording. Access to metrics reporting enables you to make immediate changes to call routing and processes as needed, to respond to volume, agent availability, and other factors.
Run Your Call Center Effectively with a Landline Business Phone System
Be In-The-Know at All Times
With Ringover's call management software, you'll be able to stay in touch with your call center agents and up to date with performance levels at all times, thanks to a wide range of advanced features.
Be Ready to Respond
Monitor and take action when needed with the advanced yet simple dashboard offered by Ringover's VoIP telephony system. Ringover's call management software enables you to monitor performance and access to the data you need in order to react to the ever-changing landscape of your customer service needs.
Take Advantage of Robust Features
With Ringover fueling your call center software, you'll be able to record and monitor calls, enabling you to provide helpful training and coaching, adjust campaign settings for auto dialer or predictive dialer systems, and access a simple, real-time data dashboard and view key performance metrics.
Begin Your Free Ringover Trial Today
Your Free Trial Can Begin Now
Start your free trial of Ringover's cloud contact center software as soon as you're ready.
Experience the Benefits Right Away
You'll immediately enjoy the benefits of simplifying and streamlining your processes, increasing productivity, and reducing costs as soon as you implement Ringover.
Ringover is Ready to Support Your Business
Join the thousands of businesses who already use Ringover and try it for yourself. Your free trial can begin now.
Landlines Business Phones System FAQ
What is VoIP telephony?
VoIP (Voice Over Internet Protocol) telephony is a technology that converts phone call voice signals into digital packets and then delivers them over the broadband internet. VoIP telephony systems can be used in place of traditional landline phone systems, or can be paired with landline phones with an adapter. VoIP telephony only requires an internet connection, router and laptop, computer or smartphone.
Will VoIP work on a landline phone?
Yes, with a VoIP adapter called an ATA (Analog Telephone Adapter), you can use your normal phone with VoIP service. The adapter serves as a bridge between your analog telephone service and the internet that supports your calls. Typically, the ATA is easy to set up, by connecting it to your router via an Ethernet cable and then completing setup via your internet browser.
Can you use a cordless phone with VoIP?
Cordless phones can be used for VoIP calling by plugging the phone into the USB (Universal Serial Bus) port of your computer. This way, cordless phones can be used for phone to PC calls, as well as PC to PC calls.
Is VoIP better than a traditional landline?
Many people prefer VoIP telephony over a traditional landline system, due to the flexibility and capabilities offered by VoIP technology. In addition to voice calling, VoIP supports transmission of video conferencing and multimedia messages, among other features not available with landlines.
What are the advantages of VoIP over landline?
VoIP systems are less expensive than landlines, considering the fact that you can use an existing internet connection to establish and use the VoIP service. Landlines require entirely separate systems and hardware in order to operate, increasing overall costs to setup and maintain.