Sales engagement with Salesforce and Cadence

Salesforce Integration
The Cadence tool seamlessly integrates into Salesforce to simplify, organise and automate your teams' daily tasks.
Try it for free
Request a demo
Keeping your Salesforce up-to-date
Qualify your prospects via Cadence and change their status with one click.

Information on your Leads, Accounts & Contacts are automatically updated in real time in Salesforce, and vice-versa in Cadence.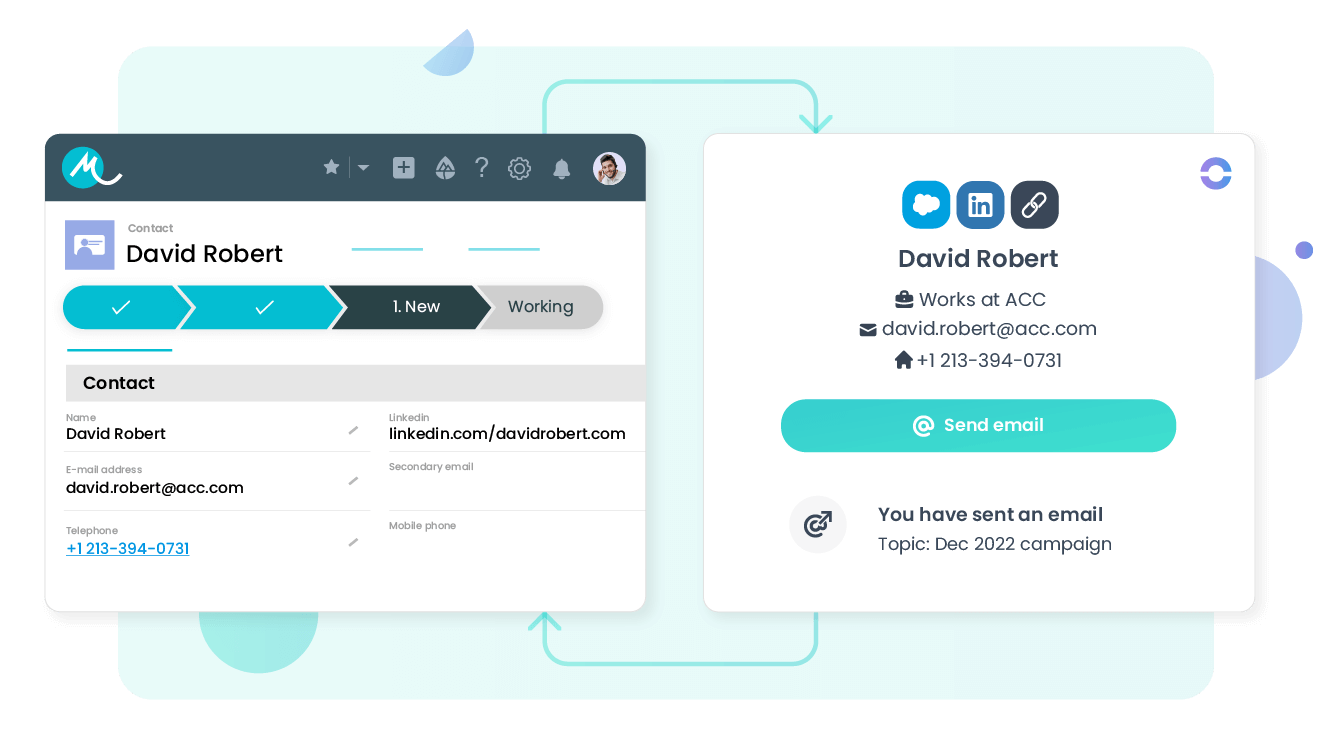 Keep track of all your communications
Each action carried out in Cadence is also logged in Salesforce.

This way, you can keep track of all communication directly in your CRM: call, email, SMS, notes… You can even access your call recordings.

Perfect for monitoring your prospecting.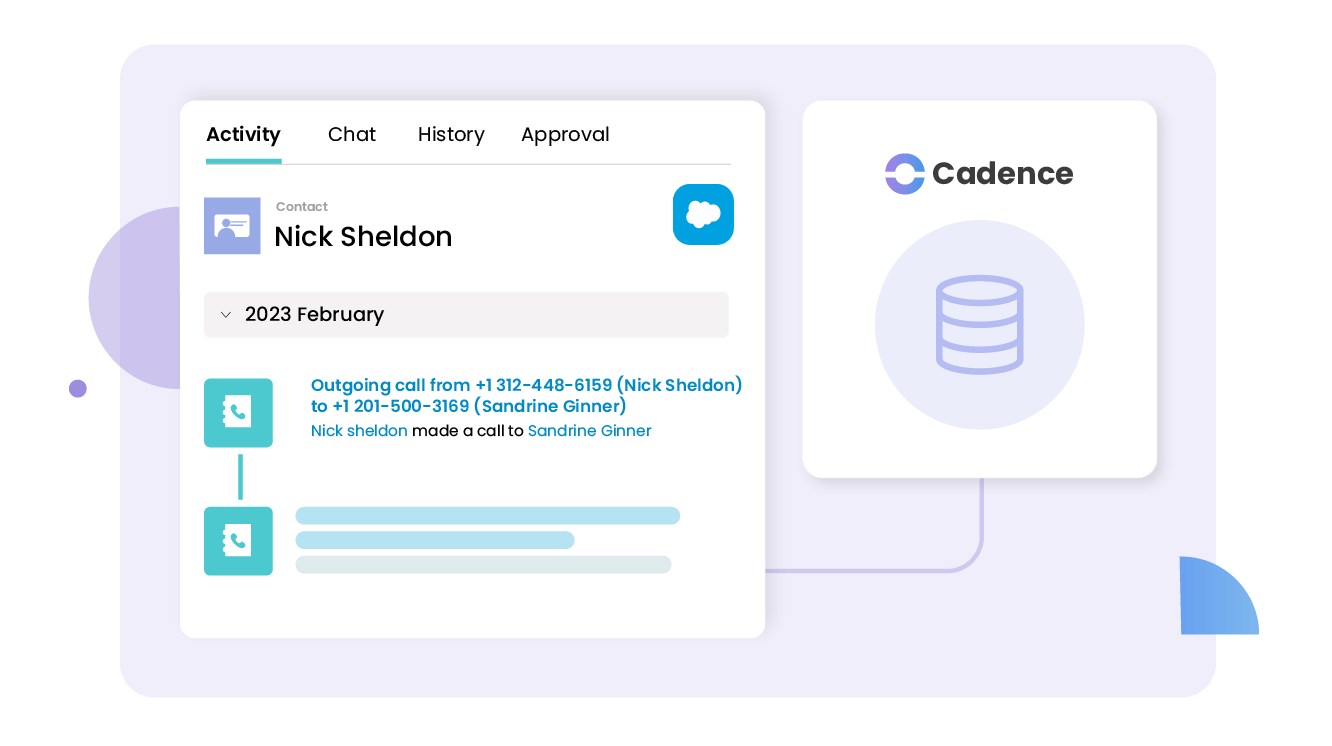 Customised workflows and configuration
You'll be guided through field mapping and can customise your prospect qualification criteria so that they align with your Salesforce configuration.

You can also define custom workflows in just a few clicks. Got a new lead in Salesforce? It'll be instantly imported into Cadence if it meets the criteria that you've defined!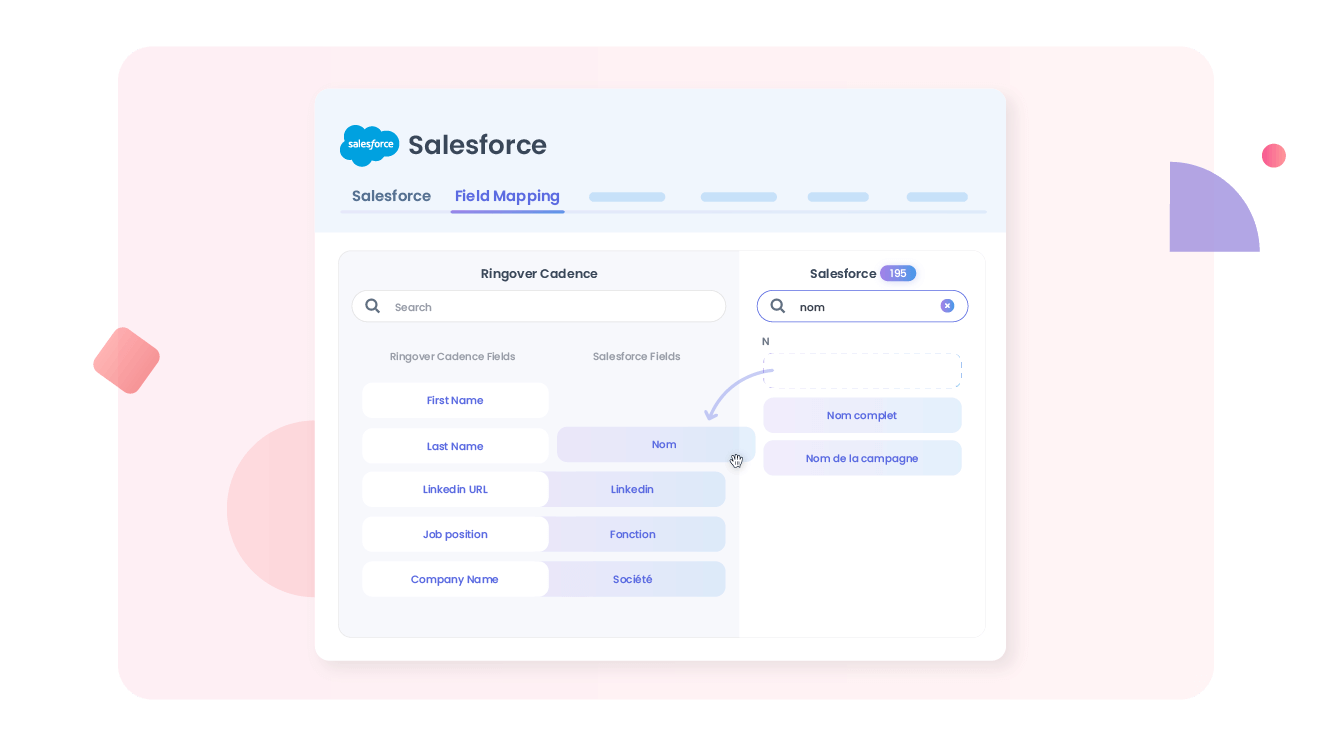 //= $options['block']['class'] ?>
by Ringover's key features
List of daily tasks
Generated automatically, for each employee.
Template library
Emails, SMS messages, LinkedIn messages, call scripts, etc.
CRM syncing
Prospect information always up-to-date.
Integration into your telephony
Make you calls in just one click.
Multi-channel sequences
Contact your prospects by phone, email, etc.
Automated actions
Save time for your agents.
Sales activity monitoring
In real time.
Performance statistics
To optimize your templates, your prospecting sequences.
Using Salesforce and want to integrate
Cadence

?
Book a demo
Cadence Salesforce Integration FAQ
Can I integrate Cadence into my Salesforce CRM?
What is Salesforce sales engagement?
How do I enable sales engagement in Salesforce?
What is sales engagement?
What is the difference between sales engagement and CRM?
Does Salesforce have a tool for prospecting?
What tools are used for prospecting with Salesforce?
What is the best prospecting tool for Salesforce?
What are the different types of prospecting in Salesforce?
How to choose prospecting channels for Salesforce?
Can I integrate Cadence into my Salesforce CRM?
Cadence can be integrated with Salesforce for superior lead management. Your sales representatives will be able to control all their lead outreach, no matter the channel: phone, SMS, social media, and more. You can even qualify leads in one centralized software, because your Salesforce CRM and Cadence will automatically sync any data updates.
Integrating Salesforce with Cadence brings efficiency and clarity to the prospecting process, allowing sales agents to rapidly improve their outreach and, ultimately, their bottom line.
What is Salesforce sales engagement?
Salesforce sales engagement is a suite of tools to optimize the prospecting process. The Salesforce sales engagement tool provides insight into how messaging, content, timing, and other factors create a higher potential for conversion through data aggregation.
The goal of Salesforce sales engagement is to help sales agents reach highly qualified leads, increase their conversion rate, and create new sales opportunities. A key benefit of Salesforce sales engagement is the automation of everyday tasks (like prospect follow up), data collection, and an optimized selling strategy.
How do I enable sales engagement in Salesforce?
To enable sales engagement in Salesforce, integrate it with Cadence from Ringover. Cadence enables sales engagement by organizing and automating daily tasks through custom workflows.
Data is automatically synchronized between Salesforce and Cadence. Not only will you never have to enter the same data twice, but leads will only be imported into Cadence if they match the pre-defined criteria in Salesforce. Once the lead is in Cadence, they'll be integrated into your preset workflows.
Enabling sales engagement in Salesforce results in easier and more efficient prospecting. Agents will also benefit from analytics that reveal how to optimize the outreach process. These benefits will eventually empower agents to improve their performance.
What is sales engagement?
Sales engagement is the various interactions that make up the buyer's journey, the quality of which has a direct impact on conversion rate. As customers spend more time online, the amount of brand touchpoints has increased. That's why sales engagement, which optimizes digital touchpoints, has become key to efficient and effective sales strategies.
Sales engagement tools create optimized sales strategies by providing insights on how to improve messaging, content, timing, communication channel, and more. With the help of these insights, presented in personalized advice and analytics dashboards, sales agents increase their conversion rate in an efficient manner.
What is the difference between sales engagement and CRM?
The main difference between CRM and sales engagement is that CRM stores data, while sales engagement leverages that data to contact customers in an optimized way.
The complementary functions of CRM and sales engagement platforms means they are best used together. Thanks to the information tracked and stored by the CRM, the sales engagement platform automatically upload leads classified as qualified by the CRM into predefined workflows.
In this manner, qualified leads will be efficiently and effortlessly integrated into the buyer journey. Sales agents will know who to contact, in what manner, and even benefit from automated actions and templates. Once the sales engagement platform has been in use, sales agents will be able to optimize their outreach thanks to data on what channels, timing, and messaging is most efficient.
Does Salesforce have a tool for prospecting?
Salesforce has its own prospecting tool in the form of a sales engagement solution called Salesforce Sales Engagement. That prospecting tool allows you to track your conversations with your prospects across various prospecting channels. Salesforce Sales Engagement helps you make decisions by automatically retrieving information from your calls and emails.
What tools are used for prospecting with Salesforce?
There are a wide variety of tools for prospecting that are compatible with Salesforce. You'll find solutions for:
Building your prospect list.
Finding contact information.
Qualifying prospects and scheduling meetings.
Sales engagement.
Product presentation and demonstration.
Some of the most popular prospecting tools fully compatible with Salesforce include:
Cadence
LinkedIn Sales Navigator
ZoomInfo
LeadFeeder
What is the best prospecting tool for Salesforce?
Choosing the right prospecting tool for Salesforce depends primarily on your needs and how you interact with your prospects. So before making a decision, list all your prospecting needs–and don't forget to check if the tool is compatible with Salesforce before actually committing. For sales engagement tools, certain names always come to mind: Cadence, Salesloft, or Groove, for example. Cadence has the advantage of helping to automate sales automation in conjunction with a powerful business communications software.
To prospect on LinkedIn, the most effective tool would probably be to use LinkedIn Sales Navigator.
What are the different types of prospecting in Salesforce?
Salesforce is a household name when it comes to sales solutions. The suite is extremely comprehensive and helps sales professionals find leads and grow their business. Salesforce allows you to engage in different types of prospecting:
Contact-based prospecting: This involves targeting prospects based on their title, role, address, company, and other criteria.
Social network prospecting: Sales representatives use social networks such as Facebook, Linkedin, or Twitter to find prospects and establish new relationships.
Email prospecting: Companies can use Salesforce's Email Studio tool to manage their marketing campaigns and reach prospects with personalised messages.
How to choose prospecting channels for Salesforce?
When it comes to how to choose a prospecting channel for Salesforce, there are a few factors to take into account. Should you go for the good old cold call or set up email prospecting campaigns galore? You'd think there is no one great solution, but there is! Just be where your prospect is. There is no need to invest in all the prospecting channels available, but don't leave any room for confusion. The best way to avoid this is to organise your prospecting with the help of a sales engagement platform such as Cadence by Ringover. You can then refine your strategy according to the most effective prospecting sequences and discover which channels are the most effective. By combining Cadence with Salesforce, you not only standardise your processes, but also ensure that you reach more prospects and keep your CRM up to date. .