CRM
/* = $helper('InjectSvg', 'logos/crm/logo_' . $t['slug'], class: 'integration_logo_mobile', wrapper: 'div') */ ?>
Sales engagement with Hubspot and Cadence

Hubspot Integration
The Cadence tool seamlessly integrates into Hubspot to simplify, organise and automate your teams' daily tasks.
Try it for free
Request a demo
Keep your Hubspot up-to-date
Qualify your prospects in Cadence and update their status in just a click.

Information on your Contacts & Companies is automatically updated in real time in Hubspot, and vice-versa in Cadence.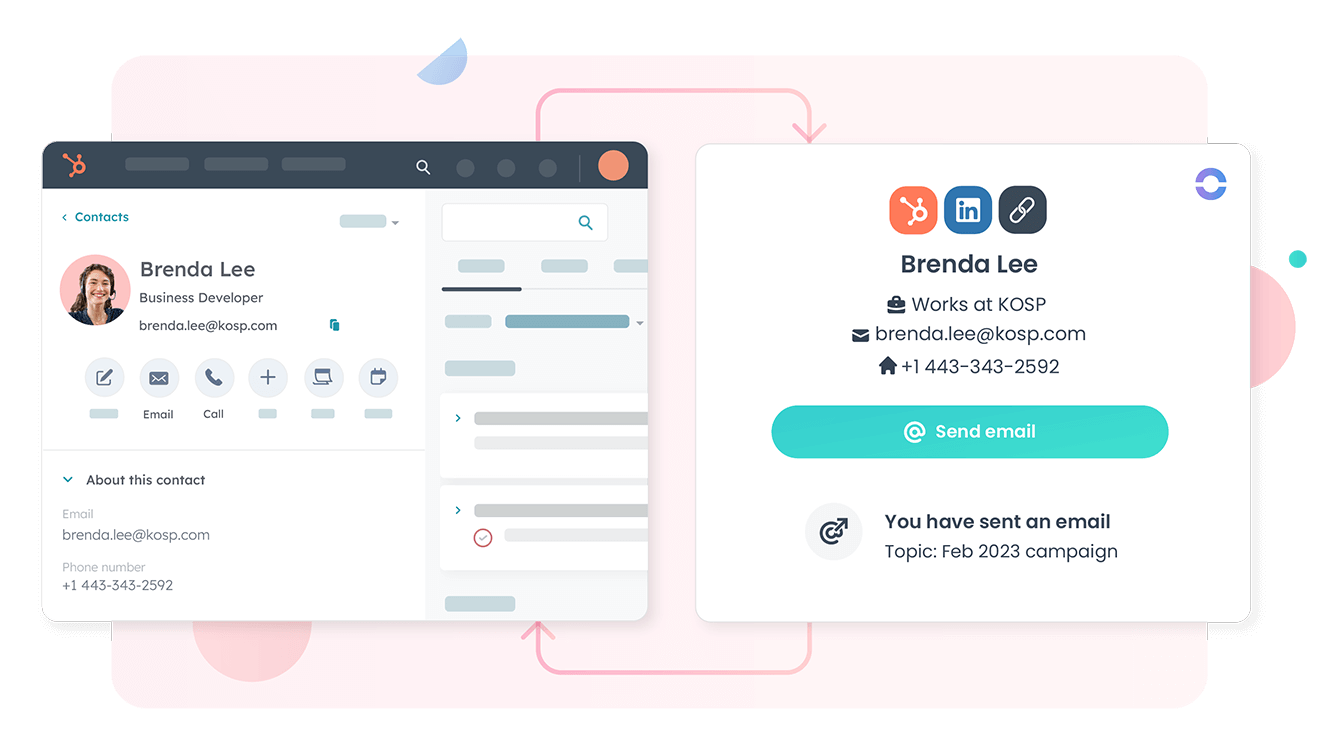 Keep track of your communications
Each action completed in Cadence is also logged in Hubspot.

Perfect for tracking your prospecting activity: You can easily pull up any communications directly in your CRM - calls, emails, SMS, notes, appointments, and so on. You can even access call recordings.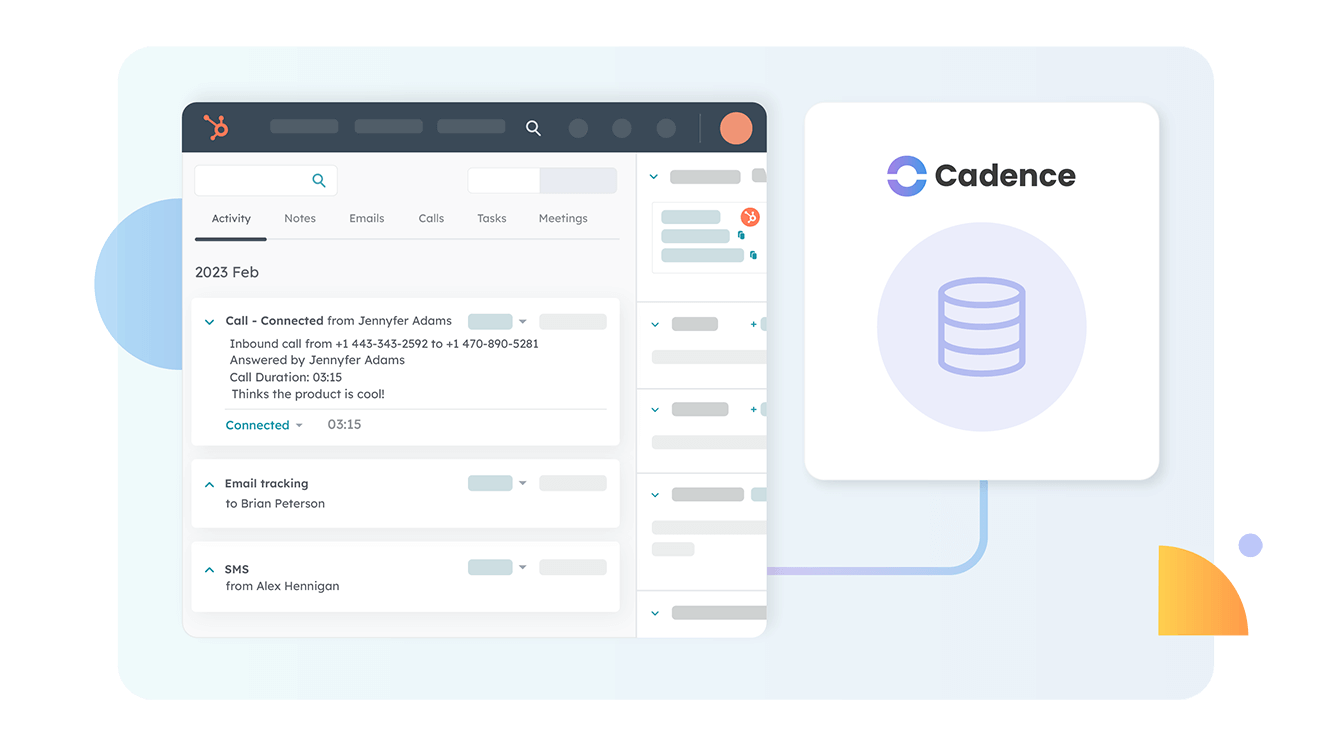 Simple and customised set-up
You'll be guided through field mapping and can personalise your prospect qualification criteria, so that they align with your Hubspot configuration.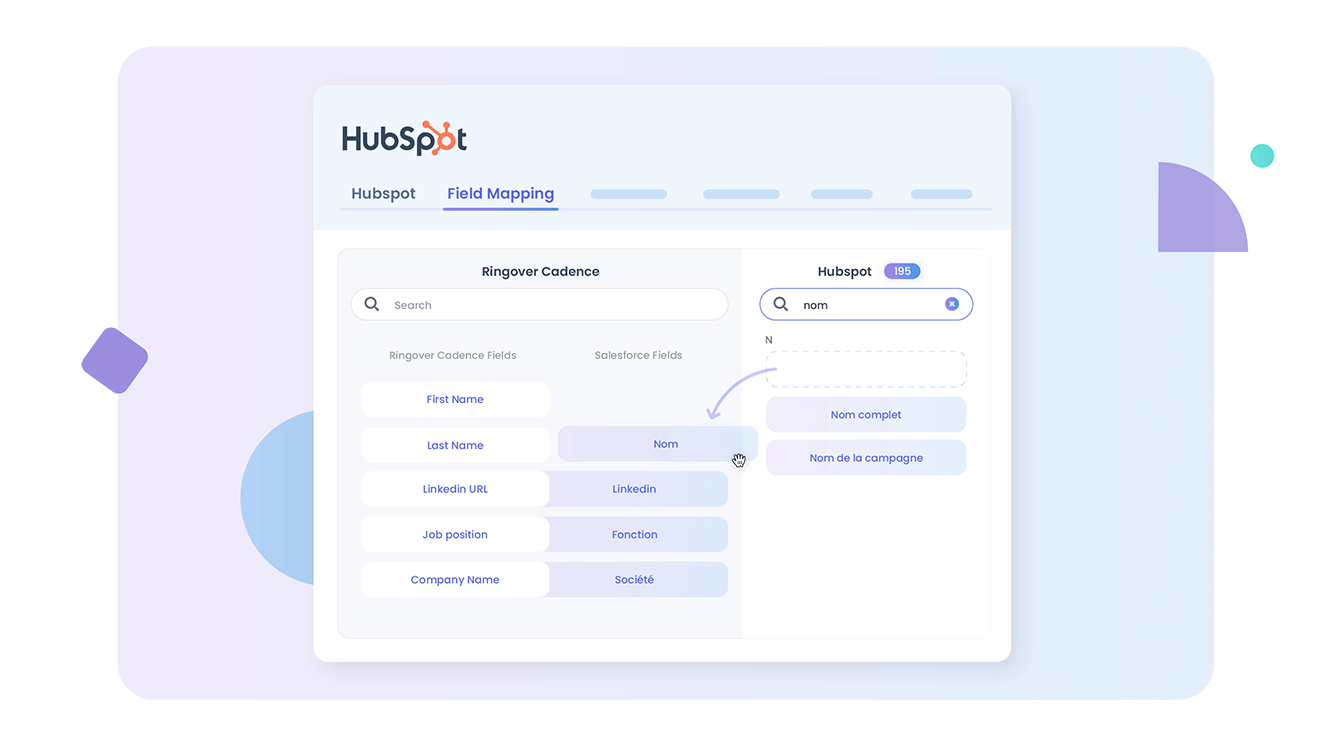 by Ringover's key features
List of daily tasks
Generated automatically, for each employee.
Template library
Emails, SMS messages, LinkedIn messages, call scripts, etc.
CRM syncing
Prospect information always up-to-date.
Integration into your telephony
Make you calls in just one click.
Multi-channel sequences
Contact your prospects by phone, email, etc.
Automated actions
Save time for your agents.
Sales activity monitoring
In real time.
Performance statistics
To optimize your templates, your prospecting sequences.
Using Hubspot and want to integrate
Cadence

?
Book a demo
Sales Engagement with Hubspot FAQ
Can I integrate Cadence into my Hubspot CRM?
What is Hubspot sales engagement?
How do I enable sales engagement in Hubspot?
What is sales engagement?
What is the difference between sales engagement and CRM?
Can I integrate Cadence into my Hubspot CRM?
Cadence can be integrated with Hubspot for superior lead management. Your sales representatives will be able to control all their lead outreach, no matter the channel: phone, SMS, social media, and more. You can even qualify leads in one centralized software, because your Hubspot CRM and Cadence will automatically sync any data updates.
Integrating Hubspot with Cadence brings efficiency and clarity to the sales prospecting process, allowing sales agents to rapidly improve their outreach and, ultimately, their bottom line.
What is Hubspot sales engagement?
Hubspot sales engagement is software that helps sales agents to accomplish their daily tasks in an efficient manner, with the goal of ultimately improving performance.
Many interactions shape the buyer journey, especially with the ever-growing prevalence of digital touchpoints. A sales engagement software helps agents to improve their performance through various functionalities. These features can include the automation of tasks, templates, and management of external communications, and more.
Though Hubspot has various sales engagement features, integrating Hubspot with a sales engagement platform can be a more intuitive and economic option than the plans Hubspot offers. For example, to have access to automated sequences within Hubspot, you'll need to pay a minimum of $450 per month. However, Cadence offers automated sequences and begins at $60 per month.
How do I enable sales engagement in Hubspot?
You can enable sales engagement in Hubspot in an efficient way by integrating a sales engagement software.
One great option is Cadence, an affordable and intuitive sales engagement platform. Cadence integrates effortlessly with Hubspot to prove management of all communication channels, and guide your sales agents through prospecting actions. For example, Cadence allows you to create automated workflows, so once a lead is qualified in Hubspot, it enters a sales sequence immediately.
Once you start working in Cadence, you'll have an easy-to-understand analytics dashboard with individual and global views. With those insights, you can identify and optimize sticking points in the buyer's journey, eventually improving overall conversion rate.
What is sales engagement?
Sales engagement is the collection of interactions that form the buyer's journey. The higher the quality of the buyer's journey, the higher the conversion rate. Customers have spent more and more time online, encountering a greater number of touchpoints prior to purchase. As a result, sales engagement tools, which optimize digital touchpoints, have become key to deploying a successful sales strategy.
To create optimized sales strategies, you can leverage sales engagement platforms. These platforms provide key information on improving messaging, content, timing, communication channel, and more. These insights, which are both individual and global, allow sales agents to increase their conversion rate in an efficient manner.
What is the difference between sales engagement and CRM?
The difference between CRM and sales engagement is that a CRM is a data repository, and sales engagement is a tool to manage customer outreach. So while a CRM tracks, organizes, and stores customer data, a sales engagement platform will use that data to create personalized interactions with prospects across communication channels.
Given CRM and sales engagement software's complementary functions, they're best used in tandem. For instance, a sales engagement platform will automatically update leads qualified by the CRM into automated workflows.
In other words, qualified leads will be efficiently and effortlessly integrated into the buyer journey. The sales team will know who best to contact, how best to do it, and even how to frame the messages. After the sales engagement platform has been deployed, the sales team can use the data analytics dashboard to inform strategy on channels, timing, and messaging.