CRM
/* = $helper('InjectSvg', 'logos/crm/logo_' . $t['slug'], class: 'integration_logo_mobile', wrapper: 'div') */ ?>
Sales engagement with Pipedrive and Cadence

Pipedrive Integration
The Cadence tool seamlessly integrates into Pipedrive to simplify, organise and automate your teams' daily tasks.
Try it for free
Request a demo
Keep your Pipedrive up-to-date
Qualify your prospects in Cadence and update their status in just a click.

Information on your Contacts & Companies is instantly updated in real time in both Pipedrive and Cadence.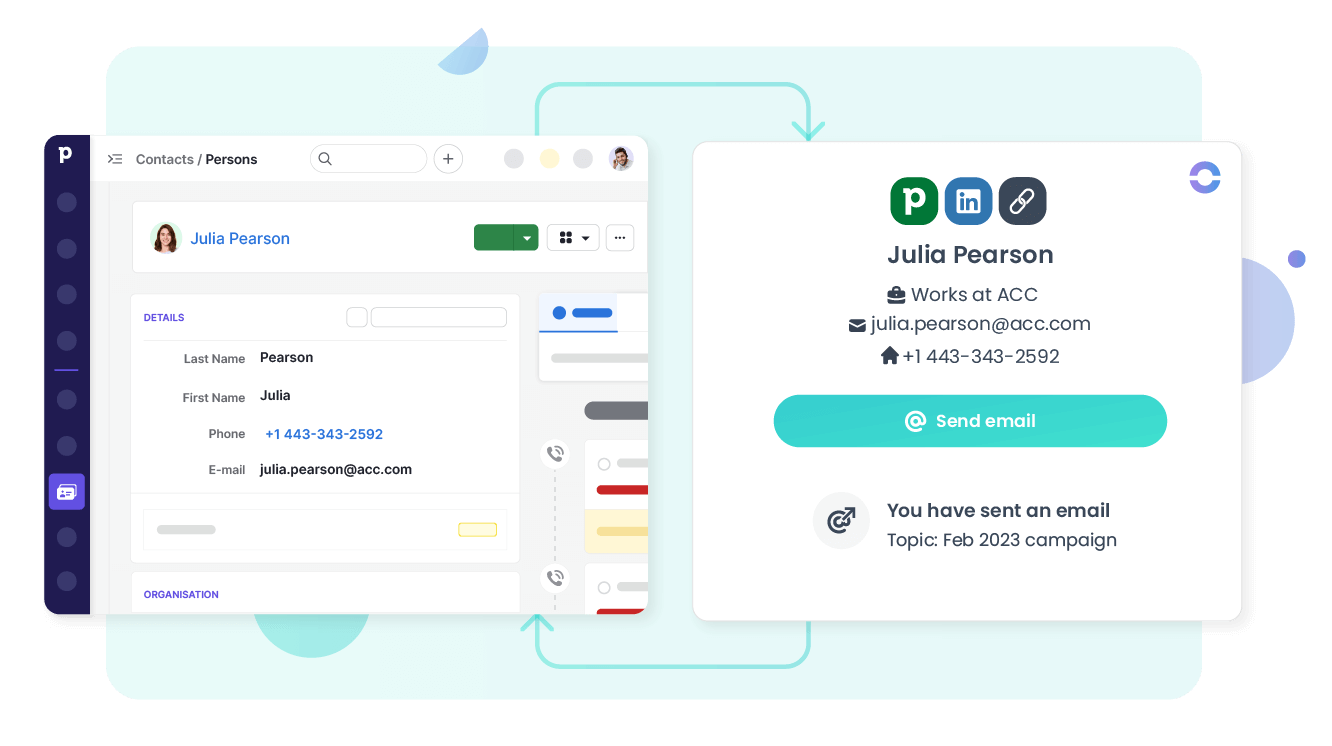 Keep track of your communications
Each action completed in Cadence is also logged in Pipedrive.

Perfect for your prospecting activity: You can easily pull up any communications directly in your sales CRM - calls, emails, SMS, notes, appointments, and even call recordings.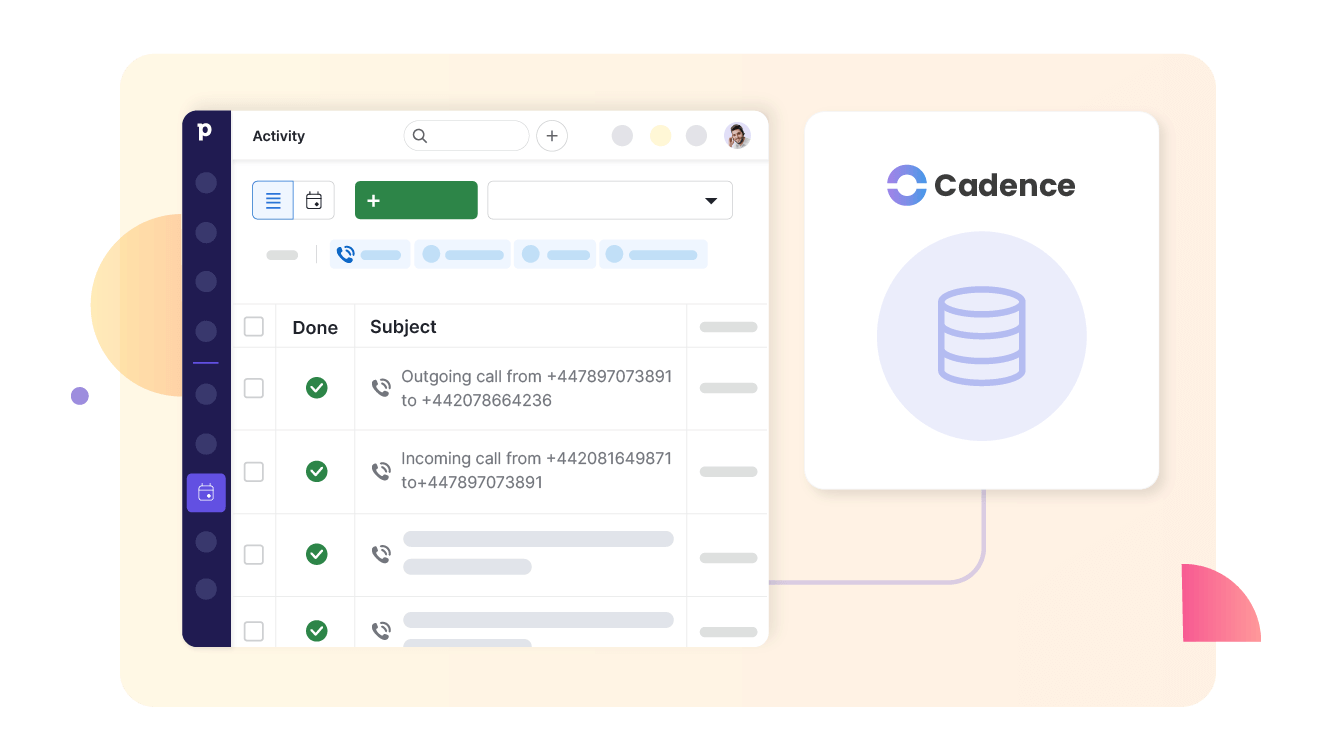 Customised set-up and workflows
Step-by-step, set up field mapping and customise your prospect qualification criteria so that it completely aligns with your Pipedrive configuration.

Create custom workflows. For example, new Pipedrive leads will be automatically imported into Cadence if they meet your criteria!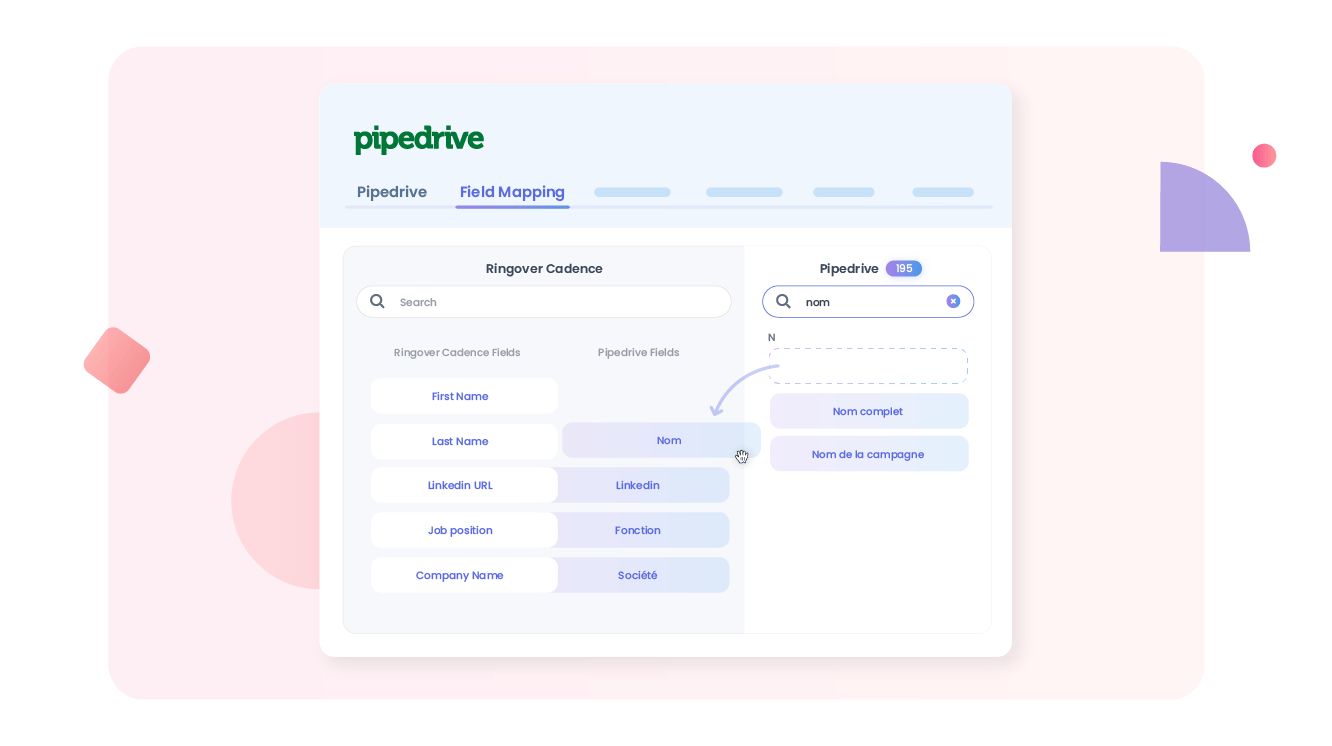 by Ringover's key features
List of daily tasks
Generated automatically, for each employee.
Template library
Emails, SMS messages, LinkedIn messages, call scripts, etc.
CRM syncing
Prospect information always up-to-date.
Integration into your telephony
Make you calls in just one click.
Multi-channel sequences
Contact your prospects by phone, email, etc.
Automated actions
Save time for your agents.
Sales activity monitoring
In real time.
Performance statistics
To optimize your templates, your prospecting sequences.
Using Pipedrive and want to integrate
Cadence

?
Book a demo
Sales Engagement with Pipedrive FAQ
Can I integrate Cadence into my Pipedrive CRM?
What is Pipedrive sales engagement?
How do I enable sales engagement in Pipedrive?
What is sales engagement?
What is the difference between sales engagement and CRM?
Can I integrate Cadence into my Pipedrive CRM?
Cadence is compatible with Pipedrive, an integration that brings strong benefits to sales teams that ultimately improve performance.
Automatic data synchronization: All information entered into Pipedrive and Cadence will be automatically updated in both software. Sales representatives will never need to enter the same information twice, and once the CRM qualifies a lead, it will be automatically entered into an automated workflow predefined in Cadence.
Efficient prospecting: Once a prospect enters Cadence as a qualified lead, they can enter a sales sequence with automated steps based on best practices. Sales agents have minimal actions to take thanks to optimized templates already in Cadence, ensuring the prospects receive personalized communications.
Optimized performance: Thanks to the analytics dashboard updated in real time, you'll rapidly see what messaging, timing, communication channels, etc., work best. You'll be able to choose the most performant combination of factors based on numbers, and easily share that information with the relevant sales agents.
Easy access to data: All your prospect interactions will be recorded in Cadence, so you'll never have to wonder where you can find an updated record of call recordings, SMS, notes, and more.
Simple configuration: When you integrate Pipedrive and Cadence, you'll benefit from a step-by-step guide so your configuration matches your needs.
What is Pipedrive sales engagement?
Pipedrive sales engagement is a selection of prospecting tools meant to help sales teams work in a more efficient and effective manner. Pipedrive's sales engagement tools automate prospect outreach and give insight into how messaging, content, timing, and other factors lead to a high conversion rate.
Pipedrive's focus on automation allows sales agents to schedule prospect outreach so they can decrease time spent on administrative tasks. This sales engagement platform even provides email templates to diminish the stress related to customer communication. As the cherry on top, Pipedrive provides personalized insights in real time so sales team members can improve their performance.
How do I enable sales engagement in Pipedrive?
Though Pipedrive has its own sales engagement tools, the tiers may not allow for a high level of granular control. So to enable sales engagement in Pipedrive, it's best to integrate it with Cadence from Ringover. Cadence provides sales teams with easy-to-set-up custom workflows that organize and automate daily tasks.
One of the major benefits of a Pipedrive-Cadence integration is the automatic data synchronization between the two tools. Sales agents will never have to enter the same data twice. Plus, you can configure Cadence so only qualified leads are imported from Pipedrive. Once the lead enters Cadence, they'll enter your custom workflows for outreach.
Enabling sales engagement in Pipedrive results in easier and more efficient prospecting. Agents will also benefit from analytics that reveal how to optimize the outreach process. These benefits will eventually empower agents to improve their performance.
What is sales engagement?
Sales engagement are the customer touchpoints that combine to create the buyer's journey. Whether or not those touchpoints are of a high quality has a strong effect on conversion rate. Thanks to brands' increased presence online, most touchpoints prospects experience are digital. Sales engagement focuses on optimizing those digital touchpoints and has become a necessity to create efficient and effective sales strategies.
One of the biggest benefits of sales engagement tools is the insights they provide, which help sales teams improve their messaging, content, timing, communication channel, and more. Sales engagement software like Cadence deliver insights in the form of personalized tips and analytics dashboards, helping sales agents to rapidly increase their conversion rate.
What is the difference between sales engagement and CRM?
The difference between a CRM and sales engagement is that a CRM stores and organizes data, while sales engagement optimizes and manages interactions with prospects.
Because CRM and sales engagement have complementary purposes, they're best when combined. While the CRM tracks and organizes information to qualify leads, the sales engagement platform will launch those leads into predefined sales sequences.
As a result, leads are rapidly added into the business's buyer journey with minimal effort from the sales agents. The sales team knows who they should be contacting, what channels are most efficient, and save time thanks to templates and automation. Once the sales engagement platform has been in use, sales agents will be able to optimize their outreach thanks to data on what channels, timing, and messaging is most efficient.