Call center
What is Salesforce CTI Integration?
This is possible because of software . Once you've set up a Salesforce CTI integration, the business phone software and Salesforce will be able to exchange data and provide other benefits.


Try a Salesforce CTI for Free!


This technology is particularly useful for contact centers and call centers because a CTI integration offers so many productivity advantages. If you and your team make dozens or even hundreds of calls per day and use Salesforce, this integration will make a big difference in efficiency and performance.
What are the business benefits of using a Salesforce CTI?
If you've got a which isn't integrated with Salesforce, you're missing out on time-saving tools. A allows you to eliminate time-consuming tasks like manually entering information twice into your IP telephony and your CRM. Here's a few specific examples of the possible advantages.
Reduced manual task
Tedious administrative tasks have always been a nuisance, but luckily technology is automating more and more these days. Even simply dialing a contact can be an inefficient process without an integration. But with Salesforce CTI, you'll have , which allows you to dial contacts simply by clicking on their name. When you are working through a , there's also the . With those features supporting your team, they'll quickly and easily move through their outreach.

Like we mentioned before, you'll no longer need to update your phone contacts and CRM manually. The software will instead exchange data automatically–so everyone will have access to the same information. Your agents will enjoy the convenience of having their telephony and CRM in one interface, so they don't have to constantly toggle between tools.
Efficient call management
When you operate a call center or contact center, your call flow is a huge influence on whether it sinks or sails. To ease call management, turn to some of the functions offered in . You'll enjoy automated , which permits you to direct calls to certain departments or employees depending on the caller's needs. What's more, with an in place, callers can direct themselves to the information or team who can best help them. Finally, if you are cranking out the phone calls, a makes moving through your contact list a cinch.
Optimized customer service
One of the most difficult standards to hit in a call center is continuity of service: if a client or prospect calls in, that the representative will have context. A Salesforce CTI can certainly support you and your team in achieving that level of service, however. One of the most useful tools is a , which is a pop up in the incidence of a phone call with contact information and light context. That way, the representative has key details available at a glance. That immediate access to information facilitates a higher level of personalization.

In the event that you have a new employee or a team member in need of training, there's also features to help with that. You can carry out coaching in real-time with , ensuring that trainees are able to improve throughout a call. is also available, and provides training material and helps managers successfully monitor performance.

Finally, if ever a representative should need more context, there are call logs available which provide a record of the customer's communication. With those resources available, you and your team will be able to provide a seamless experience.
Flexibility
What could your teams accomplish if they aren't tethered to a landline phone system? Once you have a CTI in place, they can work from any web-connected device. Remote working will be easier than ever, and all the advanced telephony features are accessible from the agents' computers.
Performance analytics
Anytime you invest in a new addition to your business software, proving ROI is just as important as feedback from your team. Once you have a Salesforce CTI integration in place, both managers and team members have access to an . Spotting high and low performing team members will be a snap. Plus, once you can identify who is having success, it will be easier to isolate their best practices for dissemination amongst the team. Over the long term, you'll be able to optimize your customer service and to better serve demand.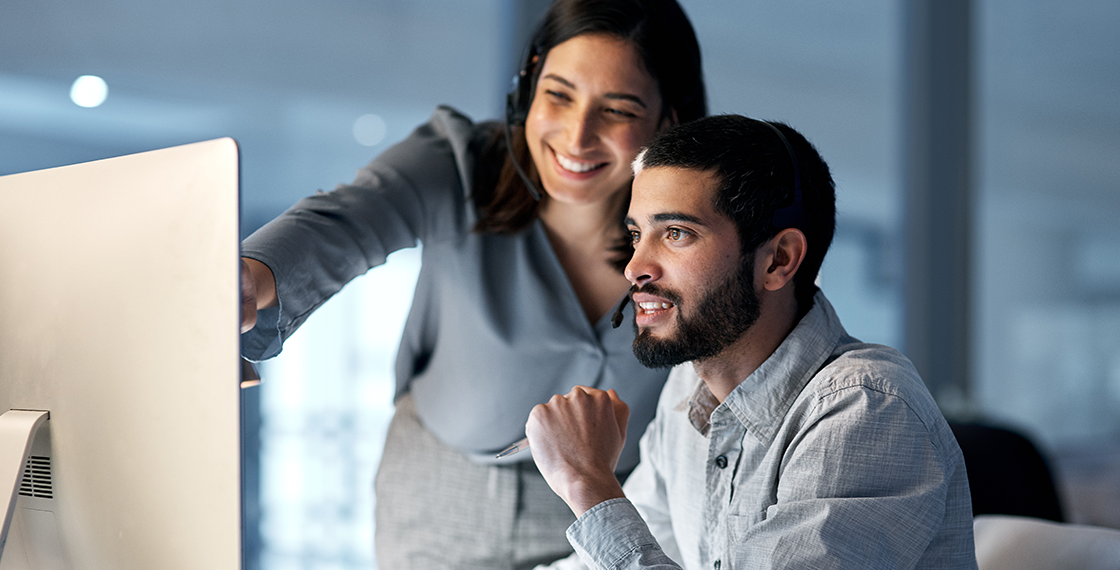 What are CTI features?
Installing this technology doesn't just mean you'll be able to make calls from within your customer relationship management software. You'll have access to several powerful features that ease daily life and support improved performance. Here are a few of the most popular functions.
Accessibility
Having your customer relationship software and business phone accessible in one interface on a desktop app is a game changer. With helpful resources at hand like and contact profiles, your team will have a consistent approach to service inquiries and sales calls. Not to mention, they'll be able to access that information as long as they have an Internet connection–so they can enjoy the flexibility expected from employers in the digital age.
Screen pop
With screen pops available, agents won't have to fumble for customer information in key moments. Instead, they'll be served all the necessary information to provide a seamless, informative customer experience. If you're looking to wow customers with personalized service, screen pops are the way to go. They ensure the relevant contact history is in front of an agent when the call connects, while helping agents efficiently serve the caller.
Automated dialing
An auto dialer goes far in improving agent efficiency and sales pipeline growth. Your team will stay on target by saving time manually dialing numbers, being able to upload multiple contact lists, and having resources at hand.
Transferring or call routing
Organization is a contact center's best friend, which is why being able to route calls is such a huge advantage. Rather than having an unregulated flow of incoming calls, you can set up call routing.

With that in place, you can direct callers to the team members or departments they need, so they get service more efficiently. Plus, you can also set up an IVR, which allows callers to self-select information or team members they need to speak to.
Integration with CRM
Needless to say, one of the major value-adds of a Salesforce CTI is that it combines telephony with your contact and lead information. You'll no longer need to worry about tedious tasks like entering the same information in both software, because all data will be synced between the two. Plus, you'll be able to work fluidly within the CRM because you'll have key features easily accessible.
Call recording and monitoring
For legal and quality reasons, call recording is a must-have for call and contact centers. As such, it's a coveted tool included in a Salesforce CTI. You'll be able to choose which calls are recorded so you're in compliance with regulations. And in the event you need to train employees, you'll have recorded examples already at hand. In the event the agent needs real-time advice, there's also call monitoring available.
How to integrate Salesforce into your contact center or call center
Ready to up the efficiency of your teams? Eliminate time-consuming tasks with an integration between Ringover and Salesforce. You can set it up in just a few easy steps.
Installation and set up
In this step, you'll get the integration set up.
Link your Salesforce account to your Ringover account by finding Salesforce in our integrations library.

Click "Activate."

Click "Allow."
That's it! Now you're ready to start configuring your profile.
Making and receiving calls
At this step, you'll choose which calls you want logged in your client files and configure your profile.
Open the "Setup" menu in Salesforce

Open the sub-menu "Call Center."

Click "Ringover Call Center CTI Adapter."

Click "Import" then "Choose File."

Select the XML file, then click "Import."

Then, you'll click "Manage call center users," then "Add more users."

Select "Find," select the users you want, then click "Add to Call Center."
At this point, the users you selected can begin using the Ringover-Salesforce integration.
Salesforce CTI pricing
You can get your CT set up for an affordable . If you're capable of setting up the integration with an API, you can subscribe to Ringover's SMART plan at $21 per user/month. And to have access to easy-to-use native integrations, it's as little as $44 per user/month. Both plans come with a wide selection of powerful productivity features to optimize the performance of your teams.
Salesforce CTI FAQ
What is a CTI in Salesforce?
Salesforce CTI (computer telephony integration) is a connection between Salesforce and your business phone system. With this integration in place, you'll be able to take advantage of advanced features like call recording, power dialing, call routing, screen pops, and more within Salesforce's interface.
What is the difference between Salesforce Lightning dialer and CTI?
Salesforce Lightning dialer is a feature created by and offered from Salesforce, whereas a CTI is offered from a third party. Both Salesforce Lightning dialer and a Salesforce CTI allow you to make calls from within the Salesforce interface, but CTIs offer a large suite of productivity functions to help you optimize performance.
What are the capabilities of Salesforce CTI?
Ideally, you'll get a wide selection of features from a Salesforce CTI, including call transfer, call routing, IVR, call recording, etc.
What are the benefits of open Salesforce CTI?
An integration between Salesforce and a CTI allows you to optimize your call center operations with telephony features like call recording, call routing, and more. In the long term, performance and productivity will both improve.