Auto Dialer App

The Best Auto Dialer App Supports the Sales Agents To Do Their Best

Ringover's auto-dialer app empowers agents to go above and beyond everyday call center functions.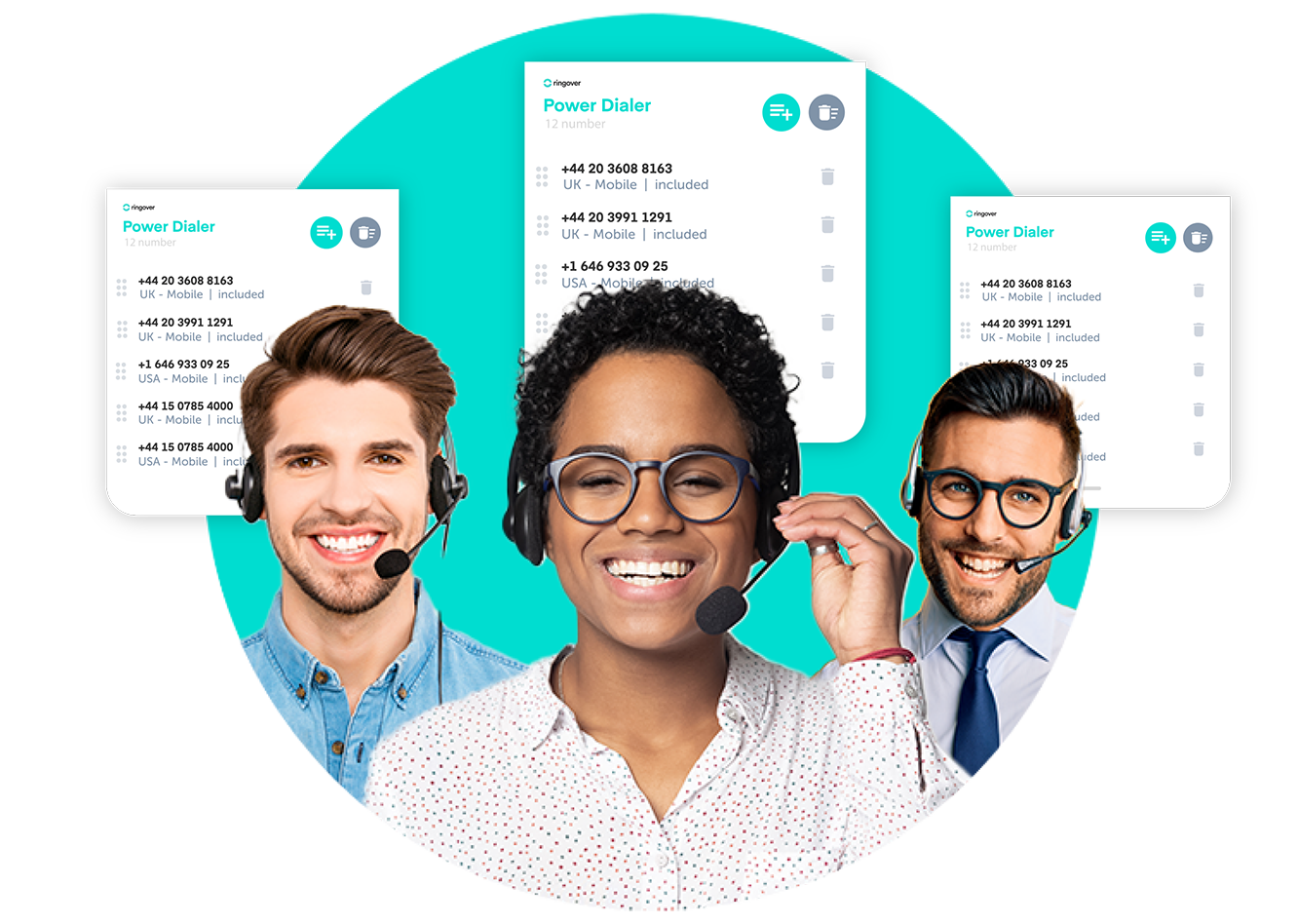 Maintain Productivity and Professionalism Among Agents
For sales teams, Ringover's advanced autodial app helps agents save on time, meet more buyers ready to purchase, and close sales faster, all with ease and efficiency. The autodialing app allows agents to load multiple lists in their panels at once. It also allows agents to make sure their calls stay on track with sales pitch script set-up and auto speed dial.
When selling to leads, referrals, current and past clients, Ringover's autodialing app saves sales agents from needing to manually dial numbers. Ringover's call center software gives agents three option for auto dialing, including:
Power Mode
Upload your list into Ringover, hit "start dialing," and the app takes care of the rest. Your contact's information instantly pops up, allowing you to tailor your approach and conversation.
Preview Mode
Get access to a list of numbers ready for a call. Simply click on the number to connect.
Uninterrupted Mode
Get into a rhythm of productivity and stay there with Uninterrupted mode. Ringover's autodial app will continue dialing the next numbers in your list so you can reach more people and 5x your sales on any given day.
Do More With Autodialing Than Just Calling
An autodialing app is only as powerful and useful as the call center software that supports its operations. Ringover is designed to do just that.
It provides agents a score of features designed to amplify their reach, including:
Make and receive unlimited calls to 80+ unlimited destinations, with no telemarketing delays, right from your smartphone or VOIP phone
Chrome extension for click-to-call right away
Preferred agent routing, custom call queues, cascading calls, call prioritization, and time-based routing
Tools for greater collaboration such as desktop notifications, an internal messenger for sales teams, call campaigns with mobile numbers, simplified internal calls, collaborative SMS, and more
Make Conversations and Connections More Personal
Customer satisfaction happens at multiple levels, through micro-moments of interaction with your skilled and savvy team of agents. So why not give them a way to get even deeper and build a stronger relationship with customers?
With Ringover's autodialing app on your side, you can boost conversion rates through more than just speed. While the autodialing app no doubt makes it faster and easier for agents to make calls, they can also use information about the prospect to anticipate their needs and provide better solutions that a customer is more likely to accept.
Plug-and-Play Integrations for Better Relationships
Ringover's autodialer app allows you to adapt the cloud contact center to the needs of your business using completely customizable integrations. Consistent customer experience and engagement lead to successful business outcomes, which is why Ringover offers powerful integrations that help your call center make dialing and connecting with customers one part of a larger solutions ecosystem.
Connect to the most popular CRMs and Helpdesks to significantly increase your agents' productivity and insights into every single call. Ringover neatly hooks into apps like Pipedrive, Zendesk, Freshdesk, Hubspot, Sellsy, Salesforce, Zoho, and more.
The best part is that you have complete control over which information is most relevant to your agents. Adjust the settings for contact numbers, contact synchronization, internal calling, and more. Then sit back and watch the autodial function deliver quality leads to your agents.
Get Detailed Insights Into Complete Call Center Service Activity
With Ringover's autodialing app powering up your call center service, you can expect a call management software that works more like a partner. It includes several features that will have your agents operating with speed and ease, while also giving managers and team leads the chance to review and improve agent KIs, call dispositions, script, and more.
Use Ringover's real-time statistics and call monitoring to get newbie agents up-to-speed and outperform the competition fast. You can also use cool-off timers to offer feedback, and set up alerts that help you keep your focus on the pulse of critical activity levels that need your attention.
Auto Dialer App FAQ
What is an Auto dialer App?
How Does the Auto dialer App Work?
What are the Benefits for Sales People When Using Auto dialer Apps?
Why Should Your Business Use Autodialer Apps?
What is an auto dialer system?
How do I make a phone call automatically?
Are automatic dialers illegal?
Is there an app to continuously call a number?
What is an Auto dialer App?
An autodialer app is a software that makes it easy for agents, usually those operating in a call center, to handle large call lists in a quick and easy format. It eliminates the need for manual dialing and simply lines up the calls, based on specific parameters that an agent can control, thereby streamlining the customer experience with the call.
How Does the Auto dialer App Work?
Though autodialing apps can be used for setting appointments or following up on leads, even an inbound cloud contact center can work with this kind of call management software. The software is usually user-friendly, providing access to call lists, tracking busy and dropped calls, offering call prioritization, and keeping agents from wasting their time with DND lists. Because agents don't have to manually dial, they can move through their contact goals much faster. They're also not at risk of wasting time with costly misdialing.
What are the Benefits for Sales People When Using Auto dialer Apps?
Naturally, the number one benefit of an auto dialer app is that it completely streamlines the minutiae of the sales process. The idea is that, if agents aren't bogged down with dialing, looking for customer information, trying to find the right scripts, and such time-consuming things, they'll be much more likely to close a sale because they're simply focused on the customer.
Auto dialer apps usually come with a business call center software that offers these related support features that address every aspect of the customer experience — from the moment the agent connects to the quality of the call, the depth of information about the customer they have, and the moment they end and move on to their next prospect.
Why Should Your Business Use Autodialer Apps?
An auto dialer app isn't for every business. Certain small businesses don't need an auto dialer app because they don't have a solid customer base yet, or because their leads are still thin. However, there are several use cases for an auto dialer app.
For example, an auto dialer app can help startups create a much better experience for prospects and agents when cold-calling. Your business can benefit from an auto dialer app if you've determined that your agents or sales team are spending too much time organizing the call and not enough time on the call. It can also help supervisors within businesses refine and perfect teh sales closing process through analytics and call monitoring.
What is an auto dialer system?
An auto dialer system is an outbound dialer tool that dials numbers automatically from a predefined list of contacts. It helps organizations with high-volume calls, telemarketing companies, outbound call centers, and contact centers save time, reach a wider audience, meet targets, increase lead generation, and reduce manual efforts.
An auto dialer app has different dialing modes, such as:
Predictive: Simultaneously dials multiple numbers and assigns connected calls to available agents.
Power: Dials numbers one after the other from a predefined set of contacts.
Preview: Gives agents relevant customer information to make a personalized pitch before dialing numbers.
Typically, auto dialer apps are a built-in feature of contact center software and business phone systems. After the call connects, you can play pre-recorded messages or directly connect the call to a live agent. You can also use it along with voicemail drop to leave voicemail messages.
How do I make a phone call automatically?
You can make phone calls automatically using an auto dialer app. Most contact center software solutions and business phone systems offer it as a built-in feature. Once you activate the feature and configure it as per your needs, it starts dialing numbers from a pre-set list of contacts.
You can use an auto dialer app in different modes. For instance, the power mode dials a new number after the agent has completed the previous call. Predictive dialing dials many numbers simultaneously and connects live calls to available agents. You can choose the preview dialing mode to check customer information before dialing.
Further, you can decide what to do once the call connects. You can direct the call to a live agent or play pre-recorded scripts to make a sales pitch. You can also drop a voicemail message if the called party does not answer.
Are automatic dialers illegal?
No. Using automatic dialers for sales, telemarketing, and cold-calling campaigns is legal in most countries, including the US. However, many countries have strict regulations and laws around telemarketing practices, including auto dialers and robocalls. You must comply with these laws while using auto dialer apps, or it could lead to penalties.
If your business is in the US, you must adhere to the Telephone Consumer Protection Act (TCPA) while using an auto dialer app. According to TCPA, you must have obtained prior consent from prospects before making calls using automated calling software. Furthermore, you must check the national Do Not Call (DNC) registry before using auto dialers. Check the complete laws here.
Each state may also have individual laws around telemarketing practices. You must check and abide by the regulations in your country and the called party's country before using an auto dialer app to avoid penalties.
Is there an app to continuously call a number?
Yes. You can use auto redial apps to automatically redial phone numbers when the called party doesn't answer or when the phone line is busy. Auto Dialer, Auto Redial, Calley, Auto Recall, and ReCalling are some of the popular automatic redialing apps in the market. They let you set the number of attempts, the interval between calls, call duration, and other criteria.
However, these apps are designed for mobile devices and benefit small business owners and solopreneurs who use mobile devices for business communications. If you are a business organization, such apps are not ideal for high-volume cold calling or telemarketing campaigns.
Business organizations can use auto dialer software to enjoy the same functionality. While uploading the contacts, you can enter the number of attempts per contact and the interval between them. The auto dialer app will redial the number repeatedly based on the parameters you set.
Optimize your cold calling and telemarketing campaigns with the auto dialer app from Ringover. It is an advanced calling feature included in the business phone system and saves your agents from the pain of manually entering hundreds of numbers. With this feature, you can run multiple campaigns, reduce dial time, increase lead generation and dial rates, and boost sales.