Business phone system
Best cloud phone systems reviewed and compared. A buyer's guide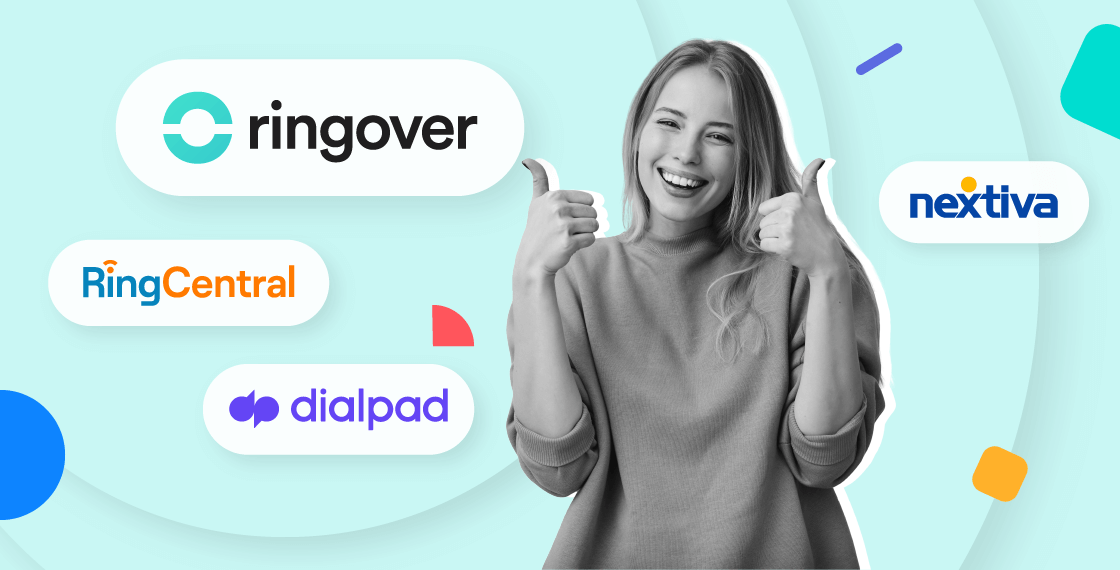 Cloud phone systems are easy to set up and use, enriched with numerous features and available in budget-friendly plans for businesses of all sizes. There's no extra hardware required and employees can make and receive calls from their laptops and desktops or their smartphones. If that wasn't enough, cloud phone systems also offer advanced call metrics and analytics. The global VoIP market is expected to be valued at by 2025.

Given the advantages it offers over PBX phone systems and in turn, its popularity, there are many service providers in the market. So, how do you choose the best cloud phone system for your business? Here's a quick guide.
What are cloud-based phone systems?
Cloud-based phone systems are communication systems that allow you to communicate via voice and video calls and exchange messages over the internet rather than cables and wires.

Signing up with a cloud phone system gives businesses new virtual numbers that are linked not to devices but rather to accounts. Thus, you can access the same number from different devices. When you dial a number from your cloud phone account and speak into the phone, the audio files are digitized, compressed and transferred over the internet to the recipient where the files are decompressed and converted back to analog form. All of this happens in real time with no discernable lag in conversation.
What are the three main types of cloud systems?
Cloud phone systems can be categorized as:
VoIP Systems
VoIP (Voice Over Internet Protocol) systems are the simplest form of cloud phone systems. This service is limited to voice and video calls. These calls may be made to other VoIP accounts or phone numbers linked to regular PBX systems.
UCaaS Systems
UCaaS (Unified Communications as a Service) expands on the capabilities of VoIP telephony to include multiple communication channels. This is intended mainly for internal team communication and collaboration. In addition to voice and video calls, you can exchange messages and speak to a group of people simultaneously through video conference calls. Email interfaces are also integrated into the same dashboard to unify these communication channels.

UCaaS systems also include features such as screen sharing and virtual dashboards. This encourages collaboration between remote team members.
CCaaS Systems
CCaaS (Contact Center as a Service) systems go a step further from UCaaS systems to connect brands and their customers. The focus of these systems is to improve customer relationships and deliver personalized customer service. Along with features offered by UCaaS systems, CCaaS also has several value-added features such as IVR call routing, custom greetings, CRM integrations and advanced analytics.
How much does a cloud phone system cost?
Cloud phone systems cost a fraction of PBX systems. Unlike PBX systems, there is no initial cost since no additional hardware is required to set up the cloud phone systems. All you need is a high-speed internet connection.

Most cloud phone systems offer subscription-based plans that are payable on a monthly or annual basis. There is no long-term commitment required for a cloud phone system. That said, subscription costs vary based on the services and features included.

VoIP subscriptions are typically the cheapest while CCaaS subscriptions are the most expensive of the three cloud phone system types. Overall, costs can range between $10 per user per month and $200 per user per month. Some service providers may offer certain features as add-on packs. In addition to the subscription fee, one must also be aware of call costs. Cloud phone systems include to certain destinations while calls to other destinations are billed at a location-based per-minute rate.

Cloud phone system service providers typically offer tiered plans with varying subscription rates. For example, Ringover's starter plan, Smart, is priced at merely $21 per user/month, the Business plan at $44 per user/month, and the Advanced plan at $54 per user/month. The more advanced the plan, the more sophisticated the telephony features available. Those functionalities include Ring Groups, customizable call queues, Power Dialer, automatic call logs and integrations.


Try the best cloud phone system for free
What are examples of cloud phones?
Some of the most popular cloud phone service providers are:
Ringover
One of the best cloud phone systems, Ringover, is a powerful cloud phone system ideal for small and growing companies. This all-in-one communication platform is easy to use. It offers 2 preset monthly plans and the option to customize a plan to suit large enterprises.

Ringover subscription starts at £19 per user per month. Some of the key features that make Ringover popular as a business phone system are the ability to get a virtual number in 65 countries, unlimited calls to 110 destinations, , IVR-based call routing, call monitoring, call recording, and 60+ software integrations.
Nextiva
Nextiva is a popular cloud-based business communication system that leverages VoIP technology for voice and video communication. Nextiva has three business communication plans with prices varying not only by features but also by the number of users.

For example, the Nextiva starter plan is priced at $23.95 per user per month for teams of up to 4 users and $18.95 per user per month for teams of 20-99 members. This is inclusive of unlimited calls within the USA and Canada, video calls of limited duration, call log reports, team status reports and customizable hold music.
Dialpad
The Dialpad business communication platform is designed to ease internal and external communication. Their business communication services are structured in 3 plans starting from $15 per user per month if billed annually and $23 per user per month if billed monthly.

Dialpad offers communication through voice and video as well as text messaging in 70+ countries. Some of the features offered by Dialpad include unlimited domestic calls, call routing, multi-level auto attendants, live call transcription and call recording.
RingCentral
The RingCentral cloud phone system is suitable for small and large businesses. It unifies voice and video calling, conferencing, messaging and faxing onto a single platform. The services are structured in 4 levels starting from $19.99 per user per month. The starter plan is available only to teams of up to 20 users.

Prices for the other three plans are lowered for teams with 100+ users. While this may make it expensive for small companies, it could work better for large enterprises. In addition to voice and video calling, RingCentral offers features such as voicemail to text, team messaging, document sharing and integrations with Microsoft 365, Google Workspace and more.
How to find the best cloud-based phone system for your business?
Finding a cloud-based phone system ideal for your business is a matter of finding a plan with all the required features that fits your team size and budget. Some of the points in mind when comparing the best cloud phone systems services are:
Features
offer many features. Some are essential while others may be optional to certain businesses. Before deciding on a plan, you must consider what features you need to prioritize. Some of the key features beneficial to businesses are:
Rather than have callers wait to be transferred from person to person, a call routing system should be available to direct all incoming calls to the relevant department. An uses caller inputs and a customized menu to direct calls. Alternatively, a virtual receptionist may be installed to guide callers. Call routing not only shortens the wait time for callers but also minimizes the number of calls that go unanswered.
When you have a large team, keeping track of each agent's productivity manually can be difficult. Cloud phone systems give administrators and supervisors access to user statuses as to whether they are available or busy as well as the average duration of their calls and other call metrics. A good phone system should also give you access to advanced call monitoring features such as double listening, call whispering and call barging. This allows agents to listen to live calls and guide agents toward resolving issues without the knowledge of the customer or taking over a call if required.

Since the number of agents will be much higher than the number of supervisors, all calls cannot be monitored while they are ongoing. Hence, the chosen service provider should also ideally have call recording and transcription services.
To maximize productivity, you should be able to integrate your communication system with other existing systems. For example, integrating communication and workflow management makes internal collaboration smoother. Similarly, communication and CRM platform integration allows you to deliver personalized customer experiences and win your customer's loyalty.
You should also be able to get detailed reports on call statistics and other KPIs such as agent availability, pick-up rate, service call quality, etc. in an easy-to-read form. For easier analysis, you should be able to filter these reports by user, department, etc. Call metrics should also be accessible such that they can be processed externally according to your needs.
Lastly, given that the responsibility of system maintenance and updates falls to the service provider, they must be known for good service and reliability. Some service providers limit the availability of their customer service representatives to certain days of the week while others offer 24/7 support. If you cater to international audiences, the latter will be preferable. In addition to phone support, the service provider should also offer text and email support.
Ease of use
Along with the features offered, the cloud-based phone system you choose must also be easy to install and use. Most service providers have easy setup processes that can be completed online.

In terms of accessibility, you must check whether mobile applications for Android and iOS devices and desktop applications are available and how easy they are to use. Some people may still be more comfortable using traditional phone handsets rather than installing apps on their smartphones. Hence, also look into the availability of desk phone support.
Scalability
You would not want to change your entire communication system as your team grows. For example, when your business has a small team of just about 10 employees, the RingCentral starter pack may be adequate for your needs. However, when your team crosses the 20 user mark, you will not be eligible for this plan and be forced to upgrade to a more expensive plan or change your service provider.

What you need is a cloud-based communication system that is easy to scale up or down. The Ringover's plans have no limits on the number of users permitted. Hence, you can maintain the same plan and simply add or remove a user from the administrative dashboard.
Geographical flexibility
One of the main benefits of a cloud-based phone system is that it helps companies expand their presence beyond the places where they already have offices. When it comes to cold calling, people are more willing to answer calls from local numbers as compared to calls from international numbers. Hence, you must find out what countries and area codes you can get a local number in.

A cloud-based phone system allows you to make international calls at a fraction of the cost charged by PBX phone systems. Calls to certain locations are free while others are billed at per-minute rates.

Keep this in mind when comparing plans and choose a plan that maximizes the number of locations included for free calling. For example, Dialpad offers unlimited calling in the USA, Canada and your country while Ringover offers free calls to 90 destinations.
What is the best cloud phone?
In terms of being feature-rich and budget-friendly, Ringover is the ideal cloud phone system for growing businesses. It is easy to use, flexible and easy to scale up or down.

With well-structured plans that offer a range of features that could help improve communication and collaboration within your organization, it offers value for money and improves your ability to give customers the superior experience they expect.

If you're not sure which plan suits your needs better, Ringover offers a free 7-day trial for up to three users and up to 120 minutes of outbound calling. Try it today!