Business phone system
How the Ringover and HubSpot Integration Helps Businesses Contact their Communities with Ease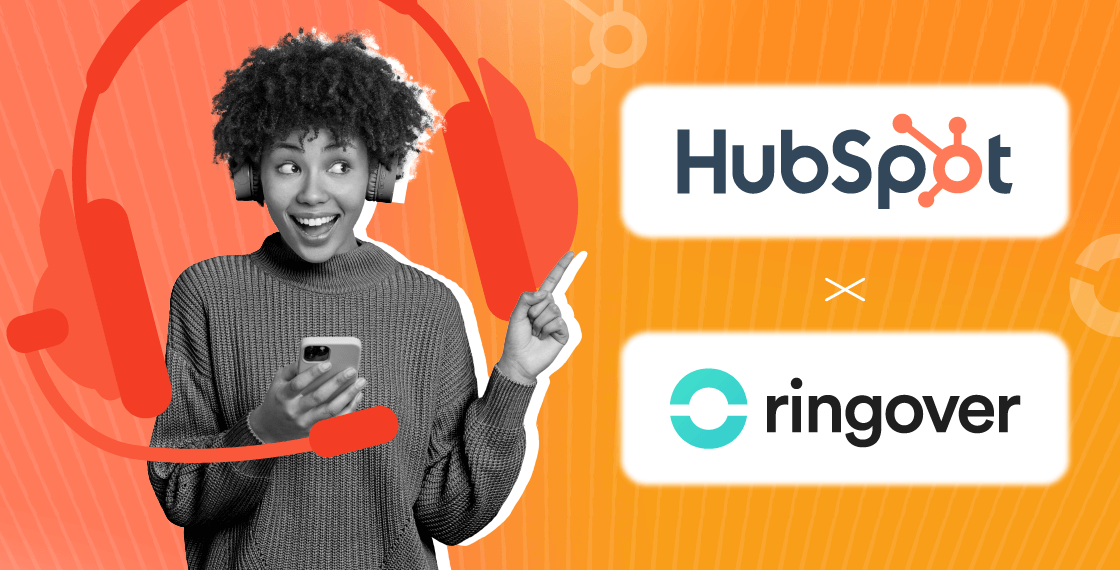 Ringover and HubSpot work together to create seamless external-facing communication processes.No matter what kind of service or product your company provides, you likely have several external-facing teams working hard every day, selling new products and upselling, supporting customers through challenges, and connecting with potential new hires. Providing these teams with the best tools helps reduce job friction, save time, and generate more growth opportunities for your company. Ringover is a cloud-based phone system that helps teams of all sizes improve customer service, boost sales, and work more efficiently than ever. With Ringover, teams can make unlimited international calls to 110 destinations. HubSpot is a powerful CRM system that keeps customer information organized and ready to use in marketing campaigns, service calls, sales opportunities, and more. By connecting Ringover and HubSpot, communicating with leads, prospects, customers, and advocates are straightforward and quick. Whether the salesperson or care agent is on their 10th call with a contact or their first, they'll always have all the relevant information available — from contact information to product purchase history to level of happiness with the company's services.
What are the benefits of the Ringover and HubSpot integration?
Everyone at your company can benefit from the Ringover and HubSpot integration. When sales teams, recruitment, marketing, and customer service all have access to up-to-date, easily accessible contact information linked from their CRM to their phone system, they can work more efficiently while improving the customer experience. It's especially useful for companies that are growing and need the flexibility to add phone licenses, as well as companies that have gone fully hybrid. And for management teams looking to keep an eye on the productivity and effectiveness of their customer-facing teams, this integration provides useful analytics and helps create effective training materials. By connecting Ringover and HubSpot, you can save teams time and money, and allow for increased visibility and a better experience for every customer throughout their journey with your company.
3 ways to use Ringover and HubSpot to improve customer success
1. Ringover contact info pops up in HubSpot for every call, increasing continuity
Ringover and HubSpot customers use this integration to have the contact information collected through Ringover communications be available in HubSpot CRM.Data is automatically synced from Ringover to HubSpot, including the call itself, text history, call notes, call tags, call recordings, and voicemails. And your complete, detailed list of contacts is synced from HubSpot into Ringover, so prepping for calls and connecting the call is a one-click affair.
And there's no need to switch screens: Sales and customer care agents receiving an inbound call can click on the HubSpot link in Ringover to view the caller's CRM file before picking up the call, and if the caller is new and unknown, HubSpot can automatically create a new contact for them. Example: When a recruiter has gone on vacation, their manager can add a new point person to pick up on their active projects. With the Ringover integration with HubSpot, the temporary point person will have access to the call conversation history and be up to speed so they can continue to find the right prospects for their clients.
2. Automatic ticket and contact creation
The Ringover + HubSpot integration allows automatic ticket and contact creation when a new prospect gets in touch. As sales and customer care agents do their jobs and call contacts all day, Ringover facilitates the calls and collects information and user history ready to be logged and tagged in HubSpot. Logs for calls, text messages, voicemails, and call recordings, including agent notes and tags, sync onto the right contact timeline in HubSpot directly from Ringover.
Example: After seeing a compelling new TV ad, an unknown prospect calls the general inquiries line at your company. The call is immediately routed to your inbound sales team, who will have a pleasant conversation with the caller, collecting as much information as possible and maybe even selling a product or two on this first conversation. No matter what happens in the call, the call is recorded and tagged, a new contact profile is automatically created in HubSpot, and all the relevant information is added automatically. And next time anyone at your company gets in touch with this caller, whether for an upsell or for a customer service call, all their history will be easy to access right in HubSpot.
3. Track performance of sales and service teams
The HubSpot and Ringover integration helps managers keep a close eye on the performance of their customer service and sales reps with filterable statistics generated in real-time. Training customer-facing teams are easier with monitoring tools like call recordings, live call feed, double-listening, and call whisper features in Ringover. Sales, recruiting, and customer service teams will have access to call conversations to learn and improve, and to be able to provide better service.
Example: A brief outage led to a wave of customer care calls on a Wednesday morning. Once the issues are all resolved, customer care managers can go through the HubSpot and Ringover statistics about call length and success rate to determine which customer care agents were the big heroes of the day. Then, these customer service stars can be promoted, and they can assist in creating pieces of training for the whole team, using successful call recordings as training tools.
How Talent.io's improved efficiency and boosted ROI with HubSpot and Ringover
Talent.io connected their Ringover system with their HubSpot CRM, improved efficiency and push the capabilities of their bespoke tools, leading to greater ROI.Ringover and HubSpot have allowed Talent.io to save money on expensive phone bills with unlimited calls to Europe, allowing them to execute effective telemarketing campaigns from anywhere. Remote teams can view key conversations from anywhere, allowing for greater flexibility in hiring new teammates. Ultimately, they now have a powerful CRM that holds the key to all their contact info across the customer journey, and they have a reliable phone system that doesn't put their plans for growth on hold.Learn more about Ringover and HubSpot and how they can help your company's customer-facing teams do more upsells and provide better support than ever before.
Using HubSpot and are interested in connecting it to the world's most powerful phone system?
Contact one of our experts on 020 3808 5555 or drop an email to sales@ringover.com. Start your free trial today.