Call center
Pipedrive WhatsApp Integration
WhatsApp is an ubiquitous communications platform–and its widespread use has attracted the attention of more and more businesses. So much so that users of popular CRMs like Pipedrive see a Pipedrive-WhatsApp integration as a necessity.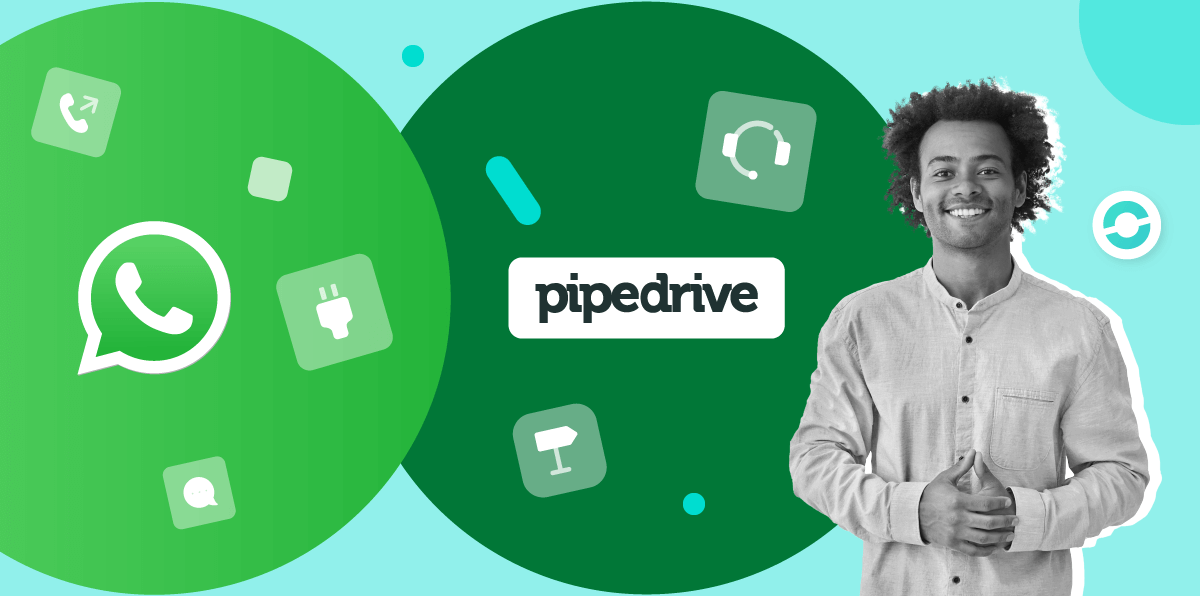 Does Pipedrive integrate with WhatsApp?
Currently, there's no native integration between Pipedrive and WhatsApp, though it existed in the past. The out-of-the-box integration is no longer available as of Aug. 23, 2023. Lucky you if you have already been using the integration, as you'll continue to have access to it. But for those of you who are just now looking into combining the two apps, you'll have to use a third-party app.


Pipedrive-WhatsApp Integration Free Trial


One cost-effective option is integrating Pipedrive with a provider like Ringover, which offers WhatsApp messaging as part of its . A connection between these two apps allow you to manage your messages in one intuitive interface. Plus, all the messages will be automatically logged in Pipedrive in the contact's profile. You'll not only be able to easily keep track of WhatsApp messages, but also , calls, , and more. The fact that these things are automatically logged helps your team to eliminate tedious data entry tasks.
How to integrate WhatsApp with Pipedrive
First, you'll need to have a Ringover Business or Advanced account, which gives you access to advanced communications including WhatsApp. Then you can set up the Pipedrive-WhatsApp integration either from the Ringover or Pipedrive interfaces.
From Ringover
Navigate to your dashboard and click "Integrations."

Click "Enable Pipedrive V2 Integration."

Select "Allow and Install."

Configure your setting according to your needs.

Begin enjoying the benefits of your integration!
From Pipedrive
Access the Pipedrive marketplace.

Click "Install now."

Choose the integration settings according to your needs.

Enjoy the benefits the integration brings.
Benefits of Pipedrive WhatsApp integration
Using WhatsApp to develop your business opens up a powerful new communication channel. Here are just a few of the benefits integrating WhatsApp with your Pipedrive CRM can bring to your business.
High quality leads
These days, personalization is key to developing and eventually converting a prospect. So if you can reach a lead through an application they use for their everyday personal communications–like WhatsApp!–you'll increase your chances of fostering that personal connection. Not to mention, when you've used a Ringover-Pipedrive integration, any of your representatives will be able to easily pick up a conversation because the interaction history will be recorded in the app and easily accessible.
Stellar customer service
From a customer's point of view, convenience is top priority when it comes to customer service. So being able to resolve questions or concerns through a simple WhatsApp message is a significant perk to offer your client base. Not to mention, you can also help them shop smarter by sending alerts about new products, promotions, or company news bulletins.
Encourage buyer intent
Buyer intent refers to how likely a person is to convert and make a purchase. This is obviously something brands want to strongly encourage among their contacts. Now you can launch WhatsApp conversations with your leads, it's much easier to send them useful information like updates on upcoming products, or even educational materials on the products they've already purchased. You can even encourage upselling or cross-selling through WhatsApp messages. The most important aspect of these types of exchanges is that you provide contacts with educational and useful content, so they find value in the messages they receive.
Can you send SMS or texts with Pipedrive?
You cannot send SMS or text messages with Pipedrive, which is why you'll have to integrate Pipedrive with a third party application. You can simplify the process by opting for a business communications software like Ringover, which offers WhatsApp in addition to many other communication channels.

Once you've got access to Whatsapp through the Ringover-Pipedrive integration, you'll be able to not only send Whatsapp SMS messages, but also send media, voice messages, QR codes, and more. Overall, you'll have many more tools available to your teams to engage prospects and customers, develop buyer intent, and provide a stellar customer experience.
Pipedrive WhatsApp Integration FAQ
Does Pipedrive integrate with WhatsApp?
WhatsApp and Pipedrive don't have a native integration available. To connect these two software, you'll need to use a third party application like Ringover. Once you have a Ringover-Pipedrive integration in place, you'll be able to send and receive WhatsApp messages from one centralized and intuitive interface.
Is WhatsApp integration free?
You can access the WhatsApp API for free, but then you'll be charged for conversations. If you plan to use WhatsApp as an important communication channel as you develop your business, it would be more cost-effective to invest in a service such as Ringover, which offers WhatsApp as one of its communication channels.
How do I connect WhatsApp Business to CRM?
To connect WhatsApp Business to your Pipedrive CRM, you'll need a Ringover Business or Advanced account. Then you can simply set up an integration between Ringover and Pipedrive to begin using WhatsApp to reach out to contacts in your Pipedrive CRM. Though it may seem simpler to set up a direct integration between your CRM and WhatsApp Business, there's no native integration available between Pipedrive and WhatsApp Business. That's why you need to pull in a third-party business application like Ringover.