Business phone system
PABX vs PBX
A PBX (Private Branch Exchange) refers to a phone system handling internal calls within an organization, while a PABX (Private Automatic Branch Exchange) specifically denotes an automated version of a PBX system.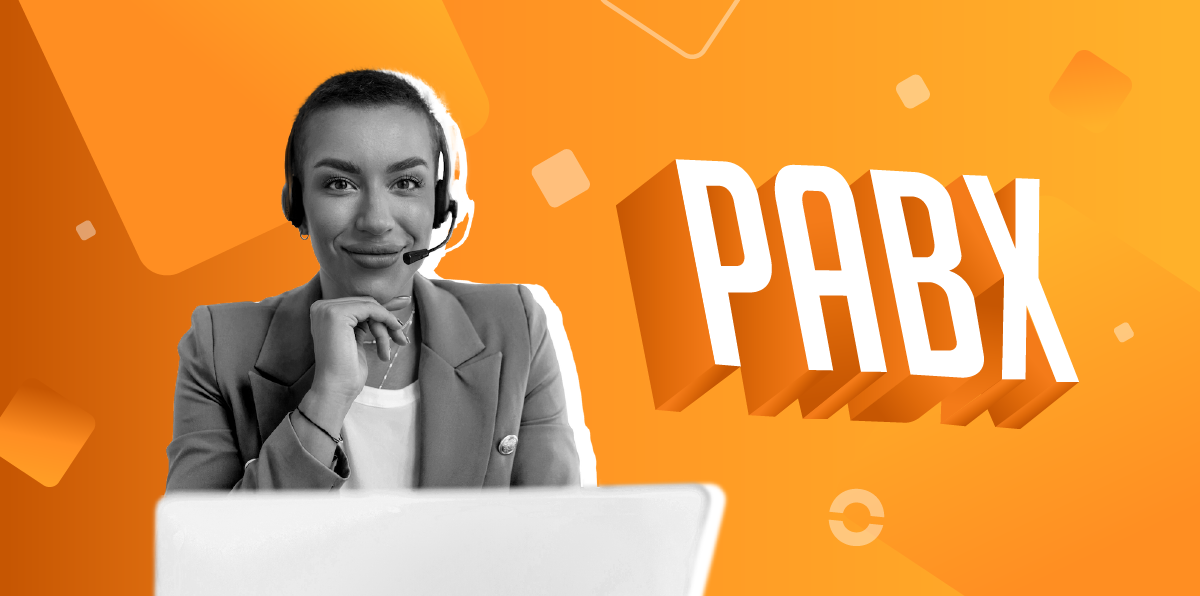 Try the PABX for free


As you most likely know already, is essential to guaranteeing a good phone greeting for your callers. All the more so given that the phone remains the preferred contact method for interacting with customer services. Amongst many solutions available to provide telephony for your business, is the PABX is a PSTN-based system, and the IPBX which uses the internet.

You may well be wondering which one is the right choice for your company! These two technologies give you access to a multitude of services and various features, with the aim of making your telephony an essential element within your business. That said, with the discontinuation of the PSTN, the PABX will soon be stepping aside to let the IPBX take over. In this article, we'll take a look at the PABX, which is a technology that has progressed over decades to become the standard for countless businesses.

You'll learn more about how it works, its pros and cons, and its differences compared with the IPBX, and why it'll soon be a thing of the past.
What is a PABX?
The PABX (Private Automatic Branch eXchange) or PBX is an automatic branch exchange, hosted within a company. That probably doesn't mean much to you… To make things clearer, it's a telephone equipment system that allows a company to automatically manage communications between multiple phone terminals and to connect them to the public telephone network (for external calls). The PBX is a classic which has all of the useful features of business telephony, such as IVR configuration, (ACD), internal or external calls, pre-pick up, call queues, and even call recording. It's based on analogue technology, unlike the IPBX which uses VoIP.
The history of PBX systems
In principle, most of us are familiar with the PABX, which is the switchboard connected to the easily spotted "T" socket (that really shows our age…). However, before the PABX that we know today, the system progressed through several evolutionary stages. The first PBX system was developed in the 1980s, shortly after the creation of the first telephony, and required the intervention of a human operator to manually redirect calls. From the early 1960s, businesses started to set up their own PBX equipment and were able to start reducing their telecoms costs. For those with limited financial resources, they bought or rented a small number of phone lines and switchboard blocks from operators. Around 10 years later, a rapidly growing number of professionals were starting to use the PABX. By the early 1970s, businesses were abandoning the public network as they discovered the advantages of the private branch exchange: Call transfers, terminal numbering, answer phone set-up, etc.
The main historic suppliers of PABX
1. Alcatel-Lucent
Alcatel offers PABX switchboards, suitable for all types of business. Alcatel's PABX solutions can be deployed in all PSTN, ASL or Trunk SIP environments.
2. Mitel
Mitel is one of the leaders in unified communications and collaboration. The company offers a wide range of products, from the IPBX to servers and even terminals and phone accessories.
3. Avaya
Avaya, an international specialist in the field of business communications, offers a comprehensive set of services including business telephony, call centre services, and PABX maintenance.
4. Panasonic
Panasonic is a large Japanese group specialising in electronics for private and business use alike. The company has been providing PBX telephony systems for businesses around the world for more than 30 years.
5. Siemens
Siemens offers a range of phone switchboards essentially suited to small structures, namely start-ups and SMEs. Siemens offers a comprehensive range of mini phone switchboards at very affordable prices, perfect for start-ups.
6. Cisco Systems
Cisco specialises in network equipment and servers, and IP telephony products, covering PBX systems suited to the phone systems of SMEs and large corporations alike.
PBX, PABX and IPBX: What's the difference?
PABX: The private phone switchboard
The PABX is a private automatic branch exchange hosted on the premises of a company. It automatises communications between multiple terminals and establishes communications with external lines via the business' telecommunication network, independent from the IT network.
IPBX: The IP phone switchboard
The IPBX (Internet Protocol Private Branch eXchange), also referred to as IP PBX IP, is a private branch exchange using the Internet Protocol (IP) to handle a company's phone calls. Unlike the PABX, IP terminals are connected to the same network as computers and have access to the IP telephony operator's network through the IPBX. So, the IPBX is basically an improved version of the PABX as it works in the same way, just using VoIP instead. That said, it does allow business users to access a certain number of advanced extra features over PBX: Video calls, multimedia document sharing, opening hour configuration for the switchboard, and even integrations into business tools. That's what we offer you with Ringover. Not bad, right?
A technology's that's dying out
A PABX uses the historic copper-line network to transmit telephone communications. This is what makes it different to the IPBX, which instead uses the internet network and Voice over Internet Protocol (VoIP) technologies. This traditional switchboard connects to classic analogue terminals, as well as digital terminals: Phones, modems, fax machines… It can also be connected to DECT telephones and terminals (cordless technologies). Nevertheless, even if the PABX remains widely used in France, it's slowly but surely dying out with the discontinuation of the PSTN, giving way to IP telephony technologies (VoIP). Businesses using the PABX therefore need to switch over to the IPBX, or even better, to a solution offered in the form of a subscription service.
The pros of a PABX
Better call distribution
One of the advantages of a PABX is that it allows you to access better call distribution over terminals connected directly to phone lines, independently from one another. Why? Simply because it offers you the option of setting up a high-quality telephony greeting, an Interactive Voice Response, and to establish distribution scenarios. With simple phone lines, which is all impossible.
The cons of a PABX
Imminent obsolescence
As we mentioned before, the PABX uses the copper network to operate. However, with the arrival of countless IP solutions, this system is widely starting to be overcome by competition. Then, there's the 2023 discontinuation of the PSTN. With all this, it's clear that the PABX isn't such a great investment these days…
High maintenance costs
Of course, the purchase of a PABX switchboard won't cost you a lot. However, it's a system that comes with a lot of hidden (or at least not upfront) costs: Installation, maintenance, and technical support costs can all quickly add up. In relation to this, it's worth noting that a Centrex is much more budget-friendly: No hidden costs and permanent updates.
Expensive communications
Calls overseas or to mobile numbers can entail big communication bills. In other words, it risks becoming complicated when you're communicating with international customers or subsidiaries (unless you really have a big budget for it). More necessary than ever before, IP operators are facilitating long-distance communications.
Limited flexibility
The use of a PABX can soon show its limits: You can't change your infrastructure on your own, and you'll systematically need to do it through your operator. This is a system that requires you to pre-plan your long-term needs.
The arrival of open-source solutions
Over the past few years, businesses have been converting to open-source software. Why? First of all, because they're cheaper. Well, that's not all! Open-source solution suppliers guarantee technical support for users and offer a high-quality and secure software.

All users can suggest modifications. That's why open-source software can be a good alternative if security and budgets are important factors in your decision-making process. This applies all the more so given that, often, requiring a certain level of security entails a dedicated budget for security.

Asterisk is an open-source solution which enables business communications, regardless of the company size or business sector. Its creations also led to several projects aimed at designing open-source IPBX, such as CallWeaver, FreeSwitch, and Bayonne. The use of an open-source solution offers the option of transforming a simple computer into a PABX, thus allowing users to access basic features via a web interface (IVR, group call management, or even call queues, etc.).

The main downside of this type of solution is the service quality. As the voice needs to be transmitted "in real time", it requires QoS mechanisms in order to prioritise the voice over network data.
Take control over your communications with Ringover
Choosing your business telephony is a big deal! One thing that we can all agree on is that investing in equipment that is practically obsolete isn't a very smart business move. Not only will it cost you money, but you'll also need to replace it in the near future. If you already have a classic PABX, don't panic!

There are solutions that allow you to simply convert your PABX into an IPBX, and it won't blow through your budget. We can't lie — an IPBX offers so many more advantages than a PABX. Ringover is a SaaS solution presented in the form of a hosted IPBX, or a Cloud PBX, allowing you to access a multitude of advanced features via a simple and ergonomic interface.

No need for installation hassle! In just a few clicks, you can set up your IVR and start making and taking calls straight away. Get in touch with a member of our sales team today.