Call center
Which are the best providers of phone services for small businesses?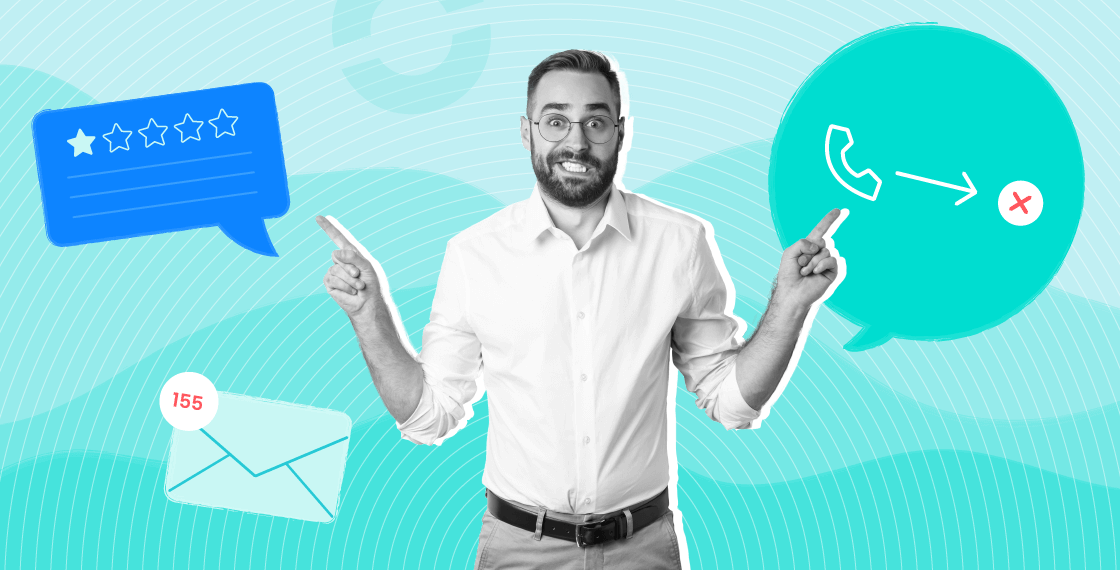 Small businesses often make do with personal or traditional phones when they start. However, as they grow, they need something more scalable, feature-rich, customizable, and collaborative – a phone system designed for businesses.

Here is where VoIP come into play. Voice over Internet Protocol (VoIP) is a technology that facilitates incoming and outgoing calls through the internet.

While the VoIP phone system does everything a regular phone does, it also has several business-friendly features, such as power dialers, call transfer, video conferencing, etc., that help streamline communications.

But how do you choose small business phone service providers or set up the phone system? Let us find out.
How do I set up a business phone service?
The main advantage of choosing VoIP phone services for small businesses is that there are no hardware requirements. Since VoIP telephony sends and receives calls over the internet, you only require the following:
Subscription to a VoIP business phone service

A stable internet connection with good speed and bandwidth

Internet-enabled devices like laptops, desktops, smartphones, or tablets
Steps to install a business phone system
Step 1: Firstly, you must have an account with a service provider like Ringover. Choose one based on your requirements and budget.

Step 2: Subscribe to a business phone plan.

Step 3: Invest in the right equipment. You do not need extra equipment to access the system through the web or mobile apps. However, if you are setting up an on-premise VoIP phone system, you will need VoIP desk phones, modems, routers, VoIP headsets, etc.

Step 4: Get your business phone numbers. Most VoIP service providers offer numbers for each user as part of their plans.

Step 5: Install and activate the system and its features. Companies that choose VoIP desk phones must install them in their office/location.
How much does phone service cost for a business?
Most VoIP business phone services for small businesses work the subscription-based models. The pricing varies from one service provider to another, and each provider may also have plans and packages with different pricing and features.

Ringover, for instance, has three plans: Smart, Business, and Advanced. The plans start at a monthly fee of $21 per user for annual billing. If you are looking for a package with additional features like analytics, voicemail drop, call campaigns, click-to-call extension, etc., consider the Business or Advanced plans at $44 and $54 per user/month, respectively.

Some VoIP business phone providers will also allow you to custom-create a plan based on your unique business requirements. The Enterprise plan of Ringover is an example. Here, the pricing will depend on the features and functionalities you choose for your custom package.

Business phone plans will typically include all incoming calls from any destination, unlimited outbound calls to a wide range of countries, and a gamut of features for communications and collaborations. If you make calls to destinations not included in the plan, pre-defined charges will apply.
What is the best phone service for small businesses?
Choosing phone services for small businesses is not easy – there are several providers, and each has its benefits. Here's a list of the leading business phone providers for growing businesses
Ringover
Ringover is a leading Unified Communications as a Service (UCaaS) solution that offers feature-rich, affordable, scalable, and customizable business phone solutions for businesses of all types. It easily integrates with your CRM and allows your team to access the calling platform from PCs, laptops, and mobile devices. They have three plans, each offering unlimited calling to over 90 destinations and a landline number to each user.
Nextiva
A phone system packed with features, easy to use, and reasonably priced, Nextiva is a good choice for small businesses. They have three different plans, and their Professional and Enterprise plans offer complete UCaaS solutions to small and medium businesses.
Dialpad
Dialpad is an AI-powered cloud communication platform and works as an all-in-one workspace for small businesses. They have Standard, Pro, and Enterprise plans. The solution is best suited for organizations that want to gather real-time analytics.
Ooma Office
Ooma is another good choice for small businesses looking for phone systems that are easy to set up. They offer VoIP desk phones and a softphone app for desktops and mobile devices. You can choose a plan from their offerings – Essentials, Pro, and Pro Plus – based on your requirements.
RingCentral
If you are a small business with a remote and on-site team, RingCentral is a good option for you. They offer four different plans – the user limit for the basic plan is 20, so if you have more team members, you must go for their high-tier packages like Standard, Premium, or Ultimate.
Other Worthy Mentions
In addition to the providers mentioned above, many other companies offer cost-effective and feature-rich business phone systems for growing businesses. Other honorable mentions include:
GoTo Connect

Vonage

8X8

Grasshopper

Zoom

Phone.com

Aircall

Avaya

Google Voice

CallHippo
What is the best phone system for business?
While there are several phone services for small businesses, not all of them are the same. As far as a growing business is concerned, three things matter – affordability, scalability, and productivity.

So, the best phone system for small businesses must fulfill all three criteria. Ringover is an ideal choice for start-ups and growing organizations in this regard.
Features of Ringover business phone system
Ringover offers features and functionalities that help growing businesses meet their sales goals. Moreover, many early-stage businesses work with limited human resources. The business-centric features of Ringover will help your teams increase their productivity and achieve more in less time. These include:
Call forwarding

Voicemail drops

Click-to-call

Power dialing

Accessibility through mobiles, desktops, and laptops

Video calling

Call recording

CRM integration

Call transfer
Pricing and plans of Ringover
Ringover offers business phone systems at highly competitive prices. The pricing starts at $21 per month per user for annual billing. All plans include to over 110 destinations across the globe and a great range of features. You get everything in one place, thus eliminating the need to invest in individual software solutions for communication or collaboration.

With a small business phone service provider like Ringover, you can transform the way you do business. So why wait? Switch to VoIP calling today, equip your team with the communication tools they need, and achieve your business and sales goals.