Free beta version !
Cadence by Ringover
Set the pace for your prospecting!
The tool simplifies and automates sales prospecting tasks, perfectly complementing your CRM!
100% of prospects contacted
Daily guidance for team members
Harmonized methodology for your teams
//= $t['banner_cta']['title'] ?>
The prospecting tool

connected

to your 

CRM

With Cadence, your CRM is automatically updated with:
Up-to-date information on your prospects
All communication history (calls, emails, SMS messages, etc.)
All in one place, and it also integrates with all your communication tools!
Unlock the
top‑performer

potential in all your sales agents
Boost productivity
100% of prospects contacted & and followed-up! Your team will benefit from daily guidance for their work and manual tasks will be automated as far as possible.
List of daily tasks generated automatically
All-in-one and intuitive interface
Integrates into your CRM or Cloud-based telephony, etc.
Become a beta client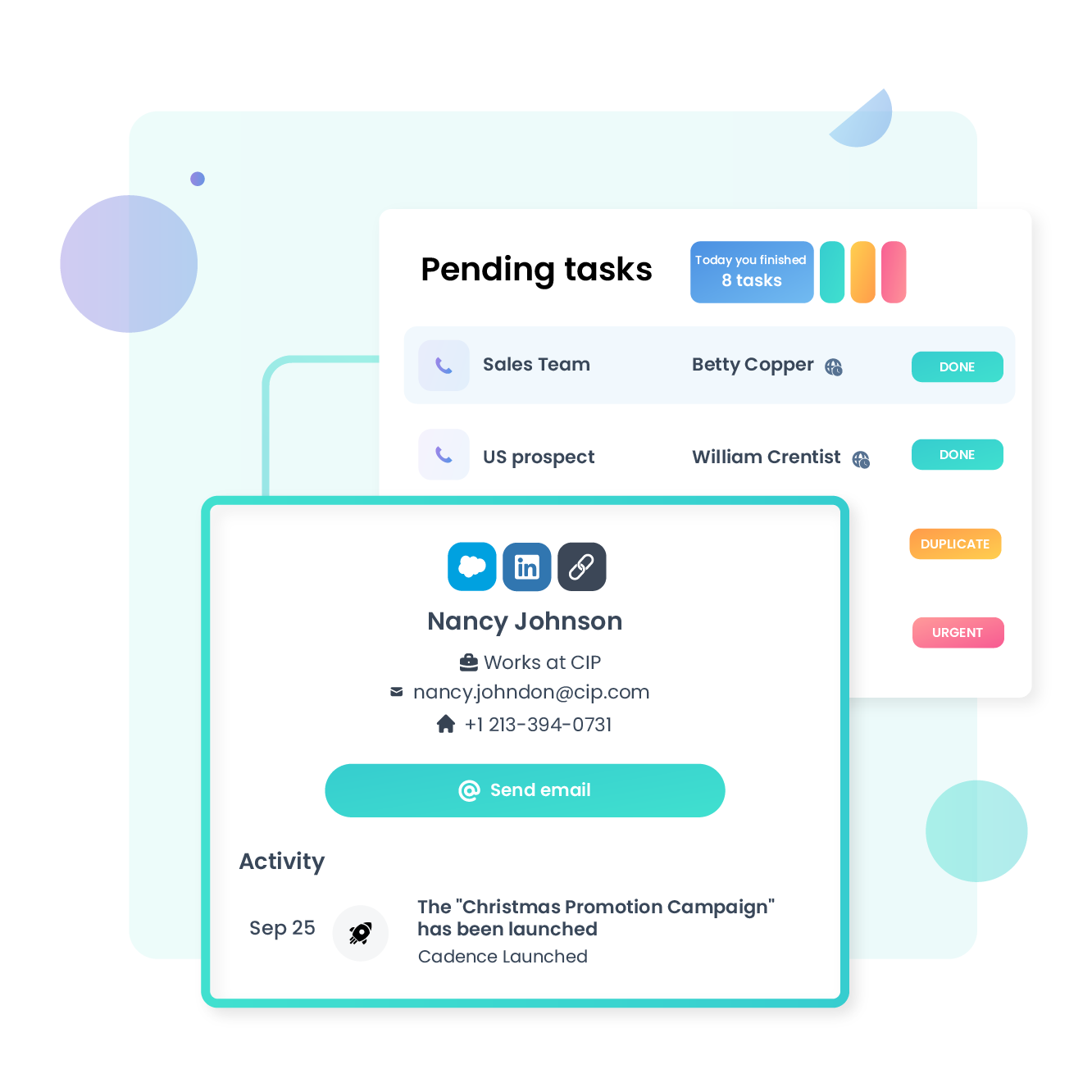 Optimize your prospecting process
Define top-performing prospecting sequences to be used by your whole team! Don't leave your prospecting success down to chance and unlock the top-performer potential in all your agents.
Harmonized prospecting sequences
Email and SMS templates
Quick on-boarding for new recruits
Become a beta client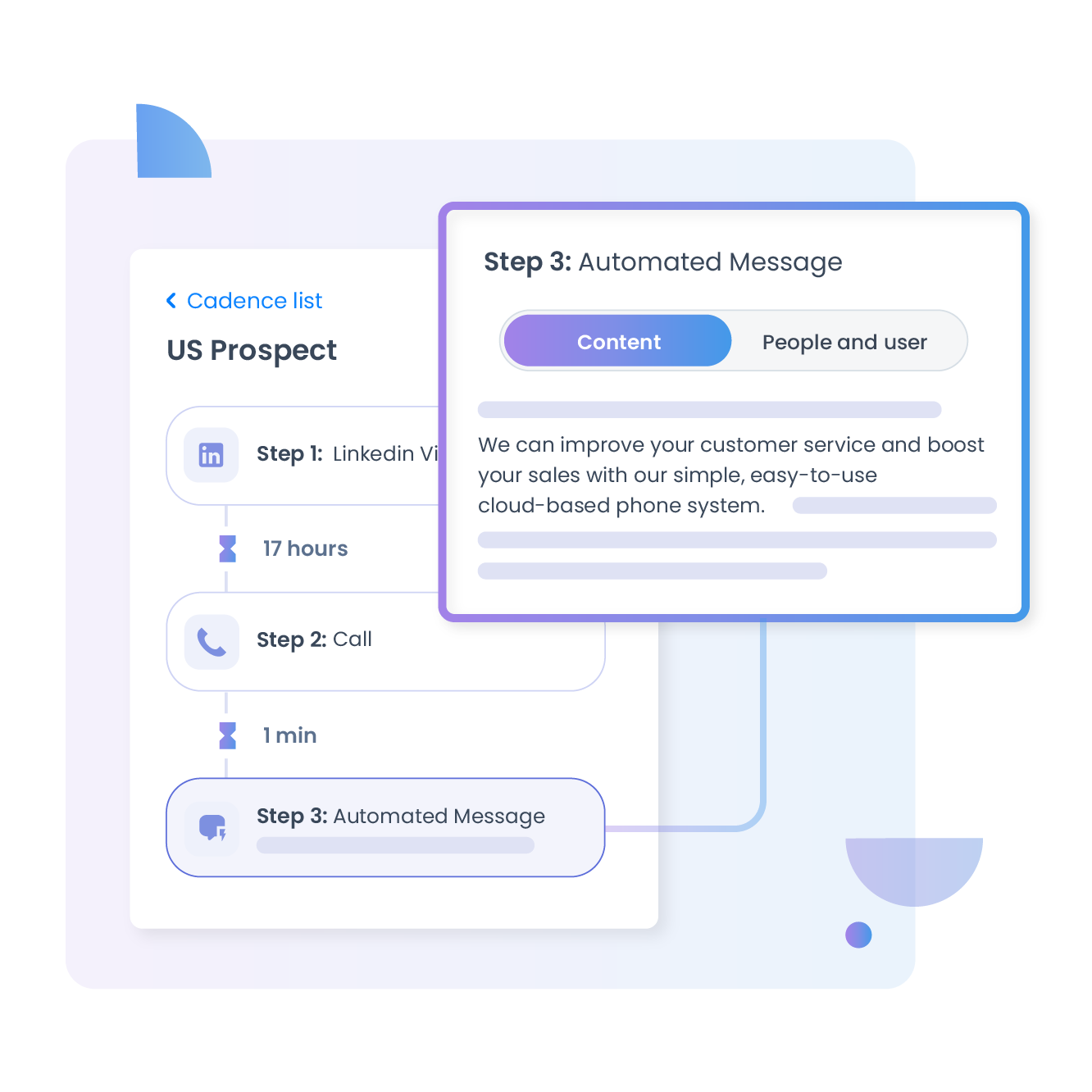 Make contact with more prospects
Maximize your prospect response rate by contacting them via the right channel, at the right time. Of course, you can adapt your pitch to match each prospect profile (position, field of business, etc.).
Multi-channel prospecting: Call, email, SMS, etc.
100% of prospects followed-up
Semi-automatic customizable messages
Become a beta client
Control performances
You can get a clear view of activity levels, whether your agents are working in the office or from home. In a glance, you can assess the performance of your prospecting sequences and optimize them in just a few clicks!
Real-time activity indicators
Global and individual statistics
A/B sequence testing
Become a beta client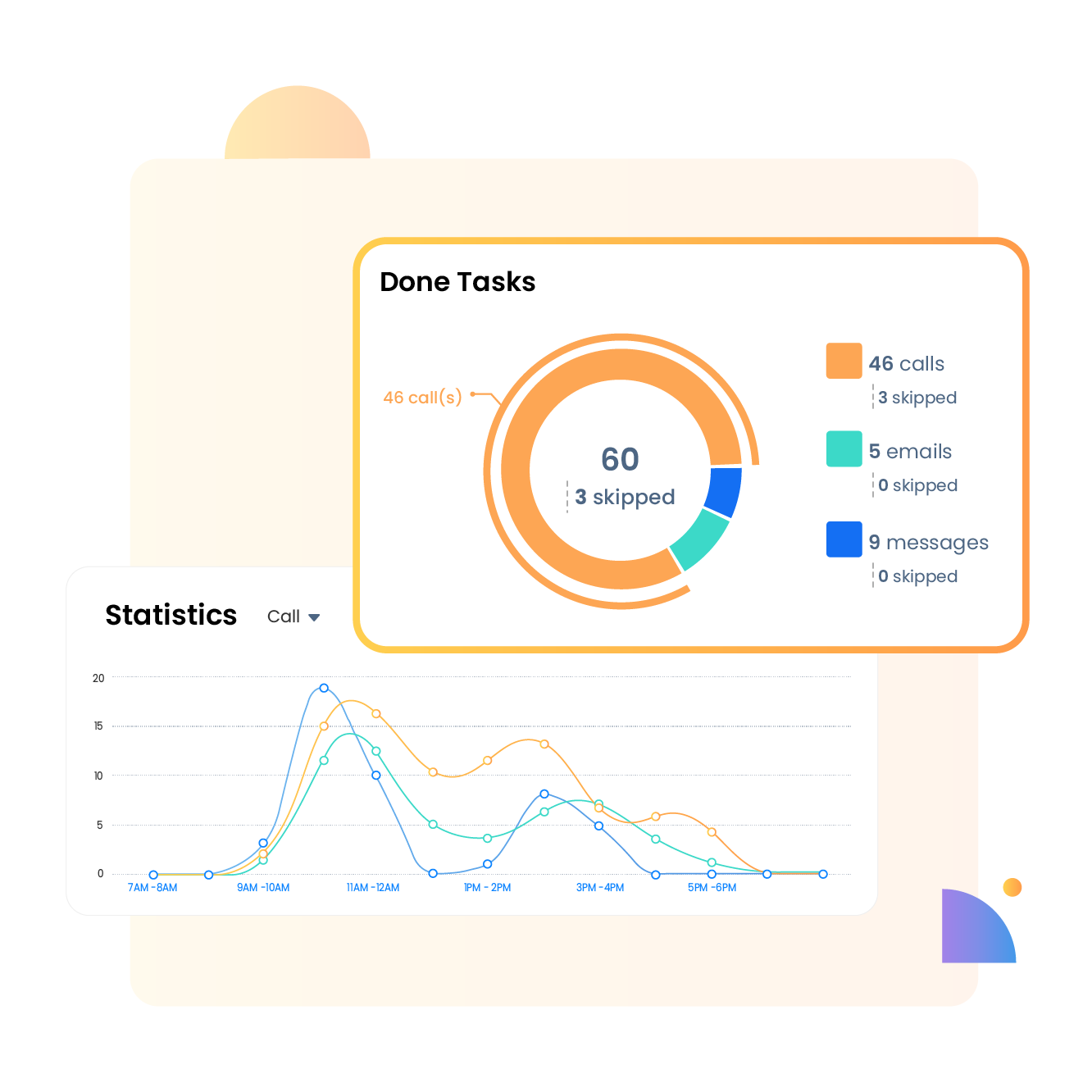 //= $options['block']['class'] ?>
Easy set-up
It only takes a few minutes to create your prospecting sequences.
Guided prospecting
All your agents will know exactly what they need to do.
Ergonomic and intuitive design
Each task is completed in just a few clicks, everything is logical and simple.
Integrated into your tools
Sync the solution with the business tools you use every day: CRM, Cloud-based telephony, etc.
//= $options['block']['class'] ?>
by Ringover's key features
List of daily tasks
Generated automatically, for each employee.
Template library
Emails, SMS messages, LinkedIn messages, call scripts, etc.
CRM syncing
Prospect information always up-to-date.
Integration into your telephony
Make you calls in just one click.
Multi-channel sequences
Contact your prospects by phone, email, etc.
Automated actions
Save time for your agents.
Sales activity monitoring
In real time.
Performance statistics
To optimize your templates, your prospecting sequences.
by Ringover, a boost for your different departments
Provide step-by-step guides for your sales agents as they complete their prospecting processes. Ideal for harmonizing your teams' method and giving them the tools they need to optimize their performances.
Harmonize your talent-hunting processes. With no effort at all, you can be methodical and make sure that you don't miss out on a single opportunity.
Create, test and improve nurturing sequences on your prospect databases.
FAQs
What is prospecting software?
It's an application used daily by any team carrying out prospecting (sales teams, recruitment, etc.).
It offers features designed specifically for multi-channel prospecting and helps you prepare each step of the workflow.
A software like this gives prospecting teams a sure advantage as it automates multi-channel tasks and massively reduces the time needed to be spent on them.
Why should you go for a prospecting software?
Prospecting is a unique leverage for sales teams. To find and convert as many prospects into clients as possible, sales agents need to follow up with them sufficiently, using the right channel.
That's where sales prospecting software comes into play. Once integrated into teams' workflows, it can provide them with the essential information needed to close on their prospects.
This way, using software to organize prospecting is a key contributor to the development and optimization of sales activities. The Cloud-based tool offers:
• Time-saving and boosted efficiency: You can use it to quickly optimize the whole prospecting process. In this sense, each team member is guided and knows what they have to do to convert their prospects.
• Automated workflows: The software enables you to create customizable sequence models in just a few clicks, which can then be adapted to each prospect type.
• Control over your sales performances: You'll have access to an interface which centralizes all interactions and automatically provides dashboards, avoiding time spent on creating reports. You'll have total control over key performance indicators, which will help you to control your activity.
What is a cadence?
A cadence is a multi-channel sales prospecting sequence, designed to boost your chances of establishing contact with a given prospect. In the tool, a cadence can be created with a combination of phone tools and emails, SMS messages and LinkedIn messages, etc. These events correspond to steps in the sequence.
Sequence steps can then be automated and assigned to a group or a team member in particular to smoothen out the business line process and boost productivity.
Who is Cadence for?
The Cadence prospecting tool is just as much an asset for operational teams as it is for managers. It makes things simpler in your daily work and provides you with a step-by-step guide for your prospecting, whether you're part of a sales team or a recruitment manager. With Cadence, you know exactly who to contact and which channel to use - everything is centralized!
Are you a manager? It just takes a few clicks to set up high-performance prospecting sequences. Plus, Cadence sequences allow you to harmonize prospecting methods used by employees, in turn maximizing the chances of successful conversions.
Lastly, in terms of reporting, you'll have access to advanced statistics, enabling you to control your team's activity levels and identity areas with room for improvement in your prospecting campaigns.
Is Cadence suited to my business?
Cadence's features can adapt to several types of businesses.
For sales prospecting, the tool will give you the power to contact all your leads and follow up with them efficiently thanks to sequences that you can define in line with your prospect profiles.
Alternatively, if you work in HR, Cadence smooths out the recruitment process for your company by simplifying the search and initial contact phase for profiles.
At a time when recruitment is done increasingly remotely, why not boost your chances of finding the right candidate?
You get the idea - Cadence is quite literally made for you if you're working in a business where prospecting and contacting prospects present a key challenge.
Can Cadence be integrated into my CRM?
The integration can be installed in a matter of clicks, directly via the settings in Cadence, where your agents can easily connect the tool with their CRM.
Discover all of the integrations available for Cadence on our Marketplace!