Sales prospecting
Phone Prospecting Techniques and Best Practices to Master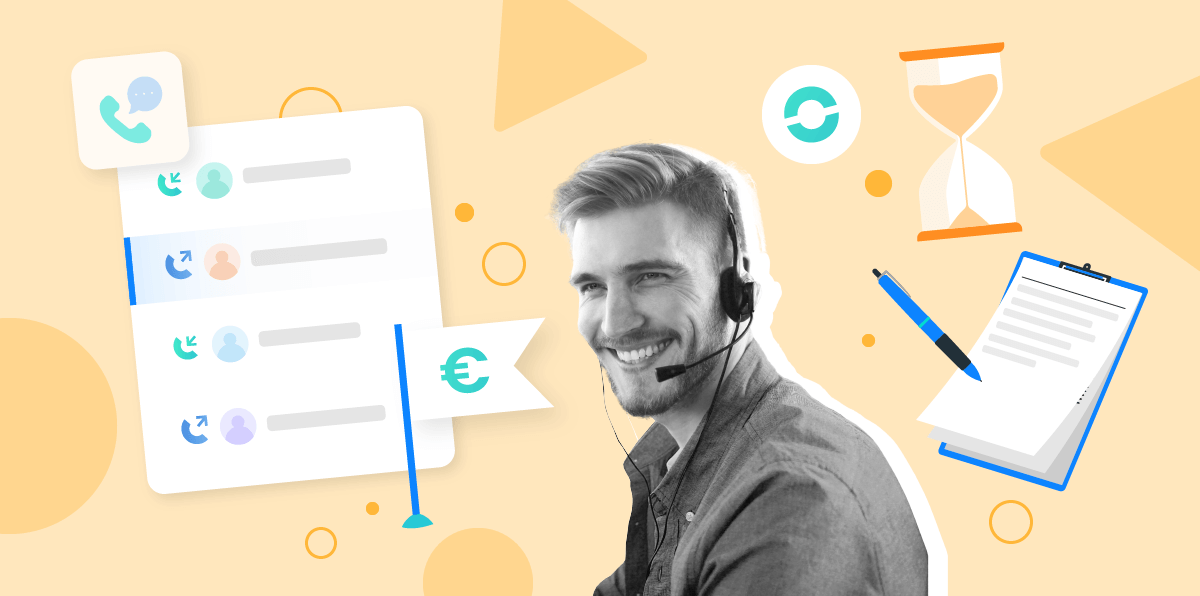 Without a doubt, phone prospecting is one of the most challenging tasks in sales:
42% of sales agents say that they struggle with phone prospecting, according to a survey conducted by

Hubspot

According to a survey led by the

Harvard Business Review

, 48% of sales agents are event apprehensive about picking up their phone when prospecting.
Boost your phone prospecting


There's no denying the facts: Your SDRs and sale reps don't like phone prospecting. It's a task that's often seen as annoying and unrewarding. Yet, there many B2Bs that can avoid it if they're wanting to get appointments booked in. The fact remains that phone prospecting is still the preferred channel for generating prospects amongst sales teams.

As a Sales Development Manager, you're faced with the challenge of making prospecting as simple and painless as possible for your teams. This means providing them with targeted and qualified prospects, and most importantly, the right tools for the job.

Naturally, the key tool needed for phone prospecting is telephony. With modern systems for VoIP, you can now transform your business telephony into a great productivity tool, through features that will enable you to boost your teams' performances and to answer the following questions:

How can I better train my sales agents with telephony? How can I save time on time-consuming prospecting tasks? How can I get better call pick-up rates? How can I make this challenging task as simple and painless for my teams as possible?
Phone prospecting: A simple term for a challenging task
Phone prospecting is a practice that remains a must for business growth, particularly for BtoB sales. The terms "tele-prospecting" and "sales phoning" are also used to cover this practice, which consists in using multiple sales techniques to get an appointment, to qualify a prospect, or to sell a product (especially for BtoC).

Even for a well-seasoned sales agent, phone prospecting can prove to be a tiring and unrewarding task, especially when it involves the first contact with the potential client. So, it's essential that you use the right tools, so you can successfully prospect over the phone, measure your performances, qualify your prospects, and coach your sales teams.

Calling campaigns represent an important tool in several sectors, whether it's for maintaining client relationships, leading a commercial prospecting campaign, or simply communicating information about an event or an offer, for example. That said, it's essential that the right tools are paired with a well thought-out strategy in order to guarantee a successful calling campaign.
How to prospect: What is a calling campaign?
An outgoing calling campaign, also known as a "phoning campaign", is a campaign through which agents (either in sales or customer services) make phone calls for a marketing and sales purpose, with a predefined target. A calling campaign can be used as an acquisition channel: Phone prospecting or even booking appointments. However, it can also prove to be a powerful tool for improving customer relations, such as through a customer satisfaction survey or by promoting an offer.

Over the next section, we'll walk you through all our top tips for implementing effective calling campaigns, namely as part of a phone prospecting strategy.
The objectives of a calling campaign in phone prospecting
Getting to know your target better
Chatting with prospects over the phone allows your teams to get an understanding of the issues they're facing, so that they can better target their needs. It'll then be easier for them to identify their needs and highlight how the product or service they're selling can benefit the customer. This way, you can lay the foundations for a trusting relationship between your agent and your prospects, who won't see them as just another sales agent, but rather as someone who can help them.


Getting the word out about your company
The simple fact of talking about your company and your products and/or service will help to get the word out. Using a calling campaign in phone prospecting gives your agents the chance to chat with people who may or may not know of your company, and to introduce them in more detail to your brand and business. This is a major asset for improving your reputation in your market!


Update your database
Your database is an essential element in developing and growing your business. An outgoing calling campaign can also allow you to make sure that your databases are populated with accurate information, and that your contacts' contact details can still be used.


Boost your business with campaigns delivering high conversion rate
A phone calling campaign is a great way to generate prospects. Unlike other types of prospecting, such as SMS campaigns, phone prospecting means you can establish a genuine connection with your prospects and get a better insight into their needs. Often, this takes more time, but it offers better returns on investment!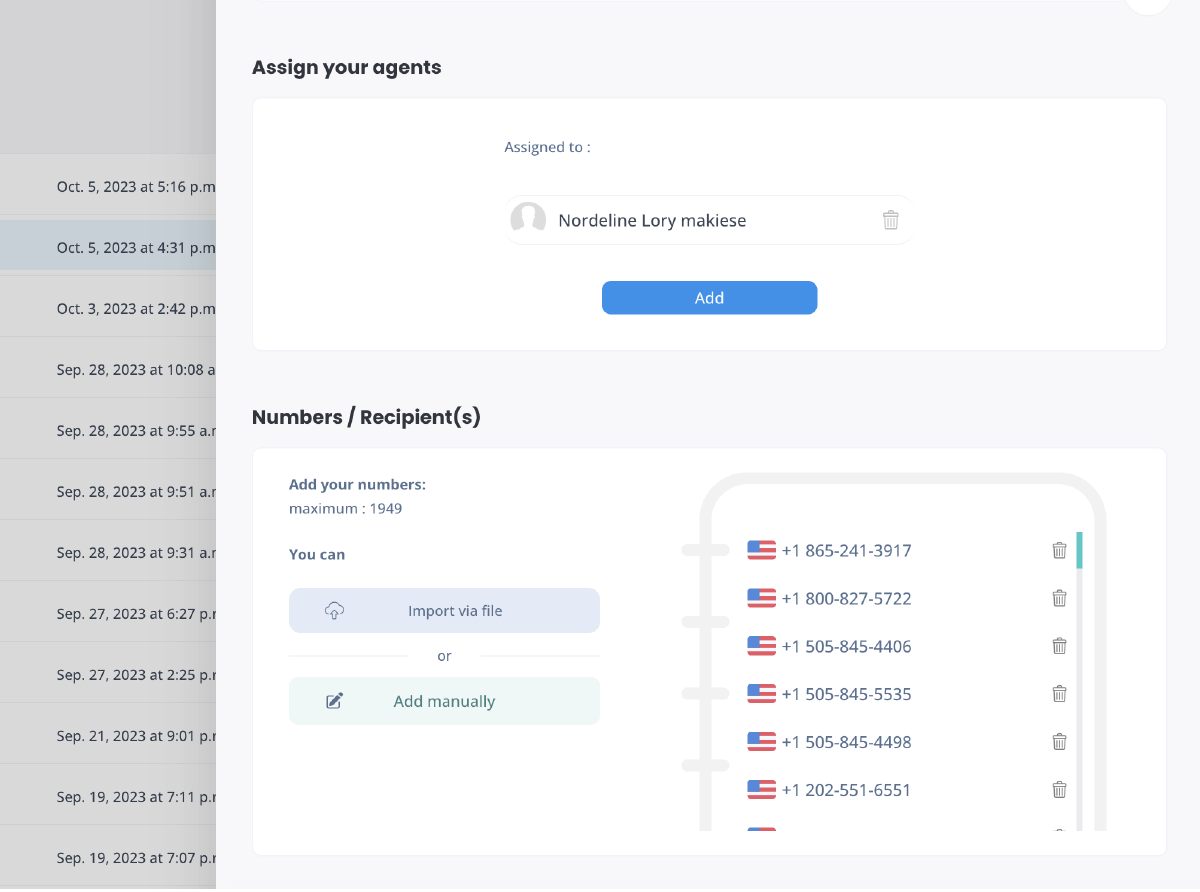 The steps to an effective and productive calling campaign
Define your objectives
It might seem obvious, but determining your objectives before starting your calling campaign is essential. Is the aim to get appointments booked in? Want to follow up with prospects? Need to close some contracts? Based on these objectives, you'll then be able to define your strategy, allowing you to implement a successful outgoing calling campaign.


Identify your target
Once you've got your objectives clearly defined, you then need to identify the target you want to reach. When deploying a phone prospecting campaign, you'll need to make sure that your call lists actually includes people who will potentially be interested in the product or service that you're offering. Of course, the success of your campaign will largely depend on the quality of this list.


Update your database
Regularly updating your database is a must if you want to develop and expand your business. Each contact needs to be registered in your CRM, and their contact details obviously need to be up to date. Even if a call doesn't secure a sale, it's important to add as much information as possible to your contact's record. This is even simpler if you use a CRM connected to your telephony tool, like Ringover. Your sales teams can then add tags and notes to these records during calls, in order to keep better track of each case.


Work on your pitch
Once you've identified your objectives and implemented the right tools for tracking your calls, you'll need to determine your sales pitch. Writing a script and responses to any anticipated objections from the prospect are key. It's normal for your pitch to evolve over time, adapting to reactions to objections. Coaching and training tools can be a great way to help with these adaptations of your agents' pitches, putting them more at ease during conversations.


Measure the impact of your calling campaigns
Once your calling campaigns are finished, it's important that you measure their efficacy. How many appointments were booked in? How many sales were finalized? What were the main objections encountered? This step is essential to enabling you to continuously improve your strategy, and to make sure that each campaign is more effective than the last.


Never stop tweaking your strategy
Look at each conversation as a positive experience or a negative experience, with each one representing an opportunity for improvement. The idea is to reiterate what was successful, and to avoid what doesn't work. Re-evaluate your contact list, hone the pitch, or use coaching and training tools to improve your agents' performances.

Telephony solutions, like Ringover, allow you to coach your agents in real time, using features such as two-way listening or discreet intervention during calls. Call recordings can also be used as training material, so you can highlight the good practices of your top-performing agents as examples for less experienced employees.

With Ringover, you can boost your phone prospecting and ramp up your sales agents' productivity by more than 50% thanks to calling campaigns! In just a few clicks, you can create call lists and assign them to your agents or let them create their own call lists and seamlessly move from one call to the next thanks to the Power Dialer. To find out more about these features, which are productivity game-changers, get in touch with one of our sales reps or test out the solution for free.


Phone prospecting: 10 techniques to boost your appointment bookings
1. Make more calls
There's no miracle solution… It's a numbers game! Phone prospecting is all about the volumes. In general, the conversion rate for phone conversations is pretty low, if not extremely low. It's estimated that the average conversion rate is between 1% and 5% for booking in appointments through cold calling.

This means that, in order to get 1 appointment booked, you'll need to make 99 calls which don't result in much. Phone prospecting is an activity that pays off when you give yourself the means to make high volumes of calls.

This is often why you'll hear people say that cold calling doesn't work. If a sales agent just spends a few hours a week, or just pencils in an hour a week to try a few calls, it's normal for them not to get much out of it. To get results, you need to fully invest in it, scheduling longer, multiple-hour sessions during which you can make anywhere from 50 to 100 calls, one after the other.

Ringover Tip #1

The Ringover cloud-based telephony offers you multiple features that have been designed especially for sales teams, to save them time in their prospecting and to boost their work rates. With the click-to-call, agents no longer need to manually dial numbers, which can save several hours a week.


2. Take a scientific management approach to your organization
The secret to making a lot of calls is all about being well-organized. For maximum productivity, many people find Scientific management to be an excellent way of revamping your organization. To sum it up, it consists of:

"A rational organization of work, divided into elementary tasks that are simple and repetitive, assigned to specialist workers." According to this principle, poor organization consists of:


(1) Target a company

(2) Research the company to make sure that they align with what you want to target

(3) Find the right point(s) of contact and get in touch with them

(4) Research the contact to find a personal hook, and note it down

(5) Make the call

(1) Target another company

(2) …
Taking a scientific management approach means that you'll divide the work into tasks and complete them repetitively, to ultimately seamlessly make calls one after another without wasting time. This results in the following flow:
Target 100 companies

Research the 100 companies to make sure that they align with what we want to target

Find the right point(s) of contact and contact them, for all 100 companies

Research the contacts to find personal hooks for each one, and note them down

Contact the 100 companies, making one call after the other
This is an example, for purely illustrative purposes only. Each company must determine the organization for its sales team to structure prospecting time. The idea is that sale agents can then make calls one after another in the dozens, without interruption. As we saw above, prospecting is all about numbers, so it is crucial that you get organized in order to allow your sales managers to make as many calls as possible in the allotted time.

Ringover Tip #2

Do you use a CRM, such as Salesforce, Hubspot, Zoho, Pipedrive or Sellsy, or an in-house CRM? Ringover integrates into your customer relations software for better work organizations and major boosts for sales teams' productivity. Amongst the countless, valuable features, with Ringover, agents can make calls directly via their CRM interface using click-to-call, and they can find all of the information available on the prospect during the call thanks to the screen-pop feature.
3. Set a clear and unique objective
The first call is the first step on the long path leading your prospect to sign up and become a customer. We can split this path into various key steps, from the first contact to signing the contract, with demonstrations and negotiations along the way, too.

When you contact a cold prospect for the first time, you should only have one aim in mind: Getting the prospect to stage two of the pathway.

Depending on your sales strategy, these steps may vary, and you phone prospecting calls may have different objectives. What do you want to get out of the first call? It's essential that you ask yourself this question, in order to give it a clear answer that you can share with your teams.

In general, the end goal is to book in an appointment for a demo of your solution. That said, this isn't always the case, and sometimes the aim is to get an online sign-up, to get information on the company, to get the contact details for the decision-maker, or to take part in an event, etc.

Determining the objective for the all allows you to better manage your teams, and will also enable you to define precise indicators in order to be able to keep a better track of your performances. To find out all you need to know about implementing a good tracking system for your cold calling, check out our article: Cold Calling: definition, examples, techniques and mistakes to avoid.


4. Perfect your pitch, from hook to closing
There are so many methods and theories on how to build your phone sales script. As for what makes a good phone prospecting pitch, you need to go through each step individually:

Prospecting isn't an exact science. So, there's no such thing as The Perfect Sales Script which will convert every person you speak to. So, it's important that you regularly adapt your pitch. It may not be perfect, but that doesn't mean you can't get it as close as possible. If your team has a certain level of experience in business development, you can even draft multiple sale scripts, each adapted to the target that you've got on the line and based on the tone of the call.

Ringover Tip #3

With Ringover's telephony software, you can record all your calls. Listening back to your calls is now essential when you're rolling out a new sales pitch. This allows you to assess the impact of the pitch, your contacts' reactions to it, and the variables that can be adapted, and so on. Thanks to call recording, you can quickly identify how effective your sales pitch is.


5. Always circle back to a "no" to get as much as possible out of each call
Your contact is refusing to engage with your call? There are many sales techniques for handling and countering objections in order to keep control of the call. Even with the best techniques in the world, you'll often come across prospects for whom your product doesn't meet any current needs. That said, you've still spent time on this prospect, so don't just throw in the towel! There are multiple things to check before hanging up:


Is there potential for the prospect to have a relevant need in the future?

Does the prospect know any professionals in their network who may be interested?

Would they consider recommending our solution to their network?

Could they put us in touch with more relevant contacts?
6. Keep track of ALL your communications
We've said it once and we'll say it again: Phone prospecting is all about numbers and organization. So, it's crucial that you put effort into following up on each call. More than 80% of sales are made after the fifth call. After each call, it's recommended that you:
Log the call in the contact record in your CRM (if your telephony system is integrated into your CRM, this will be done automatically)

Add comments to the call, briefly indicating the content of the conversation

Plan the next steps by setting yourself tasks (e.g., call back tomorrow, send follow-up email, send documents, reach out to a third-party contact, get information from their technical team, etc.). These steps may take some time, but they'll make your prospecting up to 5 times more productive.
Ringover Tip #4

Ringover offers the After-call feature to enable all sales agents to take a determined amount of time after their call to take notes and prepare their follow-up. During the After-call time frame, the sales agent is set as unavailable in the telephony software and won't be interrupted by a call.


7. Focus on collective intelligence
Each call is unique, and each call will teach you something new. Field feedback from your sales agent should be the centerpiece of your strategy.

Each agent has their own tips and tricks for making sure a call goes their way, or to work around an objection. To develop the skills of your entire team, it's important that you encourage a sharing culture, with feedback sections for getting all your sales agent working together.

This is why your team stands a better chance of smashing their goals when they share their experience and feedback with one another. Regular group brainstorming sessions are a great way of improving your prospecting.

What techniques work well? Are there any hot topics that are worth mentioning in calls? Is there a trending business sector at the moment? Are there any new prospecting pools to explore? By creating a collective dynamic, your employees will pull each other up and learn quicker, and your sales pitch will be more standardized, which can only be a positive.

Ringover Tip #5

How to lead your group brainstorming sessions Ringover's telephony software enables you to generate a huge amount of audio content, so you can lead group sessions around call playbacks or by listening in on calls live and direct with the two-way listening feature.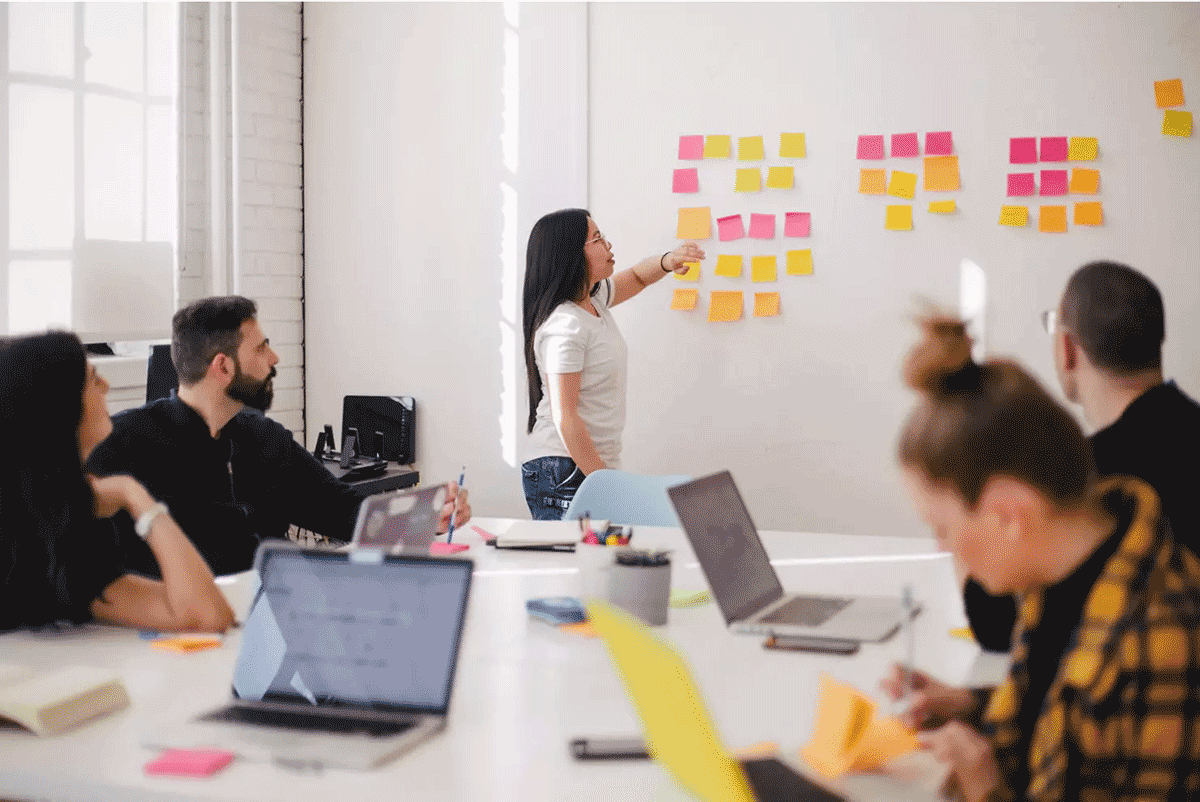 8. Boosting individual performances
Group debriefing sessions are important, but prospecting is an exercise which is largely based on individual performance. The group effect in this type of meeting can also put a skew on feedback: Some people's opinions will be heard more than others', several people backing a point can lead to them exaggerating, and so on. Plus, the bigger your team, the more difficult it is to successfully and effectively lead these sessions.

Training and individual support are therefore essential. Each company has its own methods for its solution and its market. A sales agent with plenty of experience in phone prospecting will thus need just as much training as an SDR (Sales Development Representative).

Of course, it's highly important that you do individual debriefs after cold calling sessions, to get feedback from the agent on how the targets reacted and how the pitch went down. By spending time looking at what worked and what needs tweaking, your sales agents will quickly develop their skills and considerably improve their conversion rates.

Here again, you can really benefit from Ringover's supervision features, by using two-way listening or whispering (which lets you speak to your agents while they're on a call, without their contact hearing you), and by simply listening back to calls.


9. Test. Analyze. Repeat.
There are infinite approaches you can take for prospecting calls. Finding the right pitch that will optimally convert your target prospect may take months, if not years. You'll never find the right one if you don't implement a repetitive analysis protocol.

This methodology is inspired by the Agile method, which has become hugely popular in I.T. project management over recent years. The key principle of the agile method is that the decision-making process is not linear but is instead circular, as shown in the diagram below: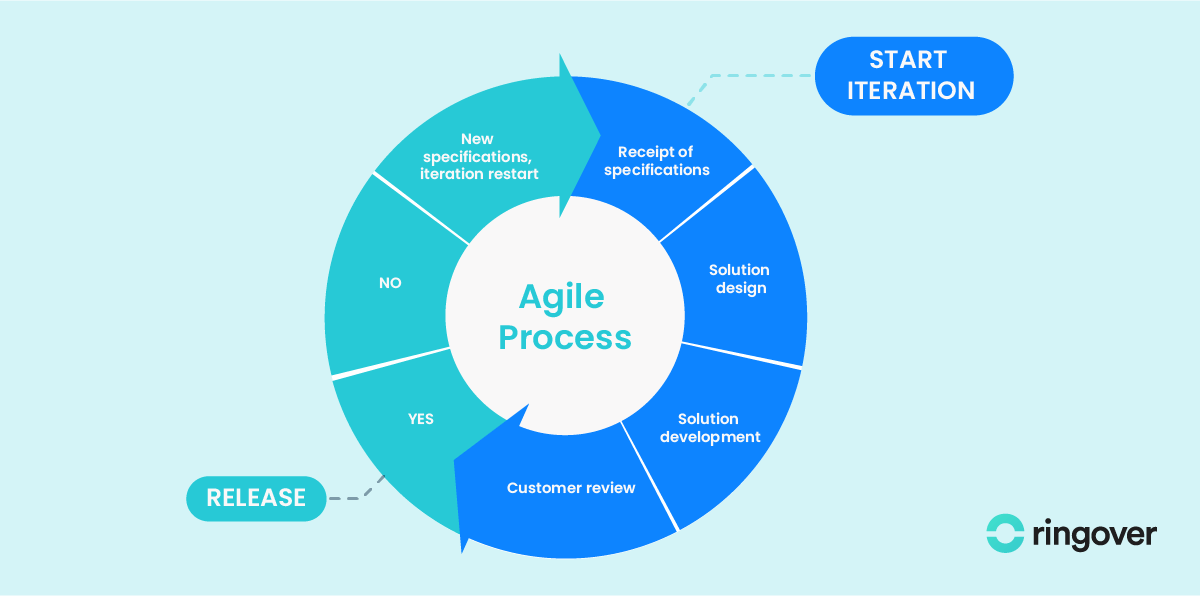 Your commercial prospecting strategy should draw inspiration from this model to align with a continuous improvement approach:


Regularly test new sales techniques and commercial approaches.

Run thorough analyses of calling campaign efficacy, measuring performances and conversion rates.

Develop your strategy and train your sales agents in the new techniques which deliver the best results.
Opt for group cold calling sessions, where team members can help each other and it's easier to get over "failed" calls when everyone else is encountering the same challenges.

Create challenges to make it more fun and to make prospecting a game: Your sales agents already have variable incentives, but that's not the only options, you can also add mini challenges into prospecting sessions, with prizes at stake to get them even more motivated.

Have motivational speakers come and give talks to your teams: Elite athletes, Olympic champions, high-ranking veterans or retired business moguls… There are plenty of different profiles of speakers with a huge wealth of experiences and knowledge to share and motivate your teams, covering topics such as the importance of effort and the price of success.o:p/o:p
10. Motivate your teams
As we mentioned above, phone prospecting is an exercise that can seem pretty complicated for sales agents, and which requires a lot of energy. So, it's time to rally the troops! When it comes to motivation, we know that Americans tend to have that gift of the gab and unparalleled enthusiasm, often able to turn any plain pitch into a motivational speech.

You'll find hundreds of videos on YouTube giving pep talks specifically for phone prospecting. Just type "motivational speech for salesperson" into the search bar and you'll easily find one that matches your mindset. You'll also find motivation experts in France and the rest of Europe, and we'll drop a link below to one of our favorite videos for motivating your sales teams:

However, motivating your teams is a complex challenge that's not to be underestimated — it requires reflection and actions that go deeper than just a few minutes of motivational speech. Motivating sales agents is a topic that has been widely studied and picked apart, particularly in the early 1970s through the work of Deci and Ryan, and their publication on the self-determination theory. To summarize, they highlight the importance of 3 key principles for boosting a sales agent's motivation:
Autonomy: Having freedom in their organization and how they achieve their goals

Competence: Having the skills they need to do their job well and to sign contracts

Purpose: What's the driving factor behind the company's business development? What's the vision for the organization?
These theoretical principles can give you food for thought, but they can be difficult to apply in reality, as they're extremely dependent on the context of your company and the means available to sales team managers. Here are a few practical ways that you can directly use to give your prospecting sessions a boost. A good way of motivating your sales team is to create team spirit amongst the agents. There's various ways of doing this:
Opt for group cold calling sessions, where team members can help each other and it's easier to get over "failed" calls when everyone else is encountering the same challenges.

Create challenges to make it more fun and to make prospecting a game: Your sales agents already have variable incentives, but that's not the only options, you can also add mini challenges into prospecting sessions, with prizes at stake to get them even more motivated.

Have motivational speakers come and give talks to your teams: Elite athletes, Olympic champions, high-ranking veterans or retired business moguls… There are plenty of different profiles of speakers with a huge wealth of experiences and knowledge to share and motivate your teams, covering topics such as the importance of effort and the price of success.
The best tools for improving phone prospecting
1. Improved training with supervision tools
Live monitoring: Two-way listening and whispering
When a new sales agent joins your sales team, it's important that they're up and running as quickly as possible. So, you need to support them through their first conversations with prospects, so you can monitor their calls, see how they react to objections, and check and adapt their pitch. For this, your telephony needs to provide you with two key tools: Two-way listening and whispering.

Thanks to these features, you can listen in on all the calls that your sales agents in training are taking, and you can even whisper advice to them without the person on the other end of the line hearing you. This way, you can simply guide a sales agent through their pitch, quietly giving them the right arguments to use, and letting them know what sort of attitude they should be adopting.


Call recording for training
Giving feedback on sales agents' first calls is important and it means that they can progress quicker. Giving them examples of good calls is equally as important. Thanks to call recording, you can play back and give examples from calls from your top performers. New recruits can then follow the lead of your most experienced agents and take examples from calls that have led to conversions, in turn meaning that they can quickly hone their own pitch and grasp the right attitude to have on calls.

In the same sense, you can also play an agent's own call back to them, so that they can see where they may have gone wrong, or you could even show them more challenging calls, so that they can see pain points and traps to avoid.

To accelerate the training process, it's essential that new agents quickly start making calls, and also that the new recruits take the time to learn from some of the more interesting or most successful calls taken by your team.


2. Optimizing your time with Click2Call and After-Call
Good phone prospecting is all about the call volume. Being organized and optimizing your team are therefore essential to driving performances. For this, two key features will enable your sales agents to save time on some of the more tedious tasks in phone prospecting.


Click2Call
On average, it takes 8 seconds to dial a phone number, and if you take into account the wrong numbers being pressed, this time can easily be doubled or tripled. That means that, over a week, agents can spend entire hours dialing and re-dialing prospects' phone numbers. With the Click2Call feature, it only takes a click to dial and call numbers via your computer.

It may seem trivial, but this productivity tool makes the process much more comfortable for your sales agents, and it means they waste less time, which leads to an increase in their call volumes. Thanks to Ringover's click-to-call feature, Sellsy's teams save approximately 45 seconds per call. Read all about their experience


The After-Call
Call qualification is a key step in phone prospecting. Although it's often neglected by sales agent's, it's an essential.

After each call, a sales agent should give themselves a little time to take notes on their call, so that the contact can be qualified and follow-up actions with the prospect can be scheduled: "The prospect is interested by isn't the right point of contact", "no plans for now, call back in 2 weeks", "uses a competitor solution but is looking to switch next year", etc.

These steps can represent a lot of time that's not spent communicating with prospects. So, it's important that sales agents aren't interrupted by another call while they're doing these tasks. With After-call, when a sales agent finishes a call, they can have their status set to "Unavailable" while they qualify the call in the CRM. You can configure the after-call time period to set the qualification time to align with your criteria. This simple tool allows for big improvements in the general organization of your teams on the phone, creating more comfortable, seamless, and better qualified prospecting.


3. Personalize calls with CRM integrations
Contact syncing
One of the big benefits of cloud-based telephony is its ability to be connected with your business tools, and particularly with your CRM. By integrating your telephony into your management software, you can use contact syncing, which ensures that your business directory is always up-to-date with your CRM. Do you use Salesforce, Hubspot, Pipedrive, Zoho or Sellsy?

The Ringover solution offers native integrations to connect your telephony to your CRM, without needing to get the tech team involved, and in just a few minutes (yes, we got our stopwatches out!).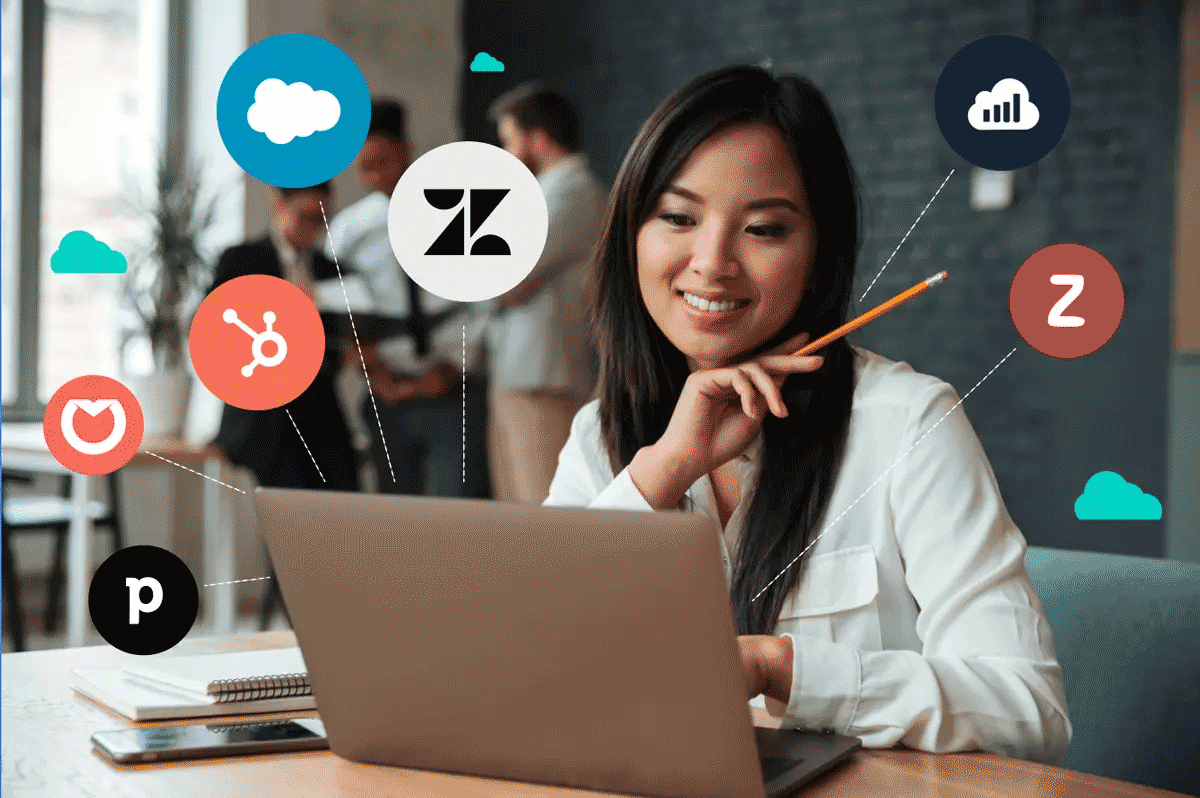 Prospect screen-pop
With this CRM integration, you can also use prospect screen-pop when you get an incoming call. When the call rings through, all of the information on the contact from your CRM is displayed in your interface. This way, before they've even answered the call, your sales agents can see who is calling, which company they're calling from, their project status, and the latest interactions with them, and much more. This means that your team members will never be caught off-guard by a call from a prospect, and they'll always have a little time in advance to adapt their pitch and adopt an ultra-personalized approach for their prospecting.

With this feature, you no longer need to search through the CRM for information while you're talking to a customer, and you'll no longer have those awkward pauses or repeat yourself as you try to pick up the conversation where you left off with an existing prospect. Screen-pop is a major plus point for your sales teams, simplifying their phone prospecting.


Improve your call pick-up rate with local numbers
We often underestimate the importance of the number you use to call prospects. Depending on the number that will display on our prospect's phone when you call, you can multiply the pick-up rate (the probability of the prospect answering your call) by as much as 5 to 10 times!

Plus, it's been identified that, within businesses, people are more likely to answer a call from a mobile number than from a landline number. So, what's even better than mobile numbers? Local numbers. You'll hugely increase your chances of a successful call if you use a number with the same area code as the person you're calling.

This becomes all the more obvious when you're prospecting internationally. You won't have much chance of effective prospecting if you're making calls to France, England or Spain from an American number. With Ringover, it just takes a click to get local landline and mobile numbers in more than 65 countries, to improve your pick-up rates and optimize your prospecting.


Make more calls with the Power Dialer
If you manage a sales team with dozens of agents and you're looking to max out on productivity, you may be interested in the Power Dialer.

The principle of the Power Dialer is simple: You download a list of numbers to be contacted into your telephony software. Then, a call automaton will automatically dial and call the numbers from the list, and when a call is picked up by a prospect, the automaton directly connects it with an available agent.

The Power Dialer is a technology often used in call centers with huge phone teams, but it can be equally as useful for smaller sales teams using phone prospecting.

You can also check out our article Call automation: Solutions for call centers.


Analyze performances for continuous improvement
Continuous improvement is key to securing high-performing phone prospecting. To achieve it, it's essential that you base your strategy on advanced call statistics.

Who is spending the most time on the phone? Who is making the most calls? What is the average call duration for each sales agent? Which times have the best pick-up rates?

By getting answers to these questions, you can easily adjust your call processes, and determine pain points and areas for improvement, to then make more calls, secure more conversions, and ultimately get more appointments booked in.

Ringover offers you an ergonomic dashboard with incredibly advanced statistics on your teams' phone activity, to help you constantly improve your prospecting results.


Wrapping things up
These tips will help you to create and implement an effective sales prospecting strategy, and to give your sales teams the best possible conditions for securing appointments through their calls.

You'll have surely noticed the running theme throughout our article: Your telephony tool will be your best ally when it comes to achieving those cold calling objectives.

If you're not certain that your current tool is giving you everything you need to achieve your goals, you can always try Ringover for free or chat with an expert to discover all of the productivity and supervision features that we offer to boost your daily work.


FAQs - Phone prospecting
What are the basics of phone prospecting?
Below, you'll find the basics for phone prospecting:


Identify your targets before getting started with your phone prospecting;


Check the quality of your prospecting record;

Centralize your data on your CRM software. Integrate your telephony solution, if your supplier lets you do this;

Draft a phone script;

Know how to get past the secretary barriers;

Politeness and precision in your choice of words;

Keep track of your calls through notes.
What are the techniques for phone prospecting?
Here are a few techniques to improve your phone prospecting:


Use social media to collect information
Use social media to see what your prospects, and their competitors, are doing. Gather as much information about them as you can, ask questions such as, "Who is the decision-maker?", or "Are they taking part in any events or webinars?".


Write an effective call script
Without a call script, your chances of a top performance are low. It's important that you create structure in your sales pitch, and that you hone your approach to win over prospects. Plus, working on your phone script will help you with anticipating objections your contact may raise.


Put yourself in the prospect's shoes
A call is an opportunity to get precious information, but to get to this business treasure, you need to demonstrate empathy and allow your contact to express themselves. Ask questions that engage your contact, show them that you've already taken the time to research key information on their sector, and share your expertise with them by discussing concrete cases.


Leave voicemails that will catch their attention
Stand out from competitors by using voicemail drop to leave voicemail messages without ringing your prospect's mobile phone. This can be an excellent way of following up or making that initial contact.


Always have your next move ready
Managed to get hold of your prospect and have a quick chat with them? That's great, but what's next? A demo? An appointment? Another call? Sending an email? Before hanging up, tell your prospect what you're going to do next for them. This means you can set the scene and show off your professionalism.


Do what you've said you'll do
This might seem a little obvious, but we're all prone to forgetting things now and again. Remember to make note of the actions needed in your diary, or in your business tools, so that you don't forget that appointment or to send that additional information.


Is cold calling allowed?
ARCEP, France's telecoms regulator, has implemented new rules regarding cold calling, which mainly establish frameworks for BtoC communications. Under these new rules, companies can no longer use 06 or 07 mobile numbers to cold call private individuals. The aim of these rules? To combat abusive cold calling and scams, particularly associated with government schemes and benefits.


How to improve your prospecting organization
Adopt a better work organization by targeting multiple companies and researching them to make sure that they align with your target. You'll then need to find the right point(s) of contact and research them (to create a more personalized hook), before contacting them. To make things easier, opt for a telephony solution that can be integrated into your business tools, whether they're in-house tools or third-party solutions.


How to generate leads and qualify prospects with phone prospecting
The phone is a great weapon of choice for sales agents looking to quickly identify hot prospects. Phone prospecting certainly helps to generate leads, but it can also be extremely useful for qualifying these leads.

An introduction call will allow you to clearly identify your contact's needs. Your phone prospecting solution should help you with this through features such as:


Call logs, which allow you to keep a trace of each interaction with the contacto.

Tags, which are customizable labels that can be used by teams to categorize calls. You can then get statistics on these, in order to give you a clear overview of your activity.

Integration into your CRM, which enables you to use your telephony software directly within your business tool.

After-call, which offers improved call tracking by allowing you to add tags and notes after each call.
Which phone prospecting software is best for remote working?
Ringover's phone prospecting software is 100% cloud-based. In other words, you can access it from wherever you are by simply connecting to the internet on a computer or smartphone (Android or iOS).

The days of overcrowded and noisy call centers are coming to an end. With the arrival of VoIP telephony, cloud computing and, above all, the democratization of remote working, you're no longer obliged to go into the office to work, or to even have an office at all. Our 100% cloud-based software boosts your flexibility and offers you the option of working from wherever you want, as long as there's an internet connection.

Plus, cloud hosting means that you can access valuable features, such as call transfers between devices, which we call "Call Flip". This feature allows you to switch from one device to another (i.e., from your computer to your mobile, or vice versa) whilst on a call.


Which phone prospecting solution gets the most appointments booked?
Make more calls, contact more prospects, and get more appointments booked with a phone prospecting software that allows you to access productivity-boosting features such as the Power Dialer.

This is a number dialing assistance system which will save valuable time during your calling campaigns. You can create campaigns by importing .csv lists (up to 1,000 contacts/import).

To boost your phone prospecting, you can also use Click-to-Call, which is a feature that identifies phone numbers on your web pages and in your CRM software, so that you can make calls to numbers by simply clicking on them. This way, you avoid having to manually dial your contact's number before each call.