Business phone system
The benefits of a virtual switchboard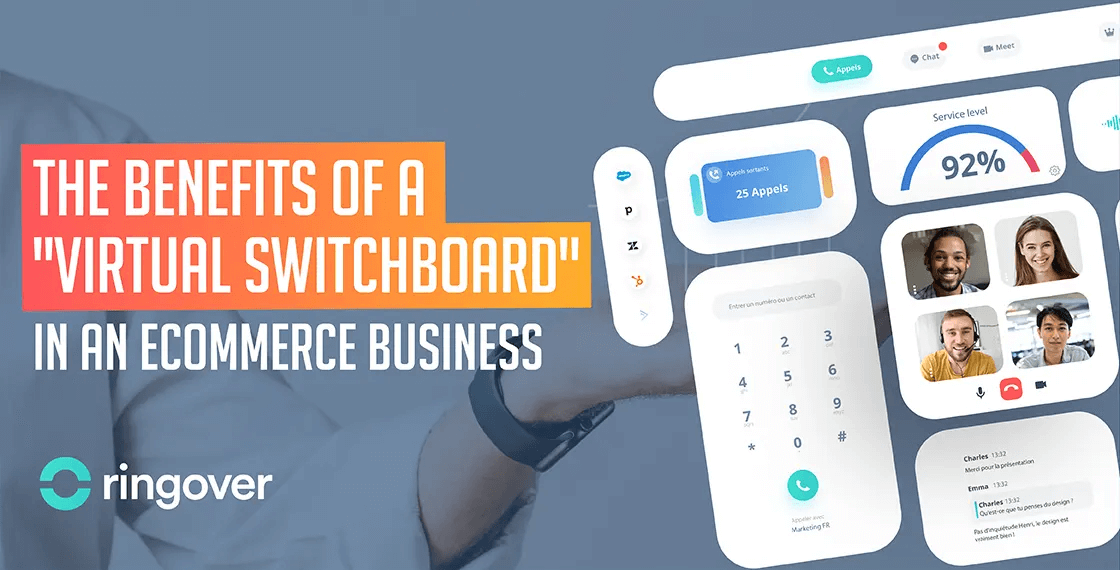 Summary
Virtual switchboard, what's it for?
How to improve your E-commerce customer service
What about the benefits for your E-commerce?
We explain why having a virtual switchboard is vital when running your eCommerce business More businesses have moved online during the past year than ever before. This has meant that the transition from traditional to digital commerce, both for B2B and B2C sales, has moved faster than ever before. Every year, the amount of online sales in the UK grows at an increasing rate and, in turn, this growth is accompanied by an increase of options for consumers: more products, more payment methods, new forms of delivery ect. All these new services provide everything consumers need to have that "unique customer experience". While this may appear to be a good thing, there is a downside: So many options can sometimes be overwhelming.That is why, in a sector with so much competition, having a good virtual switchboard will provide you with the necessary tools to support your sales team, increase consumer confidence and, incidentally, boost customer loyalty.When your customers want to make a purchase, they are more likely to go directly to the brands they know. Despite comparing the product with others, most people remain faithful to those brands they trust, even if the cost of these is higher than that of the competition. During the purchase process customers need to have the peace of mind that in the event of any queries or issues, they can easily contact customer service at any time, either by email, chat, telephone. But what happens if the customer finds themselves with long waiting times on the telephone (listening to unbearable waiting music), an answering machine message that they do not understand or the typical automatic response email that says "your request is being valued ".Believe us, customers have been lost for far less. This is precisely why a virtual switchboard is the best telecommunications solution for your E-commerce.Not Convinced? Let us explain!
Virtual switchboard, what's it for?
The objective of a virtual switchboard in an E-commerce business is to increase sales, answer the questions of your customers and solve all the problems that may arise. In short, a 100% cloud switchboard helps your company to position itself as a champion of good customer experience. Such a system offers multiple communication channels. What are you waiting for? Gain customers and keep them! As we mentioned before, the switchboard is perfect for building good relationships with future customers, but it is also perfect for controlling the operations of your departments. With the statistics and metrics that it records and shows, you will be able to analyse the performance of your team and obtain quality information that allows you to take measures to improve the commercial strategy. When setting up your E-commerce, the goal is to ensure that the products and services are properly organised and marketed, Details are important so make the difference with a virtual switchboard.
How to improve your E-commerce customer service
As your business grows, naturally more customers are going to want to get in contact with you. The right software tools help your customer support team exceed expectations, giving customers a unique experience and will have them coming back to your website.
Still not convinced? Here are some important points about a virtual switchboard:
1. Customise to your likingRingover's virtual switchboard is customisable in 3 minutes. Say goodbye to complex and expensive installations! Create voice messages, schedule time availability, add new users and check call history easily.2. Distribute calls in 1 clickForward your calls according to the hours of your switchboard and configure an interactive voice response (IVR) to ask customers who they want to contact. Customers can get answers to common questions without having to speak with a team member.3. Are you worried about losing information about your customers? Integrate it with your CRM!You can integrate your Cloud phone system with the tools that you use day to day, such as Salesforce, Zendesk, Pipedrive, etc. This allows your team to access all the data they need in order to manage your company's calls efficiently and offer a better experience for your customers.4. Record calls, and learn from your team!Save the conversations and listen to them whenever you want. Use the call history, contact information, billing history and other data to anticipate a customer's needs, even before they ask a question. 5. Extend your answering hoursWith E-Commerce, customers are not tied to traditional business hours. The virtual switchboard allows you to include time slots to distribute the calls to the available team members. For example, calls in the morning go to one group, those in the afternoon or evening to another. 6. Keep track of customer satisfactionTake advantage of automation and send customer satisfaction surveys to get immediate feedback on customer service. Understand how your customers perceive your brand so you can act quickly when matters don't go well.7. Analytics and metrics! Your best alliesThe Ringover switchboard allows you to access metrics with real-time information on the number of calls made, the distribution of your team and other important data. This allows you to use the results to support business decisions and to review the flow of calls with your team.
What about the benefits for your E-commerce?
The virtual switchboard allows you to offer 100% dedicated customer service. The virtual switchboard lets you:1. Contact the first timeThe features of a 100% cloud telephone system, such as IVR, call queue and call transfers in a few clicks, make sure your team members can easily reach each person quickly. 2. Correctly route callsAnother feature is team members can correctly direct calls, so that they can transfer customers to the most appropriate person or department before or during the call.3. Avoid losing potential customers.The functions of the IP telephony system, such as call queue, call diversions and personalised voice messages ensure that you do not miss an important call and, therefore, potential business opportunities.4. Increase the conversion rateSales software programs automatically guide potential customers from one part of the sales process to the next, resulting in an increase in sales conversions.5. Satisfied customers returningSatisfied customers tend to buy again. Improving the operation of your switchboard also means increasing the opportunities for additional sales, cross-selling, obtaining feedback and repeat sales.6. Improved productivity and efficiencyWith the right tools, your team can resolve questions or problems faster. Click-to-dial, call tagging, desktop notifications, integrations with your CRM, and other features streamline processes and increase the efficiency and productivity of your teams.7. Remote workingUse your virtual switchboard from any device and from anywhere in the world. All you need is a good internet connection. Your team will be able to work remotely with ease, without the worry of any disruptions or issues. The right software solutions and tools can help your team be consistent with the services you advertise. Ringover offers you a range of 100% cloud telecommunications solutions to address all the needs of your customers in a personal and fast way.In addition, analytics are useful for reporting average call response time, the average amount of calls made, time spent on calls and the number of problems or questions that are resolved on the first interaction of all.
Fancy trying Ringover's switchboard to help your business grow?
Talk to Ringover today, for expert advice about our switchboard at 020 3808 5555 or send an email to sales@ringover.co.uk