VoIP
VoIP & Recruitment: How VoIP Helps You Hire Faster in 2021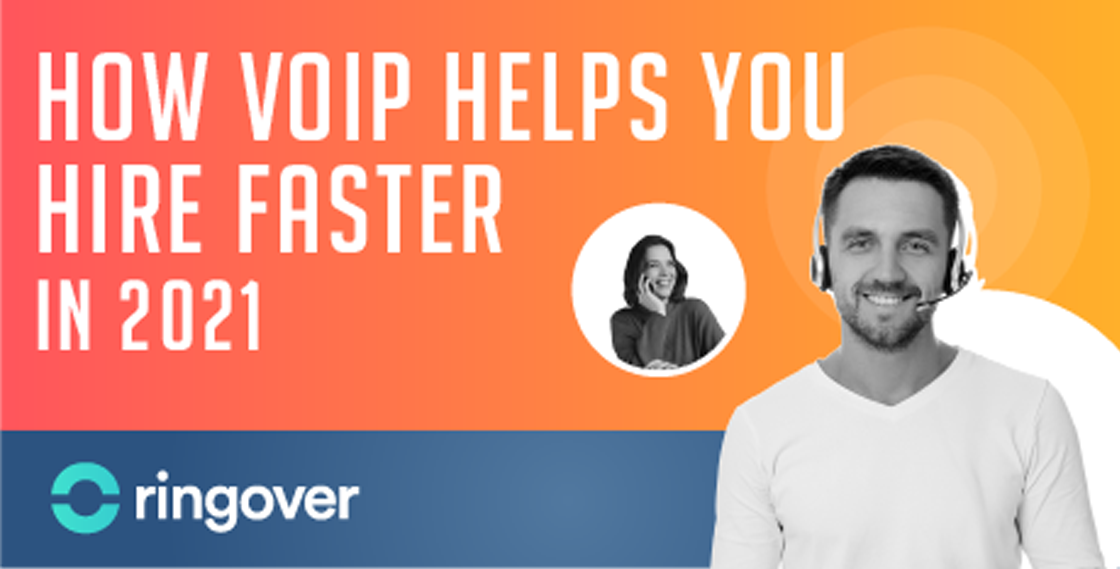 Summary
The world of work has changed forever, following the global health crisis from which we are still unevenly emerging. And the art and science of finding people to do that work has likewise changed beyond recognition, as every recruiter knows - while the pressure to do so faster and better has never been greater.
Using the right tools for communication and collaboration will position recruitment agencies to thrive in a fast-changing world, benefiting directly from the volatile employment market that economic uncertainty creates. In this article we take a look at the main issues recruiters are grappling within the 'new normality', and how cloud-based VoIP solutions are the key to unlocking what clients want most: quick and accurate hiring, of the best fitting candidates.
Location independence: Agencies and candidates
Recruitment used to be a local issue, for many roles — face-to-face connections and contacts were the lifeblood of consultants specialised in niche verticals within a given patch. Those consultants too probably lived locally, and shared office space and leads directly with their colleagues continually.Now that conversation has moved entirely online — which has created many benefits for recruiters and job-seekers alike: No longer constrained by geography or a need to relocate to find the dream job, candidates are able to be more discerning and specific about their needs, and recruiters can cast the net wider than ever to find the right match for their clients. Those clients are in many cases only just waking up to the possibilities this represents for hiring the best person on the planet to do their work, rather than those within an hour or two's travel at most.As ever, intelligently growing a talent pool from which to draw and find suitably qualified applicants for clients remains the key issue for recruiters in 2021, but the paradigms for doing so have changed in ways no one ever anticipated.
Challenges for recruiters
Paradoxically the very explosion of potential has created new risks and headaches for recruiters, and the agencies who manage them.
In the competitive world of recruitment, recruiting and retaining the right agents becomes highly competitive, as does managing and supervising creative and independent professionals driven by incentives and the possibility of high reward. Recruitment agencies cannot afford to cut any corners when it comes to the regulation that surrounds them, and the ability to supervise communications in particular forms a key competence in managing their teams of consultants working from home.
VoIP benefits for recruitment agencies
When a recruitment agency uses a cloud-based business phone system like Ringover, the benefits are immediately clear — and the good news is that even if the agency has to transition in a hurry to more flexible ways of working, the entirely digital service can be configured at speed, ensuring no interruption or downtime in the dog-eat-dog world of candidate placement.When you move your business communications to a VoIP based system, you'll enjoy the way it:
Eliminates the need to sort through countless CVs and resumes

Enables the recruiter to conduct interviews and contact candidates from anywhere

Ensures the recruiter can stay reachable at all times via any device

Simplifies the process of vetting candidates

Helps the recruiter to be more organised, with the help of call notes and tags that can sync into the HR software/ CRM

Centralizes conversations and ensures everyone involved in the recruitment process stays up-to-date
There are numerous other benefits that agencies will immediately realise too, including:
1. A dedicated app for your consultants
The best recruitment consultants spend a lot of time talking — talking to clients to ensure deep understanding of their needs and priorities, talking to candidates to probe and pre-interview them for fit and intrinsic motivation, and networking continually in their chosen verticals. Away from the office this can mean expensive mobile phone minutes, but Ringover's mobile app means they can avoid their own calling plan entirely — whether working from their home, visiting a client, or on the move. Unlimited call plans combined with the gift of the gab, makes for a winning combination.
This creates continuity for customers too, who have a single number to reach their contact on wherever they are, to quickly ask questions about a search or give feedback on an interview. And it means your consultants can continue to use their device of choice to conduct agency business — getting all the benefits of BYOD, without the shadow IT and security risks.Picking up a call on their desktop PC, transferring it to their mobile as they leave for a meeting, multitasking en-route — the Ringover app supports the day-to-day life of the busy recruiter seamlessly, and ensures the right inbound calls reach them too wherever they are, as highly user-configurable IVR settings get the caller to their ear in seconds.
2. Easy monitoring for productivity
While recruitment consultants are typically highly target-oriented and driven performers, the art of perfect matches between clients and candidates has always been somewhat mysterious — not least the way top earners intuitively nail deals in record time, and secure lasting hires with above-average success rates.Anyone can suffer a dry spell, however, and at least when you all shared an office together, a manager could get visible feedback on the level of effort — a consultant who was hammering the phones and continually logging the right meetings could be supported and encouraged to stick at it until the numbers converted, while anyone slacking off stood out a mile.One difficulty with remote working can be telling the difference between these two situations, but fortunately Ringover's detailed metrics make the work itself visible, even when the outcomes are delayed or not forthcoming. Ensuring every consultant is earning their basic by putting in the effort is easy when you have access to this rich and informative data, and it also helps you identify areas for support and training — combining quantitative metrics with judicious use of call recordings enables managers to zoom in on difficulties, such as a weakness in closing on packages or failure to follow up on specific questions.And while no-one performs at their best when they feel micromanaged or watched, there is a definite argument for accountability and visibility, in terms of everyone giving their all at work. Just as professional sporting events or TV entertainment really suffer though a lack of live audiences providing in-the-moment feedback during times of lockdown, working from home can be lonely and demotivating — so being part of a shared communication portal where your effort and rewards are visible feeds each individual's need for recognition and belonging.
3. Agility in a changing world
While the global health crisis has devastated some sectors and provided economic shocks worldwide, recruiting the right talent in an unstable environment is the top concern for HR professionals in 2021, and your agency needs to be responsive and effective to meet their rapidly evolving needs.
Scaling up and down fast, bringing in new consultants on a fractional or flexible basis yourself, and generally responding quickly to whatever customers need, will be vital — so a cloud-based phone system is essential. Whether you need to spin up new extensions in minutes, add local presence, or create new local inbound caller numbers, the Ringover cloud-based business communications system is as nimble as you are. And transparent per-user-per-month pricing not only ensures zero surprises in your billing, it grows along with you — from the sole trader to the large enterprise.
The importance of video conferencing
When clients are seeking new hires who they may not be able to meet in person, the significance of video calling cannot be overstated — and we may even come to see this as a positive legacy of the 2020 crisis, that more and more individuals and organizations became comfortable and accustomed to meeting and doing business in this way.
For recruiters, the importance of video has never been greater, and having the ability to look both clients and candidates in the eye enriches every communication. In particular assessing the potential cultural fit between an individual and a manager, as well as judging a candidate's soft skills and character attributes is greatly enhanced by use of video calling.So with video conferencing forming part of all Ringover's calling plans at no additional costs, your consultants can easily avail themselves of this enhanced communications mode, using whatever mobile device or browser they have available — making it even easier to do their job. Recording and sharing interviews de-risks hiring and saves time for all parties, and makes it easier to benchmark and evolve recruitment practices for consistency and compliance.
Software integrations
Calls to clients and customers do not take place in a vacuum, and the backend database of any recruitment agency is its most valued digital asset. As such it's essential that whatever cloud-based phone system you use has deep native integration with your CRM and dedicated candidate management software suite, ensuring that:
Inbound calls are routed to the right consultant, wherever they are (and whatever device they are using)

Notes and tags are visible to all stakeholders, updated in real-time, wherever the call takes place

Interviews and meetings are followed up rapidly, with an ability to highlight time-sensitive communications

Contracts and quotes are consistently filed and retrieved appropriately

Sensitive information about employees, salary negotiations, and so on, are accessible as required on a need-to-know basis

Leads are allocated fairly and responded to according to urgency and importance

Background information is immediately accessible on inbound inquiries: here's that troublesome interviewee again!

VIP clients are highlighted and prioritised at all times, without getting lost in a badly designed IVR system.
Given the confidential and sensitive nature of recruitment it is essential that all this information is handled centrally and securely, in a manner consistent with GDPR, employment legislation, and local DPAs. So, you cannot have it floating around on email attachments or downloaded to people's local devices — a centralized and properly-secured CRM is non-optional, and your phone system must limit the risk by integration at the individual record level, to minimize the potential attack surface area. Remember that when people are working from home their attitude to information security risk can vary, and it is the agency which carries the can as the legal data owner and controller at all times.
VoIP for recruitment: monitoring for compliance
From discussion of terms to protection from legal risks, no recruitment agency can afford to end up in a 'he said/she said' situation. Employment law is a minefield, while brokering the right deal lays the foundation for a long and happy relationship between candidate and client going forward — so its vital there are no misunderstandings or ambiguities.Fortunately Ringover makes it easy to record and archive 100% of all conversations, so that any disputed terms or questions can be robustly confirmed, protecting the agency at all times wherever the conversation itself takes place. By securely storing the recordings within the phone system itself, each one is marked with a tamper-evident timestamp, and can be reviewed by a supervisor at any moment.Furthermore, that supervisor can take a closer look whenever they want to, by live listening to a consultant who may be giving cause for concern. The 'whisper' supervision mode enables discreet real-time feedback to any consultant who may be straying into non-compliant territory, or need to roll back on something they just said which might lead to trouble further down the line. And in the worst case, the supervisor can barge directly into the call and take it over — ensuring that any misrepresentation is corrected or complaint avoided.
The future of recruitment
Cloud-based, connected, collaborative - that's where we're heading.One tragedy the Coronavirus pandemic highlighted in so many different settings around the world is inequality, and the way different groups of people can be impacted so unevenly by the same circumstances.This is no less true than in recruitment, where the world is changing so fast, and creating hugely diverse candidate experiences and hiring issues. Specialist technical roles remain desperately competitive to fill despite the potential reach of remote roles, and in other sectors whole categories of job roles are directly threatened by the adoption of automation.Increasingly, recruiters will have to find new and creative ways to go to where the right candidates are — in a sense that is virtual rather than physical, creating strong employer brands and making the right connections, to pre-emptively engineer needed talent pools, and identify those who may be willing to consider a move even if they prefer not to signal this openly in uncertain times. Intelligent social targeting, embracing D, E and I initiatives, and a really collaborative way of working with both talent and client, will be key to recruitment success in a volatile and changeable landscape.As the role of the recruitment agency and consultant shifts to accommodate these transformations, being highly communicative and effective will depend on flexible, immediate, affordable, and efficient conversations — which is where the right business phone system is essential to success.
Ready to boost your hiring using VoIP?
Contact our experts to help guide you step-by-step at +44 20 3808 5555 or send an email to sales@ringover.com. Start your free trial today.