VoIP
Odoo Whatsapp Integration
Odoo and WhatsApp (Business) are two tools that are highly useful to businesses when combined because they simplify many day-to-day tasks. But how do you set up an Odoo WhatsApp integration?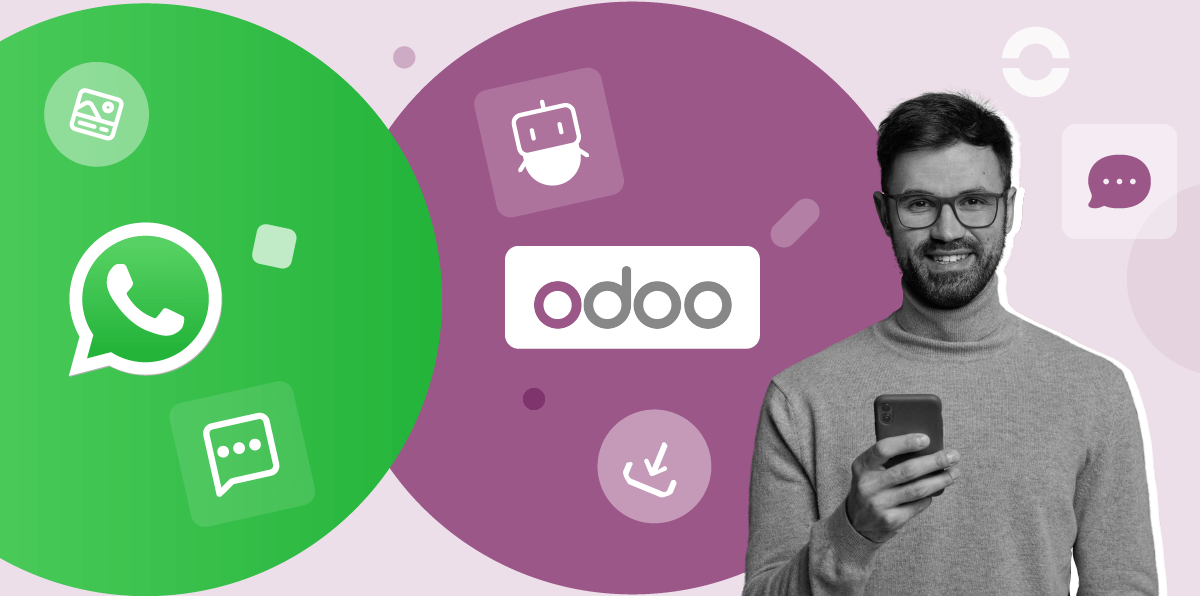 Summary
There are several methods and tools for integrating Odoo and WhatsApp. In this article, we'll explain how to make this connection, but first let's give a brief introduction to Odoo and WhatsApp.


Integrate Your CRM With Your Communication Tool
What is Odoo?
Odoo is a selection of over 30 open source business apps designed to cover all a company's needs. From accounting and sales management to customer relations and human resources, Odoo is a veritable Swiss Army knife. Formerly known as OpenERP and TinyERP, Odoo provides a flexible, open-source business management system.
What is WhatsApp?
WhatsApp is a communication solution that needs no introduction. Initially offered free of charge for personal use, Facebook acquired the messaging app in 2014 and soon introduced WhatsApp for Business. This service enables professionals to interact with their customers and offers features such as:
Display of product sheets via a customizable catalog

The ability to place orders via WhatsApp

Quick replies

Tags to easily organize customer messages

Promotions
Connect WhatsApp with Odoo using the Odoo store
This method involves using integrations developed by third parties on the Odoo store.

Please note that some integrations are not free and may not cover your needs. We recommend you get in touch with the solution provider to confirm it has all the features needed before you complete the purchase.

Here's how it works:
Make sure you have an Odoo account and a WhatsApp account, and get their respective logins.

Go to apps.odoo.com/

In the search field at the top of the page, type "WhatsApp Integration."

You'll see a wide variety of results. You can sort them by relevance, price, number of downloads, date, ratings, bestsellers, or alphabetical order.

Click on the integration you're interested in and contact the publisher via their website to find out more about deployment and security. The latter is supposed to give you the steps you need to follow to successfully integrate WhatsApp with Odoo.
It's advisable to compare several software providers to find the best WhatsApp-Odoo integration for your business.
WhatsApp-Odoo: Use an automation platform to make the connection
The other way to integrate Odoo with WhatsApp is to use an automation platform. This type of solution enables you to customize workflows between two applications.

For example, you can tell the platform to do a task Y in tool B if a trigger X has occurred in tool A. Automation platforms compatible with Odoo and WhatsApp include and N8n.

What's interesting about this method is that it doesn't really require any technical expertise. Note that by choosing this option, you can take advantage of a free trial period.
What functionalities are offered?
Features vary from one integration and automation platform to another. With N8n, for example, you can create, delete and update notes, contacts, resources, and leads in Odoo, and send messages in WhatsApp (even with attached media).

Some of the third-party integrations available in the Odoo store include chatbots for WhatsApp, tickets, and auto-responders, as well as message templates.

To find out more about the best ways to integrate your communication tools with your or ERP, visit our library or our experts directly for more information.