Customer service and VoIP
Zendesk: 12 Top Integrations to Boost Your Customer Support Experience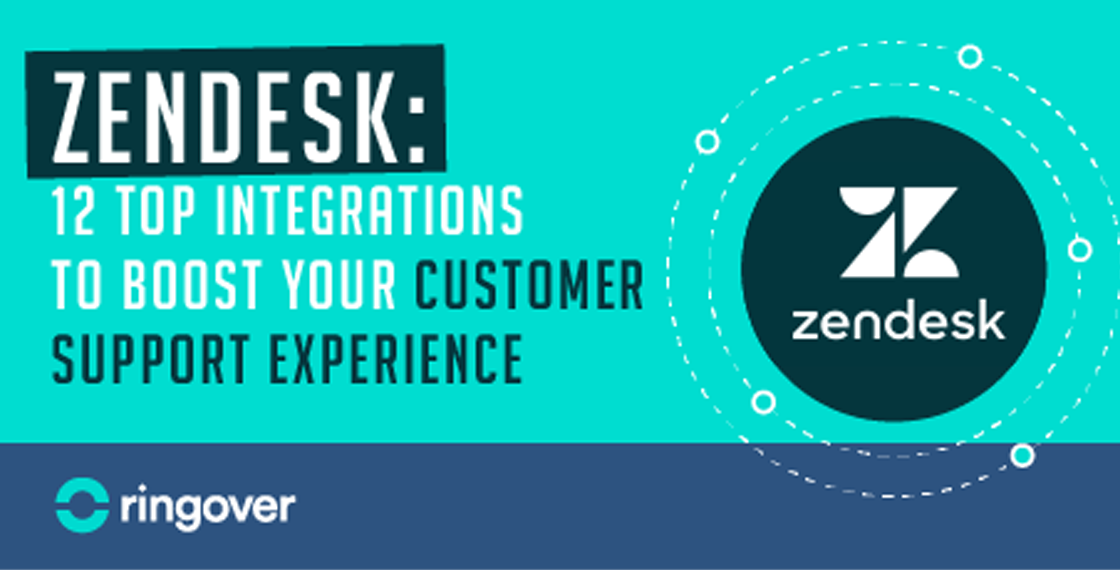 Summary
You already know that the award-winning Zendesk customer service software has a native integration with Ringover, meaning you can access your call logs, contacts, tickets, and all your Ringover settings right within the Zendesk interface, so you can control your call logs, IVR, accounts and customer information, as well as placing calls via the Ringover click-to-call widget from right inside the Zendesk application. But did you also know there are over a thousand other ways to extend the power of Zendesk, to improve the service and support you offer to your customers, in creative and effective ways you might never have imagined? The Zendesk app marketplace makes it easy for you to complete your tech stack and optimize your total user experience, whether you are connecting services you already use, or finding new solutions and ways of doing things. In this article we'd like to introduce you to a few of our favorites, which particularly complement the Ringover Zendesk integration, and let you communicate with and serve your customers better than you ever anticipated:
Productivity integrations
You want your call center and all your operations to be efficient, smooth, and productive, wherever and however work is getting done. This selection of apps can help you get this right.
1. Trello
Is there anything in the world you cannot organize with Trello? This visual collaboration tool is a simple yet deceptively powerful way to manage even complex projects effectively, using Kanban style cards in an intuitive and fun application which works beautifully on any browser or device.When you integrate Trello with Zendesk, every time you open a ticket the Trello widget will appear, from which you can add the ticket to an existing card, or create a new one. The interface lets you choose the Board, List, and Card where the ticket will be added, to support your personal or business workflow — and get that ticket from to-do, to in progress, and finally done — so it's off your plate, and on to solving the next customer problem!
2. TypeGenie
Anyone who has worked in customer support knows that, while every customer thinks they're bringing you unique and original problems and questions, the reality is that you end up spending your day responding to the same issues with the same answers — over and over again.
TypeGenie makes it so much easier to do this, because it puts the magic of machine learning to work to model those frequent responses, and intelligently predict the exact one you need in your live chat.This not only helps you achieve incredible efficiency, by generating the right response faster than your agent can think, never mind type, it ensures a consistent tone of voice and response style, across your team as you scale.
The magic of the deep learning algorithm is that more you use it, the more it learns, and the better it gets!
3. Read Receipts for Zendesk Pro
Email tracking is vital, in order to ensure satisfaction — but timing is everything, when it comes to responding to your customers' needs in the moment, and it's essential to know that your message has been received and opened.
Read Receipts for Zendesk Pro gives you a powerful combination of data visualization and alerts that let you:
Create automatic follow-ups or notifications for unread tickets to increase sales and decrease ticket resolution times

Easily identify which comment was read with Sending Agent and Comment Read tagging, helping resolve ongoing and complex support issues fast.

Create a custom Read Receipt from an outbound address you specify

Review metadata, helping you to quickly and easily diagnose technical issues by exploring the browser type and operating system
4. Ringover
Because it is a business cloud telephony system, you might be surprised to find Ringover listed among the 'productivity' integrations. But, because communication is the information flow in and out of your business, it's really the nervous system that ties your different elements together and makes them productive. Sales, support, media… Everything starts with the phone.
Because of the native integration between Zendesk and RIngover, you don't have to worry about configuring APIs, to leverage the full power of each application right within the other. So every call instantly updates your CRM, and any changes in a customer record are right there in front of your call center agent, updated in real time.What could be more productive? No conflicted records, or out of date information. A single source of truth for your communications and the CRM backend.
Collaboration Integrations
Now that call centers are typically virtual in nature and may involve agents in multiple locations and time zones, it's more important than ever to ensure that you can collaborate smoothly, making your workflow and conversations visible to each other whatever the size of your team. These Zendesk integrations can help with that:
5. Calendar
Every organization needs to get their people in sync as well as scheduling support sessions externally. The Calendar integration lets you turn Zendesk into a scheduling engine, and attach calendar events directly to your support tickets with ease:The drag-and-drop visual interface makes scheduling effortless, and brings the power of Zendesk's views, triggers and macros to your team workflows and communications.
Because of the full two-way integration with both Office 365 and GCal, you can avoid conflicts, manage presence, and ensure ticket updates and changes are written back centrally — while you can view and interact with your calendar(s) of preference any way that works best for you.
6. Out of Office
This nice little integration does one thing well — and does exactly what it says on the tin, letting you manage your agent availability, and know exactly who is out of office at any time.
Being able to track and manage your team's presence is essential, and integrating this information with tickets which are pending and on-hold ensures that your customer satisfaction metrics are not impacted when an agent is unavailable. At times of public health crisis this is more important than ever. You can even set rules in the app which automatically reassigns open tickets, to make sure they get attended to in a timely way, and to prevent manual assignment to an agent who is not available.
7. TeamViewer
Sometimes no amount of phone or written explanation will do, and you just have to go in and fix things for your customer. So you need a quick and easy way to enable remote access and sharing. TeamViewer is a market leader in this space with over 1.5billion installations worldwide, and translations in more than 30 languages.
Whether you need to share your screen with a caller, or take control of their machine to resolve an issue, TeamViewer treads the careful line between usability and security, making it a simple as possible for even technologically-naive users to easily enable remote support from their side, and the Zendesk integration lets you connect with the customer via a single click from within the ticket, using any device.
Ecommerce Integrations
Of all your business metrics, the bottom line is what matters most. So these powerful integrations which directly support your sales delivery will help drive turnover and profit for your ecommerce operation, from directly within Zendesk.
8. Salesforce
When two famous CRMs get together, great things happen — and the new Salesforce integration in Zendesk, (recently completely rebuilt, and presently in EAP), creates custom functionality directly linking the Zendesk and Salesforce platforms.This lets you sync your sales and support teams to resolve tickets fast, and manage your customer records in a unified way with real-time sync.
Such an integration also powers your business intelligence, by enabling you to track trends across all points of interaction with your customers, whether Sales or Support teams are involved. Therefore this increases the effectiveness of your whole, and drives better conversations with your customers — leading to better satisfaction for all.
9. Shopify for Support
Your Shopify store contains a wealth of data you need to respond effectively to customer inquiries, so the Shopify for Support Zendesk integration puts that information right at your fingertips within your ticket:
This means your agents can respond quickly and meaningfully to customer inquiries, and immediately identify which chats and tickets are linked to which individual order, and navigate to additional data in Shopify via the Order ID.There's also a Zendesk Web Widget you can add to any Shopify-powered site, so customers can contact support quickly and easily — letting them resolve pre-purchase queries fast, and buy with confidence.
10. Zoho CRM
We all love it when the person helping us seems to really know and understand us… So connecting your support tickets directly to their records in Zoho CRM puts this superpower at the fingertips of your agents in real-time as they respond:
Integrating your support operation with your CRM gives agents the overview they need to drive upsells, be more efficient, and improve the quality of every interaction. If you know the customer you're dealing with you can ask the right questions, and give the right answers, and ensure information flows freely between sales and support teams to serve them in the most satisfactory way possible — enriching the portrait of your users with each interaction.
Email and social media integrations
Despite all the varied and innovative channels available to marketers today, customers prove over and over that the tried and tested means of phone and email really matter. Integrating these services directly with your Zendesk support system therefore makes total sense, so in addition to the Ringover phone integration we suggest you take a look at:
11. Mailchimp Activity
Mailchimp sign-up forms and email campaigns drive over 4 million brand communications around the world, and with the Mailchimp Activity integration in your Zendesk account it's straightforward to manage and track all your customer interactions in one place:
It's much easier to provide meaningful and relevant support responses when you know which email campaigns a customer has been sent, and anticipate customers needs and questions by triggering email responses to them proactively — providing support they didn't even know they needed, and engaging personally with each correspondent with the intimacy of an individual email. You can even manage their Mailchimp mailing lists subscriptions directly within Zendesk, helping your organization be a responsible and compliant personal data manager.
12. App Reviews by AppFollow
Apparently it was Oscar Wilde who said, the only thing worse than being talked about is not being talked about. But don't worry, your customers are talking about you all over social media and their app stores, where reviews and ratings really matter — and directly influence the behavior of other buyers.
The App Reviews by AppFollow Zendesk integration covers the iOS App Store, Google Play, Amazon Amazon Appstore, Amazon Marketplace, Windows Store and Mac App Store, and lets you engage directly with those reviews from right inside Zendesk, with automatic translation too — converting each review into tickets you can tag, assign and filter in multiple ways. This lets you serve your mobile-first customers just as easily as those on a desktop.By responding in a transparent and appropriate way, you can transform a bad review into a positive public message, easily and promptly.
13. Video Reply
You and your customers are already used to videoconferencing in Ringover, so why not put the power of video messaging in your support responses as well? That's exactly that the Video Reply Zendesk integration makes possible for you:
No-one can resist a personalized video response so your open rate shoots up, and if a picture paints a thousand words, then moving pictures offer exponentially more.Actually demonstrating a solution is the fastest way to show a customer how to fix an issue, and this tool makes it easy to create rapid explainer videos and tutorials which they can refer to over and over, pausing and rewinding as they follow along at their own asynchronous pace. Using video also brings a personal touch to your brand communications, proving there's a real human within the faceless corporation, who is in their corner helping them fix the problem which seems so insurmountable. So this integration reduces tension, increases satisfaction, and provides rapid resolution — all in one easy integration.
Just a taste!
This has been a brief overview of what the Zendesk app marketplace has to offer, alongside the familiar Ringover integration for your telephony.Connecting applications in this way is an extremely effective way to increase your efficiency and effectiveness, and build out the tool stack which is right for your business and workflow — so don't be afraid to experiment with different combinations of the 1000+ integrations on offer within Zendesk. You need to find the solution which works best for your systems and implementation, rather than adapting what you do to fit the tool, and if you really can't find the right functionality in this diverse range then perhaps a local Zendesk Partner could even build one for you.Making the most of these potent applications will take your customer service and support to new highs, and help you meet the needs of your customers quickly and effectively, today and into the future.
What are your favourite apps to use with Zendesk?
Are you using other apps with Zendesk that you would like to add to this list? Curious to learn more about Ringover for Zendesk in particular? Send an email to sales@ringover.com.