VoIP
6 Best Phone Call Translator Softwares for Transcriptions
In an increasingly connected world, conversations with people of other languages are inevitable. That's why having an application for call translation helps you gain confidence when receiving a call from a foreign customer, partner or colleague.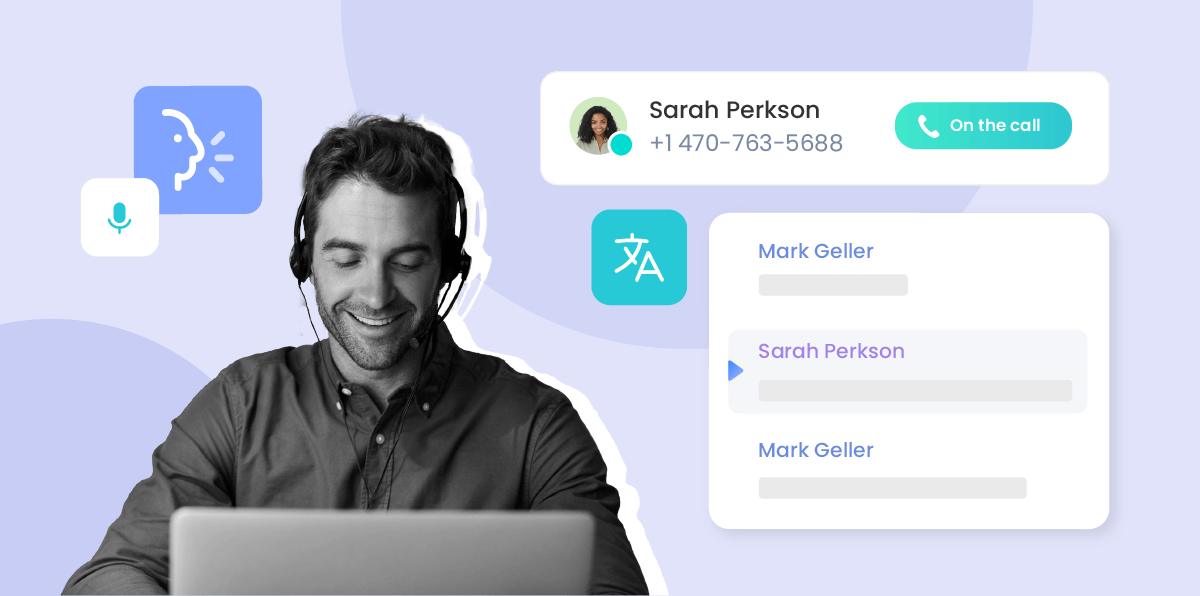 A phone call translator can make a big difference when it comes to negotiating a contract or resolving any misunderstandings between speakers of different languages.

But how can this be achieved? In this article, we talk about simultaneous and off-line translation applications and all their advantages when used in an .


Try Phone Call Translator for Free!
Top 6 conversation translation services for omnichannel contact centers
| Rank | Translation service | Characteristics | Price |
| --- | --- | --- | --- |
| 1 | Empower by Ringover | Online software, transcription, translation of transcribed conversations in French, Spanish and English. | $69 per usermonth |
| 2 | Vacapo | Voice translator | Price on request only |
| 3 | Skype Universal Translator | Call translation in real time | Free |
| 4 | Unbabel | Tickets translated in 130+ languages | Price on request only |
| 5 | Dynamic 365 Omnichannel | Real time translation of chat conversations | Plans begin at $173 |
| 6 | Five9 | Add-on for Five9 messenger | Add-on price is by request only. |
1. Empower by Ringover
is an AI solution developed by Ringover, a specialist in for businesses.

On the market since April 2023, it embeds many useful features for sales and customer service teams. These include automatic transcription of phone calls and sentiment analysis.
But what interests us today is translation. Empower also includes a translation function, enabling you to translate call transcripts into several languages (French, English, Spanish). The tool helps you better understand your customers and prospects, and is therefore a remarkable asset for personalizing their experience. You can easily connect Empower to your or telephone system, and adds some impressive AI features:
Pros
Fast

Keyword search

Transcription
Pricing
Empower is available from $69 per month.


Try Empower for Free!
2. Vacapo Translate
Behind Vacapo is Besharp, an Austrian company with three products:
Vandante, a knowledge base management solution

Vallegro, a ticketing tool
Let's focus on Vacapo. The software consists of several modules for call center management. These include Vacapo Translate, a call translation solution that boasts support for 40 languages. However, there are no real customer reviews of this promising solution.
Pros
Support for 40 languages

Trial version
Cons
No customer reviews

Technical support
Pricing
Vacapo's pricing is by request only, so you'll have to get in touch with their sales team to find out more.
3. Skype Universal Translator (TruVoice)
Skype, one of the pioneers of and for businesses and consumers alike, needs no introduction, even before its takeover by Microsoft in 2011. The application was integrated into the Redmond firm's flagship products before the arrival of Teams.

Today, even if the competition is tougher with WhatsApp, Viber, Zoom and Facebook Messenger, to name but a few, Skype remains an excellent laboratory for Microsoft, which generally uses it to test features that will later be deployed in Teams.


We've seen this with instant translation of written conversations now available on Teams. In December 2022 Skype went a step further, unveiling real-time voice translation with text-to-speech that mimics the speaker's voice, thanks to AI. While the feature is impressive, there is still room for improvement, and its use is currently limited to private individuals. Microsoft has not yet officially indicated whether or when this feature will be available in Teams.
Pros
Excellent videoconferencing

Real-time translation with text-to-speech

Free
Cons
Replaced by Teams in all Microsoft Business products

Limited business use
4. Unbabel
Unbabel is a real-time translation tool for written conversations within your ticketing software, CRM or call center solution.

The tool is installed in the form of an integration that automatically translates written exchanges in real time with customers or other collaborators. Note that the editor makes its APIs available to technical teams.
Pros
Cons
Translation credit system

Lack of price transparency
5. Dynamic 365 - Omnichannel
Microsoft has also integrated a real-time translation system for written conversations into its Dynamics 365 . However, to take advantage of this feature, you'll need to subscribe to the Omnichannel offer.

Like the vast majority of solutions including automatic translation and transcription tools, Dynamics 365 uses AI.
Pros
Fast

Translation natively integrated into Dynamics 365
Cons
Pricing
To use translation in , you need the Dynamics 365 Customer Service Enterprise package ($95 per user/month), plus an add-on for the translation service. To understand what the final price will be, you'll have to get in touch with their sales team.
6. Five9 Add-on real-time translation
Five9 recently launched an add-on to extend the capabilities of its livechat software: Five9 messenger.

This is not a 100% proprietary technology, as Five9 relies on Google Translate. This is not necessarily a bad thing, given the number of languages supported by Google.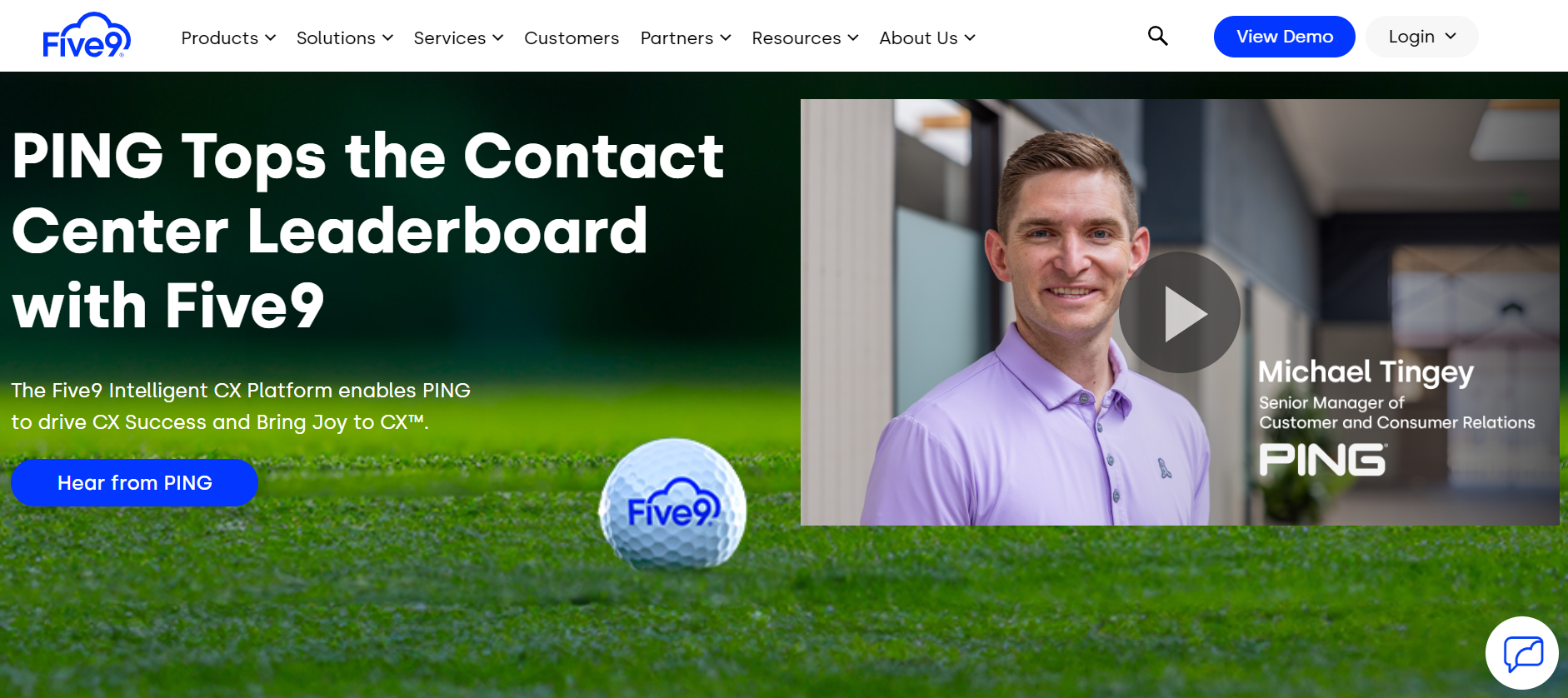 Pros
Compatible with Five9 contact center

Wide range of languages supported
Cons
Lack of price transparency

Lack of precision

Does not integrate with third-party tools
Pricing
Five9 does not disclose the price of its add-on or its messenger, which is available exclusively via contact center offers, which themselves start at $149 per user/month.
How do I translate a phone call?
If your company operates in international markets, not just France, you may well have received a call from a non-English speaking customer. A poor connection or even nervousness can play tricks on you and prevent you from concentrating 100% on understanding everything correctly.

It's precisely at these moments that a voice call translation function can get you out of a tight spot. Thanks to Empower's RIngover add-on, you can do this almost immediately. What's more, you can export the call transcript in both the original language and the language you wish to translate it into.

This feature enables you to translate Spanish, French and English, three of the world's most widely spoken languages, making your life much easier.
How do I translate a video call?
There aren't many applications on the Internet that let you translate a video call in real time. Among the names that come up regularly are ItourTranslator and Skype. However, both these applications are aimed at the general public. What's more, in most cases they are not true real-time translations in the true sense of the word, since the software processes the sentences of each caller once they have been completed, to reduce the margin of error, and not sequence by sequence.

While this may be interesting in certain situations, it's not the most practical or efficient way of dealing with everyday situations.

It's for this reason that many companies prefer real-time subtitled translation for video calls, opting to dispense with text-to-speech. This is particularly useful for multilingual online meetings.

For example, if you're holding a video conference with a German customer, when he speaks in German, you'll see the text in French. And when you speak in French, the application will display your speech in German. In this way, you'll be able to communicate seamlessly with any of your company's customers or partners, bringing you a certain comfort and closeness to your correspondent.
Advantages of translating voice calls
The main advantage of instantly translating a telephone conversation and being able to understand the caller without fear of misunderstanding is the confidence it gives you as a professional. But there are other benefits too:
Better communication
Voice translation breaks down language barriers, enabling callers to communicate more effectively.

Your agents, whether in sales or support, need to be able to communicate properly. To do this, they can use a to gain confidence.

A call translator also offers the "little extra" needed to continue communicating correctly if you change language. By translating conversations in real time, you can avoid overlooking details of a negotiation or problem that a customer in need may encounter.
International presence
When you're talking in writing, it's easy to copy and paste the message into the translator, so that you understand 100% of what's being said and respond in the same language. The difficulty arises, however, when the same exercise has to be carried out during a telephone conversation. Call translation plays a key role. It enables companies to establish a truly international presence, promoting market expansion, international partnerships and improved customer service.
Time savings
This advantage speaks for itself. No need to record the call, download the audio and listen to it again, trying to decipher what the English or French customer has explained. Simultaneous translation saves you time in every respect. The only time you need to invest is the time you devote to preparing and conducting the phone call in question. Saving time often means saving money!
Cost savings
Another notable detail is the advantage of not having to rely on someone else to translate what is being said. In other words, you don't have to rely on a third party or an external translation company.

In short, real-time or deferred translation of conversations is a real asset for companies, especially those with their own call centers.

The innovative solutions described above streamline inbound and outbound call center processes, and open up new prospects for companies seeking to expand internationally.
Call Translation FAQ
How do I translate a phone call ?
Some Android smartphones come with instantaneous transcription and translation by default. This means that when you make a call with a foreign conversation partner, the device simply displays the subtitles of your conversation. Such a feature can be useful for occasional use. However, for intensive or professional use, it's better to have a real conversation translation application (oral or written) compatible with your telephone or videoconferencing system.
Is there a phone call translator?
Yes, there are phone call translators. Some services offer real-time translation, but there are also services like Ringover's which will translate .
How do I translate a call on my iPhone?
iPhones do include a translate app, which provides rudimentary technology for translating text and voice. For moments when you will be offline but in need of translation services (like if you are traveling), you can also download languages. However, make sure to verify the language you will need is available.
Can you use live translate on a phone call?
If you have a Pixel phone, you can use live translate on a variety of different media. That includes videos, podcasts, phone calls, and more.
What is real-time translation?
Real-time or instantaneous translation refers to the ability to translate text or speech from language A to language B almost immediately. It is most often a feature added to solutions used by professionals for their (virtual/physical) conferences, or by private individuals when traveling in a country whose language they do not master.

This technology owes its success to the immense progress made in natural language processing and increasingly powerful AI models.