Customer service and VoIP
6 Customer Service KPIs You Need to Track in 2024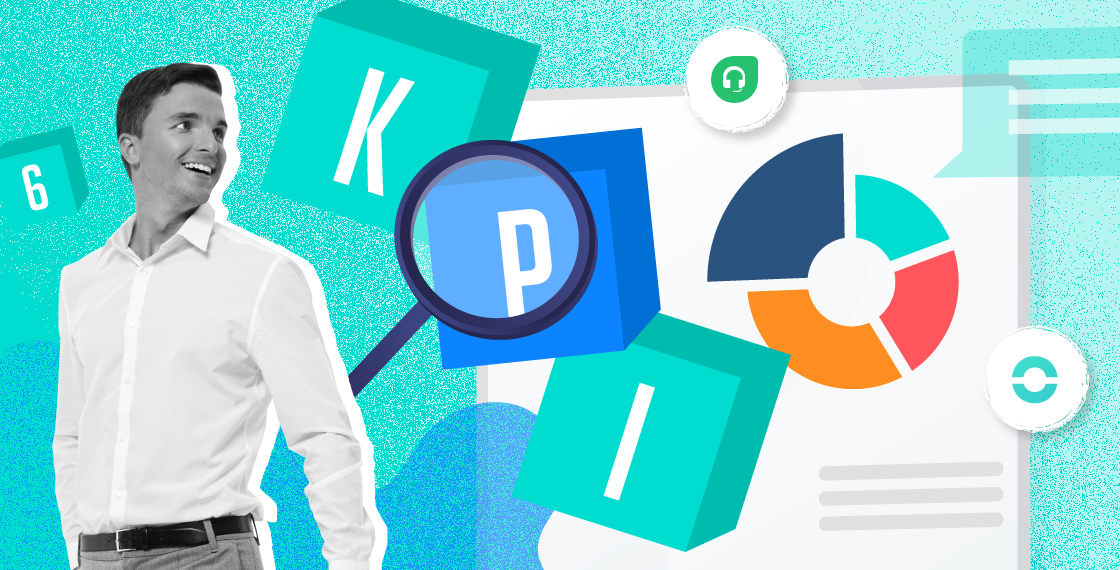 Ringover tells you the 6 main KPI's you should be measuring to ensure you achieve the best customer service possible in 2024

Maintaining a good level of customer service can be tough. Measuring the value of good customer service is even harder. However, only if you have quantifiable data on how well your support team is doing can you improve existing processes, make better staffing decisions, and ensure customer happiness.The best way to get these insights is by measuring customer service key performance indicators or customer service KPIs.
The KPIs you need to track
First response time
Definition: The time taken to reply to the customer for the first time after a ticket has been created.

The first response time has an overbearing impact on customer satisfaction, making it an important KPI for most businesses.

This metric is also a highlighter of your ticket assignment rules. Manually assigning tickets can take up a lot of time and effort, and asking agents to take up tickets can lead to cherry-picking. So you need to opt for an efficient alternative system such as automatic ticket assignment.

To add on, you can get insights about agent brandwidth by taking a look at this metric against the total number of tickets (more on this later). If you have a high number of tickets resolved per month, and a high first response time, then you need to work on easing agent bandwidth.
Average handle time (AHT)
Definition: The average amount of time an agent takes to handle a customer's issue from the beginning of the customer conversation to the last activity that is performed and until the case is closed.

Businesses work on improving this metric to increase customer satisfaction scores, boost team efficiency, and reduce support costs. The lower the metric, the more efficient a contact center operates.

Ringover seamlessly combines unlimited calling, shared messaging and video conferencing into one easy-to-use application, all of which allows you to quickly handle a customers issue. With its quick setup and instant activation, Ringover lets you connect with your customers easily to offer a great customer experience from the beginning to the close.
Resolution
Definition: The percentage of tickets resolved before the specified time limit. Today's customers prefer getting quality, personalised, and seamless customer service, even if they have to wait for a bit. However, it's important to make sure that the resolution time is consistent and is not unacceptably long. Here's where the resolution time limit comes into play as an important KPI since it helps ensure that all tickets are resolved within a set time.

Fixing poor resolution times lies in equipping agents with better training and resources to handle complex customer issues.
Number of resolved tickets/month
Definition: Total number of tickets resolved every month.Ensuring that this metric does not see a sporadic trend is important since every 100 extra monthly tickets per agent (or 20 additional weekly tickets) can lead to a 1% drop in CSAT scores.

The number of tickets resolved per month also acts as a fair judge of an agent's productivity, if you follow a system where certain types of tickets are assigned to a particular agent. For instance, how-to tickets are mapped to agent 1, and tech support tickets to agent 2, and so on.

However, if that's not the case, then it's important not to associate the number of tickets resolved per month directly with an agent's capability since each ticket can be of varying difficulty.Instead, you can club this metric with other metrics like resolution SLA or average handle time to understand the capacity of work an agent can handle without compromising on quality or speed.

Ringover's dashboard lets you see your agents productivity by summarising all essential data: service level, number of calls in progress and in the queue, agents available and on snooze, and calls on hold are all displayed to help you evaluate your team's overall activity.
Customer retention rate
Definition: The percentage of customers you retain over a period relative to the number of customers you start with at the beginning of the period.

Customer retention can boost your revenue by increasing the lifetime value of your customers. A mere 5% increase in customer retention can boost your revenue by 25-95%. To add on, your chance of selling to an existing customer is between 60–70%, compared to 5–20% for a new customer. While product quality is a variable that significantly impacts this metric, customer support plays a major role in fostering customer relationships and ensuring that customer issues are addressed before they escalate. One of the most significant issues customers have when contacting a business is long wait times. Ringover can help solve this problem with our Automatic Call Distribution feature, to make sure you have better customer service.
Customer churn rate
Definition: The percentage of customers you've lost or retained over a specific time period.

Reducing customer churn is a crucial aspect of business success that requires constant customer engagement to understand and address customers' issues with your brand and product. It goes without saying that the onus of doing that lies with the customer support team.
Track KPIs with the Freshdesk and Ringover intergration
You can also integrate Freshdesk with your Ringover business phone system. Freshdesk will support your customer support teams time by relieving them of repetitive tasks with features that stop them from wasting time on pointless tasks, and instead focus on the important ones! With the Fresh desk integration, all of your telephone conversations are automatically recorded in Freshdesk, which saves you time typing them out. You can also easily transfer in-progress calls to members of your team, to ensure your average handle and resolve times are great!
Make sure your business hits all its KPIs this year!
If you would like to ensure you hit all your 2024 KPI's, start your free Ringover trial today!