Call center
The 6 main business advantages of Contact Centers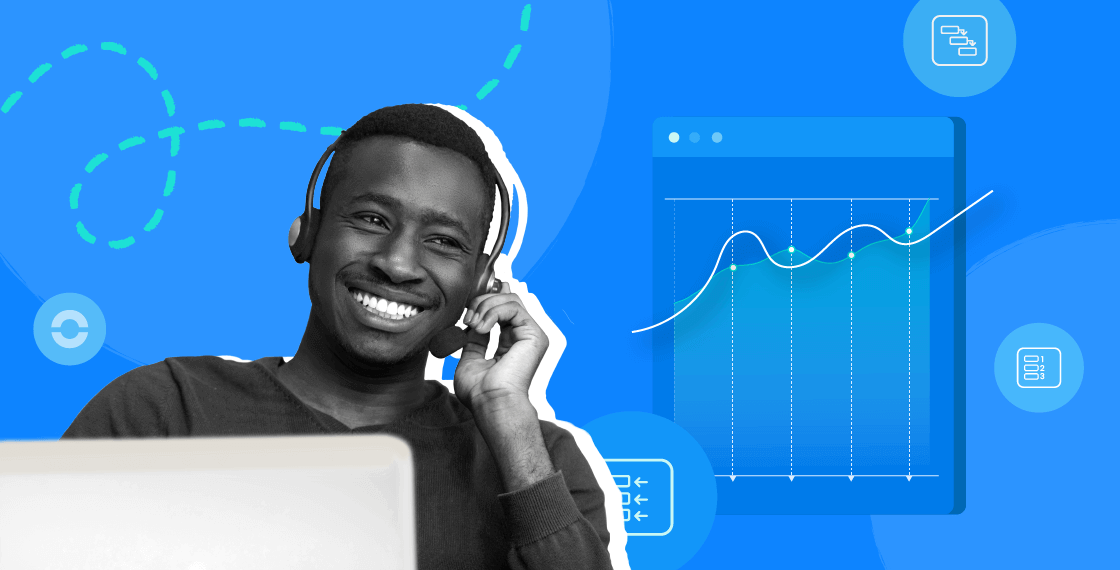 Contact centers or call centers have come to play an essential role in all types of companies. New technologies have made it possible to perfect this solution, adapting to digital communication and improving the productivity of your team. The difference between having a contact center or managing calls manually can be huge. Good communication will save you time, gain productivity and offer better service for your customers.Now, let's talk about the main advantages of having a contact center with Ringover for call management.
What is a contact center?
A contact center or a call center is a place where a team of professionals attend to the company's communications needs. They do it through the phone, SMS, video call, chat or whatever other ways the company communicates. It's important to distinguish the difference between contact center and call center, since the second is focused on telephone calls. Today's omnichannel companies require call centers to be able to provide customer service through multiple communication channels. This raises the need to work with call center systems designed for omnichannel communication. Current contact centers don't necessarily require the presence of the employee in the same place. It works with digital virtual switchboard solutions. Your team can answer calls remotely, without having to be present in the office.Apart from hardware resources and communication tools, digital contact centers have virtual switchboard software, allowing calls to be routed and giving you control over incoming and outgoing calls.
Discover the advantages of a contact center for your company
1. Redirect the contact to the right department
With a contact center you can collect incoming calls and distribute them to each department. This type of solution allows your customers' problems to be dealt with in less time, without your customers or suppliers having to dial another number or extension.You can even customize the treatment of incoming calls, giving priority to your VIP clients. In addition, you can also redirect calls to groups of users, so you'll guarantee that at least one agent will pick up the call.
2. Real-time call statistics
When you manage your calls with a contact center software, you can obtain statistics in real time. You' ll have all kinds of specific data about your calls and contacts.
Register the calls

The length and time of the calls

Track the productivity of your agents

Monitor performance by user and by group
The statistics allow you to create reports helping you improve your processes. It's a fundamental tool in any sales or customer service department. Call data helps team leaders guide, train and manage the agents to improve their effectiveness and results.
3. The listening function
Our contact center allows you to standardize and professionalize your customer service. You can supervise and monitor with our tools, so you can always be in control. One of the functions included in this type of solution is the dual listening option.On the one hand, the sales agent can listen to what the client tells him, and on the other hand, hear the instructions transmitted by his supervisor, without the person on the call being able to hear his voice. In this way, your team will be able to guarantee the quality of your customer service, training sales agents to improve your performance indicators.
4. Omni channel management
Omnichannel management is one of the main advantages of modern contact center software. Communications are managed in different ways than the traditional phone call. For example, there are voice messages, chats, SMS, video calls.Companies need solutions to manage a complex and omnichannel communication process. Customers don't like when we do not communicate with them through their preferred channel, or that if they have sent an SMS, we have not collected the information because they did not call by phone.
5. A better way to store data
The contact center allows all your contacts and call data to be stored in the same software. This can be a great competitive advantage, since everything you do is recorded. You can look up any phone number that has been called, or that you've called.You also have access to call recordings and you can even access the chronology of the different calls. The work of supervision and analysis, which is so necessary in any client services department, if it's not measured or analyzed cannot be improved.Your virtual PBX solution doesn't just store data. It also integrates with your CRM software tool as well as other company productivity solutions. With this you can properly track customer relationships.
6. Access from any device
A traditional telephone switchboard forces you to be present in the office to answer calls. An omnichannel contact center allows you to access your line from any device, be it a laptop, mobile application or tablet.This provides great flexibility to commercial departments, they'll be able to answer, send or route calls wherever they are. In addition, it must be said that the call will have exceptional quality, and that it's not only possible to talk on the phone, but also to send or receive voice messages.Call center solutions for companies are not the future, but the present. If you standardize the communication process with your customers, your productivity and profitability will improve.Ringover is the contact center software solution for you. Save time, improve your processes, supervise your sales team and prepare your business to manage the complexity of omnichannel communication. Sign up now for FREE and try Ringover for 7 days with no obligation.