Customer service and VoIP
How to get a virtual office, hotdesk and unlimited calls all for under £100 per month!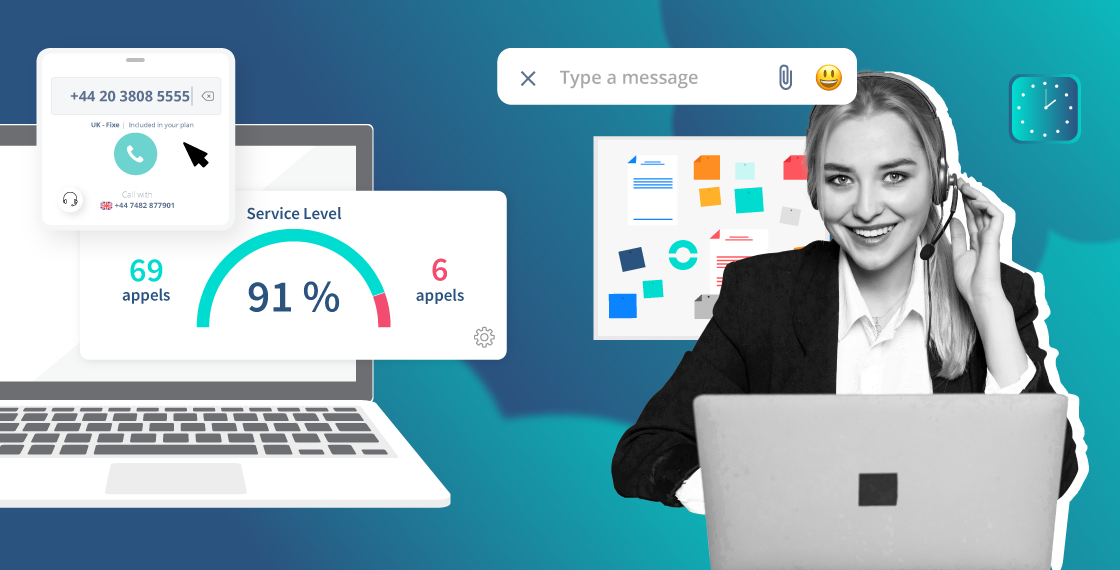 At Ringover we know that being tied to an office desk 5 days a week just isn't necessary anymore. That is why Ringover has teamed up with Orega and First Office Hub to bring you a new virtual office deal that will give you the flexibility you require!For less than £100pcm plus VAT, you'll benefit from a business address in a prestigious location and get access to an in-house hotdesk for three hours a day (or 1.5 days/week). You'll also get a subscription to Ringover. We will provide you with a virtual phone number which seamlessly combines unlimited calling, call centre tools, shared messaging and video conferencing into one easy-to-use application.
What Ringover can provide
Communication tools can be complicated and expensive. Ringover allows you to set up a complete professional phone system in just a few clicks.You can make unlimited calls with Ringover, no need to manually type in phone numbers! Instead, calls are only a simple click away. Moreover, you will gain access to unlimited calls and the ability to route calls to the right different employees wherever they are, making it perfect for remote companies. Tracking your team's performance remotely is also easy, because Ringover lets you supervise and coach your teams during live calls, and provides you with access to detailed call data. You can even generate activity reports for performance reviews.
What Orega can provide
Orega is one of the UK's longest-running flexible workspace operators, providing office spaces for hybrid teams and business owners for over 20 years all over the UK.For organisations that require a physical workspace, Orega offers a selection of serviced and temporary offices. Serviced offices are ready-to-move-into and come with everything you need to operate effectively, such as high-speed internet and amenities.
What the virtual office + hotdesking deal includes
You get access to a virtual office package, hot desk and Ringover subscription when you sign up for a virtual office package with Orega for 12 months. This offer is available exclusively through First Office Hub. Here's what's included:
A subscription to Ringover for you and your team

A prestigious business address at one of Orega's locations

Mail signed for and collected

10-20% off meeting room bookings

Access to a hot desk for a maximum of 3 hours per day

Free tea and coffee when you're hot desking

Personalised voicemail

Calls screened and forwarded
What are the benefits of a virtual office?
Virtual offices are particularly beneficial for businesses that operate remotely but need access to a physical office space every now and again.Ringover offers a virtual phone number, which allows you to operate and keep in contact with your customers anywhere. Widely used by international companies, virtual phone numbers are ones that are not associated with any physical phone, unlike a traditional phone number. Calls to virtual numbers are redirected to other phone numbers or VoIP applications on computers or mobile phones.There are many benefits to using a virtual phone number, such as;
Easily obtain a phone numberThanks to their ease of use and almost immediate activation, virtual numbers are the best way for companies to quickly obtain a specific type of number; to put phone support in place or equip colleagues in a target country, for example.

Give your callers a proper welcomeWith the greeting features generally associated with the purchase of a virtual number, you can easily customise on-hold messages and announcements in the language of your choice.

Reinforce your local presenceThe ability to activate local and landline numbers in most countries without having to sign up for a different telecom plan in each place your company operates allows you to emphasise your image on the local level while making significant savings.

Keep your work and private life separateUsing a virtual phone number dedicated to your profession rather than your personal one lets you maintain your work/life balance - even while using a single device!

We've found that customers who utilise their virtual numbers for sales activities achieve pick up rates that are 4x higher than those who don't use them. This is because natives are more receptive to answering calls from regional numbers

Doug Mulvihill, Marketing Manager, UK & Ireland of Ringover

A virtual membership is your "foot in the door"

First Office Hub

Orega

Does your organisation have ambitions for growth?

sales@ringover.co.uk