Business phone system
The Best Salesforce Apps & Integrations in 2023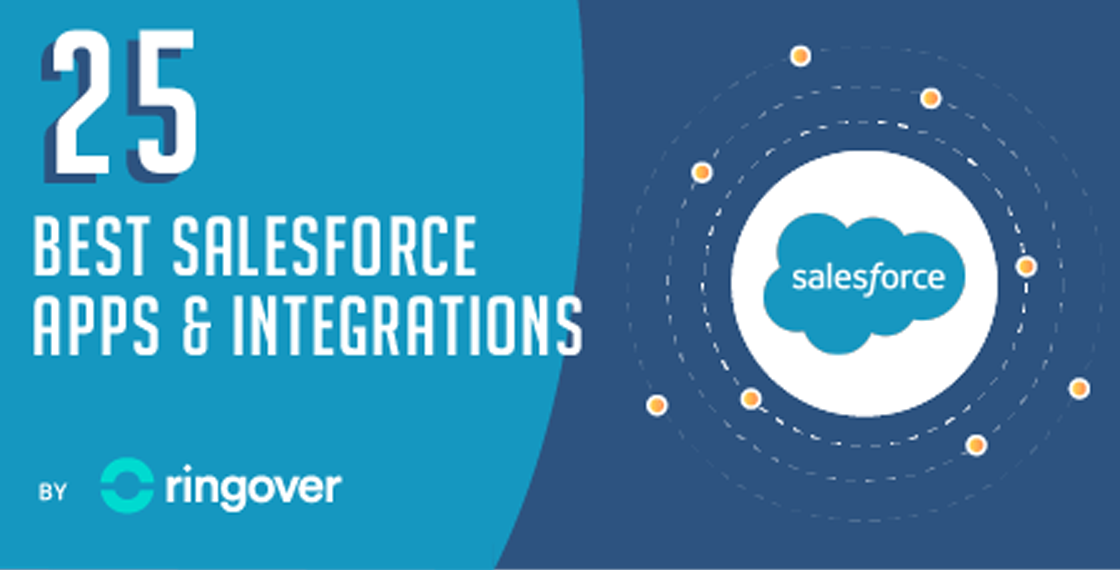 Salesforce has been the most widely used CRM in the corporate world for decades, and there's a good reason: the #1 SaaS software offers both a solid CRM structure that suits most business models and endless adaptability to business processes thanks to an extremely rich development environment. This environment relies on a large community of developers and a large number of software publishers who provide integrations and Salesforce apps to address all issues.Thanks to this environment, any company has the ability to turn Salesforce into a selling machine for structuring and boosting its growth. Whether in the field of marketing, customer support, finance, accounting, emailing, collaboration or data, it's in the best interests of any software that directly or indirectly affects client relationship management to offer a Salesforce integration.You can find all of the apps on the Salesforce Apps Exchange, which is comparable to the Apple Store for iPhones.Which Salesforce application is best for managing my phone system or sending sales emails? Which will help me structure my conversion funnel? Which Salesforce integration is recommended for managing customer service or accounting?To help you explore your options, we'll be discussing the best Salesforce integrations and apps to improve your CRM in 2022.In this article, we'll review:
CTI integrations: your phone system in Salesforce

Salesforce integrations and apps for sales productivity

Salesforce integrations and apps for data management

Salesforce integrations and apps for marketing automation

Salesforce integrations and apps for client support

Salesforce integrations and apps for your website

Salesforce integrations and apps for collaboration

Salesforce integrations and apps for document signing and management

Salesforce integrations and apps for email tracking
Check out the side menu to easily navigate through the article ;)
If you are a software publisher offering native integration with Salesforce and think you can help the community improve CRM, please write to emma@ringover.com and reference your software.
CTI integrations: your phone system in Salesforce
The advantage of coupling your business phone system with your CRM is improved productivity for sales teams, who will save time on lengthy and repetitive tasks.For instance, with Ringover, you can set up the integration in a few clicks from A to Z and start making calls from your CRM right away. The key features of this integration are:
Click-to-call: make your calls by clicking on a number in a client file with a dialer integrated directly to Salesforce,

Contact synchronisation: by automatically syncing your Ringover and Salesforce contacts, you'll know in a glance who's calling with each incoming call,

Automatic call logging: each call is automatically logged in Salesforce, with all phone activity saved in the client file (recorded calls, voicemails, text messages, etc),

CTI screen pop: for each incoming call, the caller's Salesforce file will open automatically, allowing you to view all available client information,

Call transfer: easily transfer your calls from Salesforce.
Having direct access to your sales teams' business calls in Salesforce saves time and yields higher call volume as well as better lead qualification and higher quality exchanges.
Salesforce integrations and apps for sales productivity
Leadjet
Leadjet is a simple browser extension that connects Salesforce with LinkedIn, allowing you to update your CRM without having to leave the LinkedIn interface. The tool synchronizes messages, contacts, and other data between the two platforms, therefore eliminating manual data entry and input errors. Leadjet also enriches contacts, develops customized messaging templates for LinkedIn outreach, and notifies you when CRM contacts become outdated to streamline your workflow and promote data hygiene.
Dooly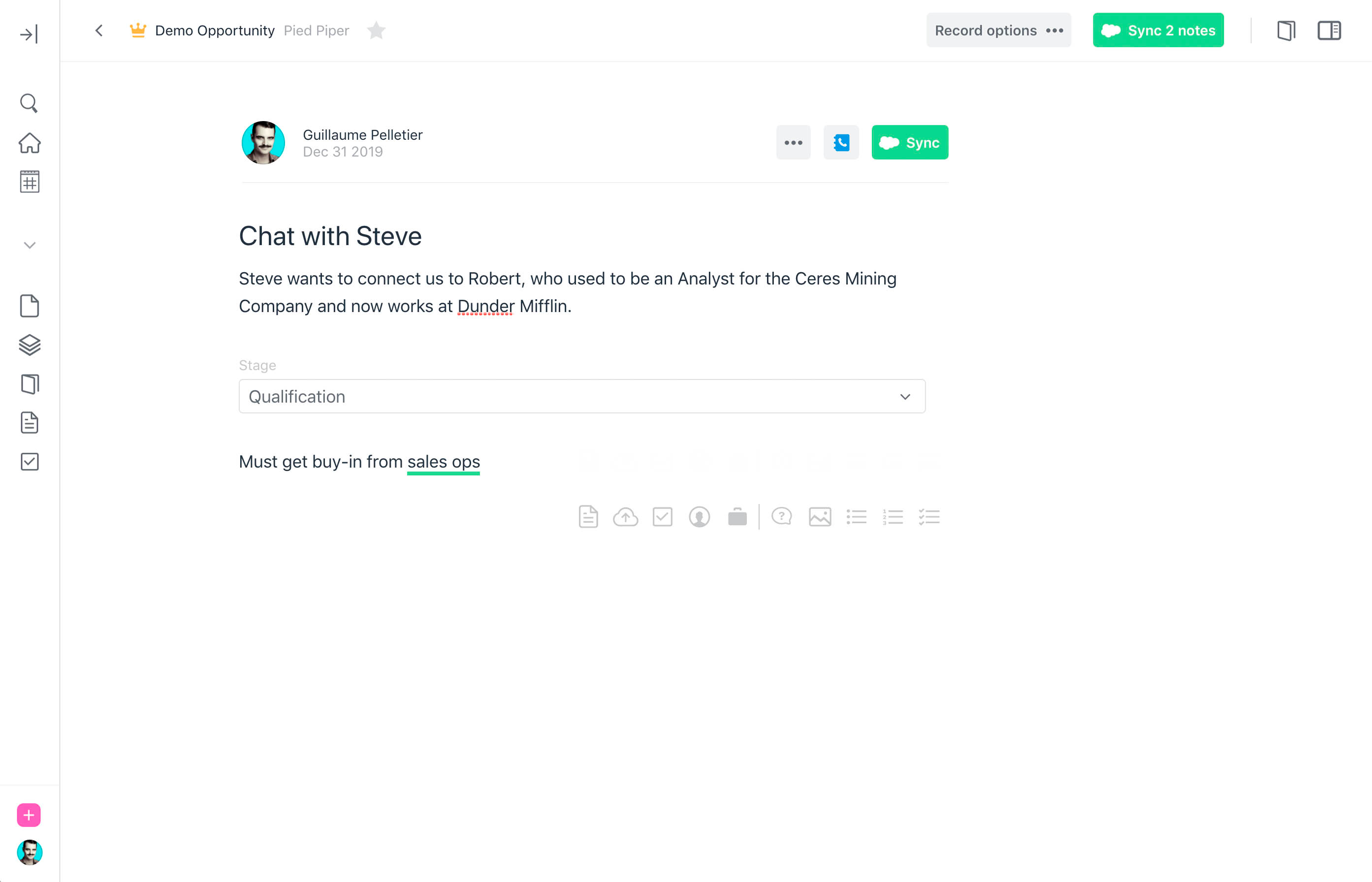 Dooly is easy to use and allows salespeople to update multiple leads at the same time. It makes note-taking easier than in Salesforce, allowing synchronisation of notes and events for finding up-to-date information in Salesforce. The software is set up very quickly, allowing employees to start updating Salesforce immediately.
ClearSlide
ClearSlide optimises the management and sending of marketing and sales content. This technology makes it possible to analyse the reading of materials sent to your targets, measuring their reading time as well as which pages they spend the most time on. Sales reps can then directly see in Salesforce which leads have skimmed over your content and which have spent time reading so that they can contact only the most interested leads.
LevelJump
LevelJump is business coaching software. An extension integrated to Salesforce for the continuing education of salespeople, it provides managers with tools and programs for increasing team skills and monitoring progress. Sales reps are directly trained with concrete cases related to your customers, which helps them become more deeply involved in your activity.
High Velocity Sales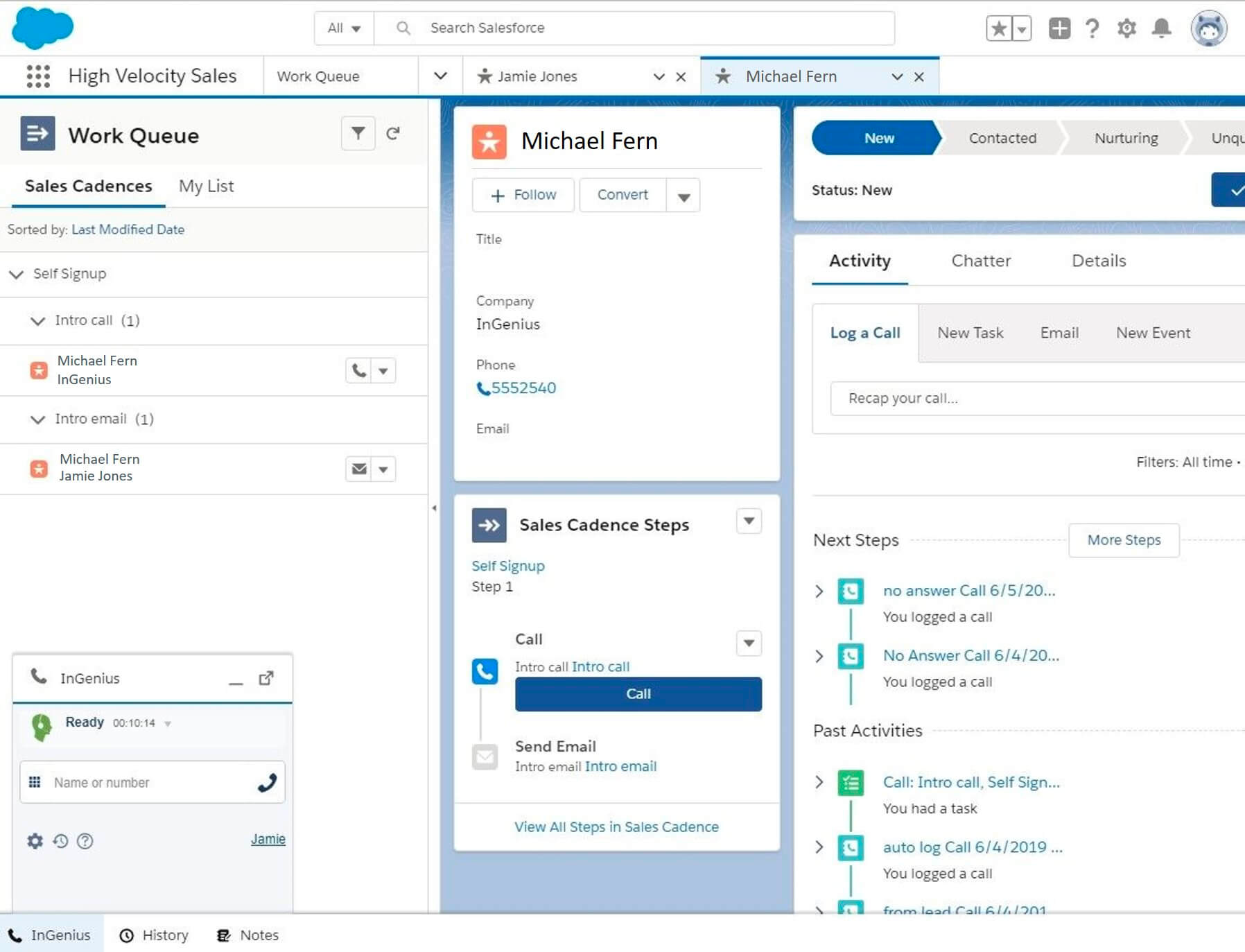 High Velocity Sales is a Salesforce module that allows you to control the processing of incoming leads for inside sales. The stages can be customised by company, and at each stage an automatic action, such as an email or a call, can be implemented.
Discover: What Is Salesforce High Velocity Sales and How Do I Use It?
ConnectLeader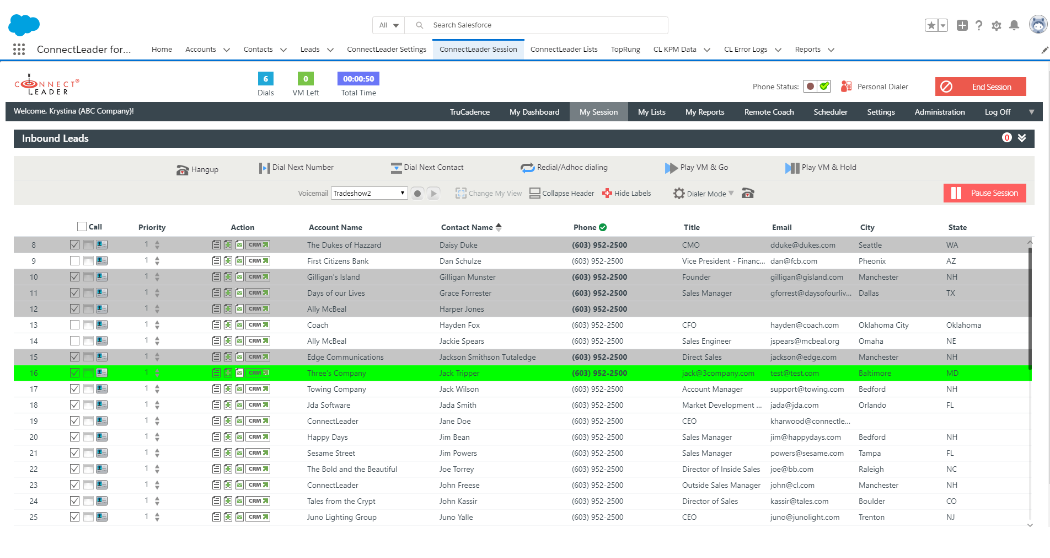 ConnectLeader Dialer for Salesforce enables back-to-back calls, allowing your sales reps to carry out more rhythmic and organised sales call sessions. The module suggests call sequences based on previous calls, with the possibility of displaying a local number for each lead. This in turn increases your leads' answer rate, since they'll be more comfortable picking up a number from an area code they recognise.
ClosePlan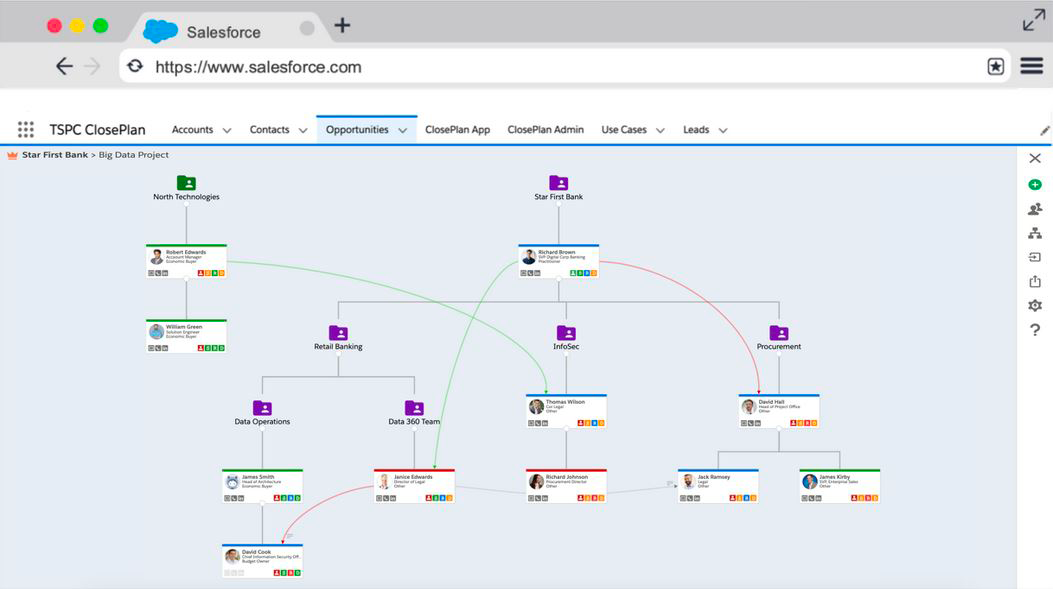 ClosePlan is intended for sales teams with complex sales processes. Directly integrated with Salesforce, it lets you format your action plan through drag and drop. The advantage is the ability to present different business strategies to your team depending on the lead - after all, there's no better way to make your action plan understood than through visuals.
Salesforce integrations and apps for data management
Coefficient
Coefficient syncs Google Sheets with Salesforce, so you can leverage real-time sales and CRM data in your spreadsheet. Pull data from, and export data to, Salesforce in Google Sheets. Set automatic data updates to power always up-to-date Salesforce dashboards in Sheets. Share the latest reports and KPIs with your team via Slack and email alerts.
Cirrus Insight
Cirrus Insight allows you to work without having to go through Salesforce each time. By synchronising your inbox with Salesforce, you can view your opportunities and updates directly from your inbox or schedule appointments. The module automatically sends you confirmation messages by email and allows you to send emails to update Salesforce.
Map My Customers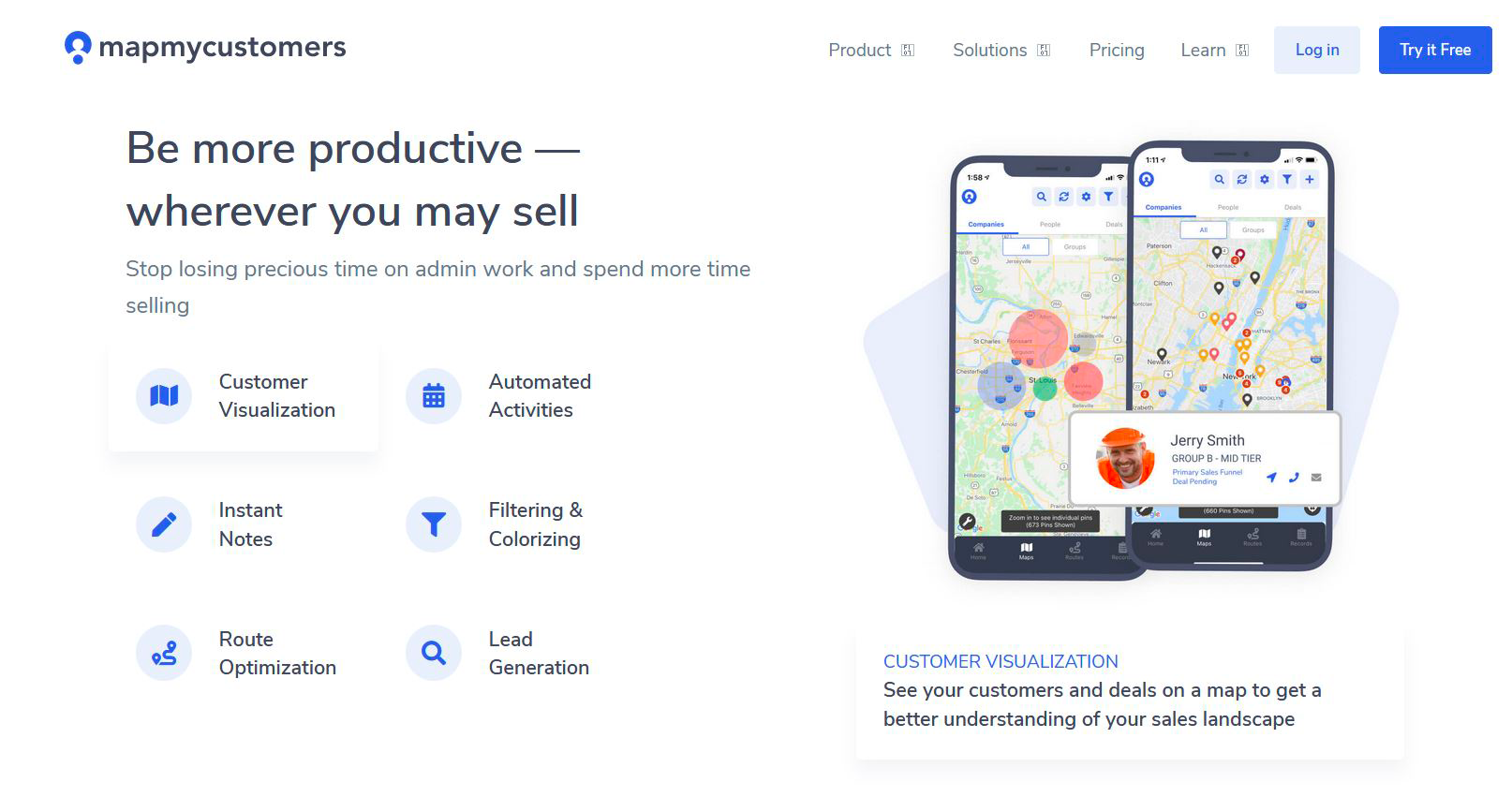 Map My Customers displays your leads and clients on a map. This allows you, for example, to set up meetings with your leads according to zone, or to divide an area among sales reps. Map My Customers is a full-fledged CRM for sales teams that also offers Salesforce integration for syncing contacts in real time.
Salesforce integrations and apps for marketing automation
Pardot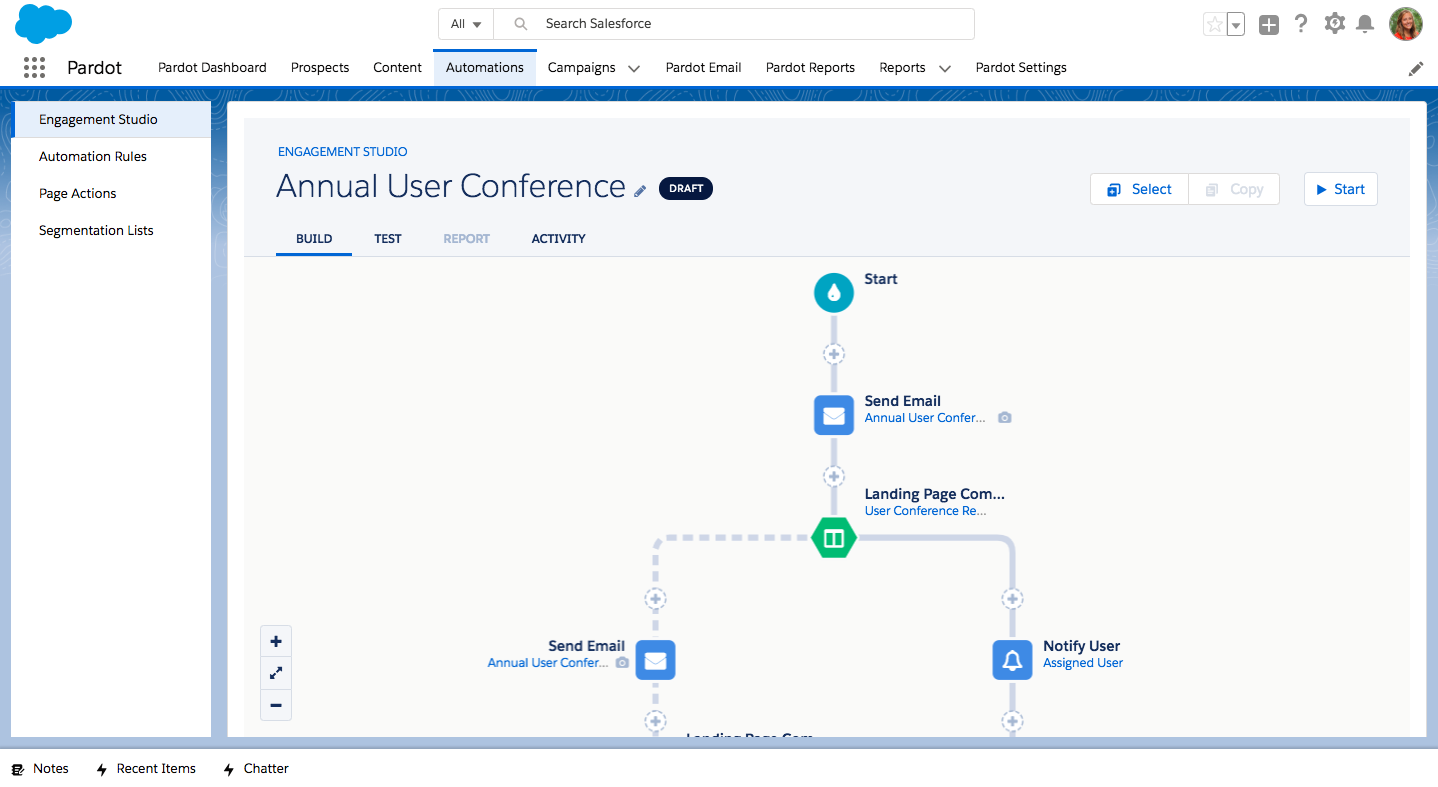 Pardot is the marketing automation tool for working hand in hand with sales teams on Salesforce. It guides you in creating emailing scenarios and makes it possible to automatically assign generated leads to your sales reps according to pre-defined rules. Salespeople can then find these leads in their Salesforce interface with a summary of activity and emails received. Openings, clicks, Google searches following an email - everything is recorded to help your salespeople close the sale.
Mailchimp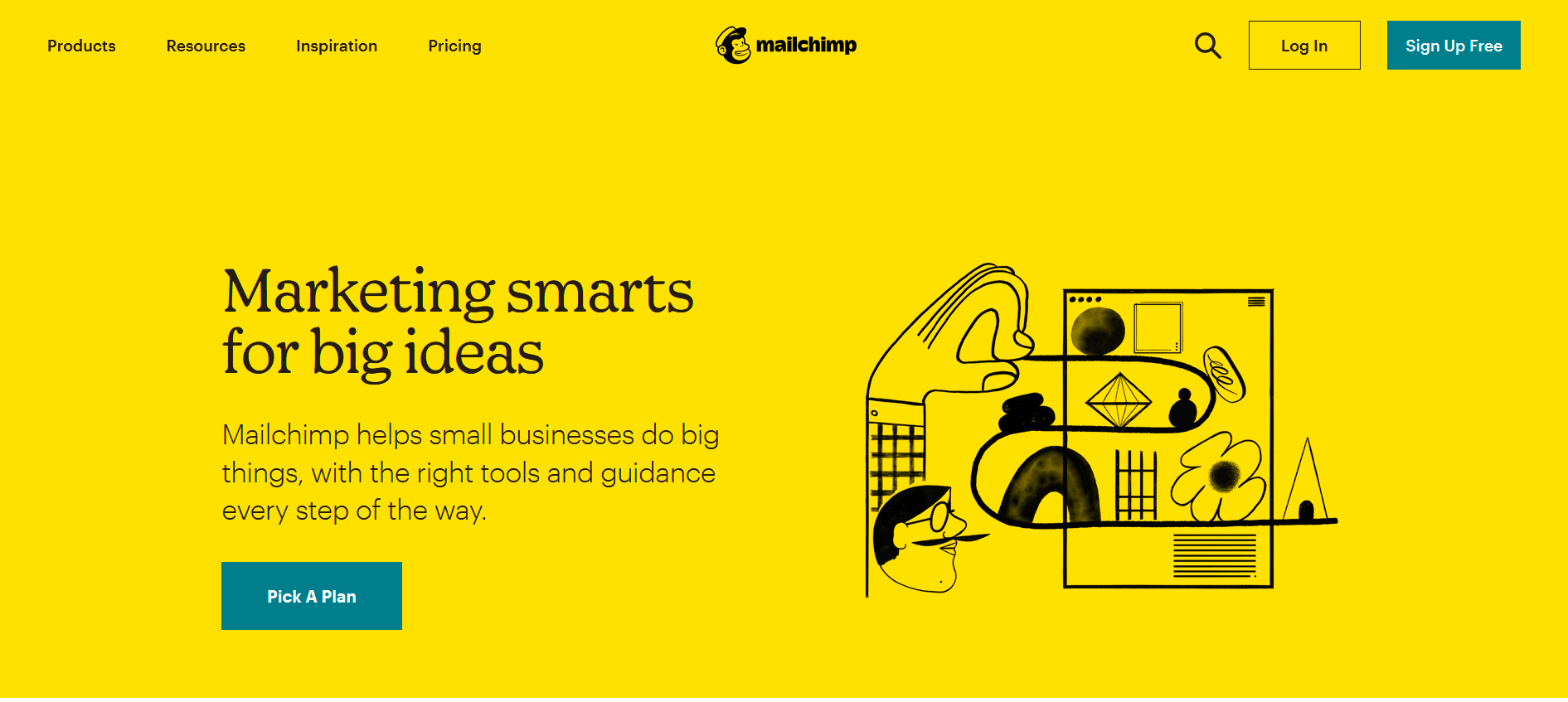 Mailchimp is the most widely used email campaign editor. It provides a template editor that allows you to easily insert pre-formatted blocks ready to accommodate your content. Its strong point is its free version, which allows you to send up to 10,000 emails per month to a base of 2,000 contacts. The editor offers an integration that allows you to view your contacts directly from the Salesforce interface.
Act-On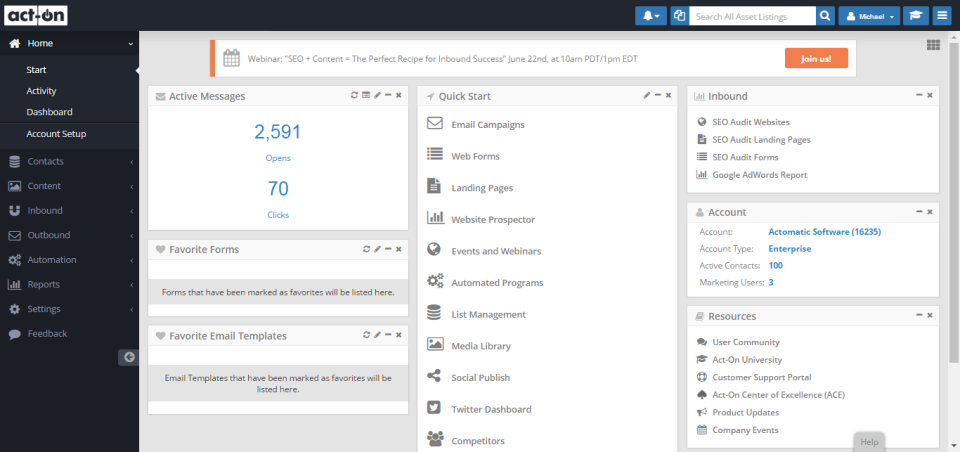 Act-On is a marketing automation platform for launching campaigns to provide salespeople with better qualified leads. The module automatically synchronises reports, campaigns, opportunities and clients between Salesforce and Act-On.
Salesforce integrations and apps for client support
Zendesk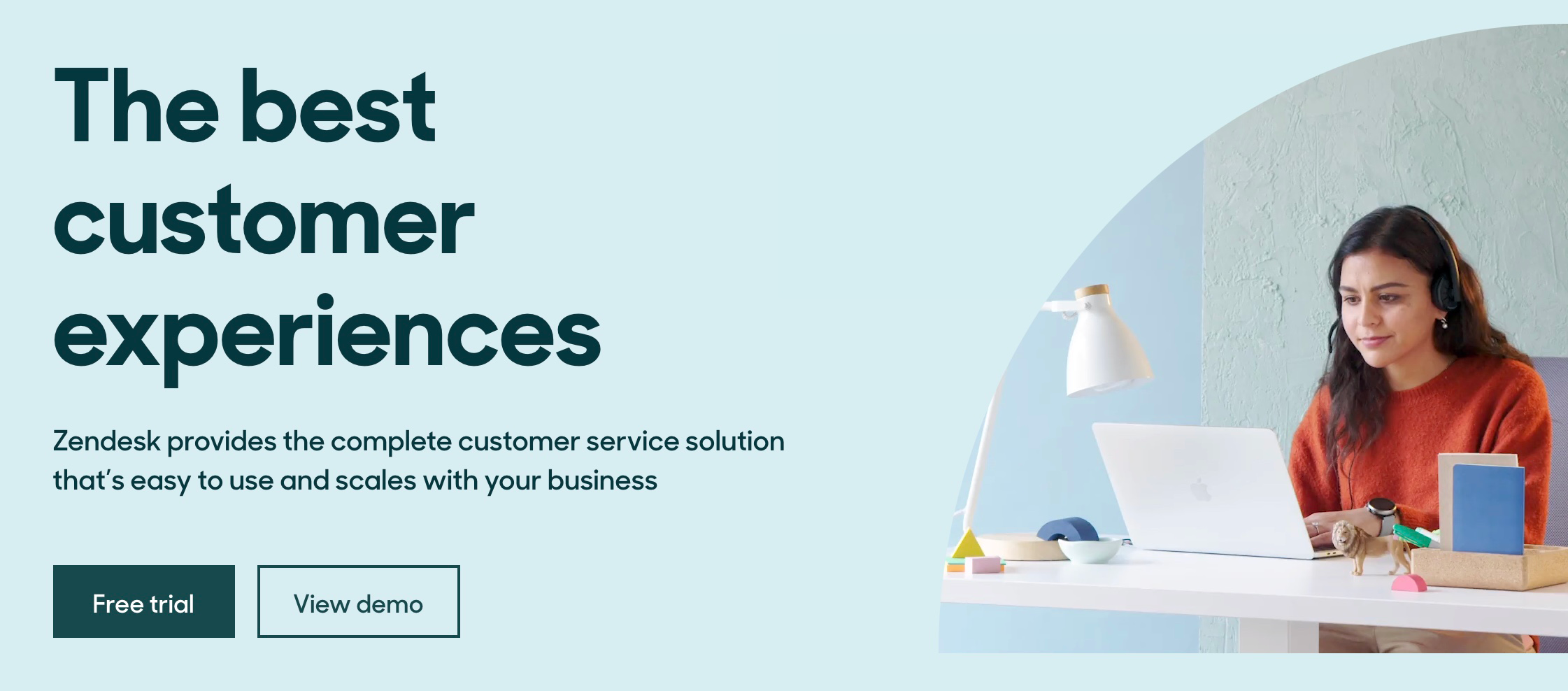 Zendesk is one of today's most popular support platforms, with the management of tickets created by customers happening on the web interface. The Salesforce Liaison module shows you ticket history and open tickets created by customers so that your sales reps can better understand your customers' situations and adapt their methods accordingly.
Discover: Zendesk CTI: Your phone system integrated with Zendesk
Freshdesk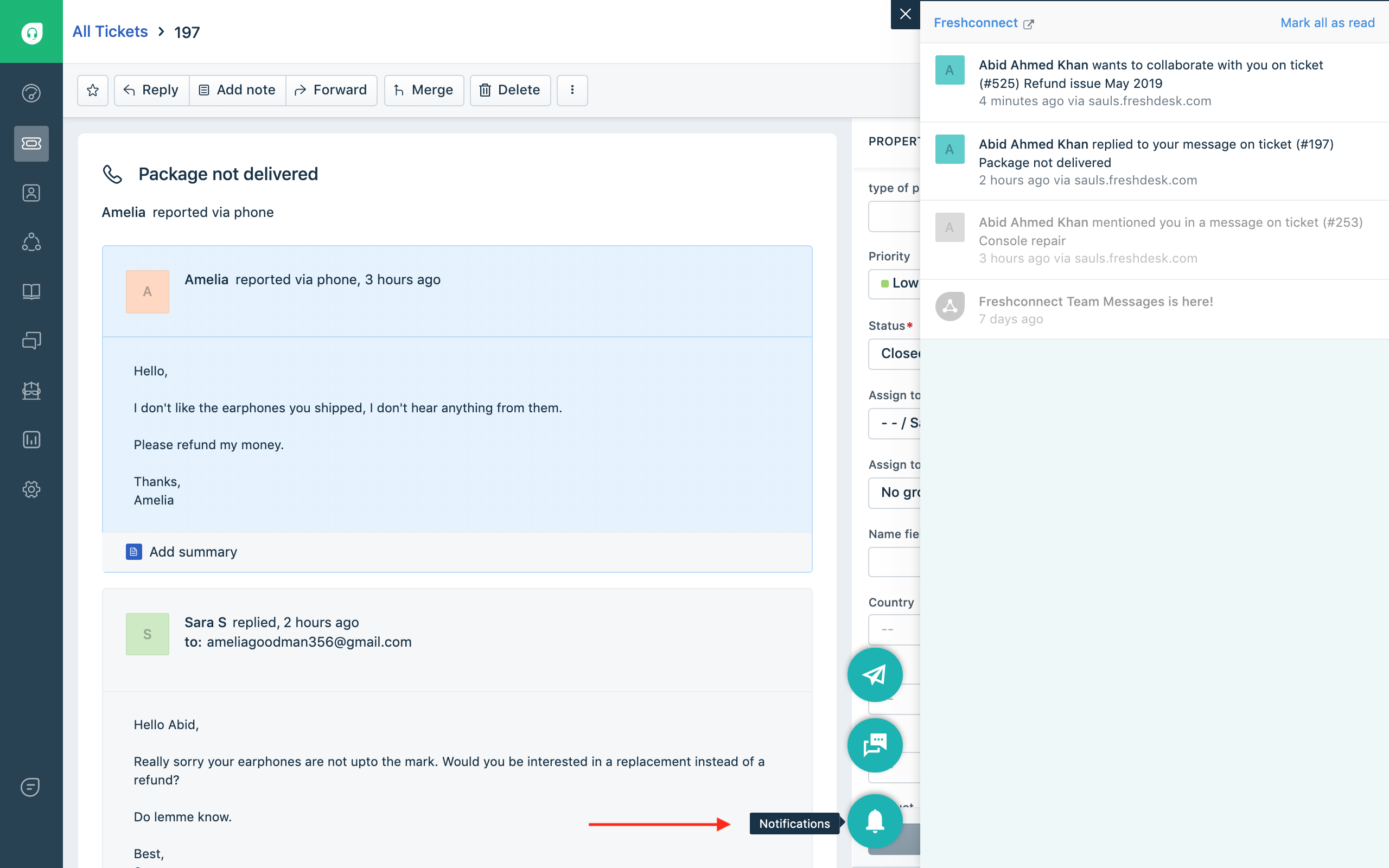 Challenging Zendesk is multi-channel support software Freshdesk. Its integration with Salesforce allows you to create tickets directly from the Salesforce interface, for example, to help your salespeople better communicate with your technical support.
Gorgias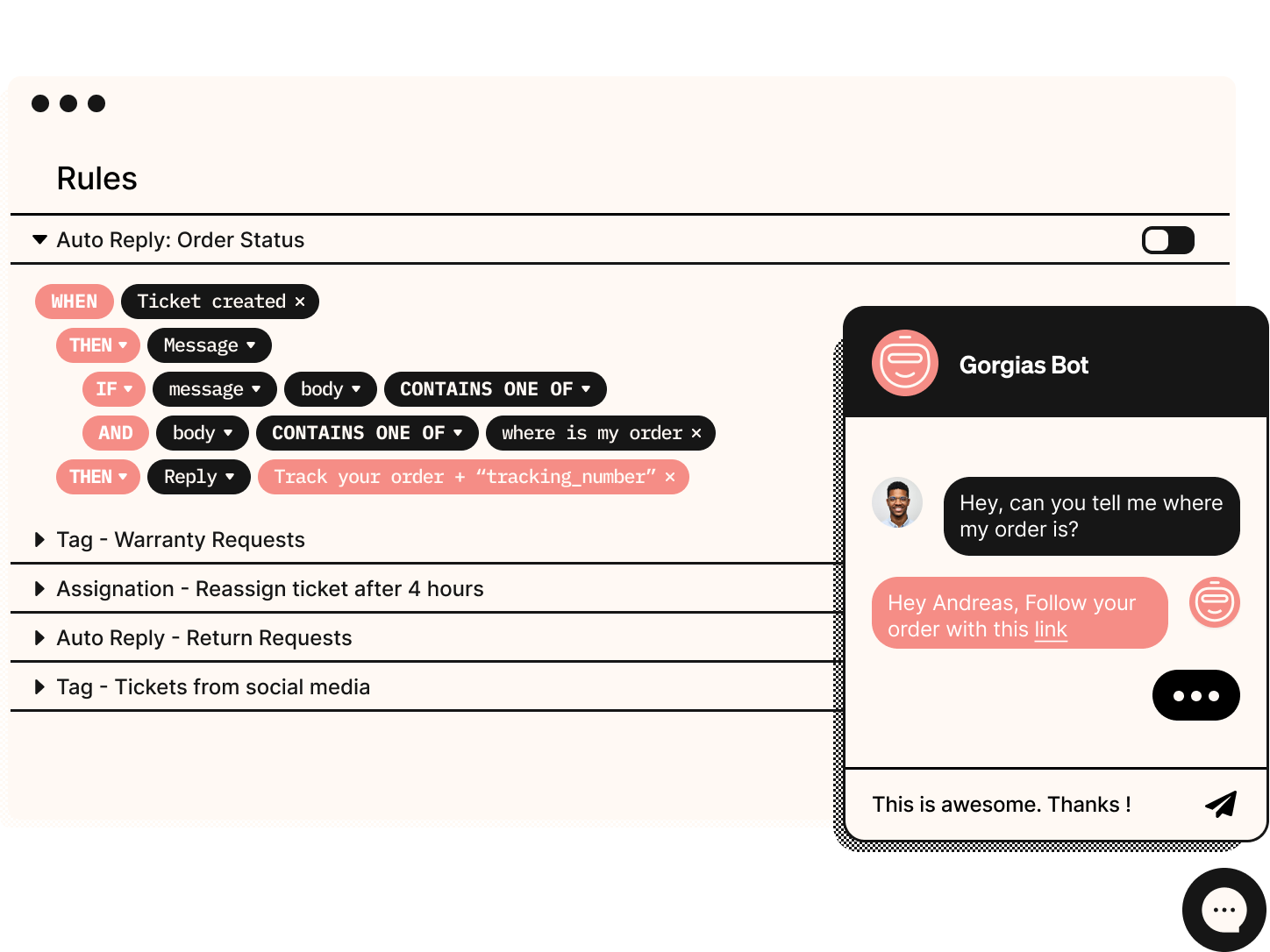 Gorgias is a customer service platform designed with e-Commerce in mind. It allows you to manage messages received by customers via text, email, phone or even social media right from the Gorgias platform. It integrates with over 30 apps such as Instagram, Facebook, Gmail, Twitter...and of course, Salesforce.
Salesforce integrations and apps for websites
Formstack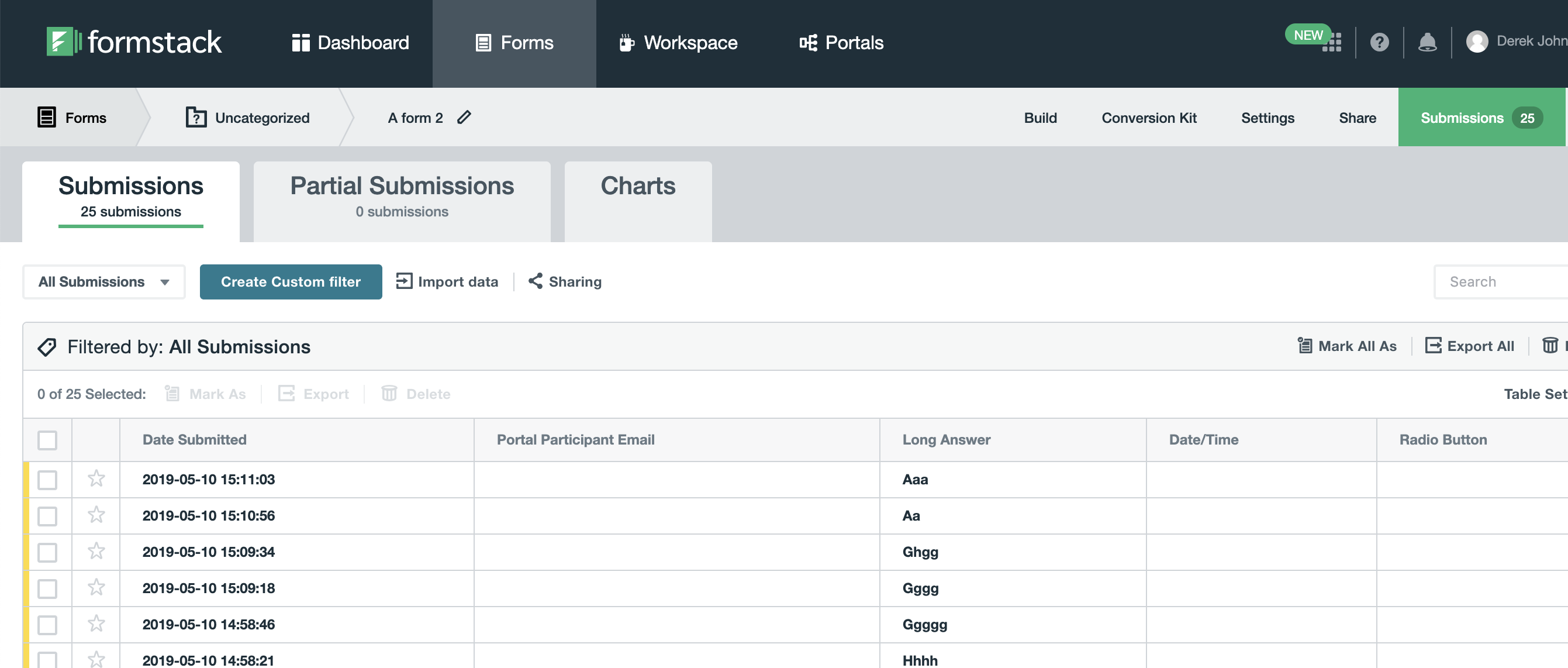 Formstack allows you to create easily integrated forms on your different platforms. Its integration with Salesforce sends collected data back to Salesforce in order to create statistics or update customer files.
FormAssembly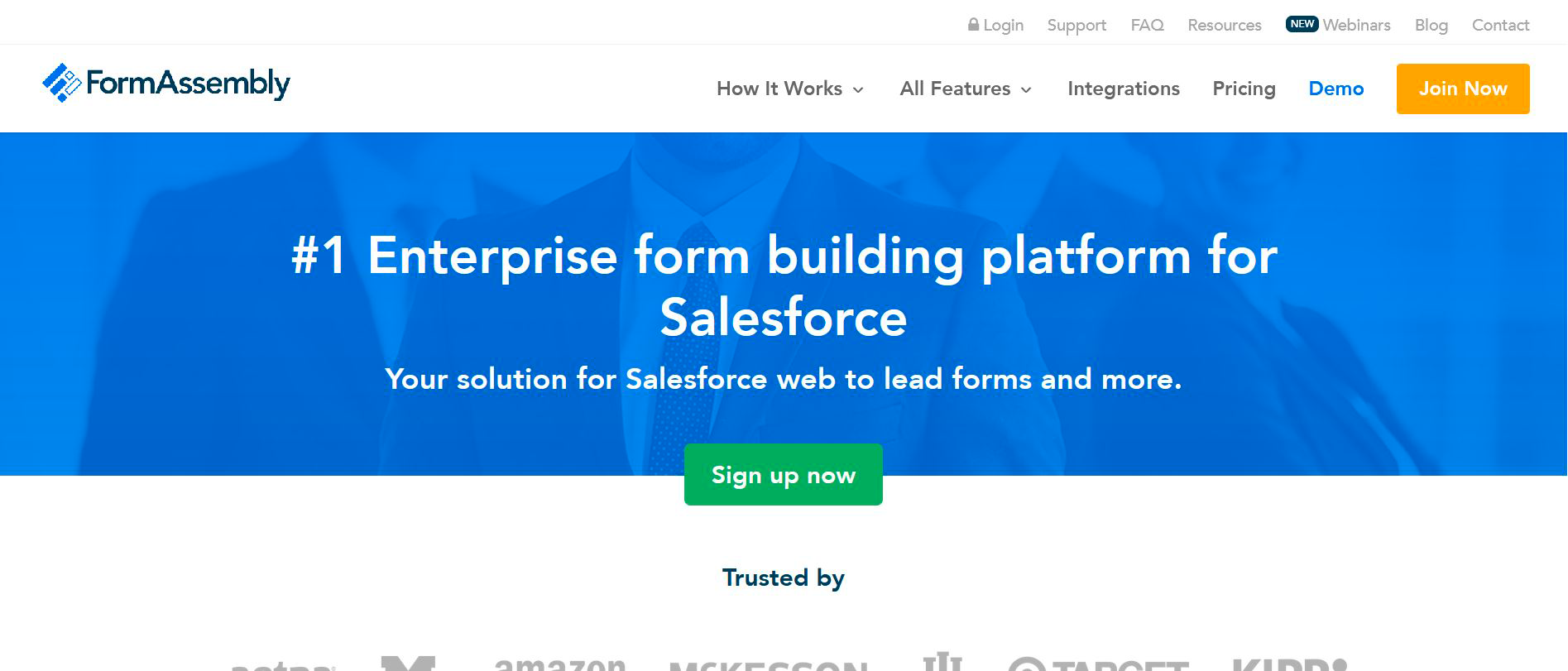 FormAssembly allows you to create forms with pre-made templates by adding blocks with drag and drop. The module offers about fifty integrations including MailChimp, Paypal and Salesforce. The Salesforce integration allows you to pre-fill forms, access results, and create contacts with completed forms while preventing duplicates.
Salesforce integrations and apps for collaboration
Chatter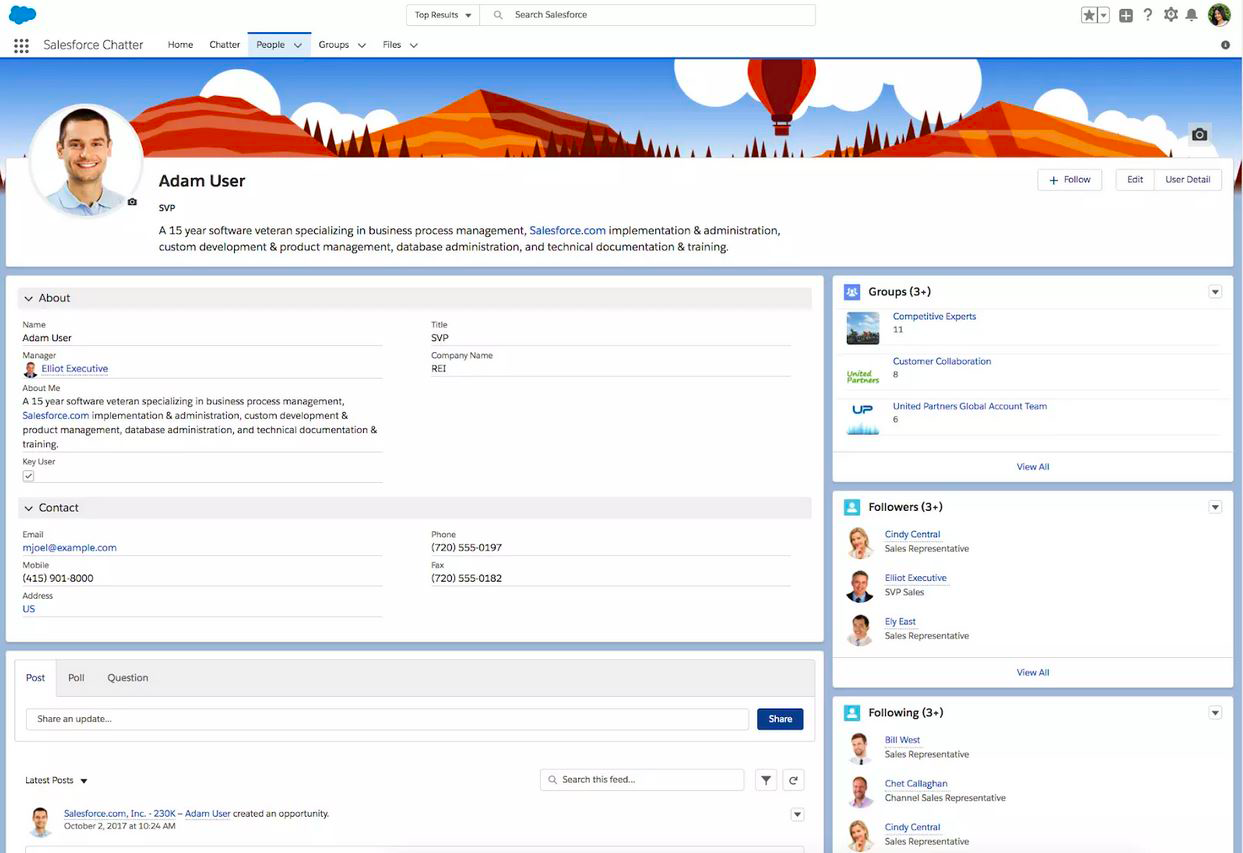 Chatter is an alternative to Slack developed by Salesforce. It allows you to send files and data already in Salesforce without having to download them again.
Salesforce integrations and apps for document signing and management
XaitPorter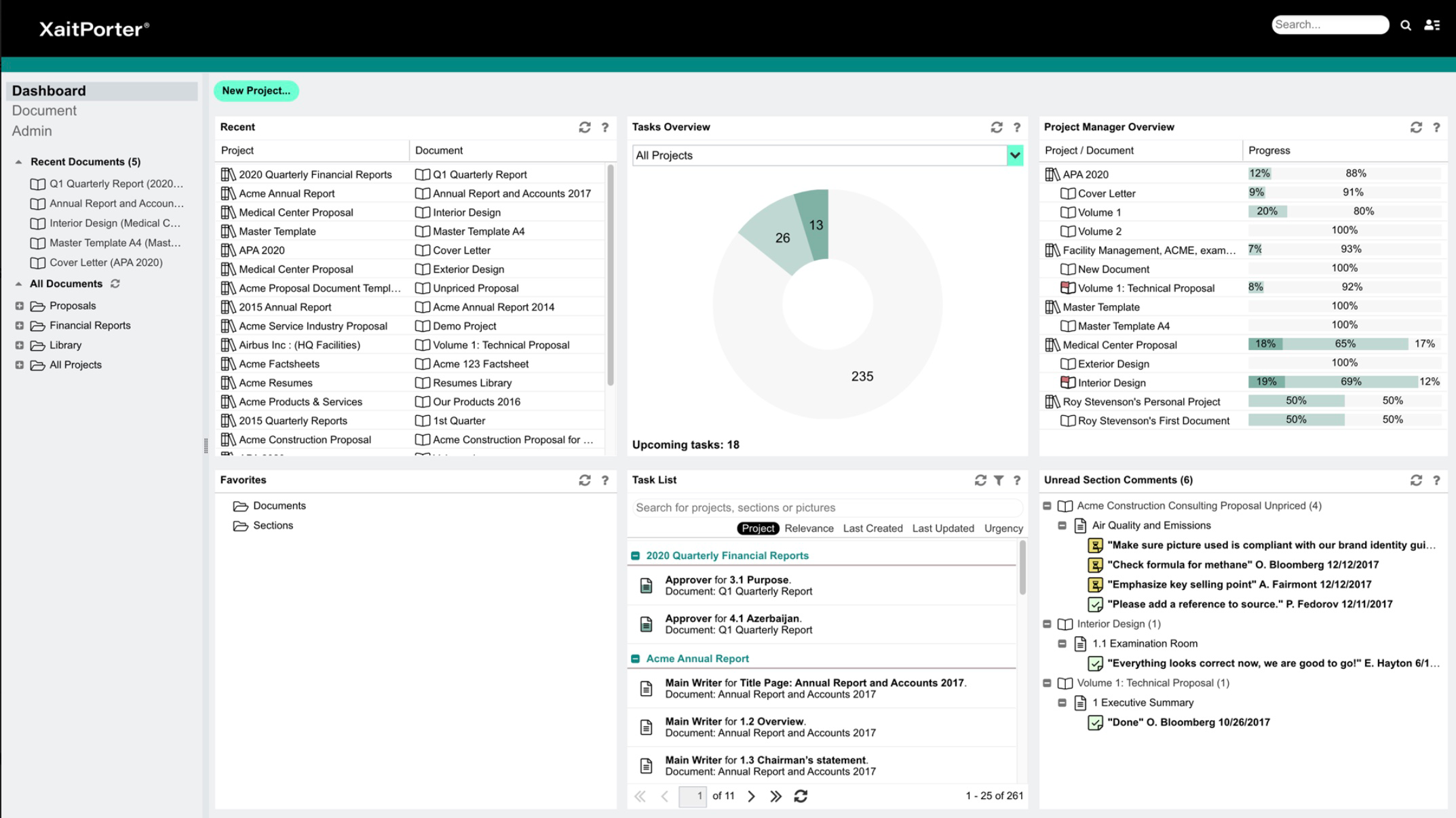 XaitPorter is a cloud based document co-authoring and automation solution. XaitPorter has a built on workflow, is built on a database to making reuse of information easier and automatically takes care of formatting, layout and numbering.Xait with XaitPorter has 50,000+ users globally. Xait has majority of the larger oil service and engineering companies globally, and 50+ oil companies as clients. In addition, Xait have clients in the CRO industry, ITC, Engineering, construction, and more.XaitPorter is used for a wide variety of documents such as tenders, contracts, license applications, field development plans, well reports, annual reports and more.XaitPorter is built for complex documents and has a built-in workflow to manage teams collaborating on business critical documents. XaitPorter automatically takes care of formatting, layout and numbering. In addition, as XaitPorter is built on a database, XaitPorter ensure that our clients can more efficiently manage, maintain and leverage their content.
Docusign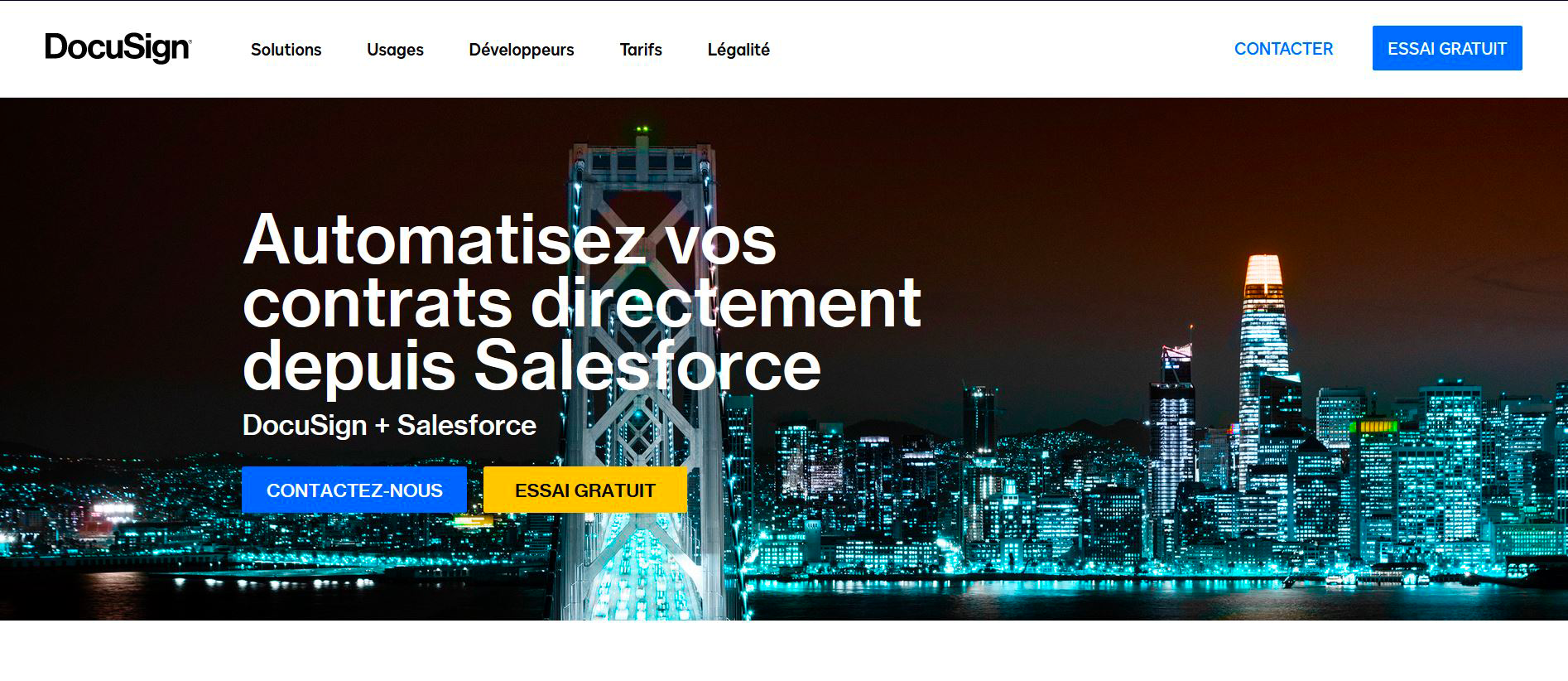 The Docusign electronic signature tool with Salesforce facilitates the signing of documents, which can then be retrieved in the CRM. Docusign lets you easily create contracts with variables extracted from Salesforce according to your customer base.
Pandadoc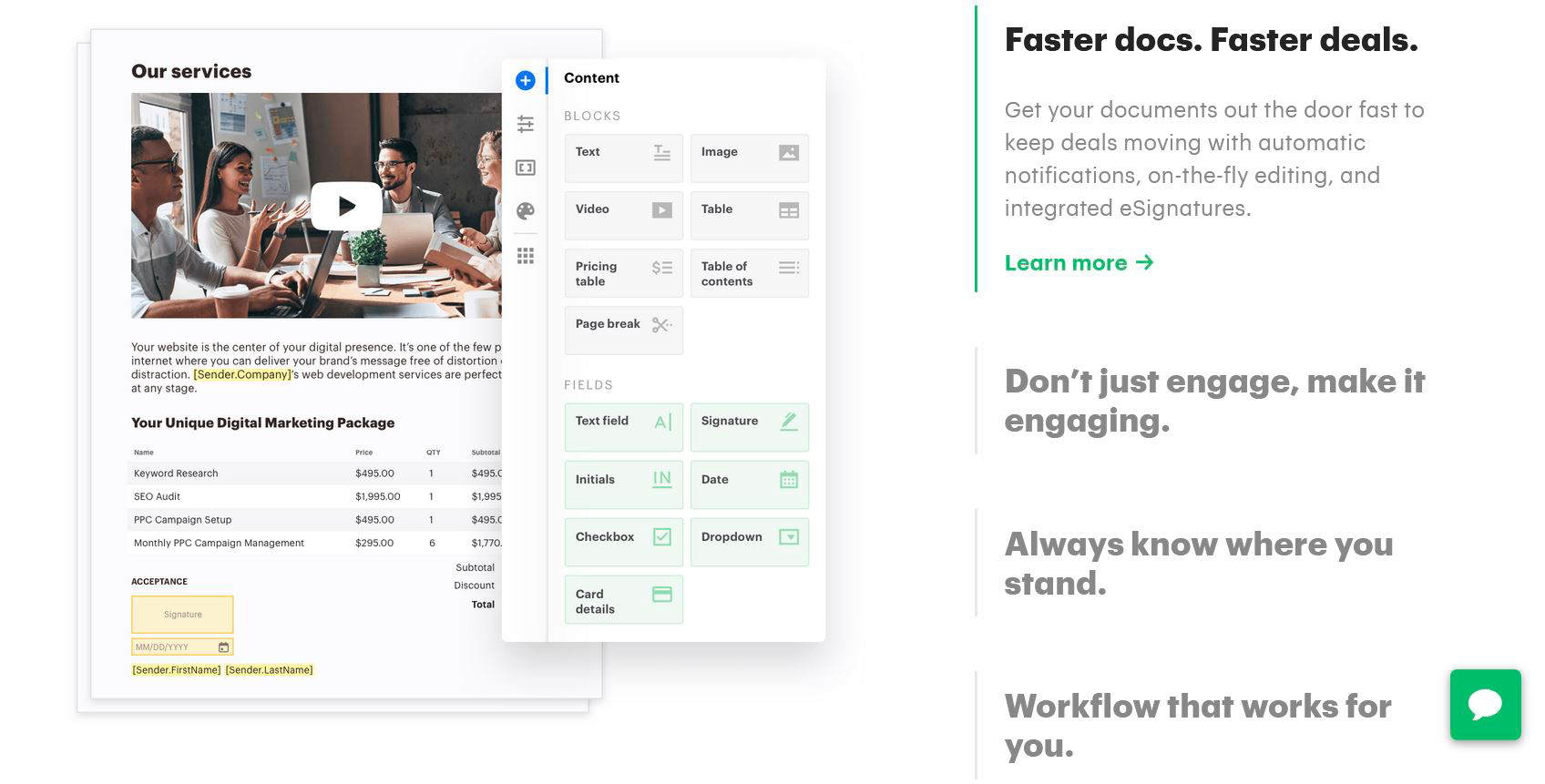 Pandadoc allows you to create documents with document templates, host them in the cloud and integrate electronic signatures. Documents can be tracked to see if recipients have viewed them so that you can determine why they may not have been signed yet.
Adobe Sign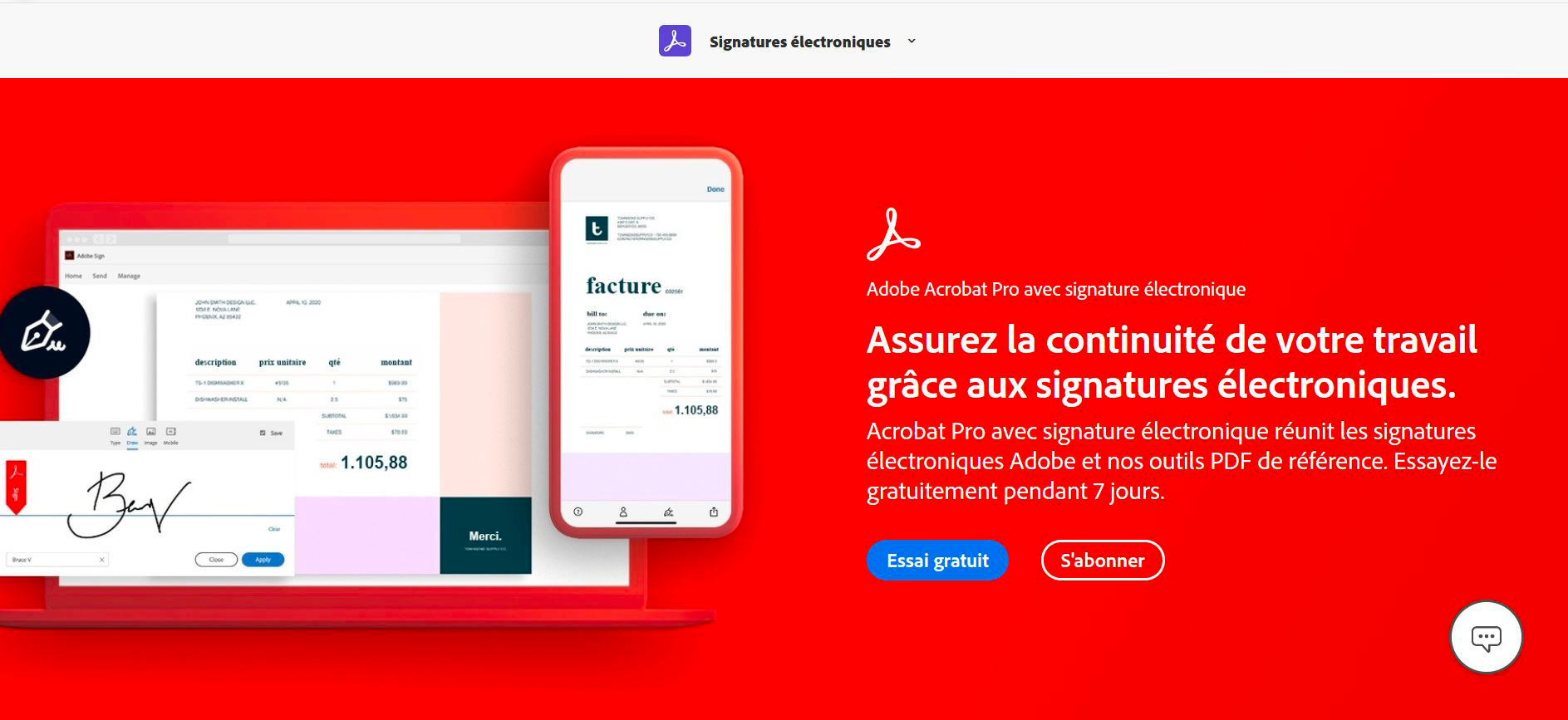 The benchmark in terms of electronic signatures, Adobe Sign from the Adobe Suite integrates with Salesforce in particular so that it can be integrated into emails sent to customers for a better conversion rate.
Conga Composer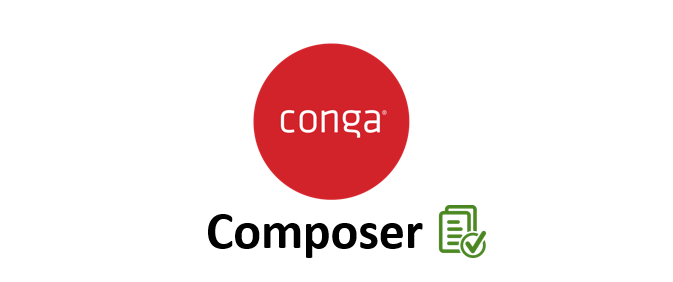 Conga Composer allows you to create quotes, business proposals, invoices, contracts and other documents with your collaborators in real time. Generate documents from your Salesforce applications instantly.
Salesforce integrations and apps for email tracking
Ebsta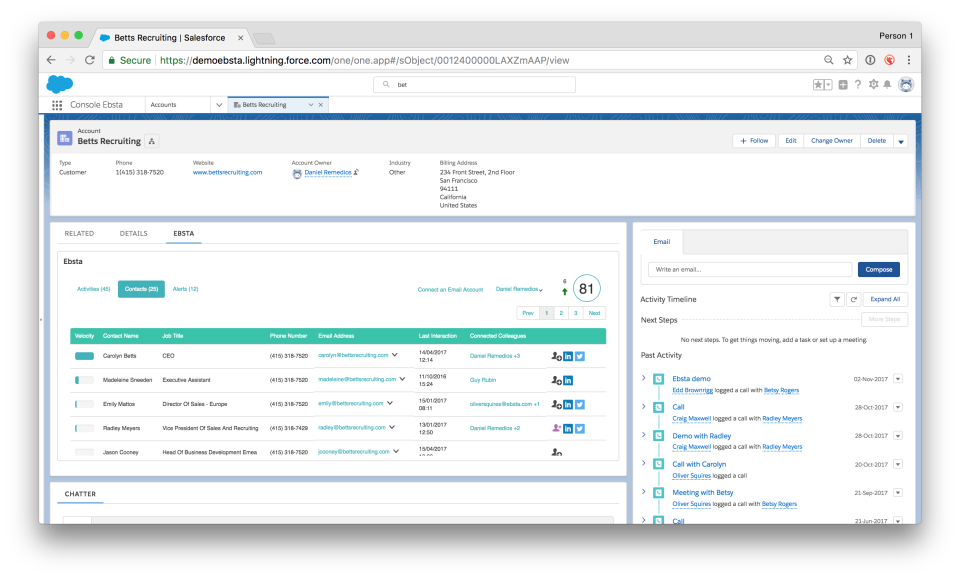 Ebsta helps drive engagement by scheduling reminders. The software also allows you to make forecasts based on exchange history and transactions with customers. The module can be implemented directly with Gmail, Google Calendar and Chrome. Synchronising with Salesforce provides access to communication history and contact information.
Groove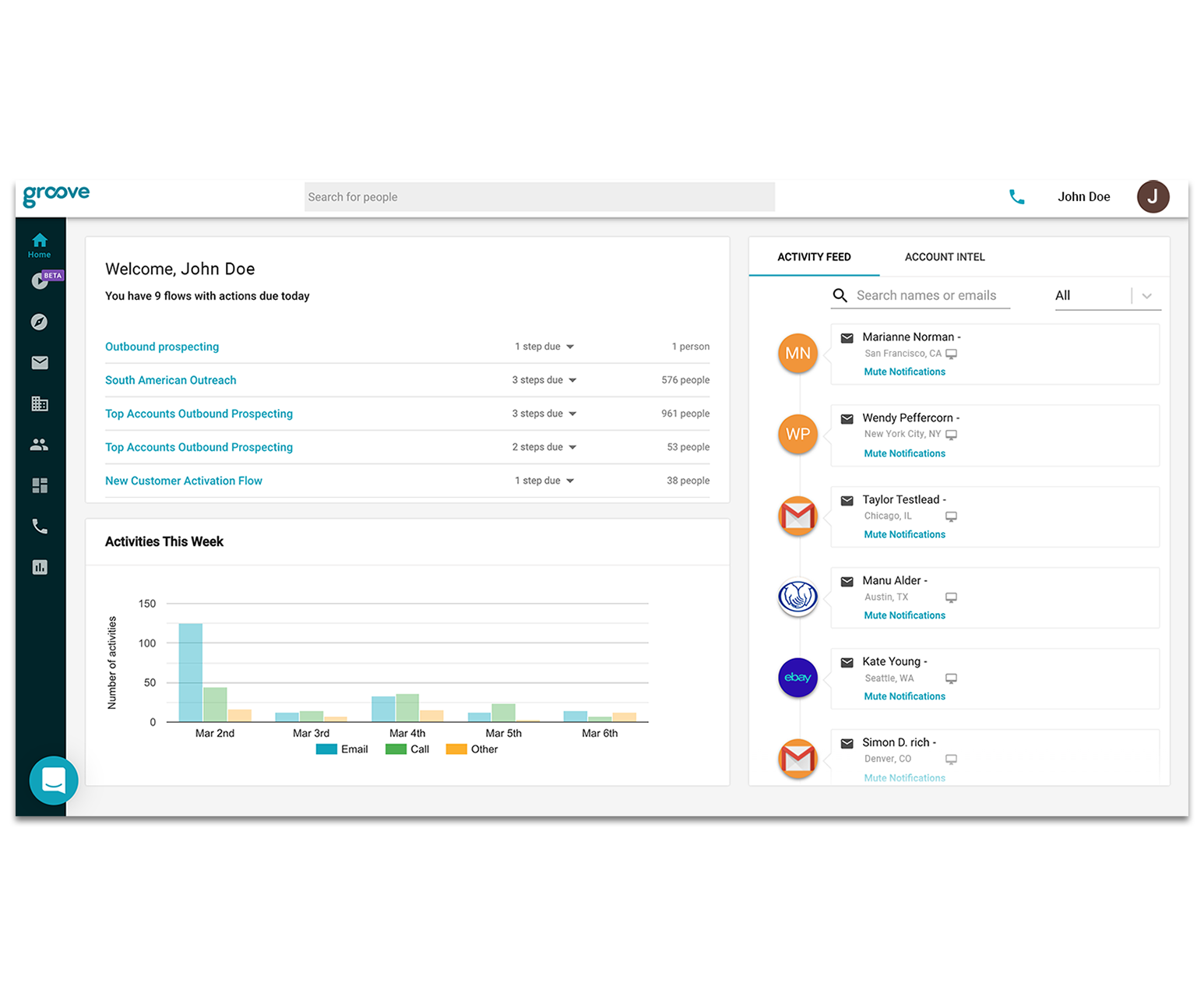 Groove is a complete CRM that allows you to automate multi-channel acquisition campaigns as well as manage leads for salespeople. Accessible from a web application, it integrates with Salesforce to exchange data. Send a message from Groove or call contacts synced with your different applications with just a click.
Front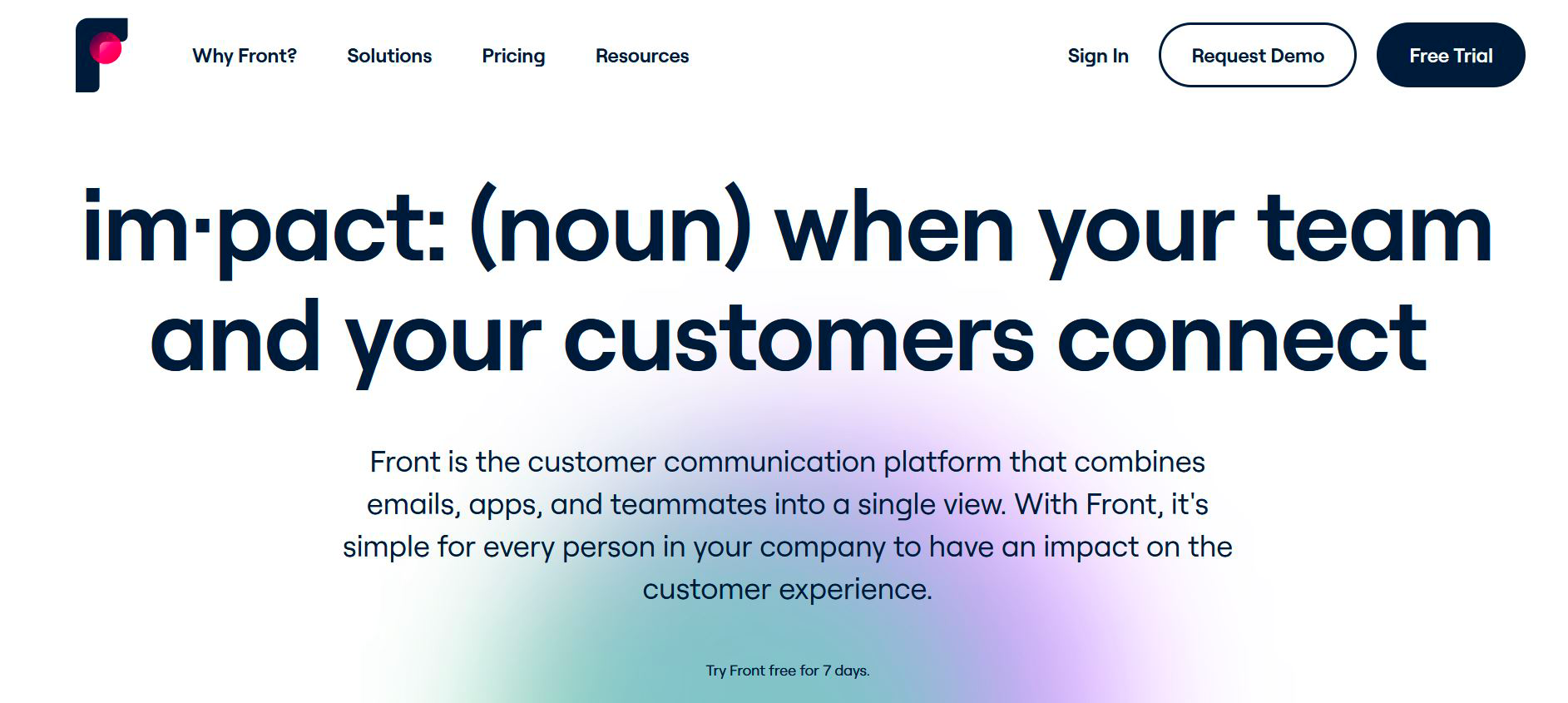 Front allows your teams to work together through common company email. Exchange with your team on received emails without having to forward them or use the reply to all function, integrating collaborative email into your workflow. Front offers integration with Salesforce so that customer information from the CRM can be retrieved based on your customers' history.
If you have a suggestion for adding a Salesforce integration or app available on the Salesforce AppXchange, feel free to email us at emma@ringover.com.