VoIP
What is a VoIP caller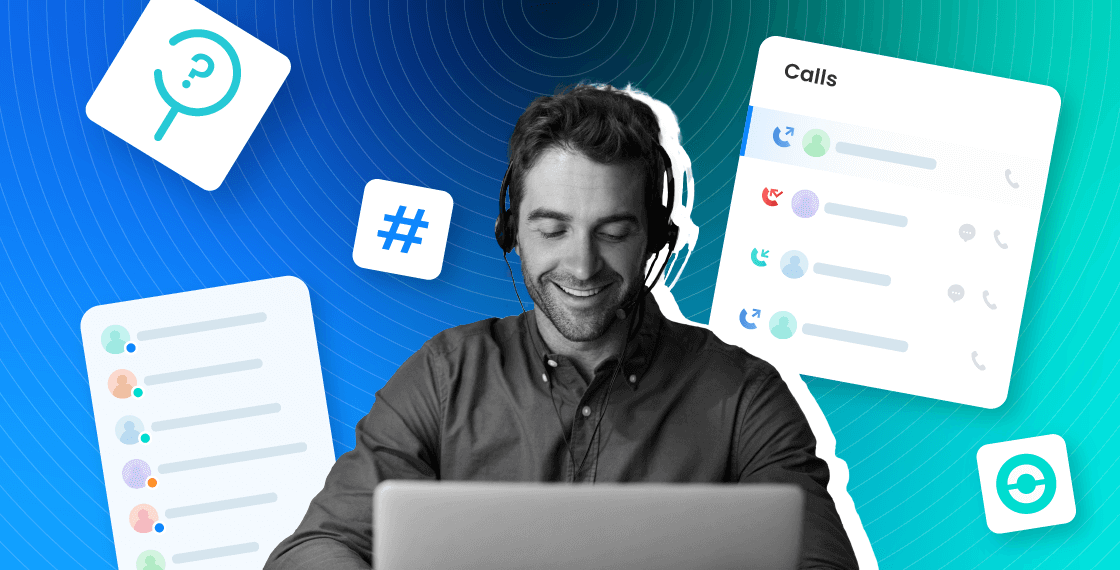 Summary
Just as your phone flashes a contact's name when they call, you might have received calls from a "VoIP caller". Unlike regular names and numbers that flash for incoming calls, this isn't a reference to the person calling but rather, the technology being used to place the call.

Simply put VoIP calls are voice and video calls placed over the internet. A growing number of businesses are beginning to use VoIP caller software to stay connected to their customers. Want to know more about what is a VoIP caller?


Try the best VoIP phone system for free
What are VoIP calls?
VoIP stands for Voice Over Internet Protocol. This is a communication system wherein voice and video calls as well as text messages are routed through an internet connection. Anything you do with a regular phone connection can be done with a VoIP system.

You can even send and receive faxes or attend conference calls. Any device that is connected to the internet such as your mobile phone, tablet, laptop or desktop computer can be used to make and receive VoIP calls.

This technology is being used for personal as well as business communication. Some of the reasons for its growing popularity are:
No need for specialized equipment

Free calling or calls at very low rates

You can make and receive calls on the move

Encrypted calls for added security

Easy to scale
Should I answer a VoIP caller?
Answering a call made by VoIP caller software is the same as answering calls made over regular phone lines. You can answer these calls but as with regular phone calls, you should be careful about disclosing any personal information and OTPs if you do not know the person at the other end of the call. Also, do not agree to any transactions unless you recognize the name of the organization.
Is a VoIP caller spam?
Though most people assume VoIP calls are spam, this is not always true. Many legitimate businesses use to reach out to customers. With service providers like Ringover, businesses can make unlimited free calls to numbers to over 110 destinations. This reduces their overheads.

That said, VoIP service providers give users the option of choosing virtual numbers in different area codes. This is intended to help businesses strengthen their local presence but may be misused by fraudsters wanting to be untraceable. Hence, be wary of any call where the caller asks for financial information or personal data of any kind.

If you're given an offer that sounds too good to be true, call the company back on the official listed number and cross-check the details. If you do not want to receive any telemarketing calls, you could list your number on the 'Do Not Call' Registry.
Who uses VoIP numbers?
VoIP numbers may be used by people to make personal calls as well as by businesses. Businesses across industries have figured out the benefits of using VoIP caller software and are replacing traditional phone systems in their call centers with VoIP systems.

It is especially favored by small businesses for its budget-friendliness and portability. Many larger enterprises too use VoIP systems since the numbers can be configured and managed from a central control panel.

These systems are also popular with businesses because of the range of value-added services provided for productivity, quality control and collaboration. For example, Ringover users can forward or transfer calls easily, record calls, share contacts and call logs with the rest of the team and get access to call statistics.
How can you tell if someone is using VoIP?
A VoIP call looks like any other regular call. There is no discernable difference in the quality of the call and hence it is not easy to identify a VoIP call. If you need to know who is calling you and whether the call is coming from a VoIP number, here are a few things you could do.
Activating the caller ID features on your phone will let you identify the number being used to place the call. Some caller IDs show the name linked to the number on the screen while others will only list the number. Either way, you can look up the number to find out where the call is originating from.
Use a reverse phone lookup service
You can also use online phone lookup services to identify callers.
Install a packet analyzer
If you're using a hard phone or a , you can install a packet analyzer. This helps maintain a log of the traffic that comes over the network. The packet analyzer will list the IP details from where the call originated so you can look up the address and identify the caller.
How to use VoIP caller software
Any business can use VoIP software for its communication. Unlike regular business phone systems that use Public Switched Telephone Networks (PSTN), there is no need for additional hardware and the software can be installed and made ready to use in minutes. You can use broadband WiFi or a cellular network.

convert analog signals into digital signals and back as they transmit the data over the internet. The quality of the call is determined by the compression ratio used. The lower the compression, the higher the quality.
Let's get started
The easiest way to get started with VoIP calling is to sign up with a VoIP service provider like Ringover.

Ringover offers pocket-friendly plans for businesses of all sizes starting from $21 per user/month. Even the most basic plan, the Smart plan, allows users to make and receive from 110 destinations from virtual numbers in 65 countries.

It also enables businesses to use an for incoming calls and route callers to the correct departments.

If you want access to more advanced features like CRM integration and a real-time dashboard, you can upgrade to the Business or Advanced plans for $44 and $54 per user/month, respectively. Interested? Start your free seven-day trial today!