Business phone system
What is DTLS and how is it used in cybersecurity?
DTLS, or Datagram Transport Layer Security to give it its full name, is a communications protocol providing security to datagram-based apps.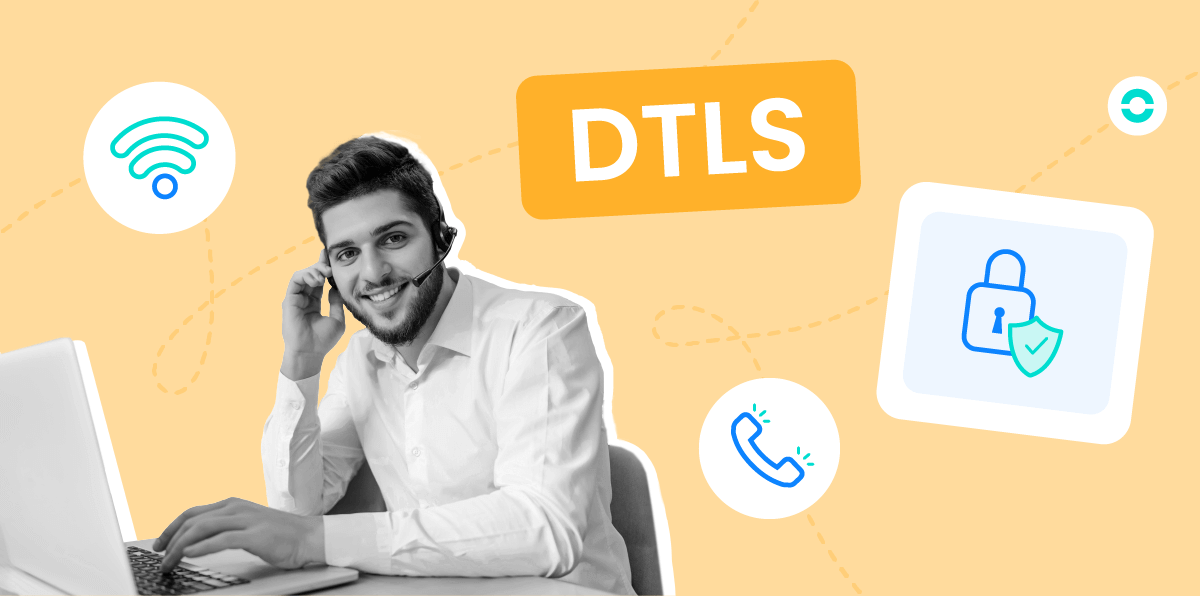 It's used to guarantee three key parameters:
Data confidentiality

Data integrity

Data authentication
Secure your phone calls


In other words, DTLS is what takes care of protecting the data exchanged online when you make calls or chat via instant messaging. With this security protocol, the data can't be intercepted by a third party as DTLS encrypts the data, making it unreadable for any personal or machine outside of the discussion.

DTLS is also used to make sure that the people you're communicating with are who they say they are. To do this, it verifies digital certificates. So, as you're probably realizing, this is a must-have tool for protecting your business and your customers against fraud and identity theft.
DTLS vs. TLS: What's the difference?
To understand DTLS, you need to go back to its roots: TLS (Transport Layer Security). DTLS was developed from TLS, which is also a transport security protocol, guaranteeing the confidentiality and integrity of data exchanged on the internet. At this stage, you're probably thinking, "Well, they're both the same thing", right? Well, not entirely. The main difference between DTLS and TLS lies in the type of connections that they secure.

Let us explain: TLS acts like an extra layer of security for sending data via TCP (Transmission Control Protocol) connections. It's generally used to secure websites or the sending of emails.

As for DTLS, it's more used for UDP (User Datagram Protocol) connections, such as , video calls, or even apps which enable live streaming.

To sum it up, DTLS and UDP are better suited to broadcasting, where efficacy and speed are key, while TLS and TCP are more suited to direct communication and file transfers, prioritizing transmission reliability above performance.

The other major difference between TLS and DTLS lies in their security approaches. TLS requires a stable connection before it authorizes the exchange of encrypted data. As for DTLS, it exchanges data packets without pre-established connections, which makes data transmission much easier and makes DTLS the best-suited protocol for business' voice and video communications.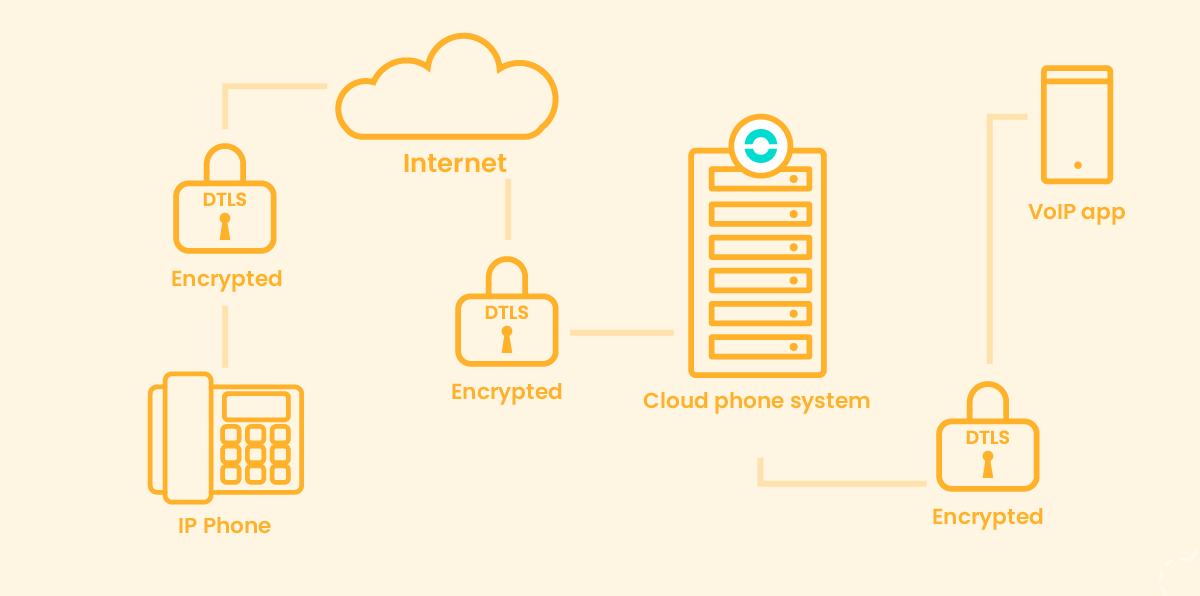 The importance of DTLS for business communications
Let's take a closer look at the context of business communications, as this is a field where security is crucial. Businesses handle sensitive information on a daily basis, such as client data, financial information, as well as business and industrial secrets. The DTLS protocols plays a determining role in the security aspect of these exchanges, particularly in terms of:
Protection against attacks: DTLS ensures the confidentiality and integrity of the data transferred, using robust encryption measure which present the interception and exploitation of data by third parties in the event of a malicious attack.

Performance optimization: DTLS considerably reduces latency and offers quicker data transmission.

Flexibility: DTLS has the advantage of being able to be deployed across various operating systems and platforms, which is incredibly important for businesses using a wide range of devices and OS.

Compatibility with IPv6: IPv6 is accelerating but don't worry — DTLS has been developed to operate in perfect harmony with this protocol, which guarantees a seamless transition over to a more modern infrastructure for businesses.

IoT applications: DTLS plays a crucial role in security keys and operations between IoT (Internet of Things) peripherals.
5 examples of using DTLS in daily life
It's all well and good in theory, but how does it translate into practicality? How can DTLS be useful for business' day-to-day operations?
Remote healthcare: DTLS is a huge help for protecting communications between medical devices and other healthcare systems, maintaining the confidentiality of users' personal data.

Webinars: DTLS is the ideal protocol for broadcasting applications, including webinars. It reduces lag time and is performance-focused, guaranteeing the transmission of images without compromising on their protection.

Collaboration: Working as a group on a file online? Here again, it's (partially) DTLS which prevents third parties from intercepting and accessing your document without your authorization.
The key facts to remember about DTLS
DTLS has become a must-have protocol for securing business telecommunications. It's set apart from TLS by its capacity to protect information exchanged via "offline" protocols, such as UDP. This presents an undeniable advantage for businesses, as they can quickly combine speed, efficacy and security when they need to communication in real time.

Thanks to DTL, VoIP communications, video calls and even remote are covered by reinforced protection against any potential threats.

By adopting this technology within their infrastructure, businesses can considerably boost their security and guarantee worry-free online communications for both their clients and their employees.
Ringover prioritizes DTLS to secure your communications
Each conversation held through Ringover's telephony software and the Meet by Ringover video call solution is protected by DTLS. Our aim is to ensure maximum security for your information, and we go above and beyond to respect the confidentiality and security of your information while also guaranteeing a high-quality experience for your during your phone calls, video calls, and instant messaging conversations. To find out more, get in touch with our experts or see the power of Ringover for yourself, .
FAQs - DTLS
What does DTLS stand for?
DTLS stands for Data Transport Layer Security. This is a security protocol developed to secure communications based on datagrams (data packets). DTLS is a variant of TLS, and it focuses more on performance without compromising on security. It's often used for VoIP communications.
What is a datagram?
In I.T., a datagram is an independent data packet that can be sent via a network. These data packets are used in real-time communications, such as in online gaming, video calls, and even streaming.
What does UDP stand for?
UDP stands for User Datagram Protocol. It's an offline protocol which doesn't provide a 100% guarantee for the delivery of data packets, which is a pertinent option in contexts of continuous data broadcasting, such as during a live webinar. However, UPD isn't recommended for applications requiring reliable data transmission, such as file transfers.