Call center
How to address the operational challenges call centers face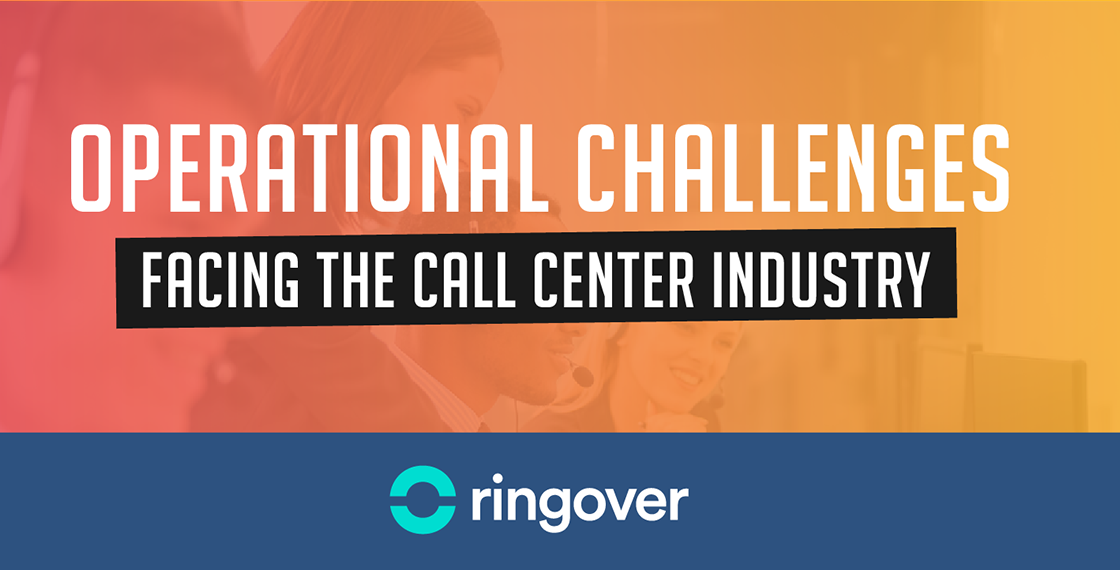 We take a look at the operational challenges every call center faces and why it's important to address them.
Call centers are the essential customer-facing side of every business. In fact, in our post-COVID world, they are frequently the only touchpoint customers have with human representatives of the business, and the only voice or face of that business most people can presently interact with. As such they should be central to every enterprise, and their importance duly understood. But every call center faces operational challenges, which it needs to address to remain at the top of its game. These include:
Human resources challenges for the call center
People are the most important asset in a call center, so getting the right people behind the phones is fundamental to success.Recruitment and retentionCall center work has historically been low-paid, high-turnover shift work, which was frequently viewed as boring and repetitive. It attracted seasonal workers like students or resting actors, who could get up to speed fast but had no long-term interest in a customer service career.Automation has helped considerably, and many routine customer service interactions no longer involve human agents at all — it's far easier and more convenient for the customer to self-serve via a web app or form, even be guided by a chatbot, to complete surveys or generate quotes, for example. So, the more calls requiring the human touch are now the more complex and interesting ones, demanding a blend of patience, understanding, emotional intelligence, sales skills, and product knowledge. However, it's fair to say that neither pay scales nor reputation of the work have always kept up with this shift, and the industry could do a better PR job of representing the immersive and satisfying experience of really helping a customer resolve their problems or deepen their relationship with a brand, as the best call center experiences invoke.Pay matters too, and now that top agents can work virtually for any business in the world, financial recognition of expertise will become increasingly important. Traditionally, this has only really been taken seriously in outbound call centers, with top sales people earning huge commissions for successful closing. But what about the people taking care of your existing customers too? They deserve a good living wage and working conditions, for the important work they do. Identifying, recognizing and rewarding good work in other ways is important too.
Training and onboardingThe shift to remote and hybrid working has created new challenges for call centers, who strive to create a unified and consistent experience for customers who contact the organization. It doesn't matter where the agent is located or whether they're working from home or in a large shared facility, the customer expects and deserves a predictable and high-quality experience.For this reason, training has to adapt to the new normality, and call center managers need to ensure that all training — from initial onboarding to the latest product update essentials — are accessible digitally, and correctly deployed and updated.A knowledge management program with automated self-testing can be created for new hires, to ensure they work through necessary skill acquisition in a structured way, and this can also be used to push updates to the whole team, such as when a new product line is introduced. But even if it cannot take place face-to-face it's important not to overlook the role of simulations and role-play, and you will best learn about someone's ability to handle calls by getting them on a call in the first place — testing the online learning with a direct situation.Now that customer service agents are dealing with more complex and individual calls that cannot be automated by bots and self-service, the softer skills are ever more important. Being able to empathize with an angry or distressed customer, or deal sensitively with someone struggling to communicate — this is expertise which must be cultivated and modelled effectively, to ensure that high standards are maintained with the most vulnerable callers.To truly overcome the issue of high attrition in call center work, you'll need to work on providing career progression and a clear pathway for professional development. Otherwise, your top people, with all their customer handling skills and carefully acquired product knowledge, will leave you behind in their next move.Career development for call center agents could include:• Enabling deeper specialism and expertise in particular kinds of customer interactions — becoming the go-to person for resolving complex warranty disputes, or dealing with second language customers for example.• Shadowing a role in product management, with a view to progression in that area — bringing vital understanding of customer needs to research and development, and acting as a liaison between the product team and those who sell and support what they create.• Increasing responsibilities in call center operations, and developing expertise in supervision and training new agents.• Transfer to another department within the business, so their role may change completely but at least there is continuity and a reduced recruitment cost in another area.Quality, supervision, and complianceConsistency is not just related to knowledge and experience, and it's easy for habits to slide, especially when teams are working in a distributed way.So, it's essential that high standards are maintained, and Ringover's call monitoring tools can be deployed from any distance — making it easy for a supervisor to listen in to any call, either randomly or on request. They can offer whisper support to the agent, or even intervene directly if required.Specific industries with high sensitivity or privacy operational needs may have to introduce particular protocols or systems, which ensure compliance with regulatory frameworks — such as those handling financial or medical information. These will always present operational challenges, but the regulatory requirements are always clear and spelled out in detail, so they can be followed precisely, and powerful archiving applications exist to ensure that policies are followed and data loss prevented.
Technological challenges for the call center
The fast-moving world of technology creates its own operational challenges in managing the entire customer service environment, but the key advantage here is the advent of cloud-based software as a service.Applications like the Ringover business phone system are accessible on a transparent and flexible per-user-per-month basis, and you can effectively outsource all issues related to upgrading, security, and features, in that simple monthly subscription. It's a far cry from managing the depreciation cycles of legacy PBX equipment on-site, and creates a flexible and responsive solution for call centers of all sizes.That said, there are still technological challenges to consider:
Changing customer expectationsConsumer technology moves fast, and the shifts which took place during the pandemic lockdowns accelerated adoption of e-commerce, video calling, and remote working. This is all good, for call center operations! But it's important to realize that today's customer might be more savvy and switched on than ever before, and their expectations are driven by the latest social media experience. It's multi-channel, native, and mobile first.The adoption of video is a significant case in point, and while we still talk about call centers this label is no longer limited to the single channel of voice. All Ringover plans include Meet videoconferencing as standard, because this has ceased to be an optional extra or an edge case — it's simply the expectation.Similarly, the power to quickly share screens with a customer via Ringover's partnership with Crankwheel is another great asset. It's always better to show than to tell, and when you can do so without dropping a call or switching an app, you make the experience smooth and easy for the customer and agent alike — all contributing to better outcomes, and the ability to seize the moment for sharing satisfaction.From an operational perspective, businesses will need to resource this adequately, ensuring that both home-offices and shared workplaces are equipped with high-bandwidth low-latency connections for flawless video calling. The ability to follow the customer's lead and shift frictionlessly from one mode to another is a powerful move in the direction of centering the customer at the heart of the interaction, and solving this technological challenge will underpin an important emotional one: it's not about you, it's about them.
True omnichannel sales and support may still be out of reach of many organizations, but ensuring you go where your customers are to start with, is a powerful paradigm shift.As such it's operationally essential to ensure that all channels you offer are carefully monitored, and consistently responded to. Customers will decide for themselves where they want to get service, and you might not have intended your Twitter account, for example, to be used to address their needs. But if they've got a problem they might decide to address it there, so it's vital that someone is keeping an eye on it, and responding — even if you are not really equipped to resolve the issue via this channel. It won't be just the one unhappy customer who sees a disregarded public complaint, by definition, it's public. So from an operational point of view you need somebody tasked with monitoring all this and replying, "We're so sorry you had a negative experience with product A, please contact XYZ, so we can get your issues sorted out directly."Integrating customer journey data for business insightOne important operational challenge can be the connection of different data sets within the business, to support the entire interaction of the customer, and also the correct attribution within your enterprise.The Ringover business phone system enables integration with a range of other database-driven applications to support this, so that you can:• Connect your customer relationship management (CRM) backend to your phone system — see exactly who is on the phone before you pick up (and pick up fast if they're one of your VIPs), having their entire interaction history at your fingertips as you speak. You don't ask customers, never mind VIPs, to explain their problems twice or more.• Connect with your fault ticketing system, and ensure you have access to the customer's issues which have previously arisen, through a range of popular Helpdesk applications.• Connect with your knowledge base, and ensure agents have prompt access to the most up to date and accurate support resources, so they can best advise your customerAbove all, integrating your calling into your business intelligence system will enable you to put each phone interaction to work for you as data and insight, rather than a standalone interaction.In 2021, the call center needs to take its place at the heart of the marketing technology stack, and have its role correctly attributed across all business success metrics, not just those related to phone conversations. For example, the CRM integration can track the entire journey of the customer, from their first click on the website to their lifetime customer value. They might have a long conversation with an agent which resolves many of their concerns, but then go on to complete their sale online after further directed reading. This is not an uncommon scenario for a big-ticket item with lots of options, such as a car or a holiday. In many setups this will be operationally coded as an online sale, because the customer ultimately inputs the options and transacts on their own — but in a properly integrated intelligent setup this is a sale which should correctly be attributed at least in part to the call center, which allayed their concerns and let them talk everything through with a sympathetic human. If there's a commission structure in place then the human should be recognized there too, as part of their rewarding professional career.
The invisible voice in the customer's ear…
So often this role is not tracked, however, and this lack of attribution lies at the heart of many call center operational challenges. Particularly with the shift to distributed working, it's even easier for the C suite to overlook the value of the people actually speaking to customers on behalf of the brand, when they haven't even got a big phone room to see them all working in.Becoming a truly customer-centric organisation means putting the call center and its vital work at the heart of operations, and understanding the value it adds across the enterprise, and this is the greatest challenge of all in many businesses.
Want to become more customer centric or would like to enhance your call center?
Contact our experts to help guide you step-by-step at +44 20 3808 5555 or send an email to sales@ringover.com. Start your free trial today.